YATeens love YA thrillers, and I'm constantly getting asked for recommendations of good young adult books with suspense, mystery, and light horror.
Here are some diverse YA thrillers that you might consider adding to your high school classroom library. As always, please preview these titles for yourself because what flies in my school may not fly in yours. I've made an effort to include titles highlighting diverse characters, authors, and stories. Please let me know your additional recommendations in comments. 🙂
Happy reading!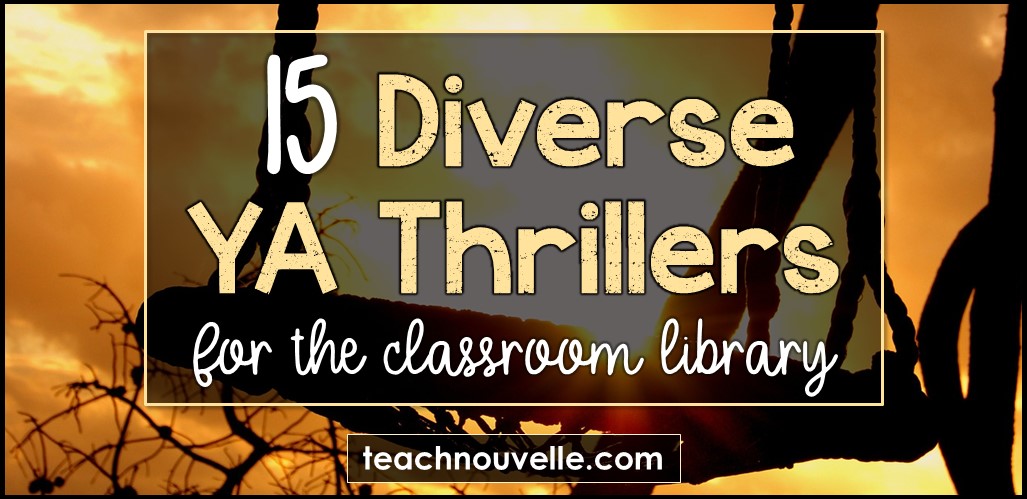 This post uses Amazon Affiliate Links for your convenience.
If you decide to purchase this book, please consider doing so through our affiliate links.
Your support makes this blog possible.
*As I Descended
 – Robin Talley
This is a Macbeth retelling y'all, and I LOVE it. We have power couple, Maria & Lily, feuding with campus superstar Delilah. She basically runs the school, but she doesn't know that Maria & Lily would stop at nothing to unseat her, including harnessing a supernatural power lurking beneath their prep school's floors. "But when feuds turn to fatalities, and madness begins to blur the distinction between what's real and what is imagined, the girls must decide where they draw the line." Eeeeee!
*Endangered
– Lamar Giles
Lauren "Panda" Daniels is an anonymous photoblogger who specializes in busting classmates and teachers in compromising situations. When someone gets wind of her identity and starts to blackmail her, Panda must decide how far she's willing to go to keep her secret safe. And when the blackmailer's game turns deadly, Panda has to figure out how save herself… and others.
*Vanishing Girls
– Lauren Oliver
A gripping novel, perfect for fans of YA thrillers like We Were Liars and I Was Here.
Sisters Dara and Nick used to share everything, but that was before the accident that left Dara's face scarred and drove a wedge between them. When Dara vanishes, Nick thinks she's just pulling another prank or being irresponsible…again. But when a nine-year-old girl disappears, Nick starts to wonder if the two disappearances are connected. Now, Nick must race against the clock to save her sister before it's too late. A beautifully woven tale of love, loss, and finding solid ground.
*The Violet Hour
– Whitney A. Miller
This is a difficult book to describe, but a deeply compelling read. On the surface, it's about Harlow, who's grown up in a cult called VisionCrest. She's expected to maintain a flawless excellence, but something dark is lurking beneath the surface. She has a secret. Harlowe hears a voice in her head, plaguing her with visions of violence and blood. Will Harlowe figure out how to escape the voice's urging before it's too late? Definitely a case of an unreliable narrator.
Need something else? You can find ALL my recommendation lists for inclusive classroom materials here. Poems, TV episodes, TED talks, short stories, and so much more!
*Last Seen Leaving
– Caleb Roehrig
Flynn's girlfriend has disappeared. How can he uncover her secrets without revealing his own? January is missing, and the stories aren't adding up. As Flynn becomes the main suspect, can he unravel the threads closing in around him? Can he get through this without exposing secrets he'd like to keep? Can he finally be honest about his true self? This is an LGBTQ mystery/suspense, so another opportunity in which we can see a gay boy do things in a story. I'm always a proponent of something that incorporates LGBTQ stories without solely relying on those stories as the engine of the story.
*The Smaller Evil
– Stephanie Kuehn
Sometimes the greater good requires the smaller evil. Here, we have a main character dealing with severe anxiety, which immediately launches into [unreliable narrator] territory. 17-year-old Arman Dukoff arrives at an expensive self-help center in the hills of Big Sur. He meets the retreat leader, Beau, and he's not sure what to think. Is Beau a helpful father figure, or just a con man? Arman tries to settle into a routine of rituals and mantras, and he even thinks he's getting better. But when Beau disappears, Arman begins to wonder if he was ever even real.
*Radical
– E.M. Kokie
Crisis is coming, and Bex is prepared to survive. Her older brother discovers Clearview, a survivalist group seen as doomsday naysayers by outsiders, but Bex knows better. As romance grows between Bex and anti-gun Lucy, she must decide where her loyalties lie and just how far she's willing to go to survive. This book has an added bonus of portraying a pro-gun girl raised in a pro-gun family, meaning that it's not just 'another coming out story', but rather a complex book with an LGBTQ protagonist.
*Overturned
– Lamar Giles
Nikki Tate is infamous in Las Vegas for a crime her father committed, but she tries to stay focused on her own goals of escaping this town. The Plan involves illegal card games, high stakes, and keeping her head down. But when her dad's conviction is overturned, Nikki's life becomes a mess. Her dad's obsessed with finding out who framed him, and Nikki is drawn into the hunt. Soon, Nikki finds herself gambling with the most important thing she has: her life.
*Burn for Burn (The Burn for Burn Trilogy)
– Jenny Han & Siobhan Vivian
The first book in a series perfect for fans of Pretty Little Liars and Revenge. Postcard-perfect Jar Island is home to charming tourist shops, pristine beaches, amazing oceanfront homes—and three girls secretly plotting revenge. This is schoolyard revenge at its best, and will definitely grab even your most reluctant readers.

*Secrets, Lies, and Scandals – Amanda K. Morgan
A group of students witness their teacher's death, and must now band together to avoid all going down for murder. Told from alternating perspectives, this thriller is perfect for readers who love liars, stories of loyalty and friendship, and a wrench thrown into the works. We discussed this book and two other YA thrillers on ep. 3 of the YA Cafe Podcast. I LOVE this book, but I also need to disclose that I know the author. 😉
*This Is Where It Ends
– Marieke Nijkamp
So, it needs to be said upfront that This is Where It Ends is about a school shooting. But, it's more than that, too. It's told from multiple perspectives and captures the terror and heartache of such devastation. It was also the first YA title featuring a gay main character that made the New York Times Bestsellers' List. Rich, compelling, and unstoppable.
*Ink and Ashes
– Valynne E. Maetani
Claire Takata's father passed away when she was a little girl, and she never knew much about it. Her mother moved on and life regained some sense of normalcy. But when Claire discovers a mysterious letter from her father addressed to her stepfather, she realizes there's something big going on that she's never understood. Claire hears the warning bells, knows she should just drop it, but she wants answers. When she discovers her father was a member of the Japanese mafia, the yakuza, she realizes she's gotten in too deep. Now, it's a race against time as the past threatens to ruin her future.
*The Third Twin
– C.J. Omololu
Lexi and her twin Ava are seniors, and have left the games of childhood behind. Once upon a time, Ava would blame every accident, every lapse in judgement, every stolen cookie on a third sister, Alicia. Convenient when you're a child. When you're a seventeen-year-old blamed of murder? Not so cute. One of the guys Ava went out with turns up dead, and Ava insists Alicia did it – insists that she and Lexi can keep up the ruse. But as bodies start piling up, Lexi has to find out the truth and save her sister.
Want book recommendations delivered to your inbox?
Sign up for the YA Reads Monthly Newsletter!
*Unraveled (An Autumn Covarrubias Mystery Book 1)
– S. X. Bradley
Sixteen-year-old Autumn has dreams of becoming an FBI Profiler, but her dreams meet the harsh reality of murder way too soon. She comes home to find her sister dead in the living room, and the police are dismissing it as a burglary turned bad. Autumn sees through that, though – notes the personal nature of the attack, looks for clues that it might be something different at work. Her questions and investigation drive a wedge between her and her family, and she doesn't know if she can bring them back together. In a last-ditch effort, Autumn uses herself as bait to draw out the killer and solve her sister's murder…
*Far From You
– Tess Sharpe
Nine months. Two weeks. Six days.
That's how long recovering addict Sophie's been drug-free. Four months ago her best friend, Mina, died in what everyone believes was a drug deal gone wrong – a deal they think Sophie set up. Only Sophie knows the truth. She and Mina shared a secret, but there was no drug deal. Mina was deliberately murdered.
Forced into rehab for an addiction she'd already beaten, Sophie's finally out and on the trail of the killer—but can she track them down before they come for her?
Share this list: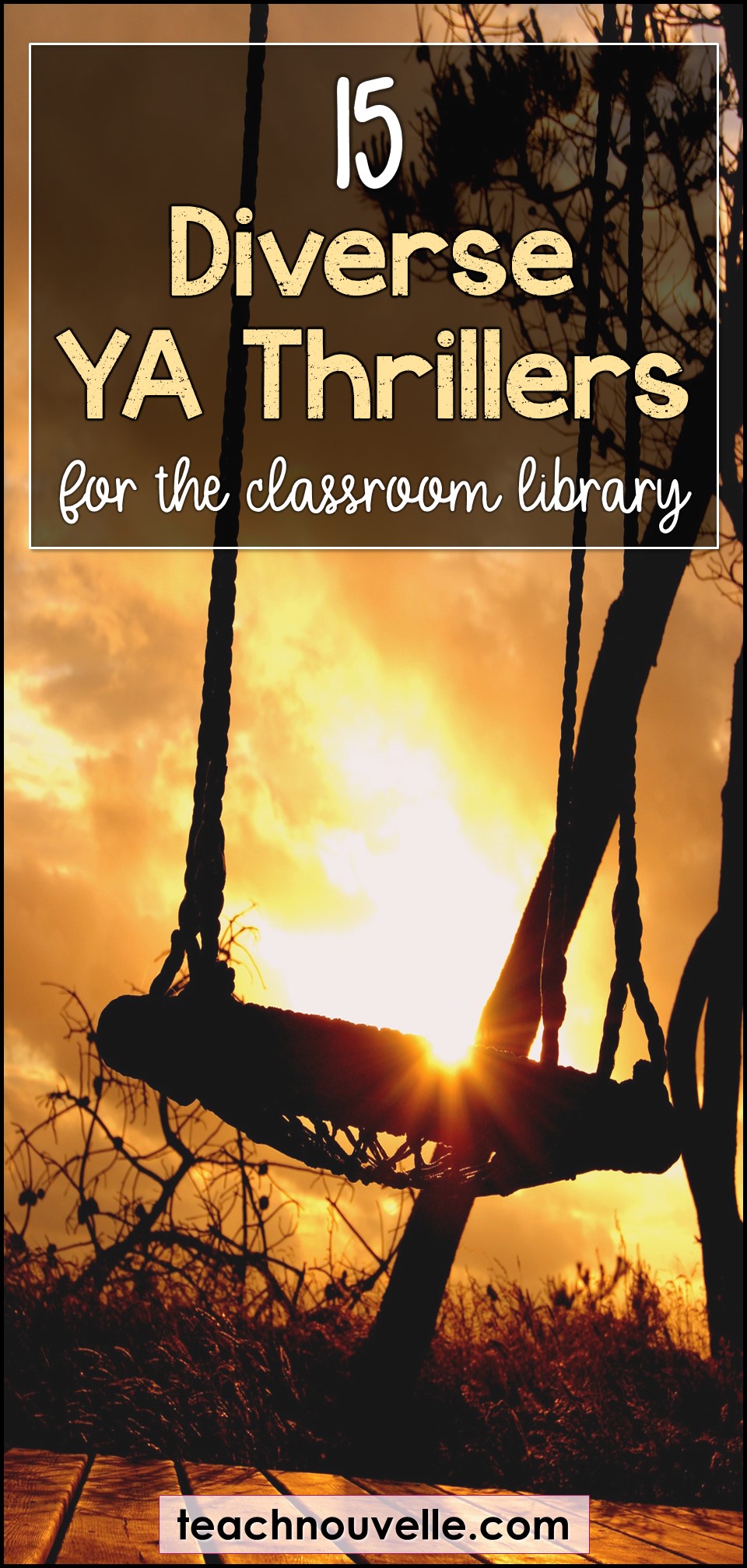 What are your favorite YA thrillers and mysteries? Let me know! Comment below or reach out on IG at @nouvelle_ela