Change it up with these 5 NEW best short stories to teach American Lit in middle & high school ELA. Best of all? These 5 stories are all available online for FREE!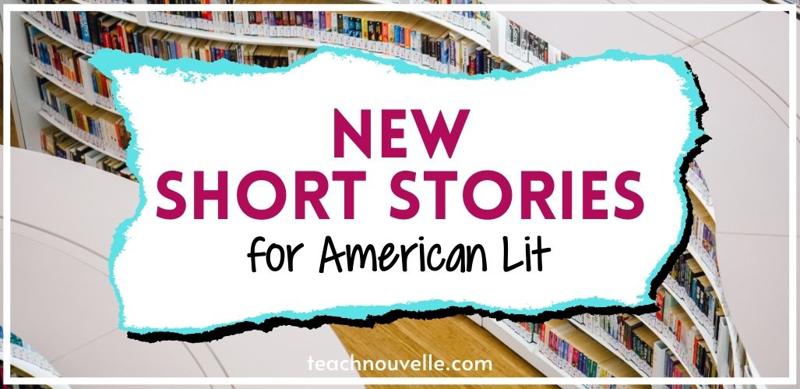 Today I'm sharing five new short stories for middle and high school ELA, and more specifically, new short stories for teaching American Lit.
You might notice that four out of five of these stories are written by women, and four out of five stories are also written by people of color.
That's not a coincidence.
Too often, American Lit curriculums are populated by DWG's (dead White guys), with only token representation of other communities. There is a time and place for the classics, to be sure, but many students will be more engaged by texts that are relevant and relatable to them.
I know it's unfair to ask teachers to singlehandedly diversify their curriculums out of pocket, that's why every story in this post is available online for free.
5 New & Best Short Stories to Teach American Lit
Ghost Town by Malinda Lo (MS/HS)
I LOVE Malinda Lo, and I especially love I love this horror/suspense story of hers because of its unique, nonlinear, storytelling. It's told in three vignettes that all move backward in time, so it starts with the ending and then reveals how the events were set into motion.
It's truly chilling at times, but without being graphic or gory. It's also very open-ended as to who the real villain is – the teens who pull a cruel homophobic prank, the supernatural presence, or the main character who gets her revenge.
This is an excellent short story for teaching setting and suspense, and you can find even more spooky stories for teens in this post.
This story is available for free on UncannyMagazine.com.
Check out this post for more short stories by AAPI authors.
Car 393 by Kip Wilson (MS/HS)
"The lone headlight
cuts down the street,
lighting the way
like a miner's headlamp
shining against walls of coal,
the beacon that'll lead
me home"
This historical fiction short story in verse is based on a real-life event, a Boston trolly crash in 1916, which claimed the lives of 46 people headed home during their evening commute. The author does an incredible job illustrating the lives of the mostly immigrant workers, with few words.
This story can be found on LunchTicket.org.
Find ALL my short story recommendations and teaching tips here!
"202 Checkmates" by Rion Amilcar Scott (HS)
This contemporary short story poignantly describes a father teaching his young daughter to play chess. Scott beautifully splits the setting between their living room where they sit on the "scratchy brown couch," playing chess with her father's "chipped and faded" pieces, to the park where the daughter goes to watch the intense games between Manny and Chester. It's filled with so much descriptive language that you can easily close your eyes and imagine yourself in the scenes.
This story provides some strong examples of personification because of how Scott brings the chess pieces to life, imbuing them with human qualities. Like the queen who starts off on her own color square, "because she likes to match," or the carefully described movements of a "determined black pawn." Find more short stories for teaching figurative language in this post.
You can read this story for free on ElectricLiterature.com.
Note: Because of some strong language, I would consider this story appropriate for high schoolers only. As always, you know your students best.
Weight by Dhonielle Clayton (MS/HS)
"Welcome to a better way to love. Every heart tells a story. Find yours here. "
This sci-fi story depicts a couple, Marcus and Grace, undergoing a procedure in which their hearts are removed from their body, examined, and weighed, in order to determine who they have loved in the past, and who they love the most right now.
They are apprehensive about the procedure – two couples they know tried it and have since broken up. But as the story details, they are apprehensive for different reasons.
In the classroom: Since we find out the "Heart Scale" procedure results, but we don't find out how it affects Marcus and Grace's relationship, you could ask students to write their own version of what happens next.
Read this story (and others!) for free on ForeshadowYA.com.
Sister Godzilla by Louise Erdrich (MS/HS)
"Sister Godzilla" is the cruel nickname given to Sister Mary Anita, a new teacher at a rural Catholic school. The students are inspired to begin calling her "Sister Godzilla" by our protagonist, Dot, a troublemaker student, who even goes as far as drawing a portrait of Godzilla in a nun's habit. When Dot is confronted about the drawing by Sister Mary Anita, she undergoes a radical change of heart about her bullying. Dot, who "had never felt another person's feelings, never in her life" now finds herself strangely drawn to her teacher, and compelled to protect her from the bullying that she instigated.
Much about this story is left intentionally vague, so the reader is left with many questions. Why does Dot have such a rapid change of heart? What information can we gather about Dot's home life from the sparse details? What is Sister Mary Anita thinking at the end of the story as she looks out the window of her classroom?
Read this story for free on TheAtlantic.com.
Find more short texts by Indigenous authors in this post.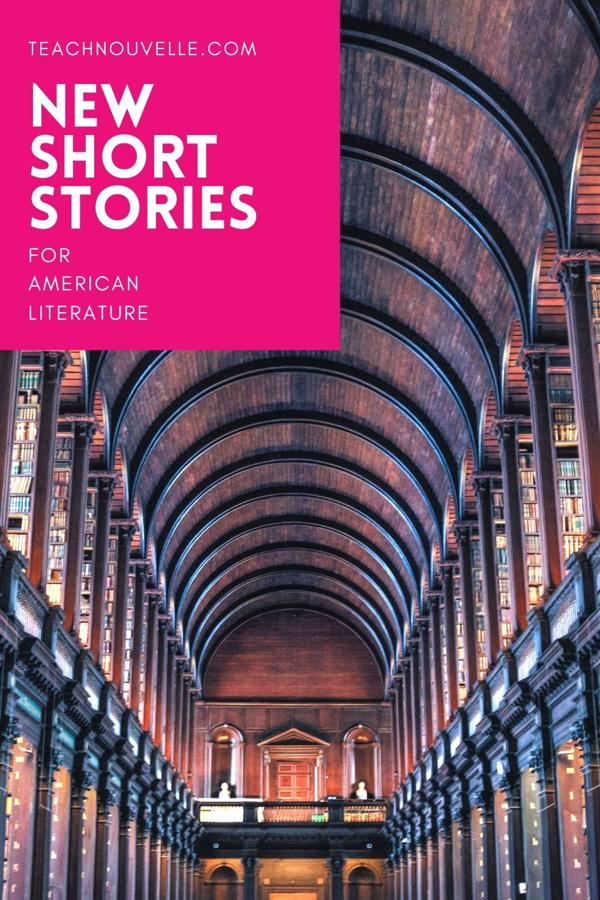 I hope you're looking forward to using these new short stories for teaching American Lit! Do you have a favorite contemporary short story that resonates with your students? Shout it out in the comments!
Want more recommendations? Check out these posts on new short stories for middle and high school ELA.
Happy teaching,