Unreliable narrators in YA Lit abound, and novels with these characters make great additions to your classroom library.
Unreliable narrators are voice whose perspectives on a situation are called into questions for any number of reasons. Basically, we as the reader cannot trust the very vehicle through which we are given the story! The unreliable narrator is a popular device in fiction, leading to winding mysteries and twist endings.
I believe that appeal to the teenage brain in particular, since they are establishing their worldviews and their decisions on whom to trust and distrust.
So, let's look at some types of unreliable narrators and some concepts that you may want to discuss with students in their book conferences.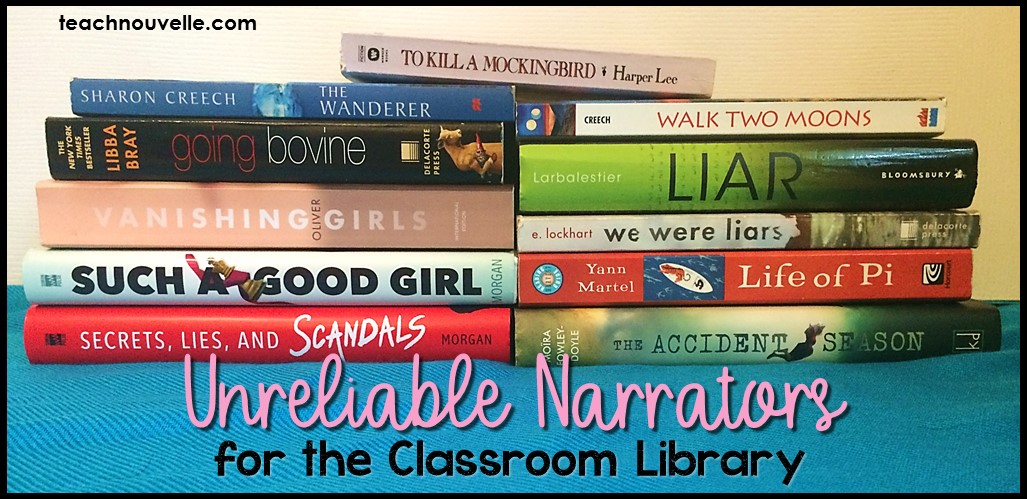 The Naïve Narrator
A naïve narrator imparts limited understanding of the events they witness, usually due to innocence or inexperience. They pass very little moral judgement on a situation, and we as readers may be able to do so much more efficiently.
Some classic examples are Scout from To Kill a Mockingbird and Mark Twain's Huck Finn. Each of these characters witnesses injustice, but may not understand why the actions they see adult characters taking are even wrong. Adults can also be naive narrators, though their participation in this category should always be questioned. Nick Carraway from The Great Gatsby falls in this category, since he is naïve to many of the underlying events in the very story he's telling. Still, we wonder how much his affection for Gatsby is clouding his judgement.
Traumatized or Ill Narrators
Sometimes, we as readers don't even know that the narrator is unreliable until we begin to unpack their past trauma. This may not even become clear to us until after the second plot point!
Many students will have read Sharon Creech's Walk Two Moons
in upper elementary or middle school, and this can be a great introduction to this concept. Savvy readers will have developed a radar for trauma and be on the lookout for how it might impact the telling of a story.
Life of Pi
by Yann Martel is a great example of a book in which we suspect from the very beginning that we could be dealing with an unreliable narrator. The trauma is so evident from the beginning of the novel that there's no "twist" as the narrator is exposed as unreliable. That means that the reader actually judges the veracity of the story the whole time.
In We Were Liars
by E. Lockhart and Vanishing Girls
by Lauren Oliver, we're dealing with two narrators who are suppressing their own trauma, and so the exposure of this manifests as a "twist". There are definitely clues along the way in both books that something is amiss, which can be a great point to discuss with students:
What clues did the author use to foreshadow the unreliability of the narrator?
We can also encounter narrators who, whether we know it or not from the onset, are ill. Going Bovine
by Libba Bray is a great example of this, since our narrator gets diagnosed early on with Mad Cow Disease. The novel takes on sort of an eerie fantasy vibe, since we understand that our narrator is losing touch with reality and can't distinguish his imaginings from real life.
Manipulative Narrators
Lastly, we have unreliable narrators who are intentionally manipulative. This characters sculpt their own narrative for a variety of reasons. This device is used to create suspense, leading to more "twist" endings.
In adult fiction, you can see the popularity of this in sensations like Gone Girl
by Gillian Flynn. The pivot for this book happens early, letting the reader "in on the secret" as early as the halfway mark. This leads to another great conference question:
When did you feel you were 'in on the secret' and able to understand a character's motive? How did you feel before you understood what was going on?
Suspense is one of the most fascinating genres to discuss with students, since author's craft is just as evident as the characters and setting are. Students can easily spot pacing and foreshadowing, and they always have so much to say about what they thought was going to happen.
I recently read a new suspense, Such a Good Girl
by Amanda K. Morgan. I have read books of hers before, and she has an excellent handle on the teenage voice. Her writing style is fast-paced and upbeat, even as she tackles big questions about life. In Such a Good Girl, our protagonist, Riley, rejects her goody-two-shoes reputation and begins a romance with her French teacher. She gets entangled in a mess of social and school politics, along with having to worry about her French teacher's wife.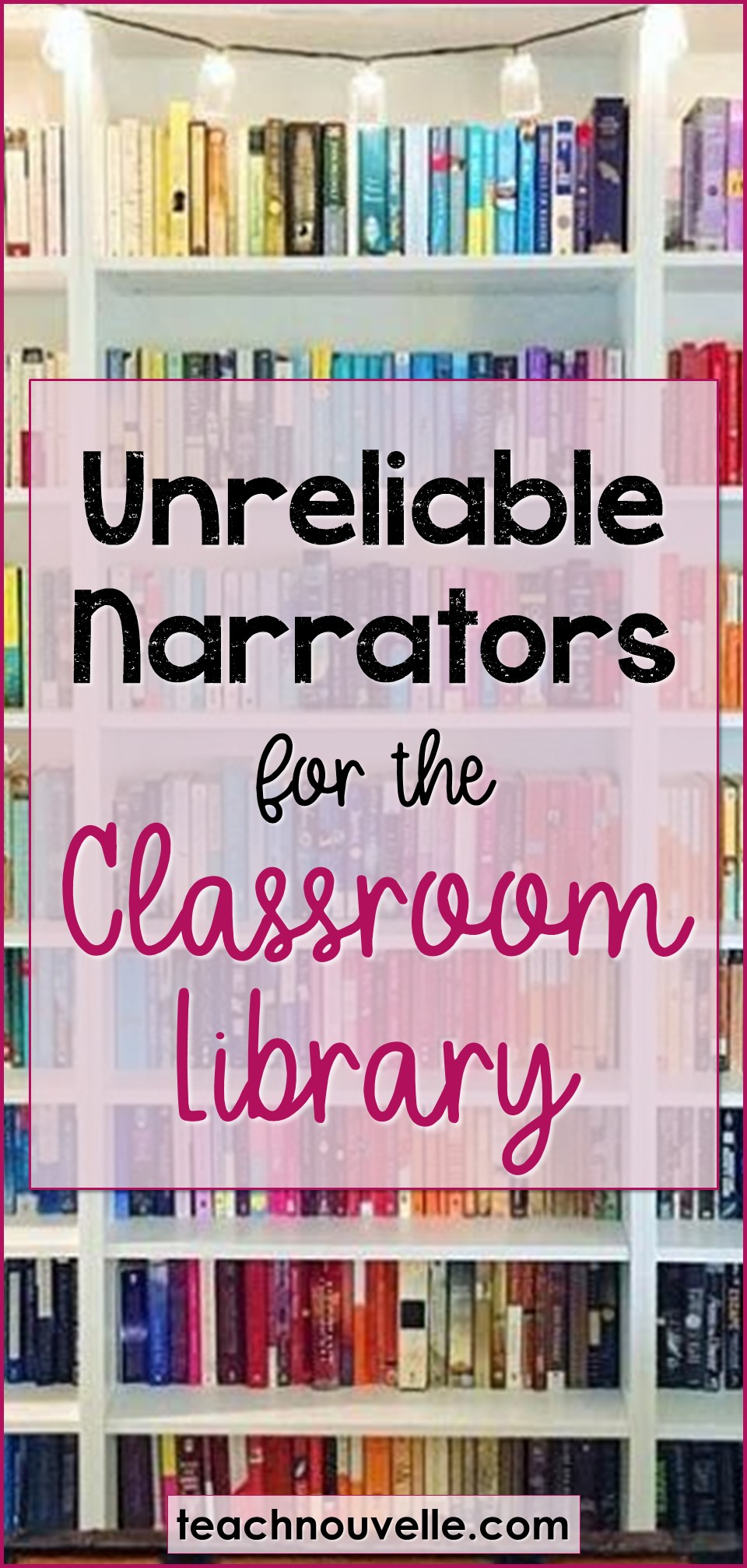 Ask students: What do you think of (character)'s choices?
What choice would you have made and why?
This book is popular with teen readers right now, and I think it's largely because of Riley's control of her own narrative. I don't want to give away the ending because I really want you to read this book, but I will say that she's smart, organized, and fierce. She has the perfect plan for her life – but will she get it?
I also recommend Amanda K. Morgan's other books for your classroom library: Secrets, Lies, and Scandals
, and After Hours
(under the name of Claire Kennedy). Students will devour her novels – the fascinating characters tackling real-world problems make for books you can't put down.
That's it for me, folks! What are your favorite examples of unreliable narrators?
((This post contains affiliate links. If you plan on purchasing any of the novels discussed here, please consider using my links. Affiliate money helps me maintain this site so that I can continue providing you with great content! <3))