This content has been archived. It may no longer be relevant
Wild Swans by Jessica Spotswood
Ivy grew up in her great-grandmother's house under the constant gaze of old portraits of distinguished Milbourn women and wrapped in the dust of old prizes and journals. She comes from a long line of bright and brief stars, each taken too soon by mental illness or murder. Her grandfather pushes her to find her talent and to achieve, but Ivy wants out from under the pressure of the Milbourn legacy.
Ivy struggles to keep old friendships and cultivate a budding romance, but her absent mother returning to the picture might be too much to bear. As she tries to keep the peace between her tempestuous mother, her overbearing grandfather, and her moody sisters, Ivy must also give voice to her own feelings.
—
I was so happy to have received an ARC of this book, having read and loved the Cahill Witch Chronicles. I adored Spotswood's development of three unique and intelligent sisters in that series, each with their own passions and voices. I also loved her narrative voice – so true-to-life, but vivid enough to carry me away in the story.
Wild Swans is equally amazing.
Reading this was a character-driven experience for me. From Ivy's urge to apologize for everything to Isobel's stubbornness as a fierce 15-yr-old, each character is painted so true-to-life. Spotswood gets the details right, giving even the best friends unique personalities (and HOORAY for a true introvert!).
And the boys. I love that Ivy is physically attracted to Connor at first, but skeptical. This seemed like the perfect answer to the standard love-at-first-sight nonsense. Alex rounds out our love triangle, of course, but he's a jerk for most of the book. It's clear that he has history with Ivy and a good heart, and Ivy wants to keep his friendship while not waffling on her choices.
Spotswood also goes the extra mile to include big questions (depression, a transgendered child, etc.), while never indulging in condescending morality lectures. This is what I truly love reading her books – that there's no agenda, no moral… just fiction, and my ability to make of it what I will.
In the Classroom
In addition to adding Wild Swans by Jessica Spotswood to your classroom library right away, you could use it to enrich your curriculum in other ways.
Close Reading for character. As I said, this is a character-rich novel. Why not pull out certain scenes (any of Claire's scenes, for example) and have students close read for Spotswood's character development? Students can even try emulating her style.
Text Pairings. Pair this book with articles about depression in families, or a biography of a famous writer. Sylvia Plath in particular comes to mind, given what she left behind in journals.
Poetry extension. A clear companion to this book is the poetry of Edna St. Vincent Millay, mentioned several times in the novel. Students will enjoy reading about Ivy and Connor's love for poetry, particularly since it runs the spectrum of mild interest to heartfelt passion. Again, pull out specific sections that show the characters' feelings toward poetry, and ask students if Spotswood makes these feelings relatable.
If you would like to purchase the book, you may do so here at Amazon: Wild Swans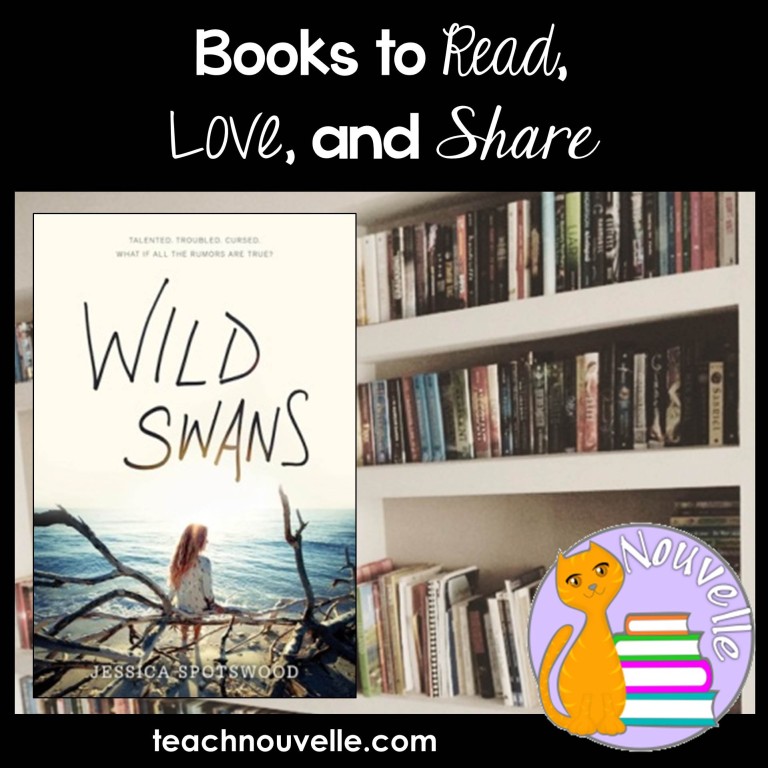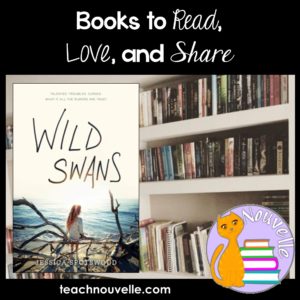 Best,
Danielle @ Nouvelle
Note: Danielle @ TeachNouvelle.com is a participant in the Amazon Services LLC Associates Program, an affiliate advertising program designed to provide a means for sites to earn advertising fees by advertising and linking to amazon.com