Can Bri be true to herself and still make her voice heard? On the Come Up by Angie Thomas is a love song to rap and radical, brave young women. (Transcript)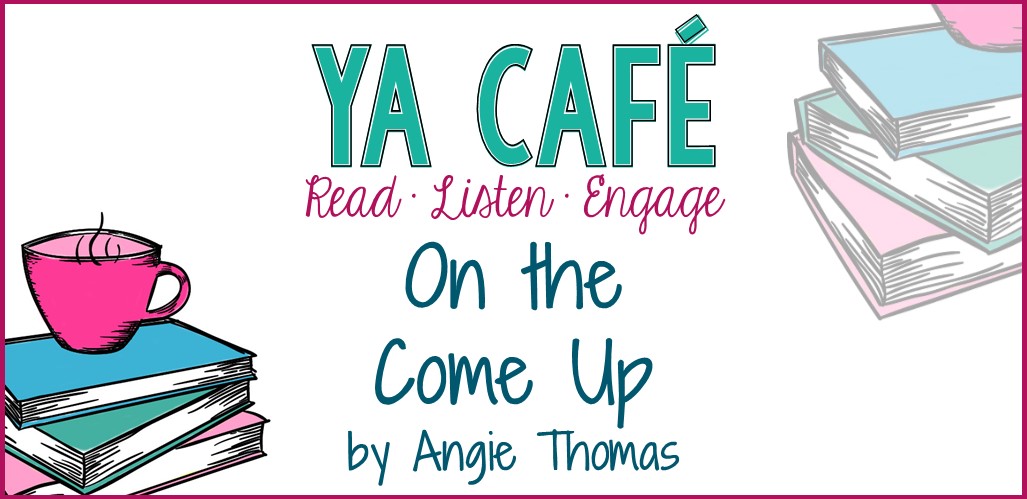 In today's episode…
In Angie Thomas' new book, On the Come Up, Bri Jackson isn't interested in the prescribed future of college and career her mother has in mind for her. All she wants to do is follow her passion and talent and become a hip hop artist, like her late father. After a triumphant debut at The Ring, a local venue for rap battles, Bri is ready to rise to the top. Unfortunately, the world has its own ideas about how a teenage Black girl is expected to act. She faces relentless racism and oppression just for being a normal high school girl, even without the reputation she gets for rapping. Will Bri be able to stay true to herself and follow her dream?
These Show Notes use Amazon Affiliate Links for your convenience.
If you decide to purchase this book, please consider doing so through our affiliate links.
Your support makes this podcast possible.
On the Come Up Episode highlights…
Spoiler-Free
*3:22 – Aunt Pooh's mentorship (is that what it is?):
"She said I'd have to do double the work to get half the respect on top of that. I got to be just as cutthroat and I better not show weakness."
*6:11 – Bri's grandparents and the tension with Jayda
*8:20 – Recommended reading for teachers: Pushout by Monique Morris
Things We Like a Latte 
Danielle: The Firebrand and the First Lady by Patricia Bell Scott – an excellent biographical account of Pauli Murray and Eleanor Roosevelt. Pauli, like Bri, is FIERCE and uses her words to affect change
Amanda: "The Anti-blackness of Believing There's No Queerness in the Hood" by Benji Hart
COMING UP NEXT: WE SET THE DARK ON FIRE BY TEHLOR MEJÍA
(episode on 2/21)
PRE-ORDER YOUR COPY TODAY!
Spoiler-Informed
*14:16 – Our main dispute and how the conflict in this book is really about tone policing.
*22:59 – Reference to Simon vs. the Homo-Sapiens Agenda and Angie Thomas and Becky Albertalli's real-life friendship. (Also, Amanda breaks fandom)
Want book recommendations delivered to your inbox?
Sign up for the YA Reads Monthly Newsletter!
More ideas and resources for teachers and librarians…
In this episode, Danielle references the book Pushout by Monique Morris. This is definitely a must-read for educators to begin to acknowledge how Black girls are treated differently in the educational setting because of implicit biases. Everything from the socialization of Black girls to the future that our society deems them worthy of having contributes to an imbalance and inequity at school.
Additionally, this is the Week of Action for the #BlackLivesMatterAtSchool campaign. You can find their free Curriculum Resource Guide here as well as learn about teaching #BlackLivesMatter. Remember, even though the Week of Action is nearly over, you can use these resources throughout the school year. Social justice is not something that should be relegated to a single week of the year. You can also download some amazing posters by Caryn Davidson for your classroom.
Get in touch with us on Instagram and Twitter at @yacafepodcast or email us at yacafepodcast@gmail.com. We look forward to hearing from you!
Credits…
Hosts: Danielle Hall (who blogs at teachnouvelle.com)
          & Amanda Thrasher (a booklover extraordinaire)
Producer: Leila Hobbs
Music: Matt McCammon
Thank you to HarperCollins for the early review copy!