In The Disasters by MK England we follow four teens on the run. Can they evade the government long enough to stop the terrorists from striking again? (Transcript)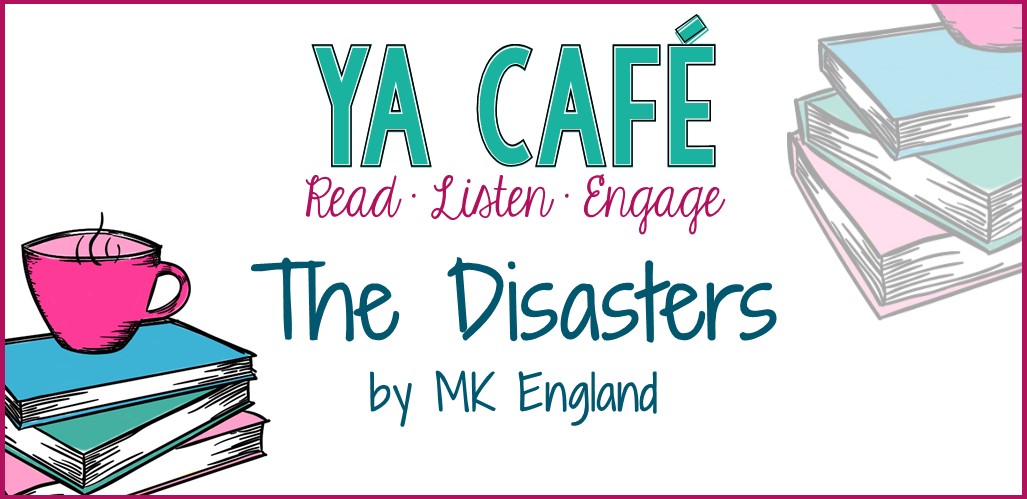 In today's episode…
Today we're discussing The Disasters by MK England. After washing out of flight school in less than a day, wanna-be pilot Nax Hall is dreading his return to Earth. But when the Academy Space Station is attacked by terrorists, Nax and three other failures escape in a stolen ship to the far-off colonies. Framed for the academy attack, the four of them must scramble to figure out where to hide and how to prevent the powerful terrorist organization from striking again.
These Show Notes use Amazon Affiliate Links for your convenience.
If you decide to purchase this book, please consider doing so through our affiliate links.
Your support makes this podcast possible.
Episode highlights…
Spoiler-Free
*1:38 We thought the snappy writing style and the fact that it's set "five minutes into the future" made this an excellent choice for readers who are new to Sci-Fi.
*3:28 Crashing sims – the flight school plotline
*5:38 We disagree on Nax's voice, and on a joke that made Danielle literally LOL
*8:13 We loved the portrayal of the colonies and how they were still very diverse
Things We Like a Latte
Amanda – The YA new release Skyward by Brandon Sanderson
Danielle – 1. Our bookstagram friends, Anna & Courtney, met in real life for the first time last week, so exciting!
                   2. Seeing a display for The Last Unicorn: The Lost Journey  that reminded her of how much she loved the movie The Last Unicorn.
COMING UP NEXT WEEK: 
Part 1 of our 'Best YA Books of 2018' round-up where we will have recommendations from teachers, authors, and bookstagrammers.
Spoiler-Informed
*15:34 "Earth First" the nationalist terrorist group, out to destroy the colonies! Or something …
*17:11 We really liked the treatment of mental health in this book, and specifically mental health in the military
*19:43 If you love chase scenes, this is the book for you
*21:44 We disagree on Nax and Malik's relationship
Want book recommendations delivered to your inbox?
Sign up for the YA Reads Monthly Newsletter!
More ideas and resources for teachers and librarians…
This novel was very fast paced with fairly short sentences and snappy writing, elements that we think that makes it a great choice for a reluctant reader. The "five minutes into the future" setting which has tons of current references would also make it a great choice for a reader who is new to sci-fi, or not a huge sci-fi fan.
If you listened to the episode you will also know that Amanda admits to being (in her words) "the worst" and not completing her required reading in school. While Amanda obviously turned out to be a lifelong book-lover, it can sometimes be hard to know if kids aren't finishing their reading because they are struggling, or because they simply don't enjoy the material.
A great way to bolster your students love of reading is with book conferences. Danielle has a very informative blog post about how she conducts book conferences, and how she uses them to track and reward students progress. It's also a great way to find out what sort of books your students are interested in, so that you can make better recommendations.
Get in touch with us on Instagram and Twitter at @yacafepodcast or email us at yacafepodcast@gmail.com. We look forward to hearing from you!
Credits…
Hosts: Danielle Hall (who blogs at teachnouvelle.com)
          & Amanda Thrasher (a booklover extraordinaire)
Producer: Leila Hobbs
Music: Matt McCammon
Thanks to HarperCollins for the ARC!