Take a look inside my completely updated and redesigned Odyssey interactive escape room. New art, new hints, and a brand new digital platform for teaching the Odyssey.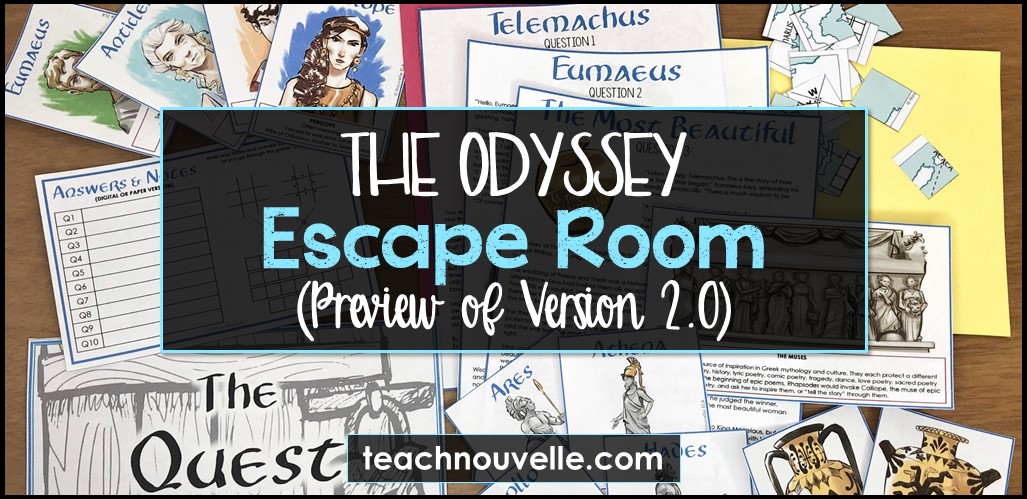 Have you played my Odyssey Escape Room? In this interactive adventure, students play as Telemachus, trying to solve Eumaeus' puzzle and get access to Odysseus' famed bow. It's an introduction to the Greek gods and goddesses, the characters in The Odyssey, and life and customs on Ithaca. 
Since I first shared this resource in 2017, it has been in constant evolution, improving for the better based on amazing feedback from students and teachers. One teacher told me that her class needed hints, so she set herself up as the Oracle at Delphi. I worked this into an update in late 2018, adding four hints in verse for the Oracle to give.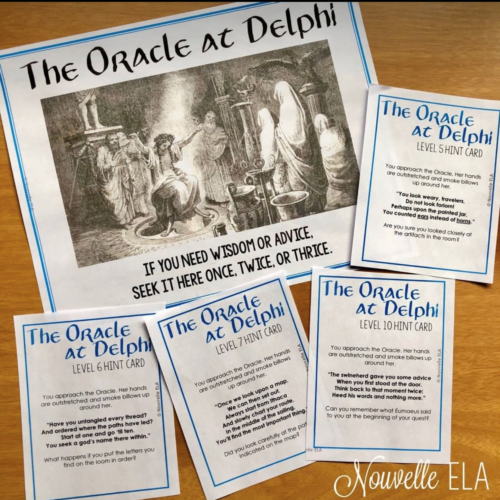 Now, there's an all-new interactive style. And if your classroom doesn't have access to computers, don't worry! It's still playable as a paper version with all the updates and gorgeous new art for teaching The Odyssey.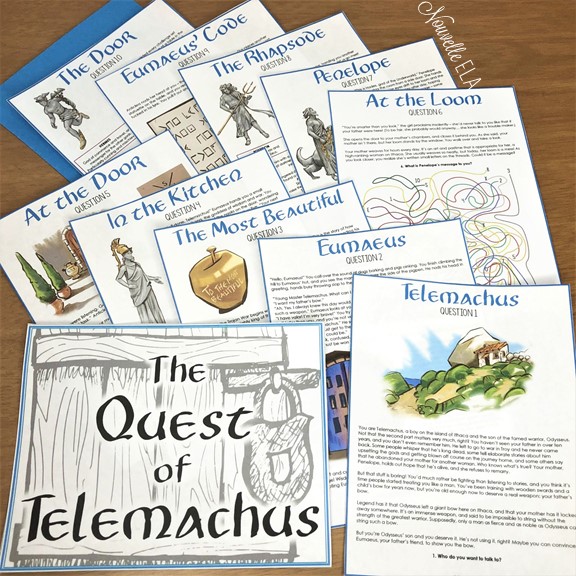 Ready to check out the updates?
I developed this digital adventure-style game for my series, Burnbridge Breakouts. To build Burnbridge, I partnered with YA author Amanda K. Morgan who wrote an original story for the game, plus developers, and an amazing visual artist, Lily Chan. I created Burnbridge specifically to engage reluctant readers, and you can sample the first game here!
I brought Lily back on board as I revised The Odyssey Escape Room to share this same interactive style. Whereas I originally used public domain images and clipart, I was ready for something more cohesive and engaging for students. Lily did amazing character portraits of Telemachus, Penelope, Eumaeus, and Anticlea.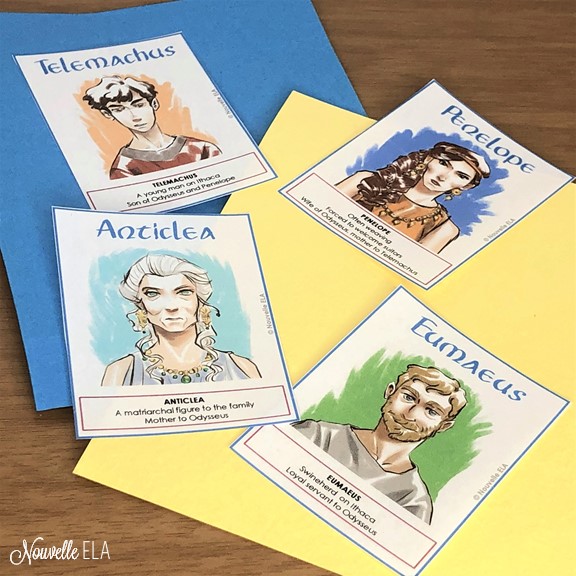 She also really "sets the scene" for Ancient Greece, like drawing the Greek isle of Ithaca and the inside of a Greek kitchen. She also reimagined all of the statues that Telemachus finds throughout his journey.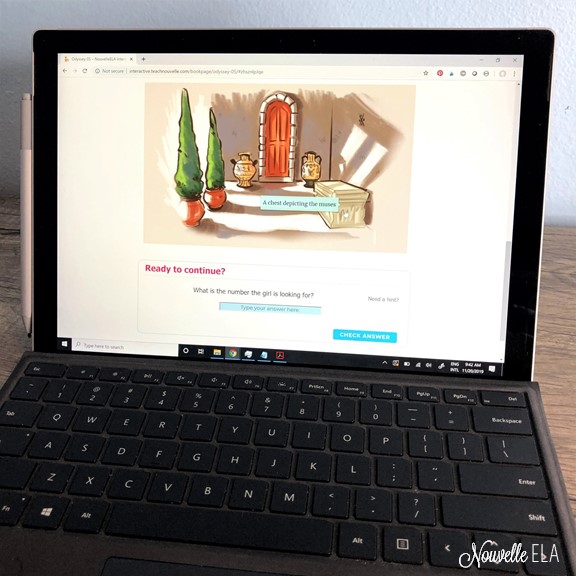 Here's what other teachers are saying about teaching the Odyssey with this interactive escape room:
⭐⭐⭐⭐⭐
"I have used this three times now and each time my kids all stay engaged and love this activity! I have a hard time getting them out of the room they enjoy it so much!" -Emily
⭐⭐⭐⭐⭐
"My students absolutely LOVED this activity!  Not just the majority of them, but ALL of them. They couldn't stop talking about it for days. They have also since requested to do as many of these types of activities as possible.
⭐⭐⭐⭐⭐
Not only was it fun, but this particular activity really does a great job at introducing the students to the main events, characters, monsters, gods, and themes of The Odyssey. I feel they understood the content much better because of this introduction.
⭐⭐⭐⭐⭐
I cannot recommend this enough for teaching the Odyssey." -Kristen
⭐⭐⭐⭐⭐
"This was one of the best escape rooms my kids have done!  I even enjoyed the challenge of working the 10 puzzles myself. Thank you for the time and effort. This really gets kids ready to begin reading the Odyssey. I highly recommend it!" – Shannon
⭐⭐⭐⭐⭐
"I taught a class that had five boys with ADD. Wow. They've never been so engaged and happy in class! They regularly remind me of that great day in class when we did this activity! " – Caelah-Beth
⭐⭐⭐⭐⭐
"This is my favorite part of my Odyssey unit!" – Hannah
By popular demand, I have also created a spinoff product from this game, Greek Pantheon Character Cards. They can be printed full-size as posters or in a handheld trading card size. They come included in the Odyssey package but can be purchased separately for teachers who aren't teaching The Odyssey.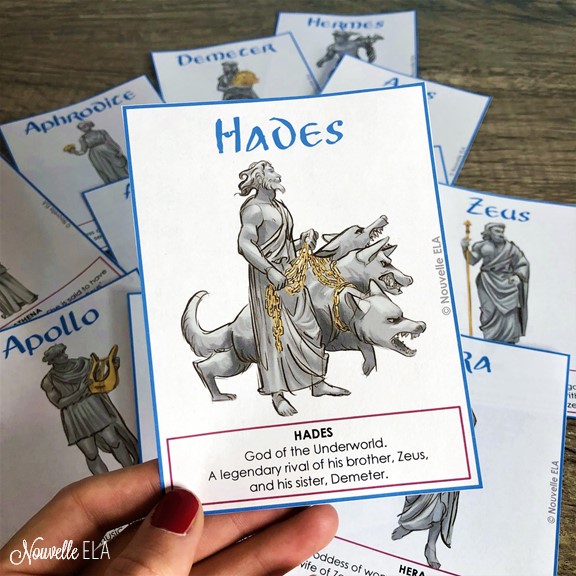 If you share photos of your students playing this game or any of my escape rooms, be sure to tag me @nouvelle_ela! 
Happy teaching!