Are you teaching The Odyssey and looking to diversify your unit? Engage your students with contemporary song pairings!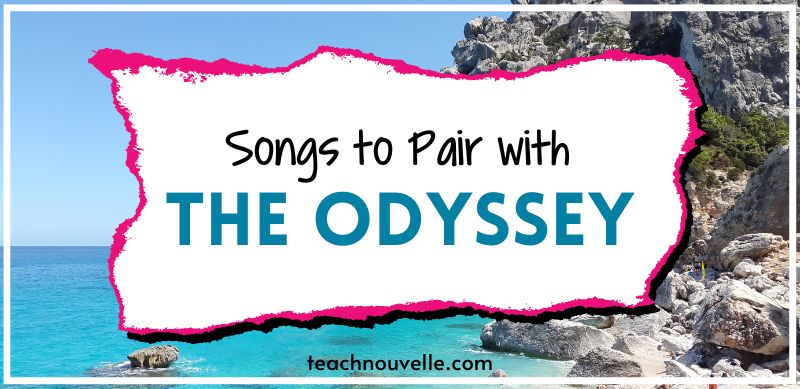 How do I start teaching The Odyssey?
If you are about to start teaching The Odyssey, you might worry about its lack of diversity. You might also worry that your struggling readers will check out. You are most definitely not alone in your concerns!
Below are three contemporary songs you can use as a part of your introduction to The Odyssey. You can also choose to use these song pairings as an Odyssey activity to reinforce popular themes.
Pair these Odyssey activities with the "Introduction to The Odyssey" Escape Room, which includes all the pre-work students need before they read!
The Odyssey Activities
Introduction to The Odyssey Idea
Many of my students still love Moana just as much as they did when it first released in 2016. Use one of the most popular soundtracks from the film–"How Far I'll Go"–as leverage to engage your students' interests.
As an introduction to The Odyssey, I suggest…
Starting the conversation by watching this visual TedEd (outlines the hero's journey criteria)
Playing Cravalho's music video
Having students discuss where they have seen the hero's journey criteria play out in more up-to-date films, such as Moana
Comparing Odysseus to more contemporary heroes, like Moana or others found here
This introduction to the Odyssey allows students to connect their learning to characters and texts they are familiar with. Making these connections using music and media will boost engagement for all students, especially as you scaffold teaching The Odyssey to struggling readers.
Once your students begin The Odyssey, they can…
Revisit this music video
Discuss how Moana's community perceives her ambitions of adventure differently from Odysseus' community
Model a compare and contrast between Odysseus and Moana
Have students conduct their own compare/contrast using another contemporary hero of their choosing.
Looking to further diversify classic literature? Teach some myths of Maui as supplemental reading. You can also use this ready-to-use resource with other inclusive supplemental material.
Teaching the Odyssey to Struggling Readers
We know Odysseus knows how great he is. He is constantly crowing about his excellence, and he is fiercely proud of his cunning. Well, there are plenty of songs like Nicki Minaj's "I'm the Best"—a song about how Minaj has defied expectations and overcome adversity to get to the top.
As one approach to teaching the Odyssey, have students write about why they're the best at a given thing. Activities that validate student experience are always a win! Asking students, especially struggling readers, to connect their analysis to their own lives will strengthen their connection to the text.
For another Odyssey activity, Minaj's song can contrast Odysseus's unhealthy hubris throughout the epic.
(Note: This links to the clean edit, but you'll need to decide whether the edits are clean enough for your classroom.)
This suggestion comes from Inclusive Text Pairings for The Odyssey.
What are the major themes of The Odyssey?
Need help teaching one of the major themes of The Odyssey? Need support with characterization? "Pray for Me" is the song best suited for your Odyssey unit. You can also reuse this song for some other units—check out ideas here.
One Odyssey activity idea is for students to…
Dissect the lyrics and compose a list of expectations required of a hero according to the song
Discuss how Odysseus fits and/or differs from this mold
Analyze how our ideas of a "hero" have developed over time
This discussion can lead students to understand the main lesson of The Odyssey by answering a guiding essential question: what do stories teach us about culture?
You can also use this song to teach characterization. Students can compare and contrast Odysseus' attitude with the speaker of the song. This characterization analysis connects to another important essential question: what makes a hero?
Whichever Odyssey activity you decide to implement, you can further explore the essential questions mentioned above through these supplemental learning activities.
Next Steps?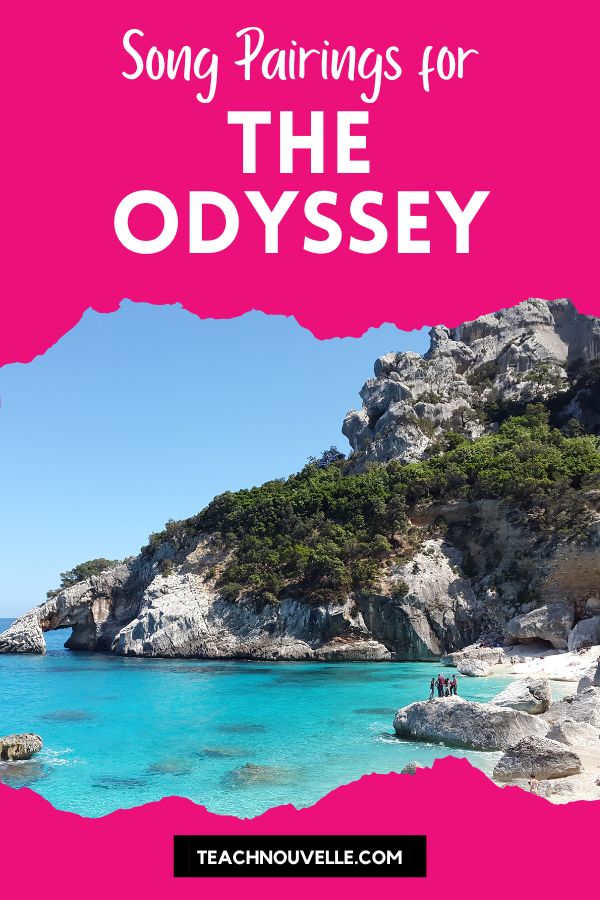 Now that your kids are engaged, KEEP them hooked with this "Introduction to The Odyssey" Escape Room. This escape room works digitally, on paper, or as a blended version. It covers all the introductory topics students need to know before reading The Odyssey with no prep work required!
Looking to incorporate more music throughout your teaching? You should! This blog post on The Secondary English Coffee Shop explains how students can create study songs, conduct song analysis, and more.
What are your go-to songs to use in ELA? Share what and how you use them in the comments below or on IG @nouvelle_ELA.
Happy teaching!