Using music in the classroom has countless benefits. This post has song suggestions, teaching tips, ready-to-use resources, and much more!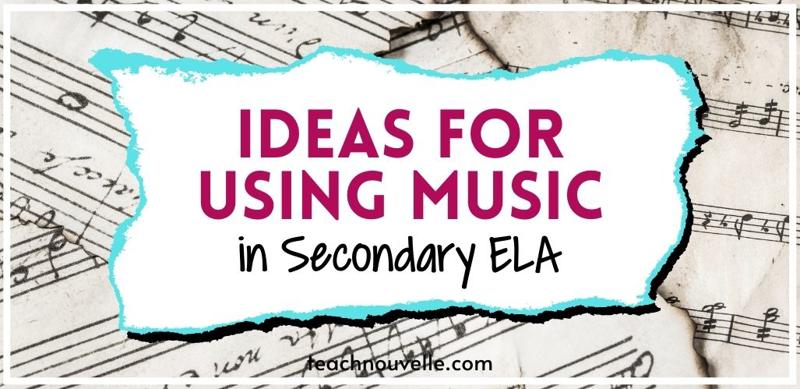 How does music connect with ELA?
Think about your favorite song. How many elements of literature are present in the lyrics? Rhyme and meter are obviously connections, but many of my favorite songs also utilize characterization, symbolism, irony (no, not THAT song about irony), metaphor, and figurative language. Even instrumental music can be related to ELA concepts!
Many students might be familiar with "Peter and the Wolf" by Sergei Prokofiev, a piece that is commonly used to introduce children to the different instruments of the orchestra. The characters of the story are represented by different instruments (e.g. the Wolf is represented by the french horn, the hunters by timpani, and my personal favorite, the duck is represented by an oboe). Using this piece of music in the classroom provides a great example of non-verbal characterization. 
In the classroom: I love the Disney animated Peter and the Wolf (narrated by David Bowie!), and I think it would be a fun experiment to play the introduction for your students (up to 2:35) and then ask students to write about what ideas and traits they would associate with each character based on the music. You could even ask them to predict the plot of the story. After that, you could play the rest of the video, or simply have students read the story and see how well their predictions and first impressions of the characters lined up with the real thing.
Teaching with Music – More ideas and resources
"She tried to get it where she fit in,
On that American Dream mission paid tuition,
For the receipt to find out her history was missing and started flippin',
Seeing the world through very different eyes."
In this song, Kweli pulls inspiration from "Four Women" by Nina Simone. In Simone's original work, she created four women from different backgrounds and walks of life, united by a common cause: to be 'named' in a society that overlooks them. Kweli expands on this, giving each woman a verse that tells a vivid story.
In the classroom: This song is perfect for helping students explore unifying themes and character development (CCSS.RL.9-10.3). Kweli and Simone both rely on characters that span generations, so each develops their story using flashbacks and allusions (CCSS.RL.9-10.5). You could also bring in Sojourner Truth's speech, "Ain't I No Woman?" to tie in some nonfiction.
A word of caution: This song has some strong imagery that you'll want to preview. There is use of the n-word in a careful and intentional way that reflects on the changing rights and enfranchisement of African Americans. However, you know your students and community best. You'll want to prepare yourself to prepare them to talk about this content with maturity.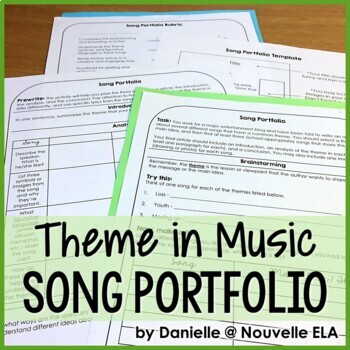 Are you looking for a song analysis lesson students can complete on their own? In this Theme in Music portfolio, students practice analyzing song lyrics and music in three songs. This scaffolded activity is the perfect sub plan or snow day lesson!
"I thought if I could touch this place or feel it
This brokenness inside me might start healing."
With imagery like "handprints on the front steps", the lyrics to this song evoke a strong feeling of nostalgia. In literature, 'home' is often more than a physical place, it's a metaphor. Students could explore that idea by reading the lyrics to this song along with some classic poetry such as, "The Self-Unseeing" by Thomas Hardy, "Home is so Sad" by Philip Larkin, or "The Props assist the House" by Emily Dickinson. This is great practice of CCSS.RL.9-10.7, comparing the development of a theme in two mediums.
Find this and other songs and suggested lessons in the post, Songs for ELA.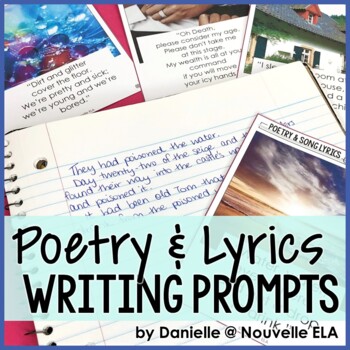 Use these poetry snippets & song lyrics as journal prompts to inspire creative writing and storytelling. One benefit of using lyrics and music in the classroom is that many students find song lyrics to be less intimidating than poetry, even though they have the same teaching benefits!
Includes 60 prompts that evoke plot, character, conflict, theme, and settings. Use as one or two quotes per card, with or without images. Includes a low-print version, ideas for differentiation, and a Teacher's Guide. (grades 7-12)
"I am beautiful,
no matter what they say.
Words can't bring me down."
Y'all, the teen years are tough. But the good news is that you can support your students by giving them chances to practice positive self-talk. You could even pair this song with a classic like "Song of Myself" by Walt Whitman. Students could compare and contrast how the two narrators practice self-reflection. Or you could give students a chance to write their own affirmations.
Find this and more ideas for music in the classroom in the post, 15 MORE Songs for ELA.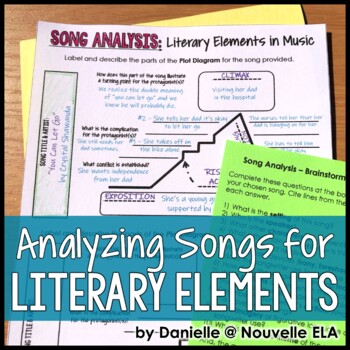 This resource allows students to practice analyzing song lyrics for literary elements. They treat the song as a text and use textual evidence to support their claims. This is a fun, low-stakes way to practice analytical writing.
Benefits of Music in the Classroom
"People from surgeons to athletes have been tapping into music's relaxing properties before tackling a stressful situation. Remember Michael Phelps' omnipresent headphones? We can allow our students the same opportunities and play some music while they're writing, studying, or taking a test. "

"Along this same line, music can be used to inspire creative writing. Encourage students to develop playlists for a certain writing project they're working on. I often share my writing playlists with students to give them some ideas – my playlist for a sappy YA romance novel is completely different from my dystopian fairy tale rewrite playlist. Students should be encouraged to choose music that moves them towards the end goal: being creative and productive and awesome!"
More resources for using music in the classroom:
Prohibition Era Songs – A mini-escape room and close reading
This resource is the perfect way to introduce your students to Prohibition in ELA or Social Studies. Students close read lyrics from four Prohibition-era songs, answer multiple-choice questions, and decode a secret quote. You can choose whether or not to hide clues in the room. It has been designed to take on-level 9th graders 30-45 minutes. This resource includes a Teacher's Guide, extension activities, and an Answer Key. (grades 7-12)
Romeo & Juliet (Set to Pop Songs!)
Part of my Shakespeare in 30 collection, this adaptation tells the story in Shakespeare's original language, set to the tune of five pop songs. The original text of the play has been adapted for teens to tackle in a half an hour, so this abridged Romeo and Juliet is perfect for ELA, ESL, and Shakespeare camps.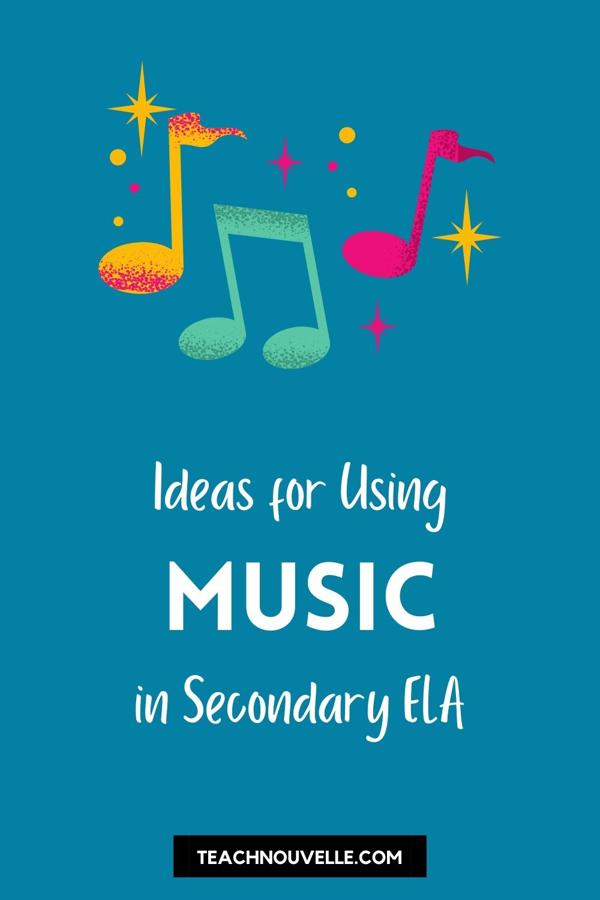 I hope this post gave you some ideas for using music in the classroom! How do you integrate music into ELA? Comment below with your students' favorite songs or activities 🙂
Happy teaching!