Music is a great way to connect with students! These Black History Month activities explore history, social justice, cultural lenses, & more.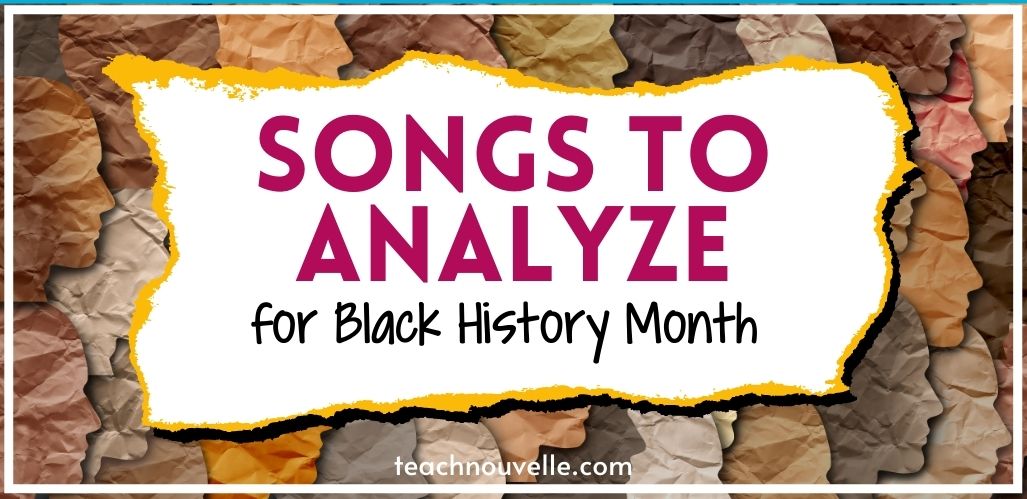 Music in the classroom is not only highly engaging for students. It's also great for helping students connect emotionally with people and cultures that have different perspectives from them.
These lyrics alone provide lessons on countless poetic devices and ELA concepts, but I have paired an extension activity with each song to help students dig deeper.
Songs to teach for Black History Month
"She tried to get it where she fit in,
On that American Dream mission paid tuition,
For the receipt to find out her history was missing and started flippin',
Seeing the world through very different eyes."
In this song, Kweli pulls inspiration from "Four Women" by Nina Simone. In Simone's original work, she created four women from different backgrounds and walks of life, united by a common cause: to be 'named' in a society that overlooks them. Kweli expands on this, giving each woman a verse that tells a vivid story.
In the classroom: This song is perfect for helping students explore unifying themes and character development (CCSS.RL.9-10.3). Kweli and Simone both rely on characters that span generations, so each develops their story using flashbacks and allusions (CCSS.RL.9-10.5). You could also bring in Sojourner Truth's speech, "Ain't I No Woman?" to tie in some nonfiction.
A word of caution: This song has some strong imagery that you'll want to preview. There is use of the n-word in a careful and intentional way that reflects on the changing rights and enfranchisement of African Americans. However, you know your students and community best. You'll want to prepare yourself to prepare them to talk about this content with maturity.
"Picket lines and picket signs:
Don't punish me with brutality.
C'mon talk to me,
so you can see, what's going on."
In a stark departure from the style and content of his many Motown hits of the '60s, "What's Goin' On" addresses head-on the violence happening in the streets of America. Gaye found inspiration in many real-life events (Civil Rights Era protests, the Watts riots, and Vietnam War protesters), so this song could pair with many nonfiction articles.
In an interview with Rolling Stone, Gaye said, "In 1969 or 1970, I began to re-evaluate my whole concept of what I wanted my music to say… I was very much affected by letters my brother was sending me from Vietnam, as well as the social situation here at home… I wanted to write songs that would reach the souls of people – I wanted them to take a look at what was happening in the world."
Marvin Gaye asked, "What's Goin' On?" in 1971, but today — nearly 50 years later — we are still asking the same question.
In the classroom: What social issues are important to your students? You could use this song as a call to action for some classroom activism. Learning for Justice has a variety of planned activities for grades K-12 called "Do Something" that "ask students to practice their anti-bias awareness and civic competency by applying their literacy and social justice knowledge in an authentic real-world context." They range from short activities to weeklong projects, and you could use them in a variety of subjects from ELA to Social Studies to Drama.
Find more Black History Month activities in my TPT shop!
"Respect" by Aretha Franklin
In her hit single, The Queen of Soul proclaimed,
"R-E-S-P-E-C-T, find out what it means to me."
But what does it mean to your students?
Each of us has our own unique conception of 'respect'. Many cultures differ on what it is, how it's shown, and who deserves it. Our definition of respect is a cultural touchpoint that can lead to disagreements, so a better understanding of where others stand can help develop empathy and strengthen a classroom community. You can have your students write about what respect means to them and their families and discuss this further in small groups.
In the classroom: This activity called "What's Your FRAME" from Learning for Justice is excellent for building classroom community and fostering respectful discussion by helping students understand their own cultural lens.
One reason I love this song is that Marley purposefully reminds the listener of how these men came to be soldiers:
"Stolen from Africa,
brought to America.
Fighting on arrival,
fighting for survival".
According to this article from Smithsonian Mag, "African Americans could only serve west of the Mississippi River because many whites didn't want to see armed Black soldiers in or near their communities." They "often faced extreme racial prejudice from the Army establishment."
In the classroom: This song would pair well with a nonfiction article about the Buffalo Soldiers. Many historians are quick to praise the Buffalo Soldiers for their bravery and their accomplishments, but it's vital to understand the context of their enlistment.
Check out this post for even more songs to teach in ELA!
Jimi Hendrix's iconic 1969 performance of The Star-Spangled Banner at the Woodstock Music Festival has been the subject of many critical evaluations, and a lot of hate mail! Woodstock was a culmination of counterculture and anti-war movements of the 60s, and many in the mainstream judged its performers and attendees. Some viewed Hendrix's performance as anti-American or an insult to the military. (Even though Hendrix enlisted in the Army in 1961 and trained as a paratrooper in the 101st Airborne Division.) Shortly after Woodstock, Hendrix appeared on The Dick Cavett Show and was asked about the meaning behind his performance. He said, "I'm an American, so I played it… I thought it was beautiful."
In the classroom: Playing the video of his performance would be a unique opportunity for students to analyze the tone, meaning, and purpose of his performance.
It could also be a chance for students to learn about the racist origins of America's national anthem, and compare the lyrics of "The Star-Spangled Banner" to that of the hymn "Lift Every Voice and Sing," a song that's known as the "Black national anthem."
5 Affirmations for Anti-Racist Teaching in ELA
"There are no words that can express how I feel.
You never kept a secret, always stayed real
And I appreciate how you raised me
And all the extra love that you gave me."
Many consider Tupac Shakur (stage name 2Pac) to be the greatest rapper of all time. He is the only solo rapper to be inducted into the Rock & Roll Hall of Fame. This song, Dear Mama, was inducted into the National Recording Registry of the Library of Congress in 2010. The NRR selects "sound recordings that are culturally, historically, or aesthetically important, and/or inform or reflect life in the United States."
Students might already be familiar with 2Pac if they are fans of Angie Thomas. 2Pac was a huge inspiration for her bestselling YA novel, The Hate U Give. Here EpicReads outlines some ways he influenced her writing.
In the classroom: Dear Mama tells the story of a tumultuous childhood, and a mother who, though deeply flawed, is loved and appreciated by Shakur. This song pairs well with the poem "Mother to Son" by Langston Hughes. I think this song also belongs in a lesson on personal narrative, perhaps as a mentor text for students to write their own rap-inspired biography.
(More ideas on teaching personal narrative in this post!)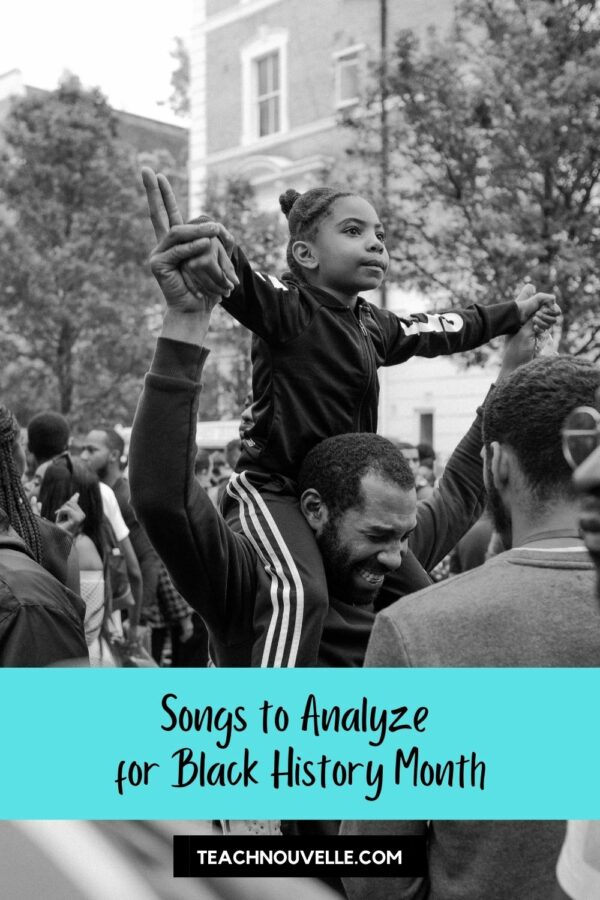 Final thoughts:
I hope this post gave you some inspiration for new Black History Month activities and topics. I have some more tips for (White) teachers who are teaching Black History in this post.
Happy teaching!