Realities of Anti-racism in Secondary ELA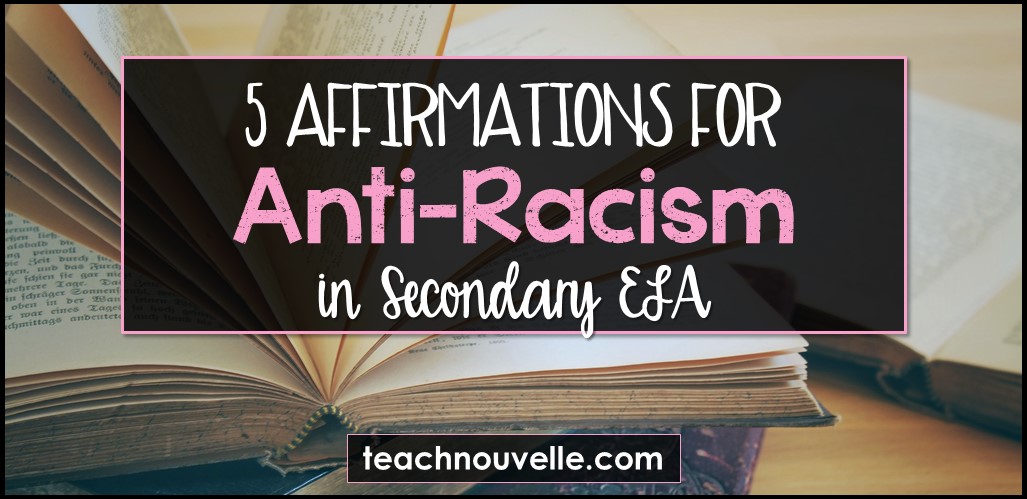 What texts do you teach, and what voices are heard? Here are some acknowledgments and resources for anti-racism in Secondary ELA.
Most of us can easily recall some of the books we were required to read in high school, no matter where in the United States we grew up. Of Mice and Men? Check. The Scarlet Letter? Yup. Romeo and Juliet? Us too. 
At The Secondary English Coffee Shop this week, literacy expert Dr. Sheila Frye and I discuss inclusive pairings for 10 commonly-taught texts. (You may remember Sheila from her post on this blog, Creating an Inclusive Classroom Library.) Before you read our post at the Coffee Shop, we wanted to make some acknowledgements and provide you with some resources for your anti-racist work. 
Educational scholars of yesteryear compiled a list of literary works that they deemed to be essential reading, used to build cultural capital and reflect a shared history. The issue is the majority (if not all) of the canonical decisions were made by white, middle class, cisgender males who chose works that often reflect the perspective of – you guessed it – white, middle class, cisgender males. While it is true that the canon has evolved a bit to include more modern classics such as 1984 and To Kill a Mockingbird, it is notable that these titles continue to be narrow in scope since they, too, serve to amplify white voices. Given the dynamic plurality of the citizens of our country, a large portion of our students' stories are being ignored or muted, all for the sake of past practice. The good news is that we all have access to tools to expand the canon and move it toward inclusivity and intersectionality. 
When we talk about diversifying, we mean adding more voices to the material aspects of our classrooms, like updating our reading lists to include authors from backgrounds not currently represented. When we use the term decolonizing, this is changing material and immaterial aspects of our teaching practices to de-center White European heritage.
1. Representation matters.
According to projected numbers from the 2020 Census Bureau, the majority of children living in the United States are students of color. In order to best meet the needs of all learners, it is critical that students see themselves reflected in the works presented to them. Research shows that readers make meaning and build knowledge when engaging with texts that they can relate to. Moreover, students have their very existence affirmed when they read texts written by and about people from their own culture, religion, orientation, etc. They learn that their voices matter, that their stories secure an important place within the larger human experience. Books also have the power to serve as windows, exposing students to lives that may differ from their own, leading to increased empathy instead of increased apathy. 
2. Diversifying the ELA curriculum is just one step. 
Because racist practices are deeply woven into most aspects of life in the United States, we understand that diversifying the ELA curriculum is a fraction of the work that has to be done. It is just one facet of anti-racism in Secondary ELA. Luckily, there are powerful resources out there to guide you while reflecting on race in America, identifying your own privilege, and dismantling racial biases:
Books for anti-racism in Secondary ELA:
Podcasts for anti-racism in Secondary ELA:
Films for anti-racism in Secondary ELA:
Blog Posts for anti-racism in Secondary ELA:
3. Schools are under-funded.
Not every teacher has the ability to change their whole curriculum in a single summer. We get that. Sometimes, the money isn't there and a teacher has to make due with class sets of novels that are ten or fifteen years old. We've worked to provide a variety of solutions so that you can have the biggest impact within your means. (Here's an idea for how to get free books from Danielle's blog.)
4. Teachers may have little say. 
Sometimes, curriculum decisions are made at a district level, and it can be difficult or impossible to pivot in a single summer. Sometimes, core texts are approved a year in advance, and there's little wiggle room. Within our recommendations, we'll show you how to reframe conversations around your "fixed" texts to increase empathy and critical thinking in your students. Our goal is to help you use the tools you have to disrupt racism. 
5. Talking about race may be new to many teachers.
See that massive, grey animal over there in the corner? For far too long, that elephant has lurked in many places – public and private – waiting to be acknowledged. Here in the United States, there is an unspoken rule among white people that it is best to simply avoid talking about racial issues. Kind of like a "hear no evil, see no evil" modus operandi. By negating opportunities to talk about race and identity in open and productive ways, white people remain rooted in a practice that perpetuates systemic racism: staying silent. Thus, the cycle of oppression continues because, as Resmaa Menakem shares, "white comfort trumps my liberation." White educators must stop putting their own feelings at the center of the conversation, listen deeply, and do the work. Learn from Black scholars such as Zaretta Hammond and Cornelius Minor. Examine and then reexamine the conscious and unconscious curricular choices you make in the classroom. Seek input from others, particularly Black and brown stakeholders, and especially your own students. Desiring racial equality means nothing until we explicitly discuss the role white supremacy plays in our institutions and how privilege and power go hand in hand.
With all this in mind, be sure to check out our other post. We've chosen ten commonly-taught texts from secondary ELA to reexamine with a goal of inclusivity. For each text, we share easy changes, like paired texts you could incorporate on a budget. We also share more difficult changes, like substitutions you could request in the future. We are not saying that you need to replace every text — we want to continue a dialogue on how to make our curricula more inclusive.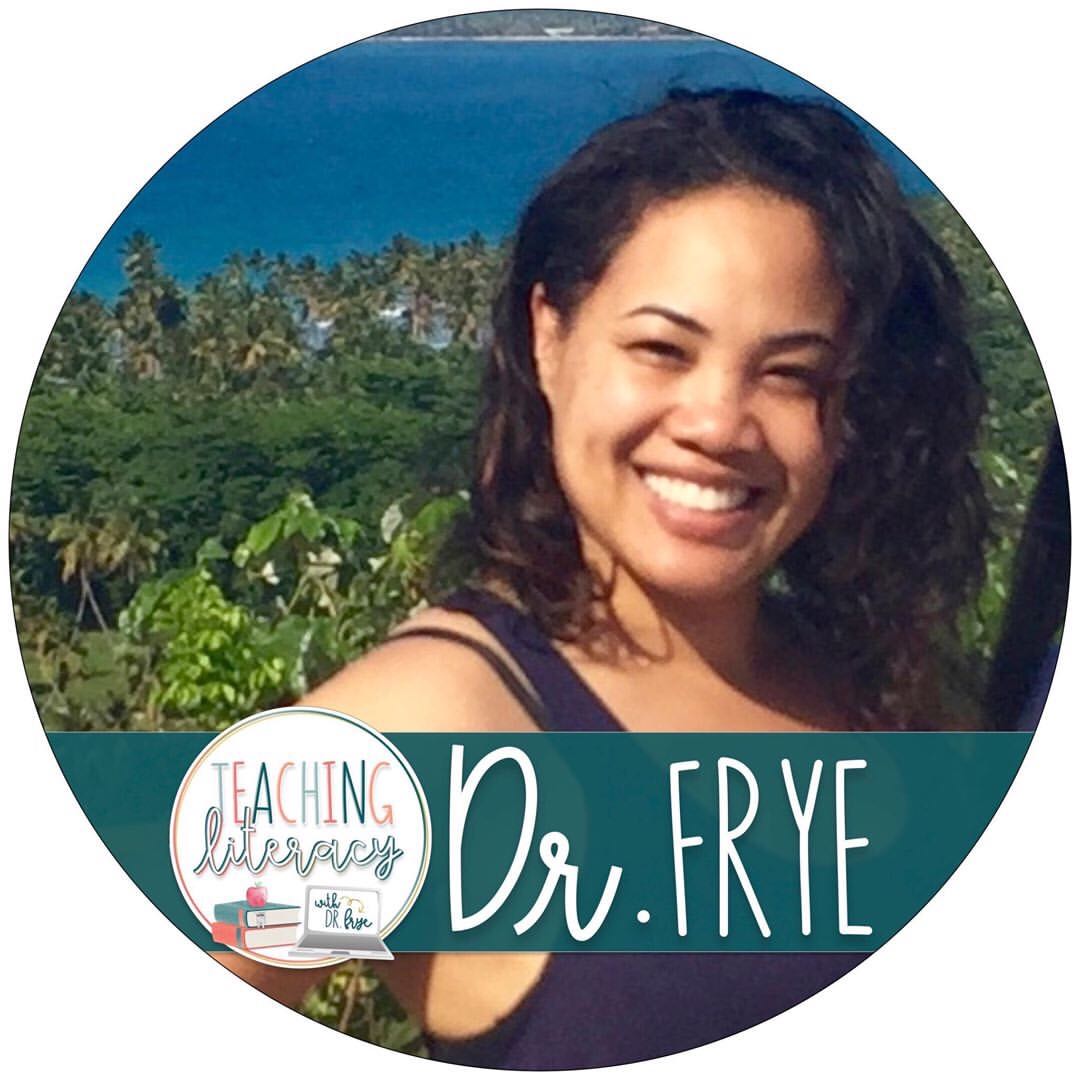 Sheila Frye is a Reading Specialist in a K-5 school in her 22nd year in education. She holds a B.S. in Special Education, an M.A. in Reading, and a Doctorate in Education/Design of Learning Environments where she researched new literacies (eBooks and comprehension). She is certified as a Reading Specialist, Principal, Supervisor, Special Education Teacher, and Elementary Education Teacher. You can find her on Instagram @teachingliteracy and at teachingliteracy.me.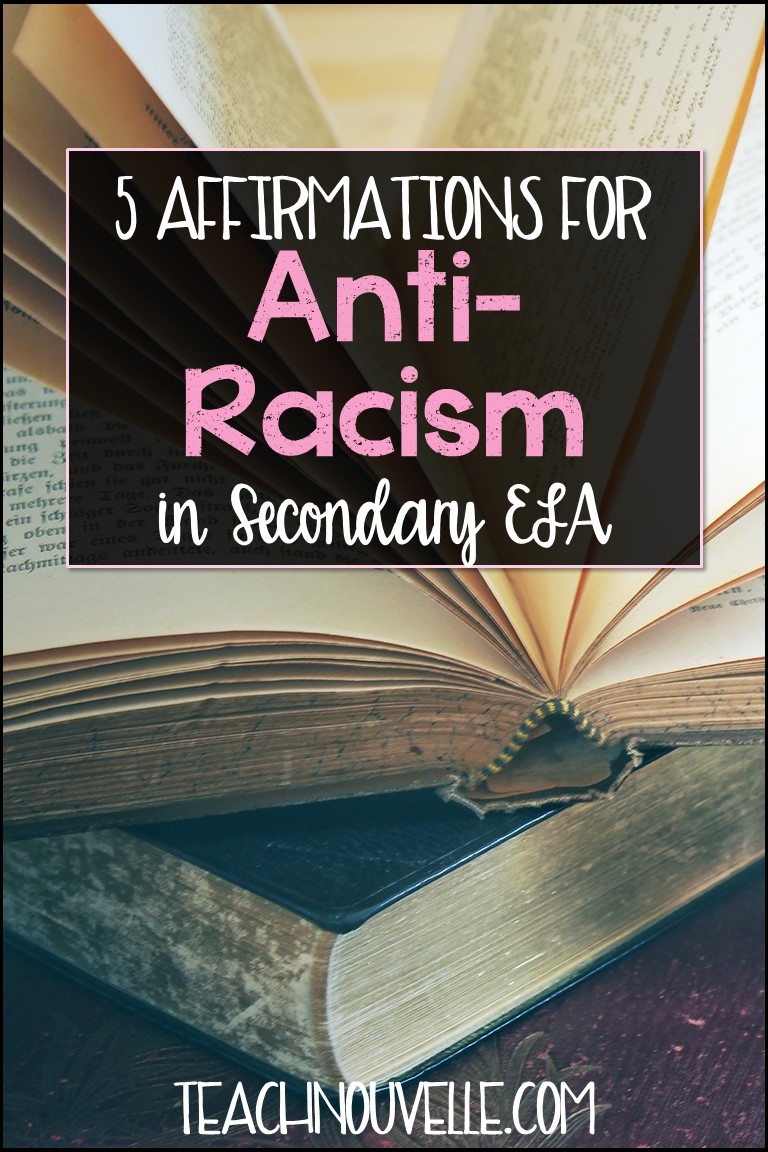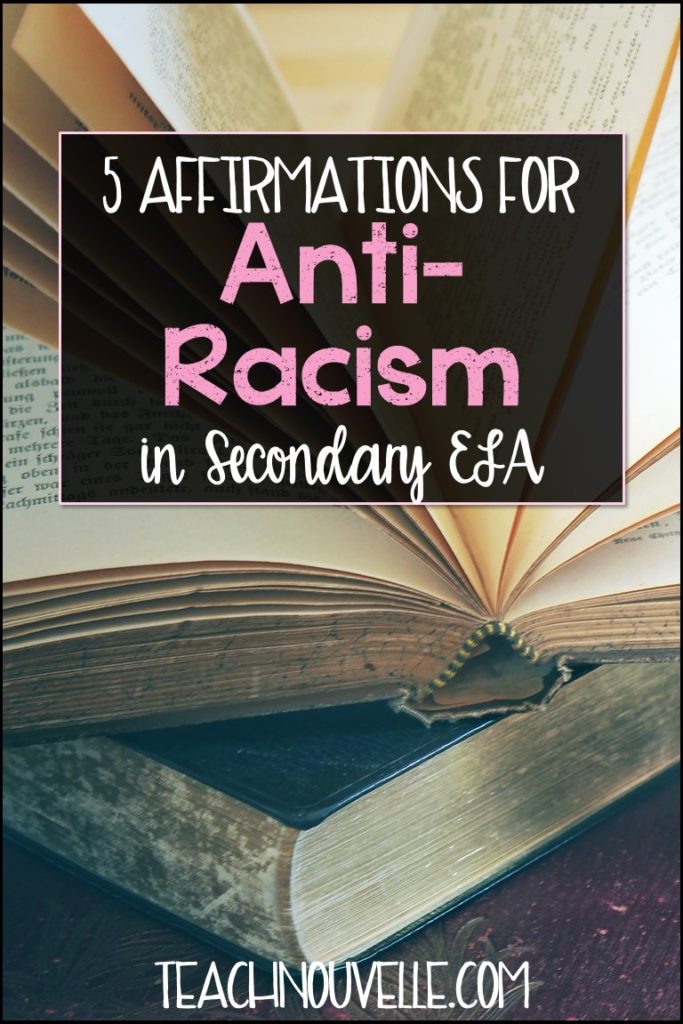 I'd love to hear from you about how you're facilitating anti-racism in Secondary ELA! Comment below or reach out on IG @nouvelle_ela.

Happy teaching!