Looking for short stories (and other short texts) you can use to teach characterization in literature? This post is for you!
If you're a fan of using short texts to teach literary concepts and more, I have a new resource (2023) that has 15 lesson plans analyzing pop culture short texts, like TV episodes, songs, short films, and more! Check out the 15 Pop Culture Analysis Activities resource here.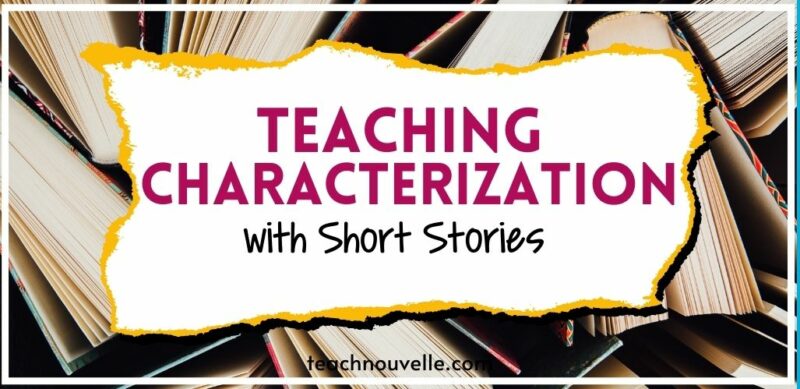 Teaching Characterization in Literature
Are you tired of teaching the same short stories over and over? Today I'm sharing 5 texts – four contemporary and one classic – that you and your students will love.
Analyzing characterization in literature is a vital part of understanding an author's purpose, and one tool I love to use when teaching characterization is interactive notebooks. I even have a resource in my store dedicated to teaching characterization with interactive notebooks!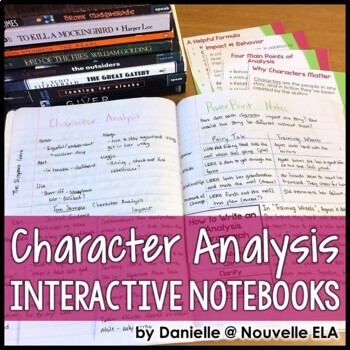 Help your students confidently analyze characters in any novel. This resource uses video clips, fairy tales, and a, editable PowerPoint to introduce students to the concept of character analysis. Students finish with an analytical essay about a character from your text. This resource includes an editable essay prompt and rubric, and it's scaffolded to support all learners. (Optimized for grades 6-10)

Short Stories for teaching characterization in literature in high school:
"Fish Cheeks" by Amy Tan (HS)
"Fish Cheeks" is a poignant mix of teenage angst and hindsight, with a backdrop of culture shock. It's hard to summarize such a short story (500 words!) without spoiling it, so instead, just go read it!
This tiny-but-mighty story could fit into SO many lessons. Tan's use of rich, descriptive language creates a powerful sense of place. It really sits the reader at the dinner table along with the two families. Tan's identity crisis creates conflict, and the pacing is impeccable. Even if you don't use it for characterization, I hope you find a place in your classroom for this story.
Need more inclusive short stories? Here are some for Hispanic Heritage Month, AAPI authored, and LGBTQ+ authored. I also share short story assessment ideas too!
"The Girl Without a Face" by Marie Lu (HS)
CW: rape, suicide
This story and the recommendation below are both found in the YA horror anthology, Slasher Boys and Monster Girls.

Our main character, Richard, isn't sleeping. His closet door is the only door in his family's new house that won't open, and no one knows why. It's only as Richard's anxiety and terror deepen that we get a flashback to an experience he had at a party. Even though we get the flashback from Richard's perspective and he doesn't think he did anything wrong, it's clear that he raped a girl and locked her in a closet. She later died by suicide.
This is another terrifying revenge story, but it is as artful as any Poe tale. We empathize with Richard at first—he's a bright boy, and we're worried for him. It's only as we get to know him we discover that he's not the hero, but the villain.
Teaching Ideas: This is an excellent text for teaching characterization. How does Lu build sympathy for Richard before the story's turning point? How does Richard's lack of remorse impact the reading of the second half?
Want classroom-appropriate horror/suspense content?
Check out these short stories!
Short stories for teaching characterization in literature in middle school:
"Thank You, Ma'am" by Langston Hughes (MS)
In this classic story by Langston Hughes, Mrs. Luella Bates Washington Jones catches young Roger trying to steal her purse. She takes him home, washes his face, and gives him supper. In the space of three short pages, we have amazing examples of both direct and indirect characterization.
This is an excellent story for teaching the STEAL (Speech, Thoughts, Effect on Others, Actions, Looks) method of indirect characterization. My middle schoolers love this story! It's a quick read, and then they can get to the "good stuff," like discussing what they would have done in Mrs. Jones' situation. If you want to save yourself some time, I have STEAL worksheets in my TPT store 🙂
Other texts to teach characterization in middle and high school:
"Hush" from Buffy, the Vampire Slayer (42 min) (HS)
In this episode of Buffy, monsters come to town and steal everyone's voices. It's a straightforward plot–the monsters are in town to steal hearts, but a scream is fatal to them. The execution is where this episode really shines. Since the second half of the episode is almost entirely without dialogue, the writers must employ different means of storytelling. It winds up being an episode with a lot of character development, and that's a great conversation starter about how characterization happens in fiction. You can talk about how the Xander/Anya relationship is developed in particular, as well as how Buffy and Riley's relationship is almost easier when they can't speak.
This episode has some quite intense moments, as the monsters are some of the scariest shown in Buffy. There are also some visual jokes that are sexual in nature, and Anya says the word "orgasm" several times early in the episode. While that may make it more difficult to work in a classroom, the examples of non-dialogue storytelling are strong enough that it's still worth including. This episode is currently available to stream on Hulu+ and Amazon Prime.
Find even more ideas for using TV in ELA in this post.
Piper (All ages)
This short follows a young sandpiper on her journey from a fledgling to a fearless shell-hunter. It's ideal for discussing characterization and character development. It's also good for discussing tone and mood. Although it shows Piper's biggest fear, the tone remains lighthearted and whimsical overall.
Teaching ideas: Have students explore questions like, "How did the filmmaker convey mood?" How does the character of Piper follow the Hero's Journey archetype? How does Piper's character change/grow over the course of the film, and what around her (setting, other characters, etc) influence her?
6 more short films for teaching literary elements.
Final thoughts: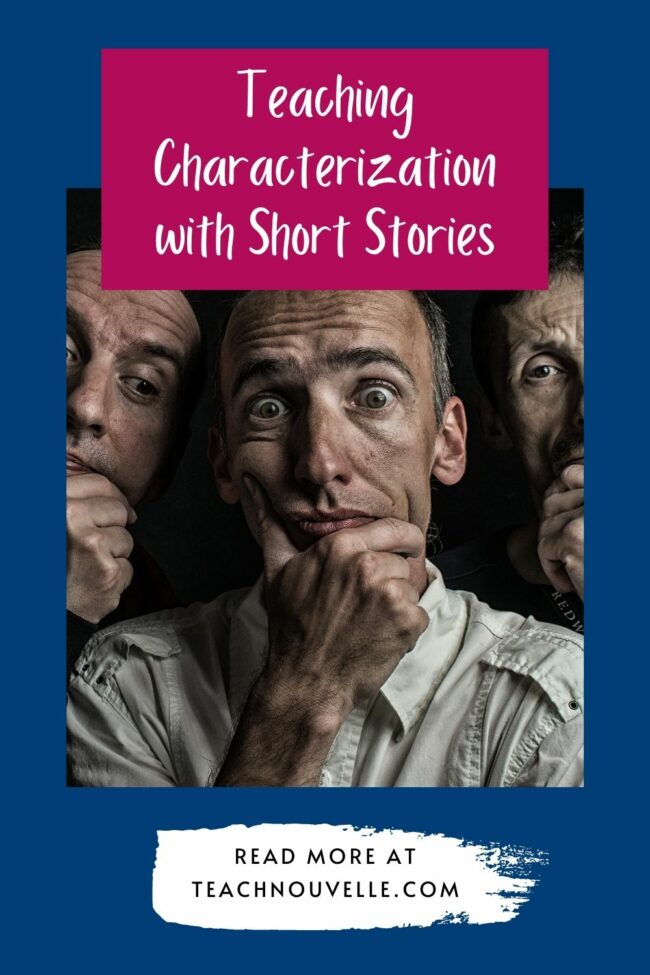 I hope this post gave you some fresh ideas for teaching characterization in literature! Do you have a favorite literary character to teach? Share in the comments below!
Want to read more about teaching literary elements? In these posts, I share texts and ideas for teaching symbolism, setting, figurative language, suspense and pacing, conflict, metaphor, and irony.
Happy teaching!