Yes, you can improve writing skills in five minutes! I'll share some tips and a FREE resource to get you started.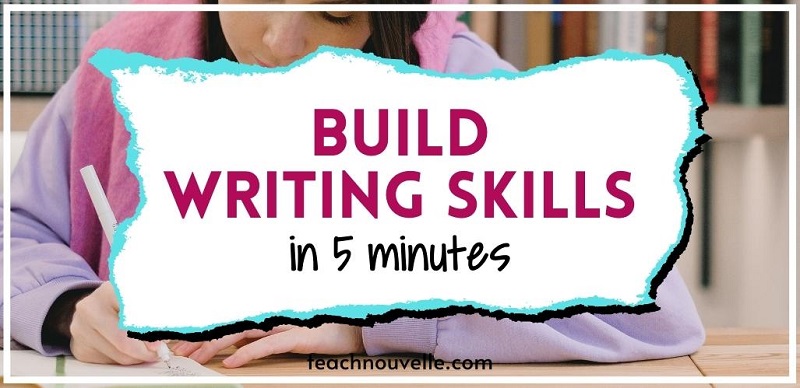 How these prompts improve writing skills
These journal prompts have students respond to a wide variety of topics and build confidence, endurance, creativity, and enthusiasm for daily writing. Designed to be completed in five minutes or less, these journal prompts are perfect for middle school bell ringers or exit tickets.
Want to enjoy a week's worth of these prompts for ✨FREE✨? You can access the downloadable freebie in the product preview section of the resource!
 The full resource includes: 
180 Daily Journal Writing Prompts ready-to-use as a .pdf slideshow
Editable prompts in PowerPoint (requires download of three free fonts)
Personal Narrative essay topic and rubric (.doc)
Teacher's Guide
These low-stakes, short journal writing prompts will boost struggling writers' stamina and confidence. Each prompt asks about personal experiences, meaning there's no "right or wrong" answer.
Middle school writing prompts with pictures
Including writing prompts with pictures was important to me when creating this resource. I think that the more choices we can offer students, the higher the chance that we'll be able to engage every student. I love that it allows students to either connect the image to a memory they want to share OR, be inspired to write a bit of flash fiction.
And remember, these prompts are fully editable so if you want to add in your own photos (or even let students choose images for the class), you can customize it to fit your needs.
What teachers are saying about these middle school writing prompts
"These are quick and easy prompts for the students to engage in each morning. My students loved the variety of prompts which kept them from getting bored." – Melanie V.
"Use for my high school SPED class and it has cut back on prepping so much!" – Hilary C.
"This resource is a time saver! I love its no-prep, easy-to-use format!" – Kim Y.
"Love this resource! I use them as warm-ups each day. Something quick for students to work on as they come into class." – Meg M.
Grading writing prompts
A question I get a lot is "How do I grade these writing prompts?" That's easy, I don't! For one, that's creating a huge amount of work for myself, but more importantly, I think that goes against the spirit of this activity. A big part of improving writing skills is improving students' confidence in their writing, and it's hard for reluctant writers to feel confident if they're worried about getting a bad grade. I want students to view these prompts as permission to take creative risks, be a little silly, and have fun writing!
Even though I don't grade them, I think that these writing prompts could provide a good opportunity to practice peer evaluation and feedback. Tips on teaching students how to give constructive peer feedback in this post 🙂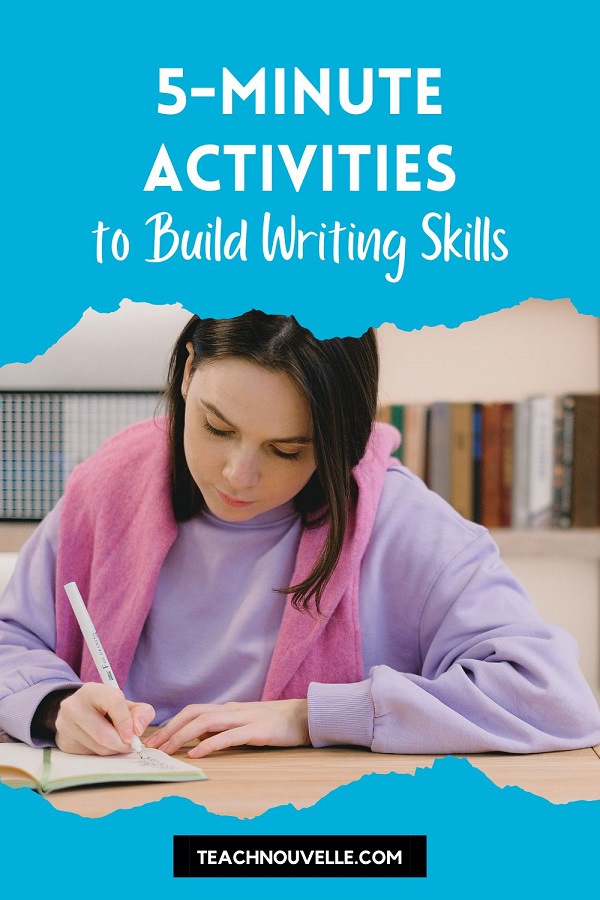 I hope these quick and easy prompts will help your students improve their writing skills, and make your week a little bit easier!
Don't forget to download your free week of prompts!
What are your go-to activities for practicing writing skills? Share in the comments or on IG @nouvelle_ELA 🙂
Happy teaching!