Teaching the Harlem Renaissance is essential for any English class as it provides a wide variety of lessons on culture, artists, poets, and literature. Here are some key Harlem Renaissance artists, facts, and teaching tips to make your lesson planning a breeze.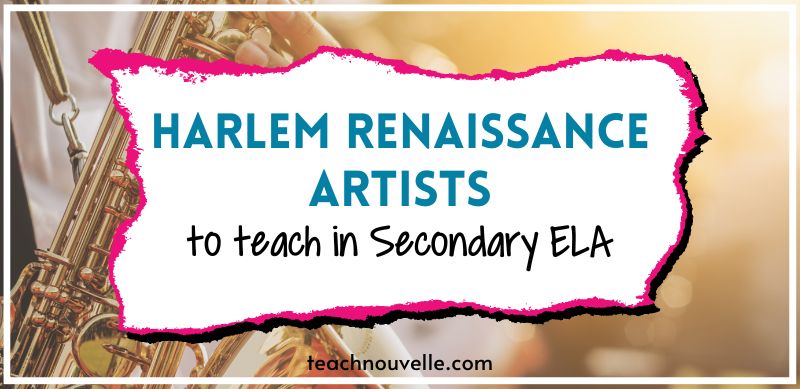 What is the Harlem Renaissance?
The Harlem Renaissance was an artistic movement of African American writers, artists, musicians, thinkers. The epicenter of this movement was in Harlem, New York, but its impacts could be felt widely in the Northern cities and across the world.
What was the goal of the Harlem Renaissance?
The Harlem Renaissance was also known as the "New Negro Movement." African American thinkers wanted to remake their image instead of being cast into racial stereotypes created by and for white people. They wanted to use art to change how Black people were viewed and treated. Artists began to leverage traditional elements from African cultures and blend them with new creative elements.
The goal of the Harlem Renaissance was to amplify an African American culture that was distinct from white European American culture. At the same time, white America sought to find and define its own culture, separate from its European origins. One of the inciting concepts of the Harlem Renaissance was cultural pluralism – the idea that a diversity of cultures could exist side-by-side in one nation.
Why was the Harlem Renaissance important?
In addition to contributing to American culture, the Harlem Renaissance gave the African American community a new sense of self-determination and pride. The social activism of the movement also paved the way for political action in the Civil Rights Movement. 
By the way, the National Museum of African American History and Culture – NMAAHC is a GREAT source for learning about the Harlem Renaissance. Profits from my Harlem Renaissance Escape Room go to this museum in hopes that their work may endure and enrich the historical understanding of many generations of Americans.
Harlem Renaissance facts
It was a cultural movement and artistic explosion from the 1910s to the late 1930s.
~300,000 African Americans moved from the South to Northern cities like Chicago, Detroit, and New York during the Great Migration. This led to the formation of artistic enclaves, like that in Harlem.
Some leaders thought this movement would lead to white acceptance of Black people, while other leaders wanted Black art to be solely for Black consumers.
Harlem Renaissance people
When you're teaching the Harlem Renaissance, it can be intimidating because there are so many amazing artists, poets, musicians, and authors! One way to make this learning more student-centered is to have students choose famous Harlem Renaissance artists and figures to research and share with the class. This is a great way to introduce students to twenty or thirty different people. (Do you want this project ready-made? Check out my Harlem Renaissance PowerPoint project!)
Here are seven notable figures from the Harlem Renaissance. These aren't full bios or anything – just the "teaser trailer."
Enjoying these suggestions of how to teach Harlem Renaissance artists? Sign up for my weekly Teaching Tips Newsletter to receive content like this directly in your inbox 🙂
Harlem Renaissance poets
*Langston Hughes
Hughes is likely the best-known figure in the Harlem Renaissance, so if you'd like your students to do biographical research, you could create an exemplar using him. He wrote widely and is credited for creating jazz poetry.
Work to share: (Poem) "Dream Deferred"
*Gwendolyn Bennett
Bennett is a great example of how many famous figures from the Harlem Renaissance explored different types of art. She was an accomplished poet and painter and worked extensively with the publications Opportunity and The Crisis.
Work to share: (Poem) "Quatrains"
Harlem Renaissance artists
*Ma Rainey (singer)
"The Mother of Blues" – Ma Rainey sang about the struggles of class, race, and gender. She's also LGBTQ+ representation of the era. Blues influenced the emergence of jazz and both styles became worldwide sensations. 
Work to share: (Song) "Prove it on Me Blues"
*Aaron Douglas
Douglas was one of the most influential painters of the era. While he was teaching art in Topeka, Kansas, he was drawn to New York by essays published in W.E.B. DuBois' The Crisis.
Work to share: "Painting" Into Bondage (1936)
*Claude McKay
Born in Jamaica in 1890, McKay traveled to the US to attend college in 1912. Discouraged by the rampant racism he experienced at Tuskegee College and inspired by the work of W.E.B DuBois, McKay became interested in political issues and moved to New York, where he wrote much of his hugely influential poetry. McKay was also a member of the Industrial Workers of the World (IWW), a labor union. After extensive word travels, McKay became an American citizen in 1940.
Work to share: (Poem) "If We Must Die" 1919
Enjoying this post on Harlem Renaissance artists? You might also enjoy 5 Tips for (White Teachers) Teaching Black History.
Harlem Renaissance literature
*Zora Neale Hurston
Hurston was an author of novels, short stories, essays, and an autobiography, as well as an anthropologist, focused on Afro-Caribbean folklore. Her works were largely underappreciated in her lifetime, in part due to her use of African American dialect which some of her peers felt served only to reinforce negative racial stereotypes. As an anthropologist, Hurston felt it was important to preserve the unique and idiomatic speech patterns of her community, and has since been praised for her use of dialect.
Work to share: (Essay) "How It Feels to Be Colored Me" 1928
*Jessie Redmon Fauset
Fauset was an essayist, poet, and critic and wrote for The Crisis, the official magazine of the NAACP. She became its literary editor in 1919 and brought in works by then-unknowns like Langston Hughes, Claude McKay, and Anne Spencer.
Work to share: "The Gift of Laughter" (1925)
The Harlem Renaissance & The Great Gatsby
It's also helpful to pair teaching The Harlem Renaissance and The Great Gatsby. The Harlem Renaissance and the Roaring 20s are two eras that get dressed up in glitz and glam, but neither is without struggle. Teaching The Great Gatsby is all about the haves and have-nots – who gets the American Dream and who doesn't. (By the way, have you grabbed my Inclusive Text Pairings for The Great Gatsby?) The Harlem Renaissance also draws out this theme and makes it the perfect mate to Gatsby.
I like to share two escape rooms back-to-back before Gatsby: my Introduction to the Roaring 20s and my Introduction to the Harlem Renaissance. Both are heavy on historical truth, so while they are games, you'll still find quality primary source material and research questions to share with students.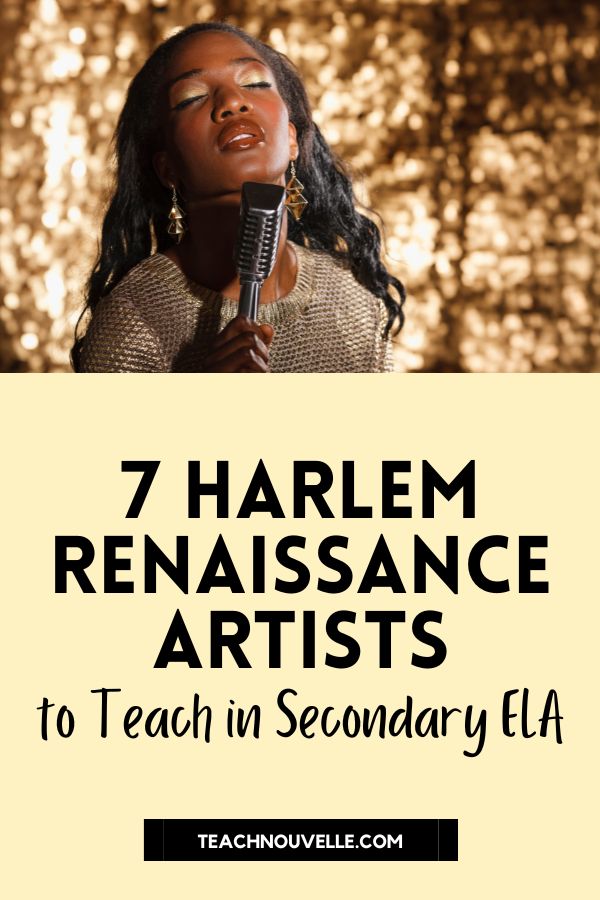 I hope this post helped you find some fascinating and pivotal Harlem Renaissance artists to teach!
I have more tips for teaching the Harlem Renaissance in this post, and this post about building context when teaching The Great Gatsby.
What Harlem Renaissance artists do you feature in your classroom? Are there any specific works by Harlem Renaissance artists that resonate with your students? Comment below so we can all learn 🙂
Happy teaching!