Description
Introduce your students to the Roaring 20s with this incredible Great Gatsby Escape Room! Whether you're reading The Great Gatsby or discussing the era in Social Studies, this game has you covered.
Students learn about…
⭐ Context
⭐ Famous figures
⭐ The debate around Prohibition
More about The Great Gatsby Escape Room resource…
✅ Critical thinking & Collaboration
✅ ~75 minutes for 9th graders
✅ No tech required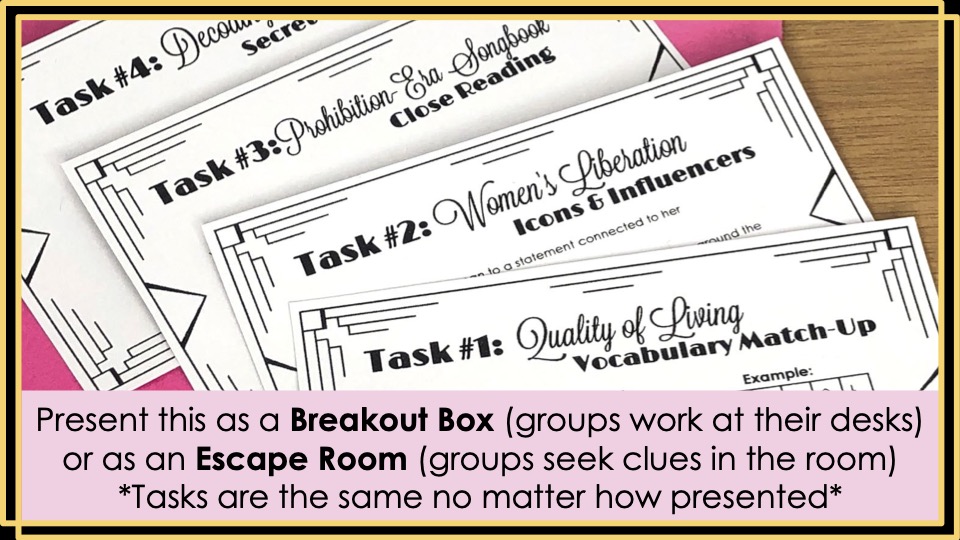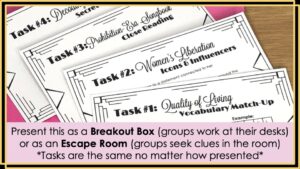 You can have students move around the room by setting up this game as stations or you can have them work with teams around a table. Either way, this is an immersive introduction to the Roaring Twenties.
Looking for the digital version? Find it here.
⭐️⭐️⭐️⭐️⭐️ "This escape room was great because it was simple yet engaging. It gave my students an excellent introduction to the background of The Great Gatsby. I highly recommend this resource." -Jessica A., 12th SPED
⭐️⭐️⭐️⭐️⭐️ "SO BRILLIANT! When it comes to learning about history in English class to set up a The Great Gatsby, look no further than this resource and Harlem Renaissance Escape Room. I used both Escape rooms to set the foundation of the novel, and these tools do an AMAZING job. They're fun and easy glimpses into the life of the Roaring Twenties. I especially appreciate that these resources don't just focus on the glitz and glam of the 1920s but also focus on the hardships and realities." -Jesenia K., 11th
⭐️⭐️⭐️⭐️⭐️ "This activity was AWESOME! My kids have never been so engaged with an activity, especially one that took two days. This was streamlined and easy to follow." -Bailey W.
✅ Four core tasks with instructions and clues
✅ Quality of Living – reading passage and vocabulary activity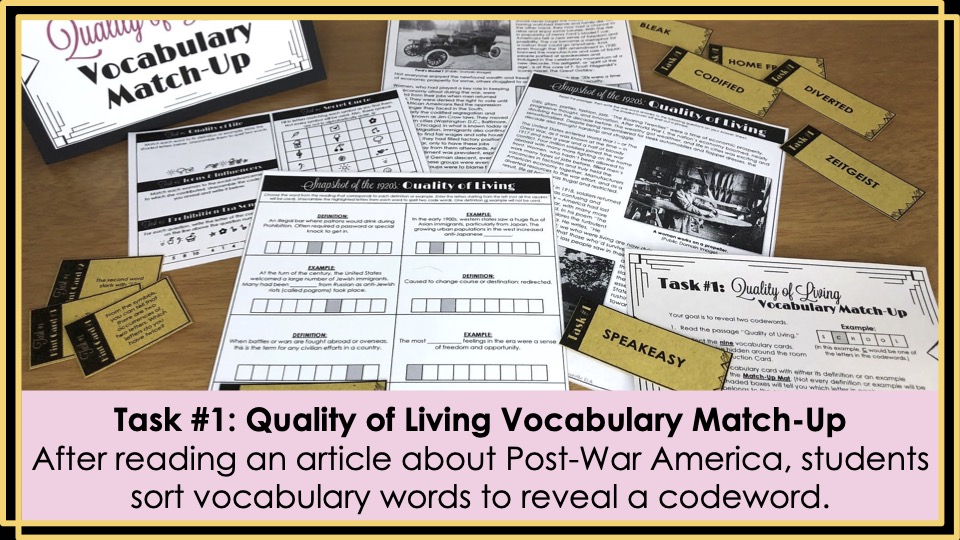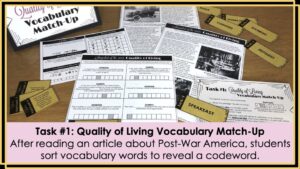 ✅ Icons & Influencers in women's liberation
✅ Prohibition-Era Songs – lyrics close reading activity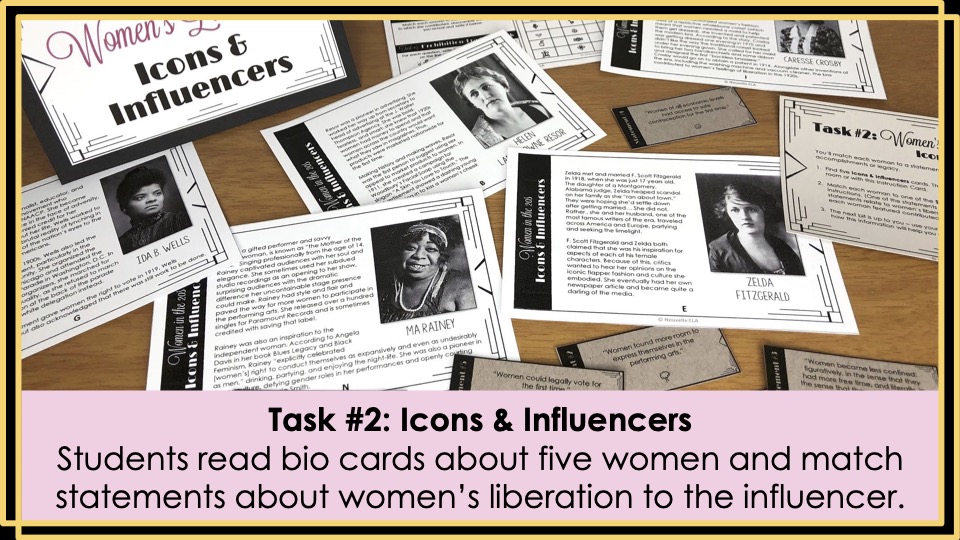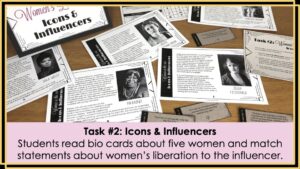 ✅ Secret Quote (hint: it's from The Great Gatsby!)
✅ Writing extensions (either analytical or personal responses)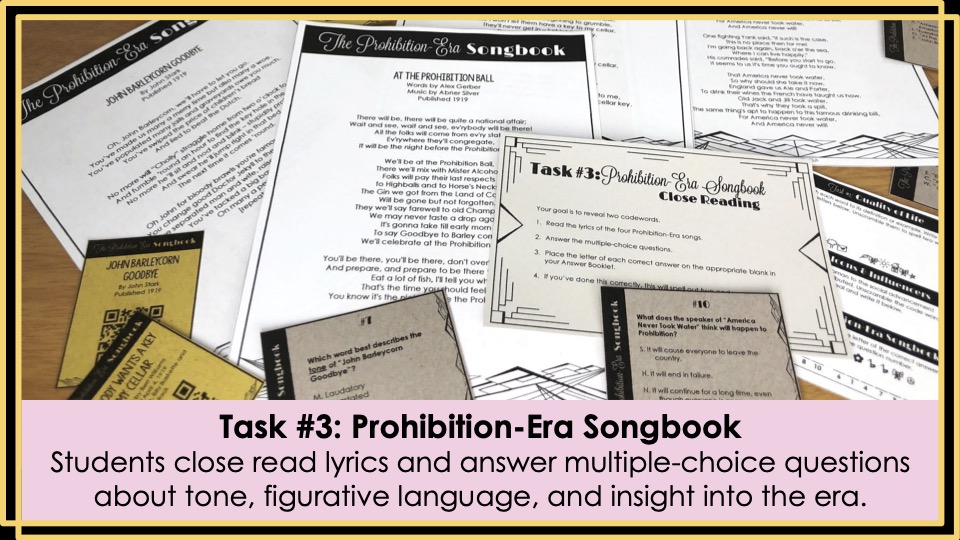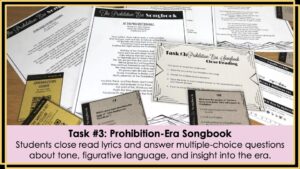 ✅ Station Cards
✅ "Oops" cards (for optional increased difficulty)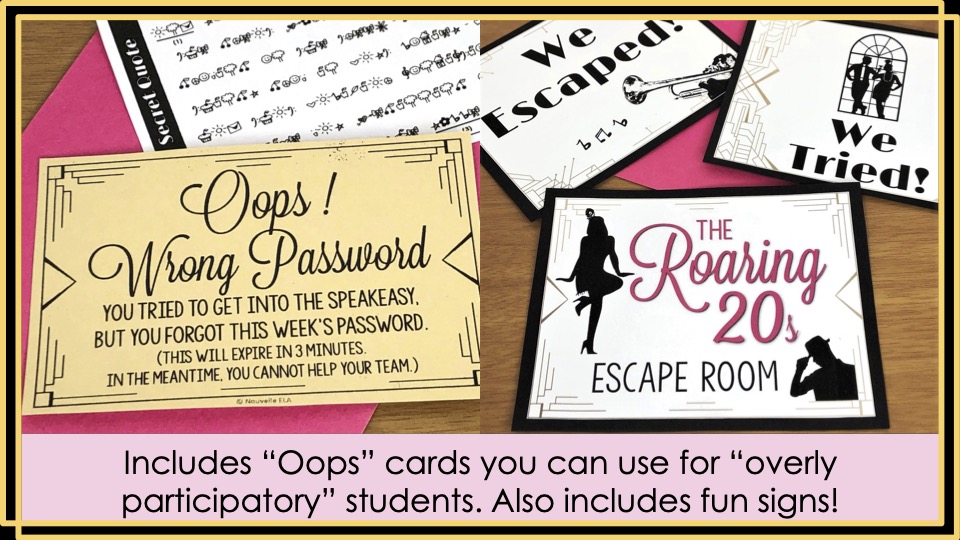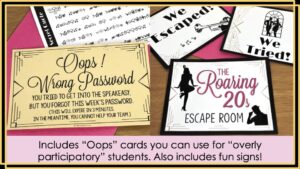 ✅ Student Answer Sheets
✅ A full Teacher's Guide with set-up options, a printing checklist, and an Answer Key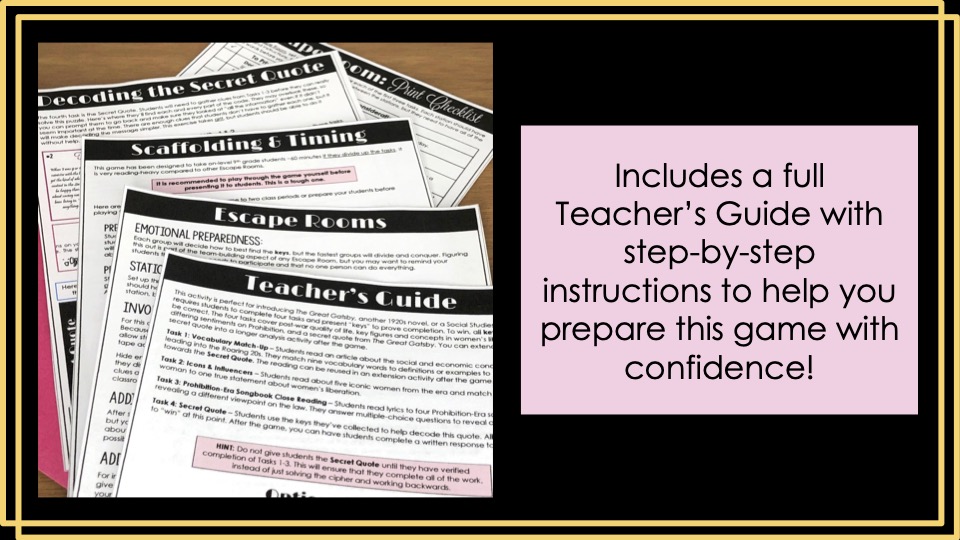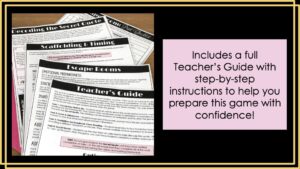 ✅ Two quiz variations
✅ Additional discussion & research questions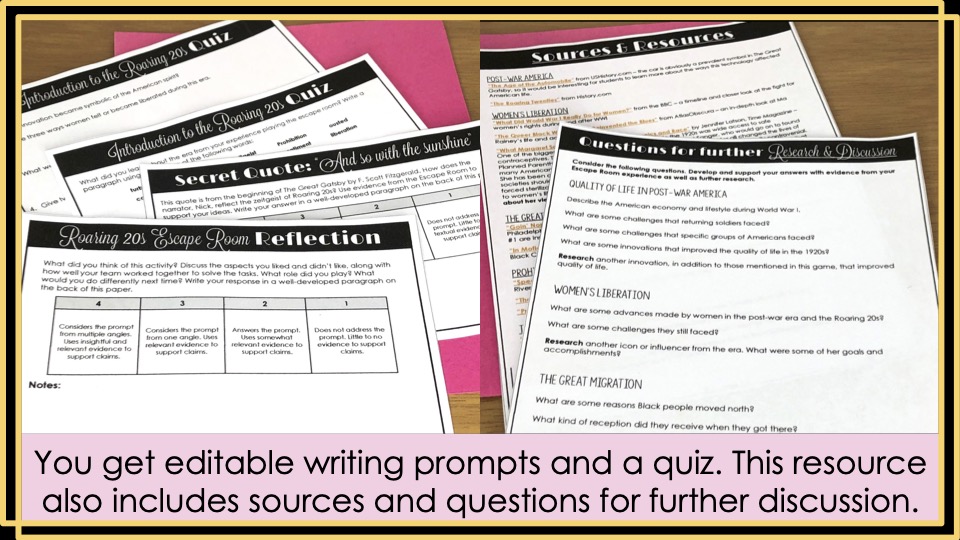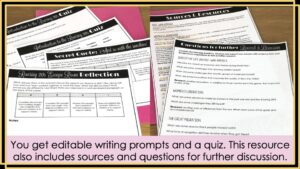 ✅ Full source list to learn more about the Roaring Twenties
✅ A poster for your door and "We Escaped!" and "We Tried!" cards
The Great Gatsby Escape Room resource has wide appeal and placement in curricula, so it's up to you how long to spend on the activity. With 9th graders in a regular class, I'd plan on 75 minutes.
I've included some options for having your students pre-read the articles or splitting the activity over two or three days. There is a lot of reading in this Great Gatsby Escape Room, so it really depends on what fits your classroom.
As with any Escape Room activity, I recommend that you play through it on your own first before presenting it to your students.
Your download is a .zip file containing a .pdf of the Escape Room. You also get .pdfs of the article and song lyrics for easy upload to your class drive.
Feel free to email me at nouvelle.ela@gmail.com if you have any questions. 🙂
❤️ This resource pairs well with my Introduction to the Harlem Renaissance Escape Room – together, they really provide a wide context for American Literature and culture in the 1920s-30s.
❤️ Since your students looove puzzles, take a look at my Team Trivia Bellringers!
❤️ If you're ready to make (and sell!) your own fabulous escape rooms, check out this Escape Room Template Kit. Happy creating!
Feedback & Followers:
If you enjoy this The Great Gatsby Escape Room resource, please log in and leave a review by selecting "Write a Review" under the "Order Details" section of the "Orders" tab. 🙂
You can also follow me for the latest news on products and sales.
If you have any questions, I'd love to hear from you!
-Danielle @Nouvelle_ELA