Looking for the best YA books of 2022? Look no further! These new releases are all great choices for your classroom library.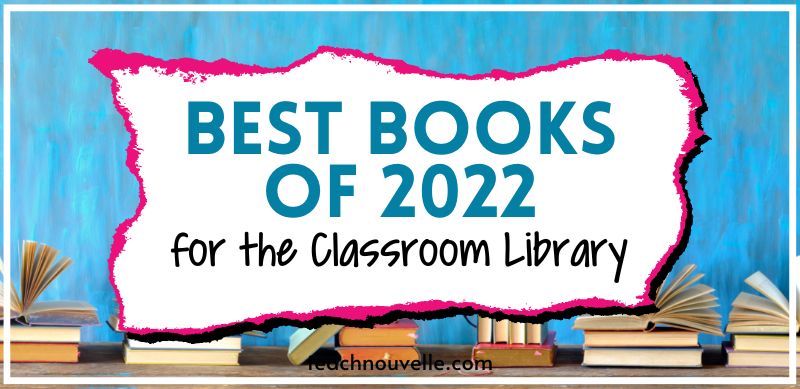 Are you looking for book recommendations for your classroom library? I polled my Instagram followers and got their picks for the best YA books of 2022. You'll love the variety of stories.
Best YA Books of 2022 for the Classroom Library
The Getaway by Lamar Giles
"Welcome to the funnest spot around . . .
Jay is living his best life at Karloff Country, one of the world's most famous resorts. He's got his family, his crew, and an incredible after-school job at the property's main theme park. Life isn't so great for the rest of the world, but when people come here to vacation, it's to get away from all that.
As things outside get worse, trouble starts seeping into Karloff. First, Jay's friend Connie and her family disappear in the middle of the night and no one will talk about it. Then the richest and most powerful families start arriving, only… they aren't leaving. Unknown to the employees, the resort has been selling shares in an end-of-the-world oasis. The best of the best at the end of days. And in order to deliver the top-notch customer service the wealthy clientele paid for, the employees will be at their total beck and call.
Whether they like it or not.
Yet Karloff Country didn't count on Jay and his crew–and just how far they'll go to find out the truth and save themselves. But what's more dangerous: the monster you know in your home or the unknown nightmare outside the walls?" – Summary from GoodReads
This book recommendation comes from @mrslakemms. She writes, "Lamar Giles' writing pulled me in immediately: think Disney World meets The Purge, with a social justice flavor throughout. It's quick, creepy, and a wild ride to the end!
This book is meant for high school for sure. Although upper middle could be ok – wasn't any language or overt sexuality. Moderate violence."
Check out our YA Cafe Podcast episode featuring Lamar Giles.
The Silence that Binds Us by Joanna Ho
I was so excited to receive an ARC of this book from @epicreads. I've long followed Joanna Ho on Instagram and read her other works. This novel isn't fluffy, feel-good YA, but rather explores generational trauma and pressures that exist alongside systemic racism. The title absolutely fits perfectly – the notion of a binding silence is apt for this exploration of grief.
Check out more books by Asian American authors here.
All My Rage by Sabaa Tahir
This recommendation comes from @carlykussen
"There is a reason All My Rage by Sabaa Tahir is collecting all kinds of awards right now! It tackles everything from racism to abuse to loss and grief to drug abuse and so much more. Tahir sheds light on the complex lives children of immigrants are sometimes forced to live while making the reader feel every emotion possible. The main/POV characters, Noor and Sal, feel like real people who I couldn't help but love and root for and also mourn with and for. Five stars! It also has great playlist potential!"
Enjoying these recommendations of the best YA books of 2022?
Join our monthly YA Reads newsletter to receive lists like this
delivered right to your inbox!
The Summer of Bitter & Sweet by Jen Ferguson
⁠
Y'all, go read this book right now! It is beautiful AND will make you want to hunt down the best indie ice cream you can find. ⁠
"Lou has enough confusion in front of her this summer. She'll be working in her family's ice cream shack with her newly ex-boyfriend—whose kisses never made her feel desire, only discomfort—and her former best friend, King, who is back in their Canadian prairie town after disappearing three years ago without a word.⁠
But when she gets a letter from her biological father—a man she hoped would stay behind bars for the rest of his life—Lou immediately knows that she cannot meet him, no matter how much he insists.⁠
While King's friendship makes Lou feel safer and warmer than she would have thought possible, when her family's business comes under threat, she soon realizes that she can't ignore her father forever.⁠" – Summary from GoodReads
I LOVED this book, and I'm so grateful that Heartdrum Books by @harperkids sent me a review copy.
Check out more Indigenous Lit recommendations at this post by @tiplerteaches and this post by @floury_words.
Moonwalking by Zetta Elliott
"For fans of Jason Reynolds and Jacqueline Woodson, this middle-grade novel-in-verse follows two boys in 1980s Brooklyn as they become friends for a season.
Punk rock-loving JJ Pankowski can't seem to fit in at his new school in Greenpoint, Brooklyn, as one of the only white kids. Pie Velez, a math and history geek by day and graffiti artist by night is eager to follow in his idol, Jean-Michel Basquiat's, footsteps. The boys stumble into an unlikely friendship, swapping notes on their love of music and art, which sees them through a difficult semester at school and at home. But a run-in with the cops threatens to unravel it all.
Moonwalking is a stunning exploration of class, cross-racial friendships, and two boys' search for belonging in a city as tumultuous and beautiful as their hearts."
-Summary from GoodReads
This recommendation comes from @taratara44. She writes, "I really liked this: it was a sweet story of friendship and how relationships don't always end up how you expect, I also liked the theme of the impact of art. I also loved how these two boys who didn't quite fit in came together.
Content considerations: edited swears, Spanish swears
Final thoughts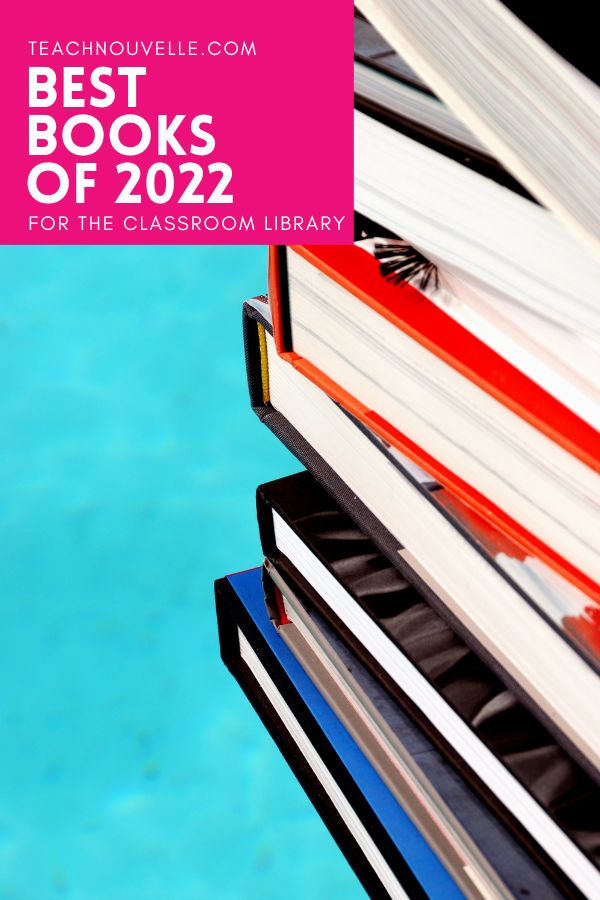 Thanks to all my fellow teachers and Bookstagrammers for their contributions! It helped me add to my ever-growing TBR, and I can't wait to read them all.
Want to find some more great, recent YA titles you can add to your classroom library? Check out these "best of" posts from 2021, and 2020.
What were your favorite YA books of 2022? Comment below or reach out on IG @nouvelle_ELA, I'd love a recommendation from you 🙂
Happy reading!