sHow many Asian American YA novels do you have in your classroom library? We recently read Wicked Fox, a new YA urban fantasy by Kat Cho, and we wanted to collect some of our favorite Asian American YA authors and protags to share.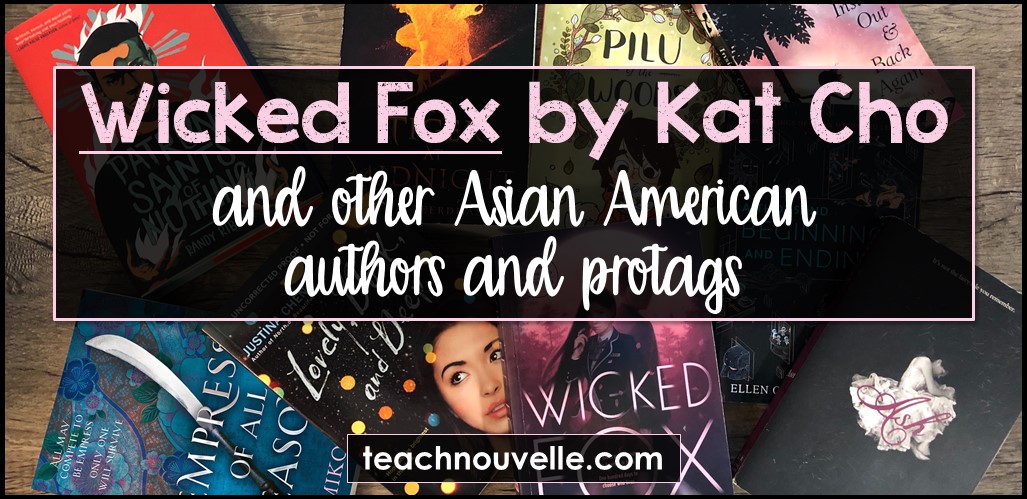 According to a study done by Creative Commons, only 7% of children's and YA books released in 2018 have characters from Asian backgrounds. This demographic is being hugely underrepresented in publishing, and that's why today we want to spotlight some #ownvoices stories. 
Asian American YA Novels for Middle School:
Pilu of the Woods by Mai K. Nguyen
Pilu of the Woods is a graphic novel following an episode in Willow's life after the death of her mother. After Willow gets in a fight with her sister, she runs away to the woods to calm down. She meets Pilu, a young tree spirit who feels her mother doesn't love her. Can the two girls help each other find peace among turmoil? (Elementary/MG)
We talked about this book, and the larger topic of trauma-informed teaching with author H.D. Hunter on episode 51 of the podcast.
The Prince and the Dressmaker by Jen Wang
This charming graphic novel introduces us to Prince Sebastian, and his trusted friend Frances. Frances is a talented young dressmaker who longs to become famous, but she is forced to keep her identity secret because her client, Lady Crystallia is really Prince Sebastian in disguise! This book explores gender identity, friendship, and loyalty. It's whimsical drawings and fairytale vibes make this a truly touching read for any age. (Elementary/MS/HS)
This blog uses affiliate links for your convenience.
If you decide to purchase recommended gifts or books, please consider doing so through our affiliate links (at no additional cost to you).
Your support makes our podcast, The YA Cafe, possible.
Inside Out and Back Again by Thanha Lai
A novel in-verse, Inside Out and Back Again follows ten-year-old Hà as she and her family flee Saigon and arrive in America as refugees. This book is heartfelt and poignant, with astute observations about the world around us. Use this in grades 4-8 to build empathy for immigrants and refugees. Short chapters make this perfect for a read-aloud. (Elementary/MS)
Contemporary Asian American YA Novels:
Lovely, Dark, and Deep by Justina Chen
Viola Li has her life plan figured out—she wants to become a journalist in the most dangerous parts of the world, the opposite of her risk-averse parents. But when she suddenly develops a light sensitivity that leaves her unable to go outside or even sit under a bright light, all her dreams start to seem impossible. Viola has to figure out a way to keep her some control over her life as she struggles to navigate relationships with her parents, sister, and new potential-boyfriend, all while trying to avoid the blistering light that can be dangerous and even lethal.
We featured this novel in episode 24 of the podcast, and Justina Chen joined us to chat in episode 57.
Emergency Contact by Mary HK Choi
Penny Lee can't wait to leave her hometown and her high school life behind. She's headed to college in Austin, TX to persue her dream of becoming a writer. Sam is a barista, who aspires to become a famous movie director. When a freak accident causes them make each other their 'emergency contact' in their phones, they strike up a digital relationship. Behind the safety of their screens they share everything from their weaknesses and fears, to their deepest desires and unspoken hopes. Told both in Choi's witty prose and in excerpts of their text conversation, this story will definitely keep students interested. (HS)
Patron Saints of Nothing by Randy Ribay
Jay Reguero, a Filipino-American teenager, has mostly maintained his connection to his family in the Philippines through letters to his cousin, Jun. Or did, before they lost touch a few years ago. Now, Jay is just trying to make it through his senior year before heading to college in the fall. When he gets news that Jun has died, no one will give him any details. Jay wants answers, and he travels to the Philippines to get them. As he learns more about President Duterte's drug war and the truth about his own cousin, Jay is forced to reckon with a complex reality and his own role in it. (HS)
We featured this in episode 58 of the podcast.
Picture Us in the Light by Kelly Loy Gilbert
At the beginning of Picture Us in the Light, seventeen-year-old Danny receives news that he's been accepted into the Rhode Island School of Design. To anyone looking on, this seems like great news. Except that Danny has a huge secret – he hasn't been able to draw in a year. But even as Danny's struggling to overcome his own artist's block, some of his parents' secrets come to light and threaten to topple everything they've worked for. Danny must find a way to face the past in order to make room for his future.
For a more in depth look at this novel you can listen to episode 8 of the podcast, or read Danielle's review.
All of This is True by Lygia Day Penaflor
In this novel we unravel the story of a group of friends and an author they're obsessed with. When Miri, Soleil, Penny, and Jonah get a chance to meet the author Fatima Ro, they have to make sure it's perfect. They have to make sure she notices them. Told in alternating sequences of interviews, text messages, and excerpts from Fatima's new book, All of This is True gives us a vision of obsession, betrayal, and the blurred line between fiction and reality.
We talked about this book with our friend, author Amanda K. Morgan in episode 13 of the podcast.

To All the Boys I've Loved Before by Jenny Han
This book series is the literary equivalent of binge-watching for me, and I mean that in the best possible way! Lighthearted, poignant, and endlessly re-readble, great books for a trip, a sick day, or anytime you're needing a story to make you smile 🙂


The Way You Make Me Feel by Maureen Goo
I'm a sucker for any book with a food-related plot, and in The Way You Make Me Feel our plucky lead, Clara must spend the summer working in her dads food truck. What started as a punishment turns into a fun adventure, with new friends and flirtations along the way. Goo has an excellent narrative voice that brings the characters and the LA setting to life.
Need something else? You can find ALL my recommendation lists for inclusive classroom materials here. Poems, songs, TED talks, short stories, and so much more!
YA Fantasy by Asian American authors
Wicked Fox by Kat Cho
This new urban fantasy by Kat Cho takes place in Seoul and lays the groundwork for a new epic. Miyoung has a secret – she's a gumiho, a legendary nine-tailed fox that seduces and devours men to feed on their life energy. When she steps in to save a young man from a goblin attack, she risks her own soul in the process. Now, Jihoon has Miyoung's fox bead – her very essence – and the two must navigate all the treacheries that getting the bead back inside her entails. If your students love mythological creatures in a contemporary setting, this book is definitely for them! It has action, romance, and intrigue. (MS/HS)
The Tiger at Midnight by Swati Teerdhala
Esha, the legendary assassin known as the Viper, is on a mission: take down the brutal General Hotha and strike at the heart of the Pretender King's rule. But when she arrives at the General's quarters, he's already dying, and someone has left a fake whip in place to frame Esha. But why? As the General's tenacious nephew, Kunal, pursues Esha, she must untangle the threads of conspiracy and corruption. And as her connection with the soldier deepens, Esha realizes both their lives are at stake. (HS)
Author Natasha Deen joined us to chat about this book in episode 53 of the podcast.
Empress of All Seasons by Emiko Jean
Mari's world is split into two kinds of people—magical creatures and spirits called Yokai, and the humans who oppress and enslave them. Although she is a yokai, Mari has trained her whole life to conquer the four seasons and become the empress, hiding her identity. But leaving her safe mountain town for the capital city has shown her how harsh life truly is for the other yokai, and the prince shows a tenderness that gives her hope for the future. Can Mari conquer the seasons, and if she does, can she betray the prince she's come to care for? (MG/HS)
We reviewed this book in episode 33 of the podcast.
Sign up for our YA Reads Newsletter
for more great recommendations
delivered to your inbox!
Shadow of the Fox by Julie Kagawa
In this introduction to a sweeping fantasy, we meet half-human, half-kitsune Yumeko, who has trained with monks all her life to hide her true nature. When hunters burn down the temple and slaughter her monk family, she flees with their greatest treasure, one part of the Scroll of a Thousand Prayers. Legend has it that whoever reunites the parts of the scroll will usher in a new era and receive a powerful wish. Kage Tatsumi, a young samurai, is on the hunt for the scroll. When he teams up with Yumeko, he has no idea that his quarry is right under his nose. Will the deception tear them apart or can they work together to set the world back in balance? (HS)
Ash by Malinda Lo
After her father dies, Ash is all alone with her cruel stepmother. In this darkness, she has only one bright spot, reading fairy tales by firelight. She dreams of being whisked away by the fairies, and when Sidhean (a fae) appears, Ash believes him to be her rescuer. While exploring the woods with Sidhean, Ash meets Kaisa, the royal Huntress. As Kaisa and Ash grow closer, Ash finds herself torn between two worlds and confused by her newfound feelings for Kaisa. With lush prose and bewitching imagery, this book is much more than *just* a Cinderella retelling. (HS)
A Thousand Beginnings and Endings edited by Ellen Oh & Elsie Chapman
Fifteen bestselling and acclaimed authors reimagine the folklore and mythology of East and South Asia in short stories that are by turns enchanting, heartbreaking, romantic, and passionate. This short story collection is the perfect way to engage students who love folklore and mythology. Even though these stories have classic roots, the storytellers have reimagined the plots and characters. Sometimes, characters are aided by modern technology or the stories have been moved to a new setting (like space!). These are true reimaginings by some of today's most popular authors. Students will love what they read and inspired to craft their own reimaginings. (MS/HS)
In
Spin the Dawn by Elizabeth Lim, Maia Tamarin wants to be the best tailor in the land but can't even officially apprentice as a girl. Her brothers have gone off to fight in a bloody civil war, and she's all that holds the family business together. When her aging father gets called to the emperor's court to be the imperial tailor, Maia slips away in his stead, posing as one of her brothers. When she arrives, she discovers that there are several tailors vying for the job, and she must best them in a series of challenges. Soon, Maia discovers that there's more at stake than a pretty dress for the new Empress, and much more to sacrifice if her own secret is exposed.
YA Historical Fiction by Asian American authors
The Downstairs Girl by Stacey Lee
Being a Chinese American teenager in late 19th century Atlanta isn't easy, but Jo Kwan has made a life with some stability. She and her caretaker, Old Gin, live in secret in a hidden room below a house, eavesdropping on the family living above them. When Jo's fired without cause from her job as a hat maker she has no choice but to return to work as a lady's maid for a girl she despises. Luckily, Jo has a secret. She's taken to writing an advice column as "Miss Sweetie," a sauce box of a writer who takes a stand against some of the injustices taking root in her town. As Jo hunts down the truth about her family, past, and what it means to be Miss Sweetie, it's clear that her life, and her city, are going to change.
YA Sci-Fi by Asian American authors
Ignite the Stars by Maura Milan
Everyone in the universe knows his name. Everyone in the universe fears him. But no one realizes that notorious outlaw Ia Cocha is a seventeen-year-old girl. When Ia gets caught, she is conscripted to join the Commonwealth's military academy and use her talents as a pilot to work for the very government that destroyed her home. When the young Flight Master Knives is tasked to watch over it, it seems like all her hopes of escape are gone. Infamous for getting out of tricky situations and close calls, will Ia be able to escape her tightest bind yet?
This sci-fi is jam-packed with action! Great choice for students who loved Divergent. (HS)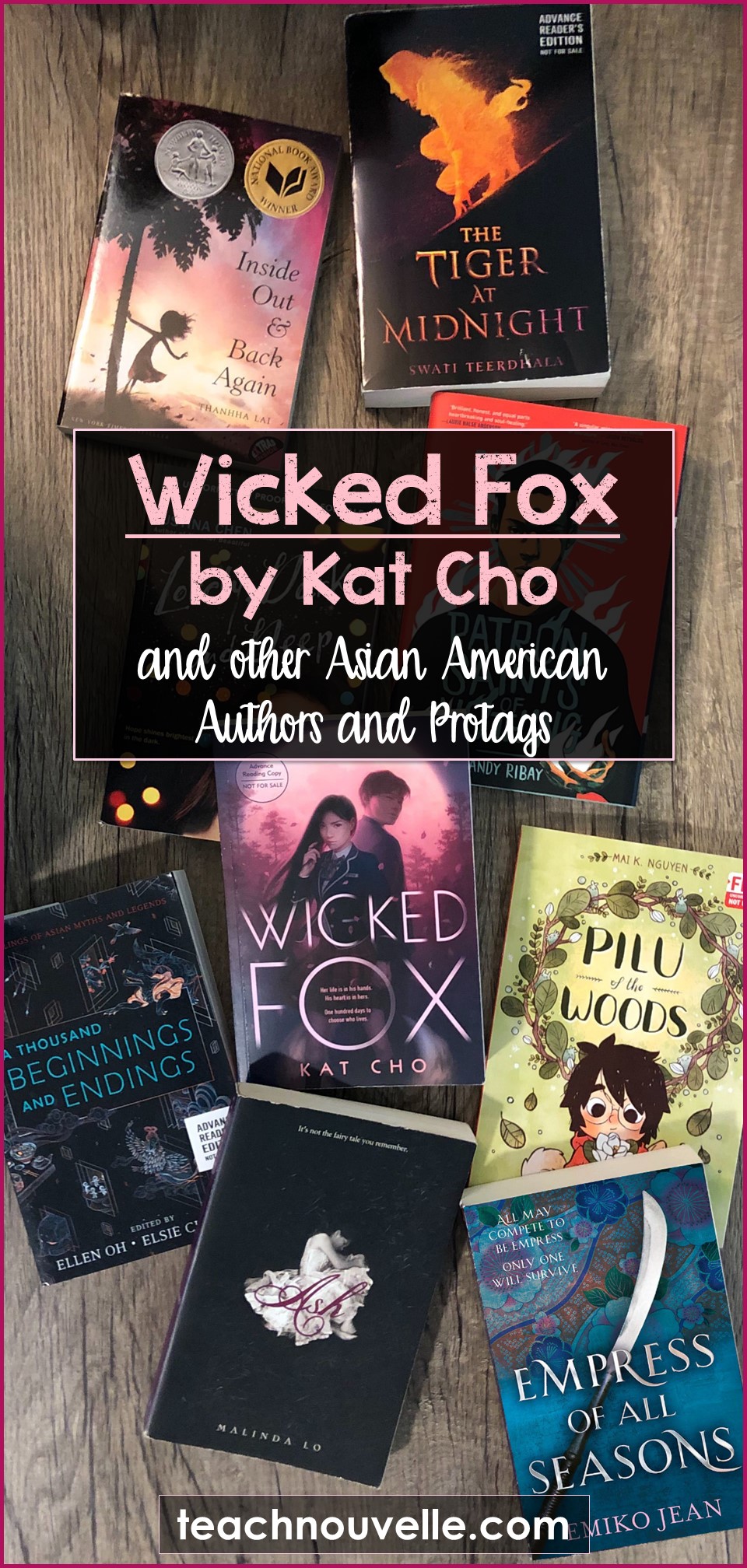 Other Asian American YA Novels?
We'd love to add to this list! What are your favorite Asian American YA novels? Not just novels, let us know your favorite short stories, graphic novels, and comics by Asian American authors and we'll share them.
Keep in touch @nouvelle_ela or @yacafepodcast! We'd love to hear from you!