Are you looking to create a more inclusive classroom library? Are you asking yourself, "What should I read next?" We have many lists of inclusive recommendations and today, we'll focus on books by Arab and Muslim authors.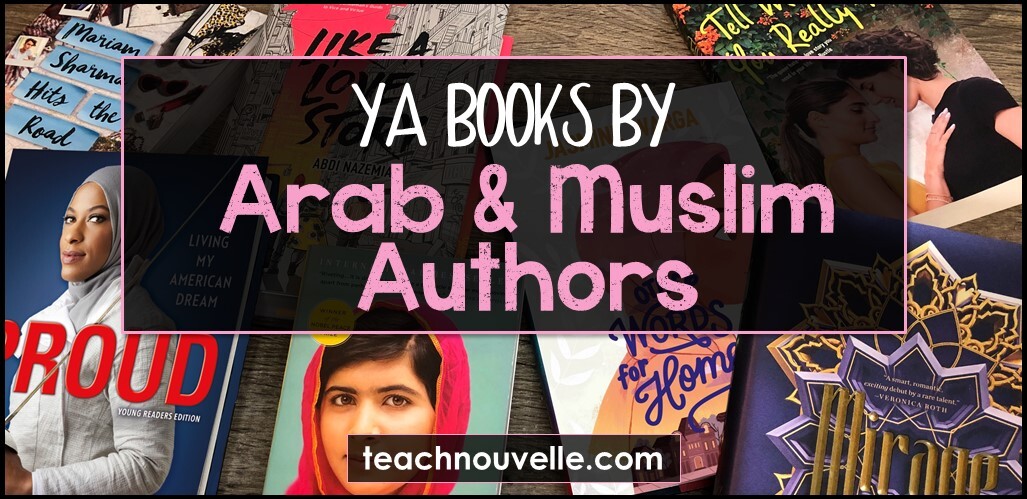 Before I dive into the book recommendations, I wanted to talk about a few terms that sometimes get used interchangeably: Arab, Muslim, Islamic, Middle-Eastern. The most important takeaway here is that no single book will reflect every experience of one of these groups, so please include as many voices as you can.
Arab/Arabic: To put it simply, not all Muslims are Arab, and not all Arabs are Muslim. "Arab is an ethno-linguistic category, identifying people who speak the Arabic language as their mother tongue (or, with immigrants, whose parents or grandparents spoke Arabic as their native language)", (from Teach Mideast). Arabic is the official language of 26 countries, but it's not the only language spoken in those countries, and there are many Arabic dialects.
Muslim: Followers of Islam (all 1.6 billion of them!) are "Muslims." Muslim is not a language or an ethnicity. Be careful not to use 'Muslim' and 'Middle-Eastern' interchangeably, because practitioners of Islam are found worldwide. In fact, the largest Muslim populations are located outside the Middle East, in Africa and Southeast Asia.
Middle Eastern: "Middle Eastern" is a catch-all term coined in the early 1900s by White Europeans to describe the area between India and the Balkans. How many countries are in the Middle East? Well, it depends on who you ask. Some countries in the "Middle East" have shared languages, religions, and culture, but many others do not. You may see this abbreviated as "MENA," which stands for "Middle Eastern and North African."
For more info on all the above you can check out Teach Mideast.
Nonfiction books by Arab & Muslim authors:
I Am Malala by Malala Yousafzai and Patricia McCormick (MG/HS)
Most of us are probably familiar with Malala's story: At 15, a Taliban militant shot Malala in the head by for defying their ban on girls attending school. Despite all odds, she not only survived, but continued her education. At 17 she became the youngest person to receive the Nobel Peace Prize, and just this year she graduated from Oxford University.
While her story might be familiar to us, this young readers' edition of her memoir allows us to share her inspiring journey with a younger audience. Boys and girls alike need to know her story!
Americanized: Rebel Without a Green Card by Sara Saedi (HS)
Imagine discovering at 13 that your whole life could crumble around you at any second. That's what it was like for Sara Saedi when she found out, after 11 years of living in the US, that her parents were here illegally. This book is so great for building empathy in students. I think it has not just a place in a classroom library, but in the curriculum too. You can read my full review here.
Tasting the Sky by Ibtisam Barakat (MS)
Set in the rarely mentioned Six-Day War, "Ibtisam Barakat captures what it is like to be a child whose world is shattered by war. With candor and courage, she stitches together memories of her childhood: fear and confusion as bombs explode near her home and she is separated from her family; the harshness of life as a Palestinian refugee; her unexpected joy when she discovers Alef, the first letter of the Arabic alphabet. This is the beginning of her passionate connection to words, and as language becomes her refuge, allowing her to piece together the fragments of her world, it becomes her true home." (Description from GoodReads)
Becoming Kareem: Growing Up On and Off the Court by Kareem Abdul-Jabbar and Raymond Obstfeld (MG/HS) 
At one time, Lew Alcindor was just another kid from New York City with all the usual problems: He struggled with fitting in, with pleasing a strict father, and with overcoming shyness that made him feel socially awkward. But with a talent for basketball, and an unmatched team of supporters, Lew Alcindor was able to transform and to become Kareem Abdul-Jabbar.
Written for young readers, Becoming Kareem chronicles how Kareem Abdul-Jabbar became the icon and legend he is today, both on and off the court. (Description from GoodReads)
Bonus rec: Do you have basketball loving kiddos in your class? They'll love After the Shot Drops by Randy Ribay. It came out in 2018 but I reviewed it earlier this year.
Proud: Living My American Dream by Ibtihaj Muhammad (MG/HS)
In 2016 Muhammad became the first American to compete in the olympics wearing a hijab, and the first Muslim American to win a medal. It's her own story, and she tells it wonderfully. It's both eye-opening and heart-warming. Students will learn about the challenges she faced (rampant sexism, racism, and Islamophobia) and the things that kept her strong (her faith, her family, and her resolve).

Fantasy books by Arab & Muslim authors:
Mirage by Somaiya Daud (HS)
I. LOVED. This. Book. It's a perfectly crafted fantasy. It's court intrigue. Mirage has a broad appeal for students. The sequel Court of Lions is due out in August, so if you haven't read Mirage yet, bump it up your TBR! Check out my full review for more details, and my ideas on classroom application.
Speaking of Somaiya Daud, she joined us on the YA Cafe Podcast to chat about another amazing fantasy novel, The Priory of the Orange Tree by Samantha Shannon. Find it on iTunes, or click here to listen!

The Light at the Bottom of the World by London Shah (HS)
Picture it: The 21st century is coming to an end, and the world is covered in water. Set in a drowned, post-apocalyptic London, our main character Leyla McQueen is racing to save her father. Literally! She's a teen "submersible racer", and she's competing in an elite, national race. Leyla hopes that after winning the race she can convince the corrupt Prime Minister to free her unjustly imprisoned father. That is, if she can survive the dangerous race. This book has some seriously creepy (in a good way!) world building, and very high stakes.
We Hunt the Flame by Hafsah Faizal (HS)
"We hunt the flame, the light in the darkness, the good this world deserves."
In a vast fantasy world loosely based on ancient Arabia, Faizal has crafted a compelling debut. We meet Zafira is the Hunter, courageously acting as a Robin Hood-like figure to provide food for her people, and the cruel Prince of Death, Nasir, executing rebels at the behest of his father the king. If your students have torn through books by Sarah J. Maas and Cassandra Clare, WHtF might be the beginning of their newest favorite series.
The Ms. Marvel series by G. Willow Wilson (MS/HS)
This graphic novel series stars Kamala Khan, the first Muslim Marvel superhero. I love graphic novels, and the art in this series is outstanding. I think the comic book style structure really adds a lot to the adventurous feel of the narrative, especially for students. Plus, she has a canine sidekick. What's not to love?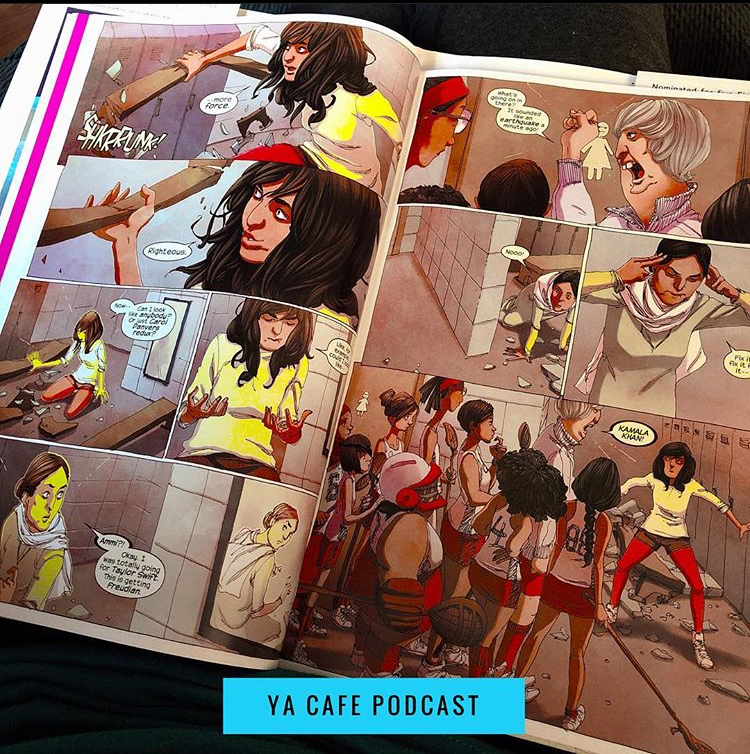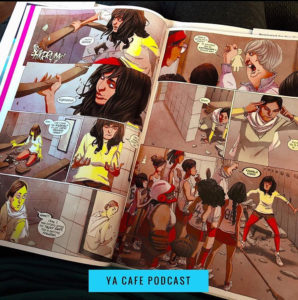 We reviewed Ms. Marvel No. 1: No Normal on YA Cafe Podcast. As always, the first half is spoiler-free so you can listen, even if you haven't read the comic yet.
Are you enjoying our recommendations
of YA books by Arab & Muslim authors?
Join the YA Cafe Podcast in our weekly chat
about books on Radio Public.
Contemporary YA & Middle Grade novels:
Other Words for Home by Jasmine Warga (MG)
When things in Syria become too dangerous, Jude and her pregnant mother are sent to live with their extended family in Cincinnati, leaving her father and brother behind, and in danger. The book deals with some heavy topics, like xenophobia, Jude's fear for her father and brother, Jude struggling for a sense of identity, but in a very sensitive and age appropriate way.
It's always such a treat to find a middle grade novel in verse! Other Words for Home is not just a beautiful story, it's also a beautifully written story. This would be a superb book for broaching a discussion about big issues, and I have more ideas on teaching about immigration in this blog post.

Amina's Voice by Hena Khan (MG)
"Amina has never been comfortable in the spotlight. She is happy just hanging out with her best friend, Soojin. Except now that she's in middle school everything feels different. Soojin is suddenly hanging out with Emily, one of the "cool" girls in the class, and even talking about changing her name to something more "American." Does Amina need to start changing too? Or hiding who she is to fit in?" (Description from GoodReads)
The character of Amina is so lovingly portrayed, students will feel like she's a classmate!  I especially love her relationship with her parents, and the very accurate depictions of the anxieties of middle school.

A Land of Permanent Goodbyes by Atia Abawi (HS)
Tareq's life is hustle and bustle in Syria. He goes to school, comes home to care for his twin baby brothers, and listens to his grandmother's stories. But in a single moment, a bomb strikes and his world comes crashing down around him. Tareq and his little sister survive and travel with their father to Turkey. Who knows what the future holds? Could they be stuck in Turkey with no home and no country forever? Should they reach Greece in a small dinghy or die trying? Will they ever return to Syria? And does the world even care?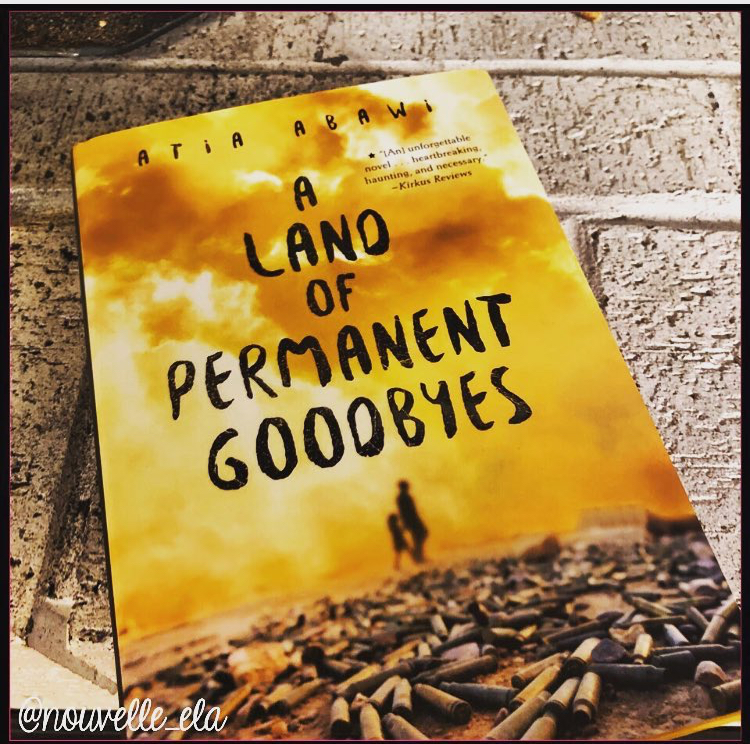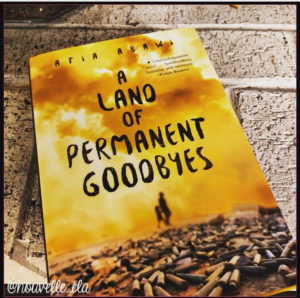 Read my full review (and also about my experience teaching English to Syrian refugees in Greece) here.

Once Upon an Eid edited by S.K. Ali and Aisha Saeed (MG)
This new release is a collection of 15 stories by Muslim authors, all celebrating the holiday Eid. It's a wonderful collection of stories, and a great window into the rich tapestry of traditions of food, family, and fun.

A Very Large Expansive of Sea by Tahereh Mafi (HS)
"It's 2002, a year after 9/11… Shirin is a sixteen-year-old Muslim girl who's tired of being stereotyped. She's tired of the rude stares, the degrading comments – even the physical violence – she endures as a result of her race, her religion, and the hijab she wears every day. So she's built up protective walls and refuses to let anyone close enough to hurt her. Instead, she drowns her frustrations in music and spends her afternoons break-dancing with her brother."
"But then she meets Ocean James. He's the first person in forever who really seems to want to get to know Shirin. It terrifies her – they seem to come from two irreconcilable worlds – and Shirin has had her guard up for so long that she's not sure she'll ever be able to let it down." (Description from GoodReads)."
AVLEoS is a cute, funny, and poignant coming-of-age tale that will have you laughing and crying and falling in love along with Shirin and Ocean.

Internment by Samira Ahmed (HS)
Internment is a look at a horrifying near-future United States in which Islamophobia and fear-mongering have won. As their freedoms are stripped away, Muslims are registered and eventually rounded up as the first internment camp is opened. Layla and her family are sent to live at Mobius, passing the site of Manzanar on the way. Layla knows that history has shown us just how much hate and fear can divide the country. And even though her parents want her to keep her head down, Layla wants to find a way to make her voice heard.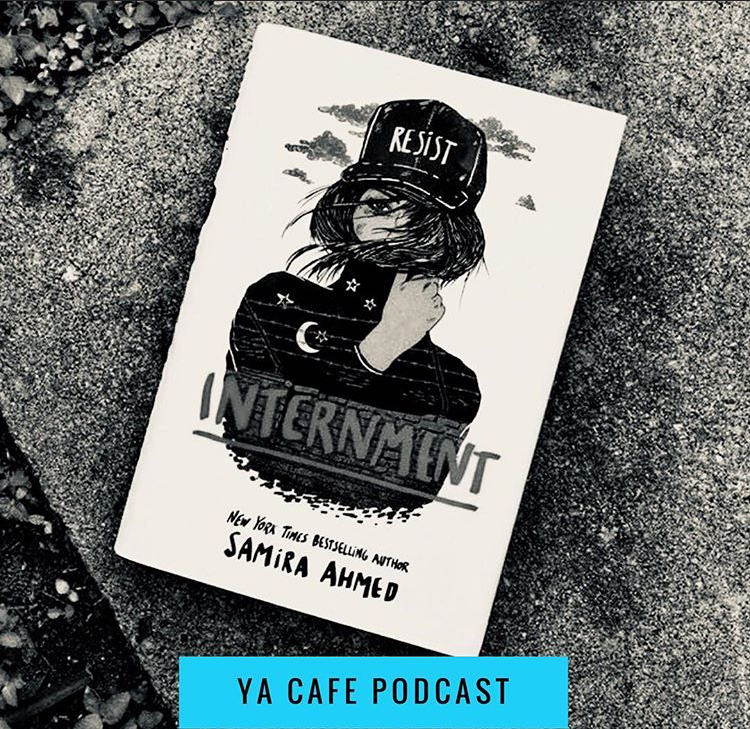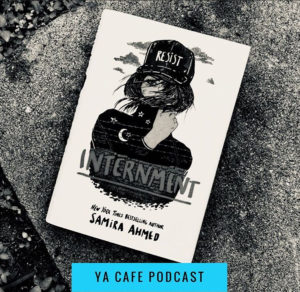 We covered it on the YA Cafe Podcast in episode #49
Saints and Misfits by S.K. Ali (HS)
Ali is so good at character development. Students will find many connections with Janna (our protaganist). Her parents are divorced, she is crushing on a boy who's from a different world, she has an awesome and supportive friend-group, and she has a secret that is breaking her apart.
Trigger warning: This book deals with the MC's sexual assault. If you want to check out a novel by Ali with a lighter tone, I highly recommend Love from A to Z
Escape from Aleppo by NH Senzai (MG)
It is December 17, 2010: Nadia's twelfth birthday and the beginning of the Arab Spring. Soon anti-government protests erupt across the Middle East and, one by one, countries are thrown into turmoil. As civil war flares in Syria and bombs fall across Nadia's home city of Aleppo, her family decides to flee to safety. Inspired by current events, this novel sheds light on the complicated situation in Syria that has led to an international refugee crisis, and tells the story of one girl's journey to safety. (Description from GoodReads)
Love, Hate, and Other Filters by Samira Ahmed (HS)
I couldn't resist putting two books by Samira Ahmed on this list, she's so great! This one is much more lighthearted than Internment, though. It's a funny and endearing tale of a Muslim American teen, determined to become a filmmaker. But just like Internment, I think it has a lot of applications in the classroom. Click here to read the full review on my blog.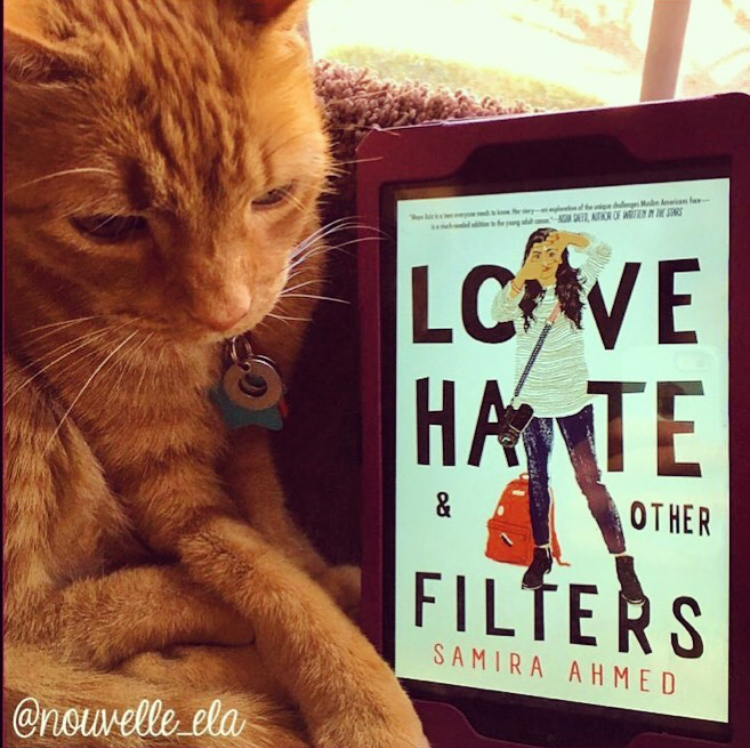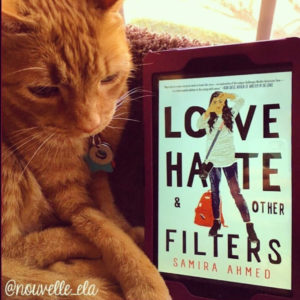 Sign up for our YA Reads Newsletter
for more great recommendations
delivered to your inbox!

Novels by Arab & Muslim authors with LGBTQ+ representation:
Darius the Great is Not Okay by Adib Khorram (HS)
Darius is struggling to cope with many things: His Persian identity (or lack thereof), his sexuality, and his clinical depression. And it's a well-written portrayal of all three! Darius is relatable, and students will feel seen and/or build empathy through his struggles. The sequel is coming out in August and I can't wait to dive back in and get to know his extended family (queer grandmas!) even better.
Like A Love Story by Abdi Nazemian (HS)
A triple-split-perspective historical fiction YA novel set in the late 80s in NYC. Since it's set in the height of the AIDS epidemic, it has some heavy themes. One of the primary character's relative is dying of AIDS. There's an unhealthy love-triangle, and a lot of homophobia (outward and internalized). But these are important stories. And it will allow students to live in that space of fear and uncertainty surrounding HIV that was prevalent in a time before our students were born. We might remember it, but they don't.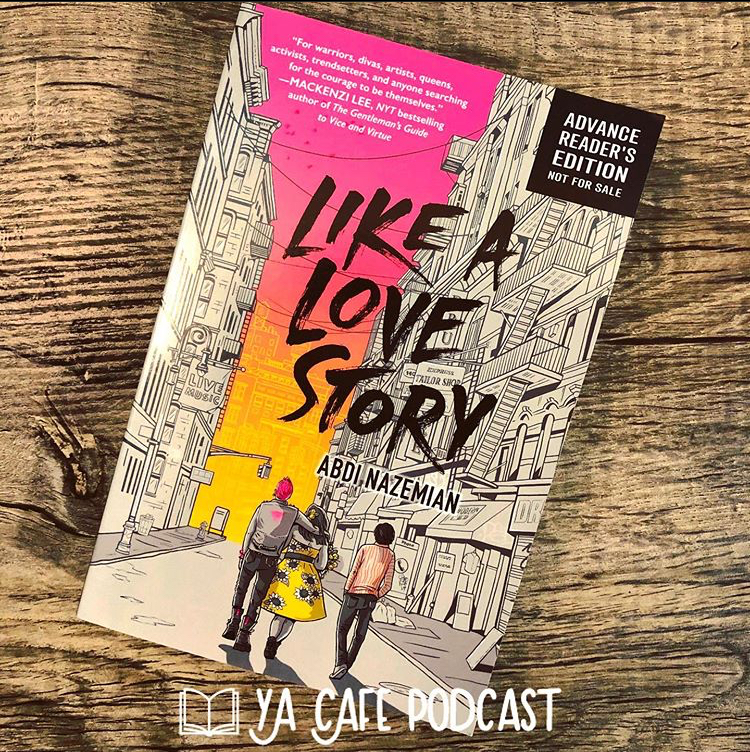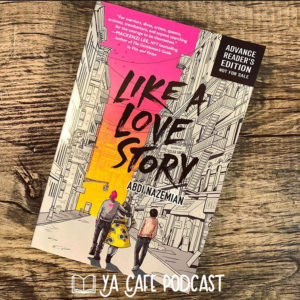 Tell Me How You Really Feel by Aminah Mae Safi (HS)
Rachel Recht is the next big filmmaker. At least, she will be as soon as she can get her movie finished. She works hard not to rely on anyone—especially not Sana, the beautiful cheerleader who asked her out freshman year as what had to be some kind of cruel joke. Sana is the picture of the perfect daughter. She may not know what she wants to do next year—does she want to go to Princeton like her family believes, or fly halfway across the world for an internship in India?—but she knows she never quite got over her crush on Rachel. When Sana is the only one who can save Rachel's movie from mediocrity, it's sure sparks will fly—but whether it's hatred or love, neither of them know yet.
I know you aren't supposed to judge a book by its cover, but y'all, THIS COVER! I am here for the queer girl love, proudly front and center. This book has major Gilmore Girls vibes too, so if you ever shipped Rory and Paris, this book is for you. We covered it in YA Cafe Podcast episode #57, with special guest Justina Chen!
Mariam Sharma Hits the Road by Sheba Karim (HS)
There are a lot of serious books on this, but Mariam Sharma is a refreshing romp. It follows a trio of friends on a summer road trip. Mariam, Ghaz, and Umar travel from New Jersey to New Orleans and have a flurry of adventures and detours along the way. From trying to find vegetarian food in a southern diner (been there!), to karaoke-self-expression (yes!), students will find a lot of humor and heart in these characters' journey.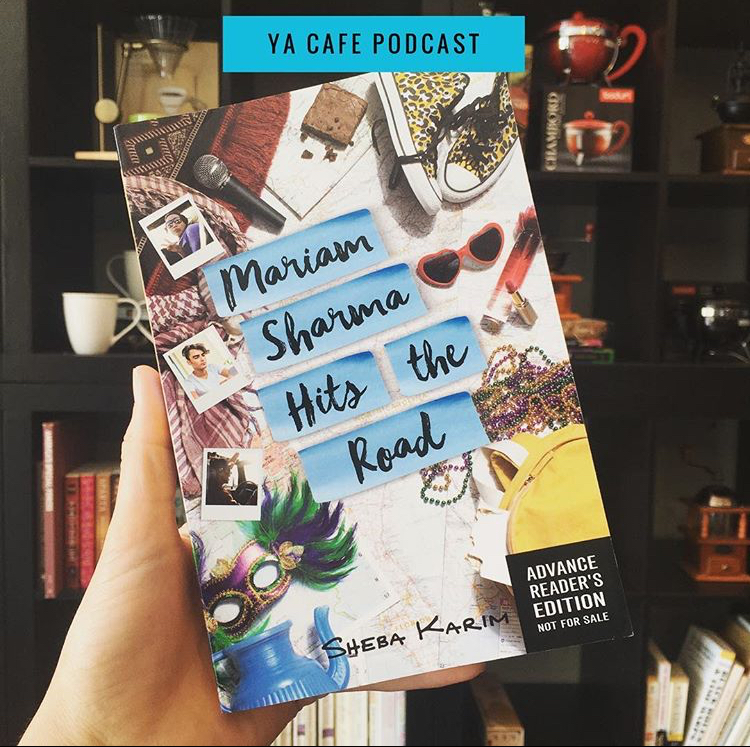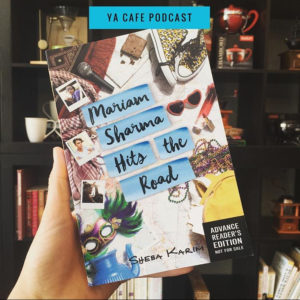 If you want more info, we covered it in YA Cafe Podcast episode #17 🙂
I hope you enjoyed my list of recommendations for YA & Middle Grade books by Arab & Muslim authors! This list will grow as I discover more titles, so be sure to bookmark the page and check back in the future!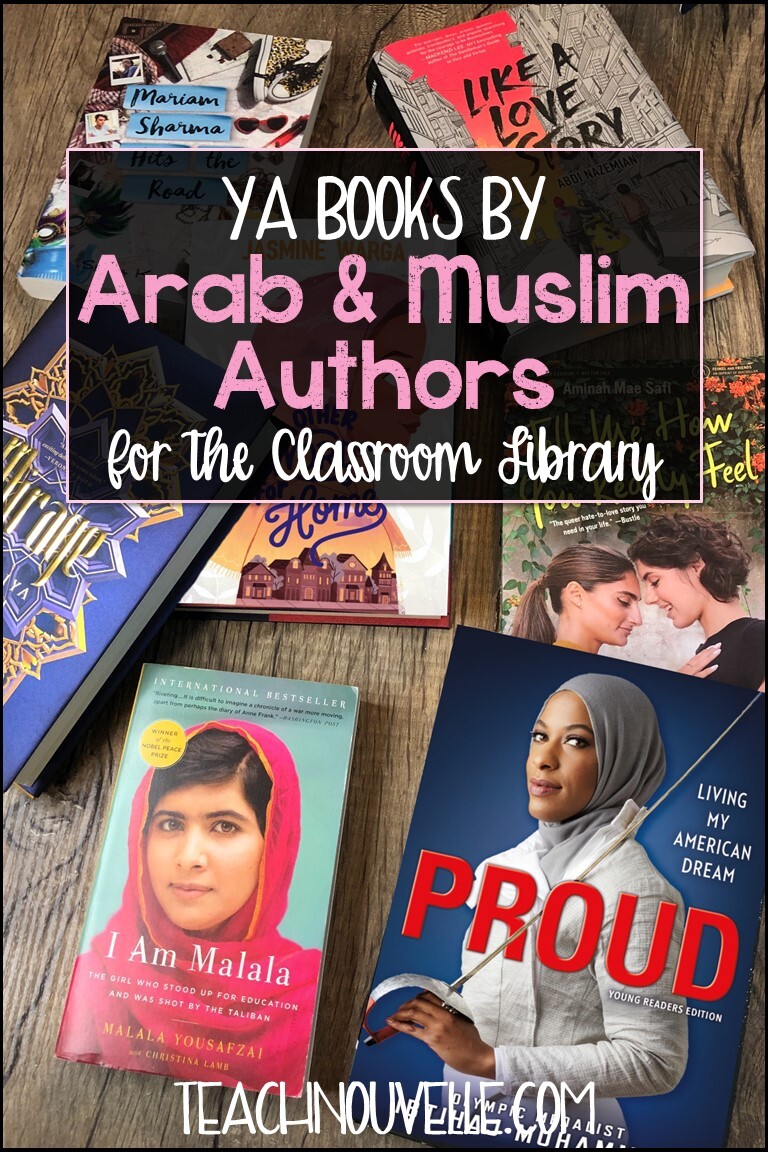 What's your favorite book on this list? Do you have a recommendation for me? I'd love to hear from you! Comment below or reach out to me on IG @nouvelle_ela.