This content has been archived. It may no longer be relevant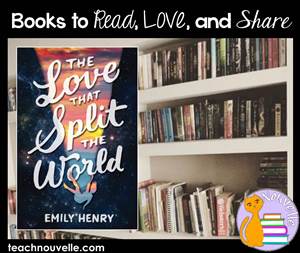 The Love that Split the World by Emily Henry
Natalie's last summer before college is off to a fine start, except that she has to drive her siblings around and her best friend is off at soccer camp. Then, Natalie starts seeing things that can't possibly exist: houses that weren't there before, friends who don't even recognize her, and doors that change colors in front of her eyes. She even meets the legendary Band Room Ghost, a beautiful boy named Beau who flickers in and out of existence. When Natalie's mentor, a mysterious apparition she calls "Grandmother", warns her that "there's only three months to save him," Natalie knows she must race against time and space to save Beau. It soon becomes clear to her that Beau isn't the only thing at risk: Natalie must also save herself.
—
This is a genre-bending masterpiece. Lyrical suspense. Romance. Time travel.
I've taken two weeks to write this review because I keep rolling this book around in my head. I liked so many things about it, but the ending and overall tone kept me pondering. I can tell that this is a book that will stick with me, much like Time Traveler's Wife and His Dark Materials, and for similar reasons.
I loved the portrayal of friendships, sibling relationships, and family in this book. Although Natalie has this huge mystery building up around her, she still takes time to reflect on her brother and sister's weird behavior, her best friend's time at camp, and her mom's hopes and dreams for her.
I enjoyed the romance in kind of a general way, but I immediately categorized Natalie and Beau as star-crossed lovers because of the way they reminded me of Lyra and Will in His Dark Materials. I won't go into how I was right and wrong and surprised about this, but I will say that the general foreboding I felt for them kept me from enjoying the romance as much as I could have.
Emily Henry does a masterful job of weaving in stories from many cultures. These stories weren't obvious parallels like some other "stories told to the main character" have, and it was up to Natalie and the reader to develop understanding and glean meaning together. This was pretty cool.
In the Classroom
You could easily use excerpts of this novel in conjunction with a Myths & Legends unit or as a model text for writing description in narratives and fiction. Here are some beautiful examples of Emily Henry's style:
"And when you see those good things – and I promise you, there are so many good things – they're going to be so much brighter for you than they are for other people, just like the abyss seems deeper and bigger when you stare at it. If you stick it out, it's all going to feel worth it in the end. Every moment you live, every darkness you face, they'll all feel worth it when you're staring light in the face."
"The cycle repeats, the colors washing over us in new variations of the same shades, moving faster and faster until it's like we're standing in the center of the solar system, and it's the sun that circles us."
You could also recommend this book to students who enjoy lyrical novels like We Were Liars by E. Lockhart or The Accident Season by Moïra Fowley-Doyle or romances like If I Stay by Gayle Forman.
If you would like to purchase the book, you may do so here at Amazon: The Love That Split the World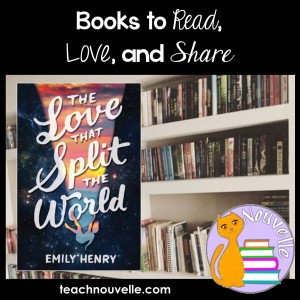 Best,
Danielle @ Nouvelle
Note: Danielle @ TeachNouvelle.com is a participant in the Amazon Services LLC Associates Program, an affiliate advertising program designed to provide a means for sites to earn advertising fees by advertising and linking to amazon.com.