For the last five years, the first unit I teach is always a short story unit. Every year, I spend countless hours researching engaging, inclusive literature to include in my short story unit. Every year, without fail, I feel exhausted after having little success finding just the inclusive literature I am looking for.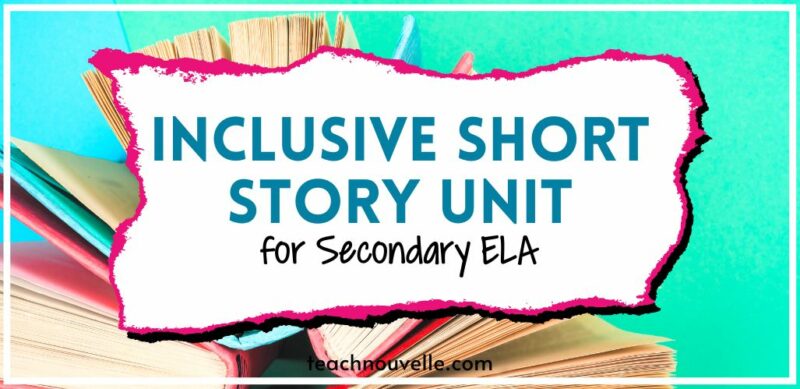 That is–until I found the Inspiring & Inclusive Short Story Unit Ideas & Recommendations. This product is a living document that offers standards-aligned, categorized inclusive literature to guide and diversify your short story unit.
What to expect in this resource?
Forever Relevant
All the inclusive literature suggestions for your short story unit exist forever on a living document! It gets updated with new short story suggestions, so all you need to do is bookmark the tab. It will always be there for you anytime you need a quick text to teach or a mindful swap for a more diverse text option.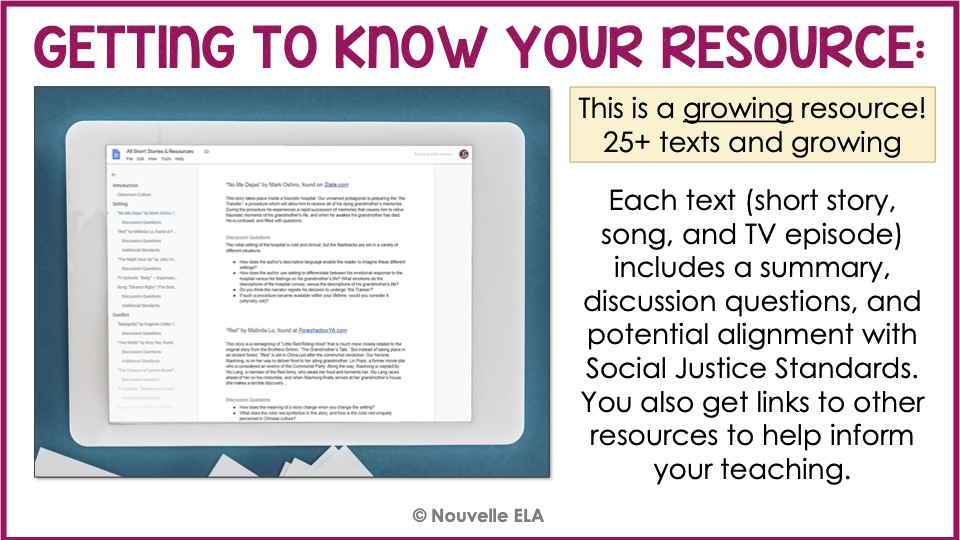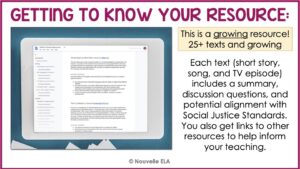 Standards-aligned
Your resource aligns with both…
⭐Learning for Justice's Social Justice Standards
Censoring specific texts is an ugly reality we face in the classroom. It is also no surprise that the most challenged books are written predominantly by authors of color.
For this reason, I find assurance in teaching a diverse short story unit that is standards-aligned. With the suggested texts and discussion questions aligning both to Common Core and Social Justice Standards, I know exactly what skills and why my students are reading a specific piece of inclusive literature.
Teaching anxieties immediately reduced.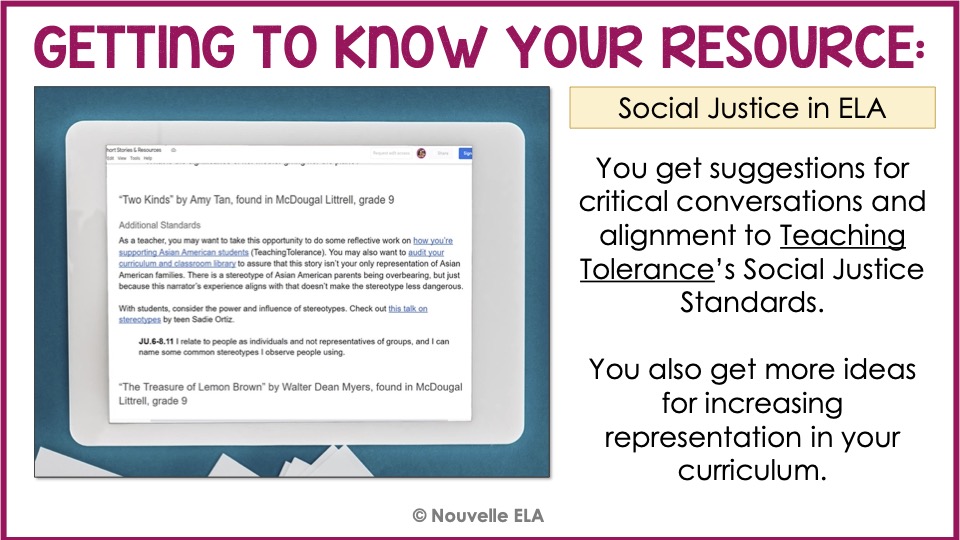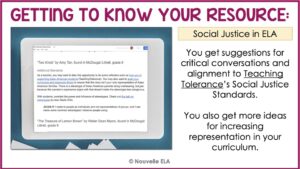 Categorized
My FAVORITE part of this resource has to be the categorization of the suggested texts. If you scaffold your short story unit, this will save you tremendous time researching inclusive literature to use.
The categories:
⭐Setting
⭐Conflict
⭐Irony
⭐Pacing & Suspense
⭐Symbolism
⭐Mood
As a short story unit introduction, each category provides you with tips and/or resources to get started. For example, if you are about to introduce "setting" to your students, there is a helpful video provided to get the learning started.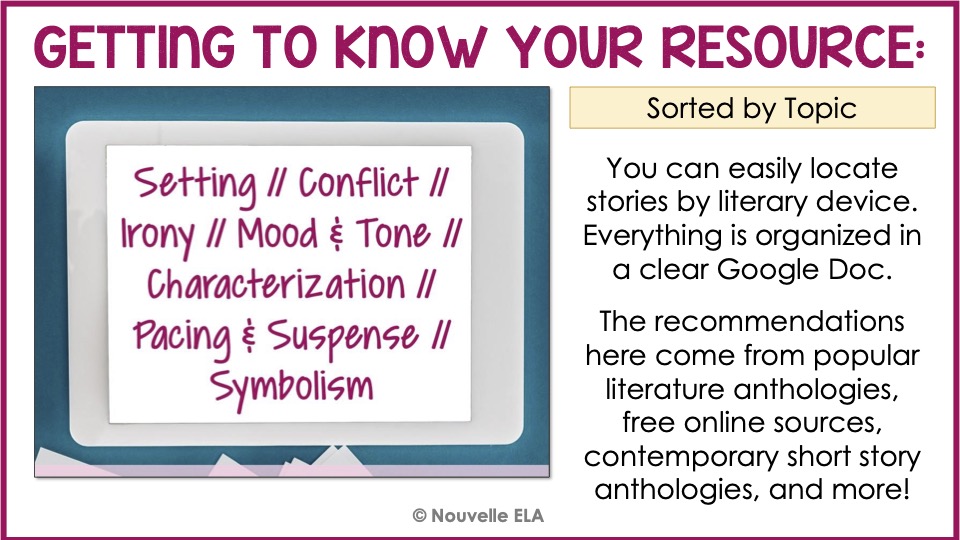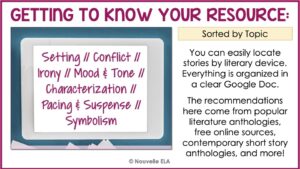 You can also use these categories as a way to teach literary devices. What better way to do so than with BINGO?
Looking for project-based assessment opportunities? Incorporate the symbolism flipbook project and the vocabulary poster project within your short story unit.
Summaries + Discussion Questions
More benefits to this resource? Yup, they keep on coming. Within the document, you'll find suggested activities for teaching short stories. A summary is provided for your convenience along with pointed discussion questions for students.
These suggested questions are wonderful for teaching quote analysis within your short story unit. Additionally, these conversations create space to build class culture using critical practices for anti-bias education.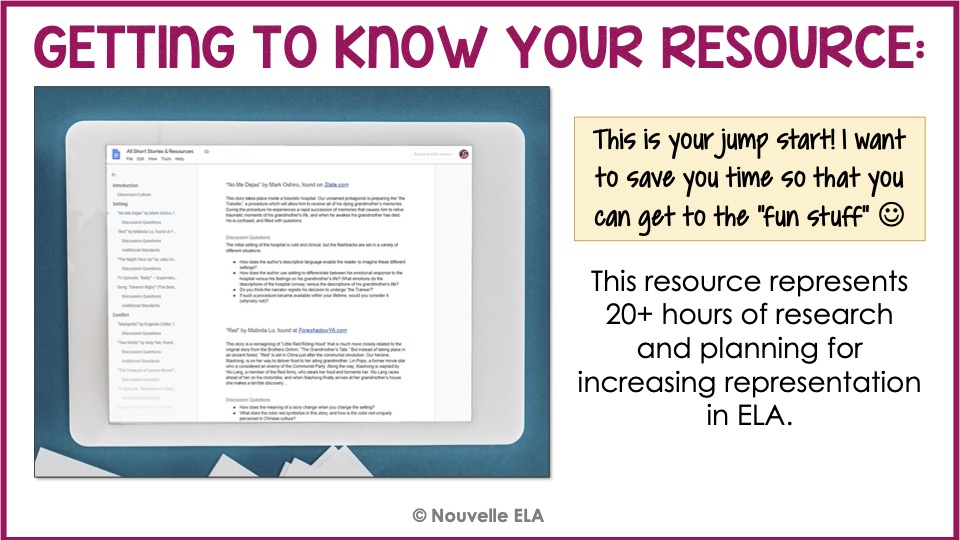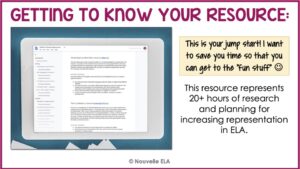 Bonus Content!
Within this resource, you will find bonus content suggestions like…
⭐TV episodes,
⭐Songs,
⭐TedEds, and more!
I always try to pair varied short texts within my short story unit. Prior to reading a short story with strong symbolism, I might pair it with a Pixar short that does the same. This allows my visual and reluctant learners to make the connection in a lower-stakes practice prior to reading!
Additional Suggestions
Although I teach a short story unit, I like to refresh my students' skills throughout the year. We revisit short stories, which I typically use as a vessel for incorporating inclusive literature year-round. See some suggestions below!
⭐September: 4 Short Stories to Celebrate Hispanic Heritage Month
⭐Halloween: Inclusive Short Horror Stories for Teens
⭐October (LGBTQ+ History Month) or June (Pride Month): Short Texts by LGBTQ+ Authors for Secondary ELA
⭐May: 5 Short Stories to Celebrate AAPI Heritage Month in Secondary ELA
⭐Middle School: New Short Stories for Middle School
⭐High School: Contemporary Short Stories for High School
⭐American Lit: 5 New Short Stories for Teaching American Lit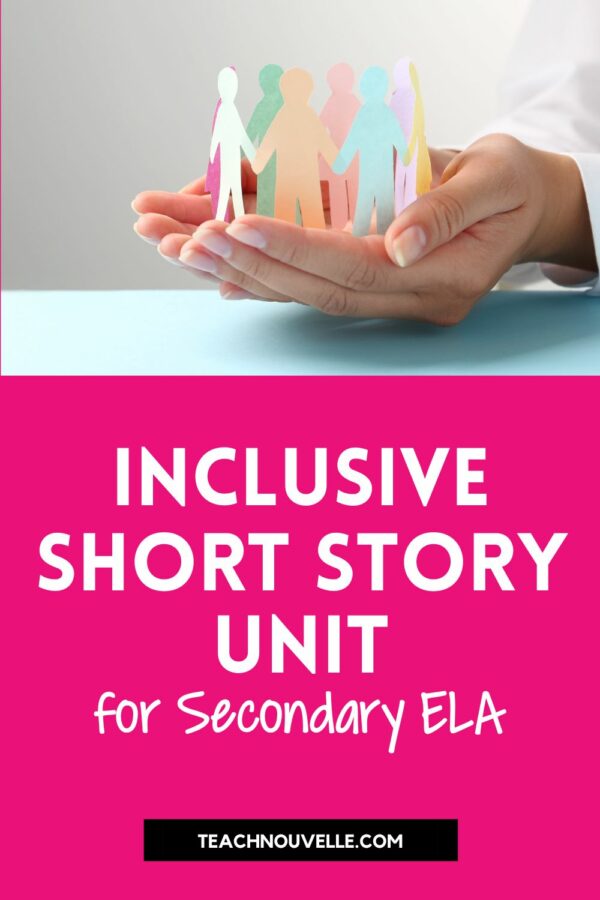 Final Thoughts
I can't speak highly enough of this invaluable resource. The time and energy it has saved me has freed up personal and planning time which is most important to me!
The only unspoken piece left to consider is a short story unit assessment. There are SO many ways you can go about assessing the plethora of skills they learned.
If you are looking for a collaborative assessment, consider hosting a writer's workshop. Or you can find even more suggestions for creative activities here!
I find that the most daunting part of planning a short story unit is having TOO many choices. We're here to guide you toward a short story unit full of inclusive literature and engaged students!
Happy teaching 😀