We read a lot of books with social issues for the YA Cafe Podcast, and I feature a lot of these books on my own Instagram. Because of this, teachers often ask me for resources for teaching social justice books. Today, I want to share some specific resources for teaching social justice literature circles.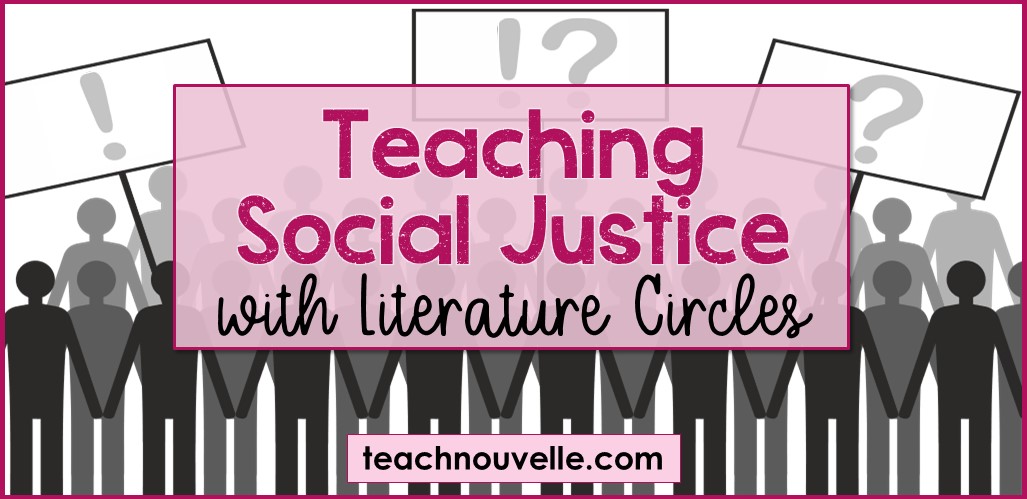 Literature circles are classroom book clubs that give students a chance to read a selected novel with a small group of their peers. You can set this up several ways, but I typically choose enough books so that there are 4-5 readers per group. I have students meet twice per week over four weeks. Students make a reading schedule during their first group meeting and they generate focus questions for their reading. I like to have group presentations at the end, and I always encourage students not to spoil the book for their peers.
You can find many other resources for teaching lit circles out there, but let's talk specifically about teaching social justice books.
Teaching Social Justice Books
There's no "one way" of teaching social justice, but there are some common concepts to all successful approaches. According to Caitrin Blake from Concordia University, "Social justice advocates hope to build a society in which individuals have equal access to resources and receive equitable treatment regardless of their race, gender, religion, sexuality, income level or disability." This means that your book choices should allow students to evaluate systemic access to resources through fiction. Your most successful book choices will be those that examine issues through a contemporary lens or present a historical situation that can be easily mapped onto current events.
Later on in the post, I have a list of suggested books to add to your social justice lit circles.
When your students meet, it's helpful to provide them with one focus question for each meeting. Older students can often generate these for themselves, but younger students will need more help. Here are some examples of great focus questions:
Questions for Literature Circles
What is the primary social issue examined in this book? (topic)

Who makes the decisions about this social issue? How do we see these policies impact day-to-day life? (setting)

How do these policies and decisions impact the main character? How about other characters in the novel? (character)

What examples do we see of characters being disadvantaged by the policies? (conflict, character)

What are the hurdles that the main character must overcome? (conflict)

What resistance does the main character face? How is this resolved? (conflict)

What actions are required to make societal change in this novel? What actions does the main character take? (plot, conflict)

What can we learn from this novel and apply to our real world? (theme)
Common Resources for Literature Circles
You can make sure all students develop a common understanding and vocabulary for the concept of social justice by sharing some common resources. Begin each class period that Lit Circles will meet with a mini-lesson. You can share a video or article that develops a concept or example that students can later apply to their specific books.
Great resources for teaching social justice mini-lessons:
*John Green's CrashCourse on Discrimination starts with a basic explanation of how the word 'discrimination' is used, but then goes into a more in-depth look as social justice. Green introduces students to the difference between justice and fairness. He says, "when you're already really far ahead it can feel really bad to be held back and asked to wait for others to catch up, but if we're actually aiming for equality, that's exactly what people at the front are gonna have to do." This can be such an eye-opening concept for younger students who are still developing their own sense of fairness in the world.
*This article/video from Vox highlights some specific examples of internalized prejudice and institutional racism. Some examples mentioned are 'Black' names not getting call backs on resumes, Black shoppers pay more for cars, Black and white people taking illegal drugs in equal numbers with unequal legal ramifications, and more.
*This ACLU article discusses the racist roots of stripping felons of the right to vote and this topic makes an interesting class debate. Along the same lines as mass incarceration, this article from The Root examines how the monetary bail system disproportionately punishes poor people. John Oliver also has an excellent clip about the bail system, but it is not appropriate for younger students.
*If you want to get real with your students, you could have them take The Implicit Bias test from Harvard. This can be a brutally eye-opening experience, though, so make sure you create a safe environment for thinking about the results or have students take the test at home.
TED Talks
*In this TED Talk, Kimberle Crenshaw talks about Intersectionality and Social Justice. She starts with an experiment to see who in the audience recognizes the names of Black men killed by the police (Freddie Grey, Tamir Rice, and more) and most people recognize them. When she lists the names of Black women, they are unknown, and she uses this as an example of how women are being left out of the discussion on police violence. According to Crenshaw, "without frames that allow us to see how social problems impact ALL the members of a targeted group, many will fall through the cracks of our movements, left to suffer in virtual isolation." The whole talk is 18 min., but you could use clips in your classroom. Teaching intersectionality is definitely a component of teaching social justice books.
This TED Talk from Icelandic politician Halla Tómasdóttir encourages women to run for office. Tómasdóttir opens her talk by recounting the strike for equality in 1975 and how that led to Iceland being the first country to elect a woman (a single mom no less) as their president. This is 16 minutes long, but very engaging.
In this TED talk, activist Judith Heumann recounts the struggles she faced as a disabled child in the 1950s and 60s. This experience inspired her to help lead a month long protest called the Section 504 sit-in. This sit-in is still the longest-held to-date at a Federal building. Her talk shows how far we have come (thanks to hardworking activists like her) and how much more we still have to accomplish.
In her TED Talk, Filmmaker Yoruba Richen shares her perspective as a member of two marginalized communities. As a Black woman and a member of the LGBTQ community, she has a unique and personal perspective on the struggle for civil rights. She highlights how politicians and the media often pit marginalized peoples against each other, but how in reality, the two causes have been helping each other for years. She also pushes back, hard, against the harmful stereotype that the Black community is more homophobic.
We also recommend listening to (and sharing with your students) the YA Cafe Podcast episode on How I Resist. This is a collection of short pieces from 30 amazing contributors such as Jason Reynolds, Malinda Lo, and Jacqueline Woodson. Its editor Maureen Johnson calls it "a resistance book for teens" and we think it's great! This book encourages students to become involved in their communities and help enact social change.
10 Book Recommendations for Teaching Social Justice
The Hate U Give by Angie Thomas
In The Hate U Give, sixteen-year-old Starr witnesses the murder of her unarmed friend, Khalil, at the hands of a white police officer. In the aftermath, she must balance the expectations of her Black neighborhood, Garden Heights, with her predominantly white private school, Williamson. Starr wants justice for Khalil, but she's scared that what she might say could bring trouble to her neighborhood or her family. Can Starr overcome her fear and make her voice her most powerful weapon? We did a book vs. movie discussion in YA Cafe Podcast episode 31.
This is Where it Ends by Marieke Nijkamp
It needs to be said upfront that This is Where It Ends is about a school shooting. But, it's more than that, too. It's told from multiple perspectives and captures the terror and heartache of such devastation. It was also the first YA title featuring a gay main character that made the New York Times Bestsellers' List. Rich, compelling, and unstoppable.
This blog uses affiliate links for your convenience.
If you decide to purchase recommended gifts or books, please consider doing so through our affiliate links (at no additional cost to you).
Your support makes our podcast, The YA Cafe, possible.
This YA narrative nonfiction book tells the story of two teens brought together by a bus ride through Oakland. Sasha is white, genderqueer, and attends an affluent private school, and Richard is black, poor, and attends a large, under-funded public school. After a careless prank goes too far, Sasha is hospitalized and Richard is charged (as an adult) with two hate crimes. This book covers topics like racism, gender-identity, the juvenile justice system, and other issues hugely important to teens.
This novel is a look at a horrifying near-future United States in which Islamophobia and fear-mongering have won. As their freedoms are stripped away, Muslims are registered and eventually rounded up as the first internment camp is opened. Layla and her family are sent to live at Mobius, passing the site of Manzanar on the way. Layla knows that history has shown us just how much hate and fear can divide the country. Even though her parents want her to keep her head down, Layla wants to make her voice heard. We featured Internment on episode 49 of the YA Cafe Podcast.
All-American Boys by Jason Reynolds and Brendan Kiely
This middle-grade novel juxtaposes the stories of two high school students, Rashad and Quinn. After Rashad is brutally beaten by a white police officer on the accusation of robbery in an attack that leaves him alive, but hospitalized, Quinn – who witnessed the assault – is left with so many questions. How could the officer, a family friend no less, perpetrate such a heinous offence? The split POV shows how both boys and their communities respond to the incident, and how Quinn comes to realize that his silence makes him complicit in the violence.
Harbor Me by Jacqueline Woodson
Six kids, one room, countless secrets and stories shared with each other. This middle-grade book is great for showing kids constructive ways to talk about tough subjects like bullying, racism, police violence, and deportation/immigration issues.
When the Bolivian government raids his family's cocoa farm and accuses his parents of participating in the drug trade, 12-year-old Diego's quiet home life is over. His parents go to separate prisons, and he and his little sister live in a cell with their mother. While his parents are incarcerated, Diego is free to attend school and find whatever work he can to help support his family. With this responsibility on his shoulders, Diego jumps at the payday offered by a friend. The deal? Two weeks of work in the jungle. What Diego doesn't know is this opportunity traps him in forced labor by a drug cartel.
The Marrow Thieves by Cherie Dimaline
In a world wrecked by global warming, most people have lost the ability to dream. The state believes the cure is inside the bones of Indigenous people, and they try desperately to steal it. This is the world where French and his friends are on the run. They grow as their own family and try to avoid the "schools" the government has created for their people. Although their government envies and despises them, they work to build a life together. They will stand with, love, and guard each other, no matter the dangers. We talked about this book on episode 54 of the YA Cafe Podcast.
Sign up for our YA Reads Newsletter
for more great recommendations
delivered to your inbox!
Monday's Not Coming by Tiffany D. Jackson
Claudia is the only one who seems to care that her best friend Monday hasn't shown up for school. She tries talking to her parents, her teachers, the cops, and even Monday's own dysfunctional family. Can Claudia help solve the mystery of her best friend's disappearance? We are huge Tiffany D. Jackson fans over at the YA Cafe Podcast and we talked about this book in episode 15.
Suspended from school for calling out her Islamophobic teacher, Zayneb moves in with her aunt in Qatar to 'cool off'. On the plane she meets Adam, a college student recently diagnosed with multiple sclerosis. Moreover, this is the same disease that killed his mother, and Adam must break the news to his still-grieving father and sister. This is a story about confronting prejudice, speaking one's truth, and finding love in the face of so much hatred.
If you choose to buy any of these books, please consider doing so by using by Bookshop affiliate links. You'll be supporting small indie bookstores, and giving me a small kickback to help keep the blog running.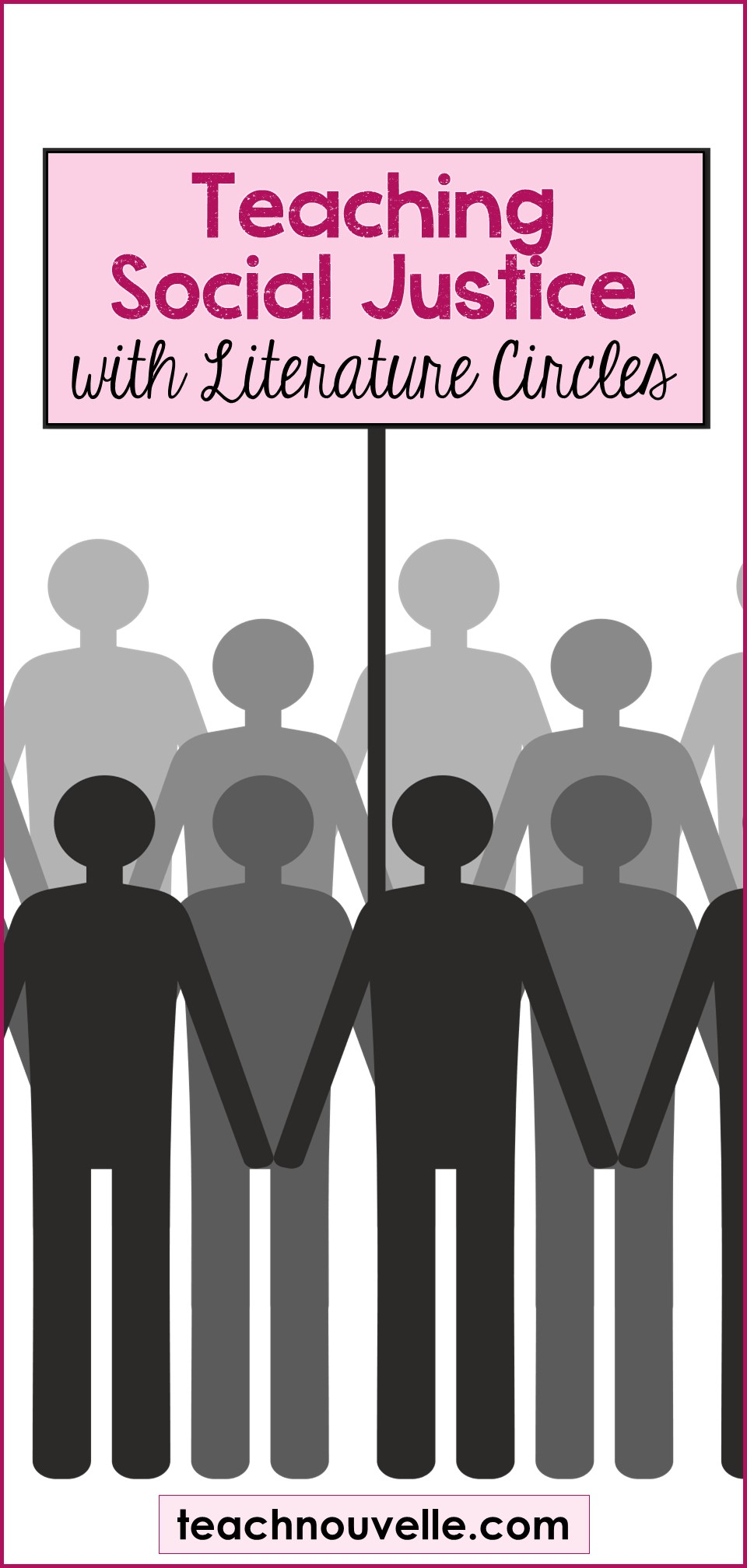 Closing Thoughts
Whatever way you go about teaching social justice in your classroom, your students will benefit. It's an excellent way to stock their toolkit for critical thinking about issues that matter to them and their world. We don't all have to agree about a subject to necessitate being well-informed about it.
How are you teaching social justice? What are some of your favorite books to recommend? What are your favorite online resources? Let us know in comments!