You can use these low-prep lessons filled with public speaking tips in middle or high school ELA. They make for great icebreaker activities!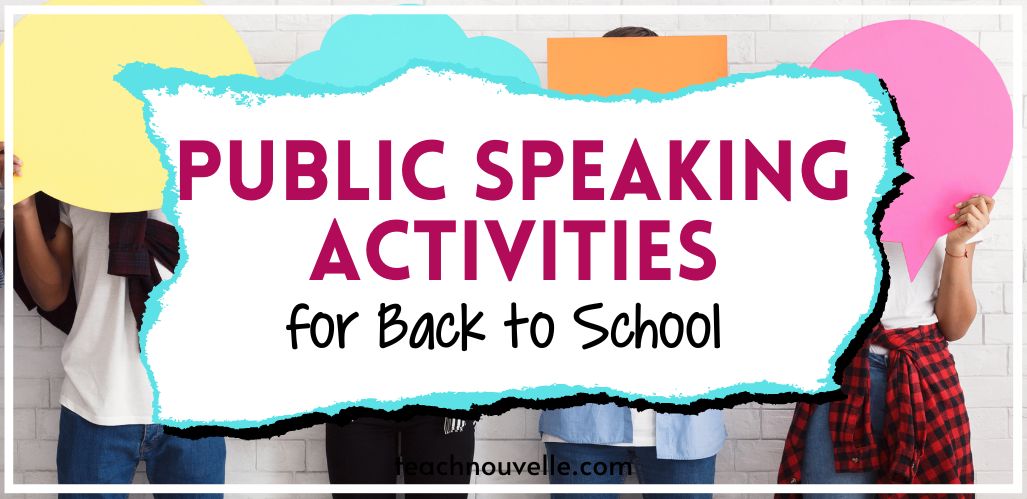 Back to School Public Speaking Activities
Back to School is the perfect time to strengthen your student's public speaking skills. These public speaking tips and activities are a great way to build classroom community, so you can achieve multiple goals within the same class period.
I've blogged before about using Children's Books to Teach Public Speaking, so if you haven't already read that post, go check it out! 🙂
Low-stress Public Speaking Activities
Back to School Peer Interview Project
Students brainstorm open-ended questions and use them to interview a classmate. Then, they present to their classmates in very short presentations. I really love this activity because it helps students understand open-ended vs. close-ended questions. It is also quick and easy and helps jumpstart your classroom community.
Students can use this back-to-school activity to identify their own assets — an excellent way to counter deficit-based thinking that middle and high school students often have. Once they create their profiles, they can present them in small group presentations. Sign up for my emails to score a freebie of this activity!
Be sure to check out my Back to School Activities Bundle!
Public Speaking Tips for Students
I have had a LOT of fearful students tackle public speaking in my classroom. Here are some tips I share with all students, along with my ideas for the most nervous speakers.
Do a warm-up with all students.

Stretch – have all students stand up before presentations start and do a few stretches. Stretches that cross the midline of the body are particularly grounding.
Breathe – my favorite centering sort of breathing is called "double nostril breathing." Cover one nostril and breathe deeply through the other nostril. Breathe out. Switch. Repeat 5-10 times.

Start with small-group presentations.
Instead of having students present one at a time in front of the whole class, start practicing public speaking by having students present to a group of 3-4 peers. As the school year progresses, you can increase this audience until you have full-class presentations. Read more about this strategy here.
If you have a truly fearful student, I'd start the year on the right foot by offering them the opportunity to present at lunch or after school.
Are you enjoying these public speaking tips? Sign up for my weekly Teaching Tips newsletter to have ideas and free resources delivered directly to your inbox!
Why practice public speaking?
One of the main types of communication we can build in students is speaking. Therefore, starting these skills in our back-to-school activities makes sense. I can't wait to hear how you're using public speaking practice in your back-to-school lesson plans.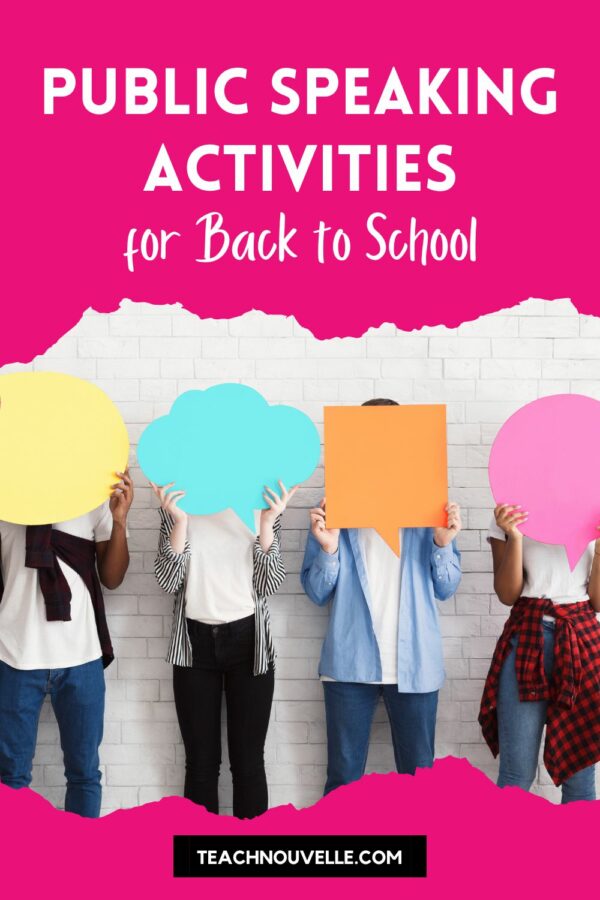 Final thoughts
I hope you found these public teaching tips and activities helpful! Need more ideas for back-to-school activities and icebreakers? Check out these posts!
Drama Games for ELA (a great way to loosen up the class and get the nervous jitters out!)
How to Play Team Trivia (I LOVE this super fun activity for getting students to work together, and fostering some healthy competition. You can download a week of questions for free in the blog post!)
Movement In the Classroom (I mentioned this in today's post, but getting students moving is one of my favorite ways to help fight the nerves)
5-Minute Filler Activities for ELA (The first week is always SO busy, it's hard to start anything big, or any multi-day projects, but this blog post is filled with ideas you can use when you only have a few minutes before the bell.)
Do you have any foolproof public speaking tips that you share with your students? Any tried-and-true back-to-school activities? Comment below or reach out on IG @nouvelle_ela
Happy teaching!