This is part 2 of our 2018 round-up with recommendations from 15 guests. Today we hear from Lamar Giles, Amanda K. Morgan, Hannah Moskowitz, and more! (Transcript)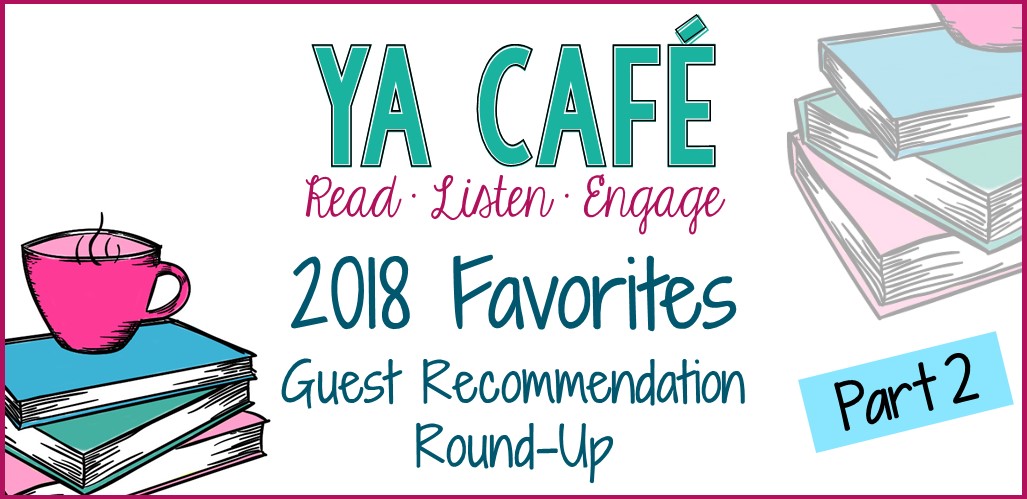 In today's episode…
Today's episode will be a little different, this is part 2 of a two-part year in review. We've called up some of our writer, reader, and teacher friends to make some recommendations of books we didn't cover this year on the podcast. If you missed part 1 last week, be sure to check it out!
Our friend and recurring podcast guest, Anna (@hayinas7) is kicking off this episode by sharing her love of The Poet X by Elizabeth Acevedo. She also strongly recommends listen to the audio-book which is read by Elizabeth herself! (Psst! YA Cafe listeners can get a free audio-book from Audible by visiting audibletrial.com/yacafe
It's always a pleasure to chat with Erin Callahan, author of The Art of Escaping, and guest on our When Life Gives You Demons episode. She shares some of her recent excitement with us, including a visit to the Houdini Museum where she got to interview famous escape artist, Dorothy Dietrich, so cool! Erin recommends The Accidental Bad Girl by Maxine Kaplan, which sounds like a great addition to any classroom library.
Our next recommendation comes from teacher Chris Peck (@_hipsterteacher_) who you might remember from our episode on How I Resist. He is bringing us a great non-fiction title, Educated by Tara Westover. We know that teachers are always in need of non-fiction books that will interest there students, thanks Chris!
We had a fascinating conversation with Hannah Moskowitz, author and friend of the podcast, you might remember that we featured her book Salt on the podcast back in November. She shares some exciting news about her upcoming novel, and dishes on the publishing world.  Her recommendation for y'all is Neanderthal Opens the Door to the Universe by Preston Norton.
We're so honored to have Lamar Giles be apart of our podcast again! We already featured Monday's Not Coming by Tiffany D. Jackson on the podcast, but Lamar wanted to be sure that it's on everyones TBR. We featured the wonderful anthology he edited, Fresh Ink, on the podcast back in August, and his next book Spin is coming out in January, pre-order it today!
And lastly, it was wonderful as always to chat with writier and friend, Amanda K. Morgan. We featured her book Secrets, Lies, and Scandals on our YA thrillers compilation episode, and you might remember that she was a guest on our episode about All of This Is True by Lygia Day Penaflor. Mandy shares some about her life and her work, including a very exciting announcement about an upcoming project with Danielle! Mandy's recommendation for y'all is  A Madness So Discreet by Mindy McGinnis which she describes as "Sherlock Holmes meets American Horror Story". We're definitely putting this one on our TBR, thanks Mandy!
These Show Notes use Amazon Affiliate Links for your convenience.
If you decide to purchase this book, please consider doing so through our affiliate links.
Your support makes this podcast possible.
Want book recommendations delivered to your inbox?
Sign up for the YA Reads Monthly Newsletter!
More ideas and resources for teachers and librarians…
In this episode, Chris recommends a memoir, Educated. In addition to adding this to your classroom library, you can read the first chapter with your students as a mentor text. How does the author set us up to read about her experiences? What aspects of her narrative voice are most engaging? You can also introduce author interviews to the students, and ask them how the author's real-life personality compares with her personality narrating her experiences.
The Poet X is written entirely in free verse, so this is a great way to engage students with poetry. In addition to sharing this novel, you can share examples of stand-alone slam poems. Some of our favorites are "Touchscreen" by Marshall Davis Jones, "21" by Patrick Roche, and "If I Should Have a Daughter" by Sarah Kay (who also has a fabulous TED Talk!). Danielle has also written about other ways to build appreciation and enthusiasm for poetry, including using bellringers.
A Madness So Discreet starts with an old trope: So-and-so is in a place where they don't belong. What happens next? We've seen this in Orange is the New Black (and it turns out she did belong there!), The Good Place, and much more. You can have your students do some creative writing around this idea. Check out this post for more ideas about getting started with a creative writing workshop.
Get in touch with us on Instagram and Twitter at @yacafepodcast or email us at yacafepodcast@gmail.com. We look forward to hearing from you!
Credits…
Hosts: Danielle Hall (who blogs at teachnouvelle.com)
          & Amanda Thrasher (a booklover extraordinaire)
Producer: Leila Hobbs
Music: Matt McCammon