Looking for text recommendations and engaging resources that you can use during Native American Heritage Month (and year round!), look no further!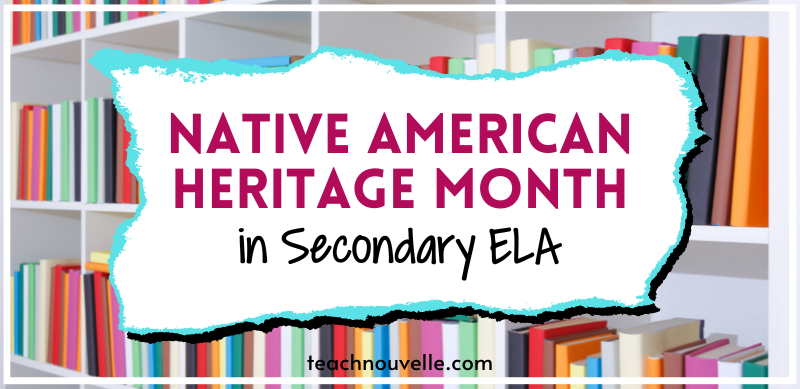 How many Native American/First Nation voices are present in your curriculum or your classroom library? If you aren't sure, I have a free tool that allows you to see what's missing, representation-wise, from your classroom library.
Indigenous stories aren't just underrepresented in schools, they are vastly underrepresented in publishing as well. According to data compiled by the Cooperative Children's Book Center, only 1% of children's books released in 2018 were written about Indigenous characters. That number deteriorated even further when we looked at how many books were written BY Indigenous authors. Even though there are hundreds of nations and tribal affiliations across Turtle Island – with a variety of diverse experiences, customs, and practices – Indigenous authors are woefully under-represented in published works.
It's also important to remember that even though this is Native American Heritage Month, Indigenous peoples are not a thing of the past. They have a rich history, but equally as important are their present and future.
Be sure to check out the guest posts on my blog by Megan Tipler and Victoria C, two indigenous educators who provide some great recommendations and teaching tips.
So without any further ado, Indigenous voices that you can spotlight this Native American Heritage Month, and keep in your classroom year-round.
Short Stories for Native American Heritage Month
"Choctaw Bigfoot, Midnight in the Mountains" by Tim Tingle (MS/HS)
In this story, Turtle Kid and their dozens of cousins listen to a story from Uncle Kenneth, and everyone knows you can't believe a word Uncle Kenneth says. Uncle Kenneth's tale of the Choctaw Bigfoot, Naloosha Chitto, unfolds with a harrowed tourist family and interventions from the cunning Bohpoli, a race of "little people."
Kenneth's story will keep your students on the edge of their seats, as he uses several red herrings to build suspense. He also uses humor and charm. The frame story can help us to have great conversations with students about how stories are told and transformed, and how listeners take part. The dozens of cousins make predictions and ask questions, and our students can, too!
You can find this story in the middle-grade anthology Flying Lessons and Other Stories edited by Ellen Oh.
This (very!) short story is a fun sci-fi adventure with a plot twist! In 900 words, Little Badger tells the story of a marine science vessel under attack by a mysterious creature.
This is one of my favorite stories because it is very versatile! If you want a deep discussion, use this story as a jumping-off point for exploring vigilante justice and when a crime could be considered justified. If you want a fun writing activity, use this story as a model for literary fiction.
Flash fiction is very short fiction that's written quickly. This helps students turn off the internal critic that can sometimes keep them from finishing a story. After reading this story, students can spend half an hour writing their own (very!) short science fiction story about a mysterious creature.
Darcie Little Badger also wrote Elatsoe, one of my favorite books of 2020.
Poetry for Native American Heritage Month
This poem describes a car accident and recovery, seemingly in slow motion. The speaker thanks in great detail everything involved, seen and unseen, in a way that gives the poem an almost meditative quality. Students can analyze the form of the poem and consider how the repetition affects the poem. What other poetic devices does Driskill use?
Rabbit Is Up To His Tricks by Joy Harjo (Muscogee Creek)
(This recommendation comes from Indigenous educator Victoria C.)
–poem
–spoken word version (runs 6:03, poem begins at 2:33).
"In a world long before this one, there was enough for

everyone,

Until somebody got out of line.

We heard it was Rabbit, fooling around with clay and the

Wind."
In the spoken word version of this poem, Harjo explains that in her Nation the trickster is the rabbit. It's a different character in each culture, but each culture has one. She craftily uses the character of the rabbit as a metaphor for society. This poem would be great for teaching literary devices such as tone, repetition, and metaphors as well as trickster stories (CCSS.ELA-LITERACY.RL.9-10.10). Additionally, it is important to note that Joy Harjo is the first Native American poet laureate in the United States. Spoken word and poetry slams have been very successful events at my school, but shouldn't be the only time Indigenous or BIPOC voices are heard).
Read the rest of Victoria's excellent recommendations in this post!
Enjoying these recommendations for Native American Heritage Month and want teaching tips like these delivered right to your inbox? Sign up for my weekly Teaching Tips Newsletter!
Novels for Native American Heritage Month
In a world wrecked by global warming, most people have lost the ability to dream. The state believes the answer to this loss is inside the bones of Indigenous people, and they try desperately to steal it. This is the world where French and his friends are on the run—they grow as their own family and try to stay away from the "schools" the government has created for their people. And although their government envies and despises them, they work to build a life together. They will stand with, love, and guard each other, no matter the dangers.
Besides being a great choice to read during Native American Heritage Month, The Marrow Thieves would also be an excellent addition to a dystopian novel unit or dystopian lit circle.
Check out a spoiler-free review of this book by listening to our episode of The YA Cafe Podcast, streaming everywhere 🙂
This short but impactful graphic novel takes place in Winnipeg, a city that boasts the largest Indigenous population in Canada.
Best friends Miikwan and Dez are two teenagers trying to negotiate life in the city, while also dealing with their inner turmoils. Despite their close friendship and their cultural bonds, both girls have experienced trauma in their lives. Miikwan is dealing with the grief of losing her mother and Dez worries about her sick kokum (grandmother) and the possibility of being separated from her by a government social worker. Both girls are haunted by the legacy of systemic violence against Indigenous peoples, particularly women and girls. Throughout the story, we see the powerful presence of female ancestors providing unseen support to the girls while dark, lurking creatures personify the ill intentions of the men who gawk at and approach them.
The story masterfully deals with the topic of Missing and Murdered Indigenous Women, Girls and Two-Spirit People (MMIWG2S) in an accessible and age-appropriate way. An afterword by the author provides additional information about MMIWG2S and suggestions for further reading. Bonus: In one of the first panels of the dynamic graphic novel, the author/illustrator also sneaks in a nod to A Girl Called Echo, a graphic novel by Indigenous author Katherena Vermette.
(This recommendation comes from Megan Tipler @tiplerteaches, check out her other text recommendations in this post.)
If you enjoy curated YA recommendations like these novels for Native American Heritage Month, sign up for my monthly YA Reads Newsletter!
Nonfiction texts for Native American Heritage Month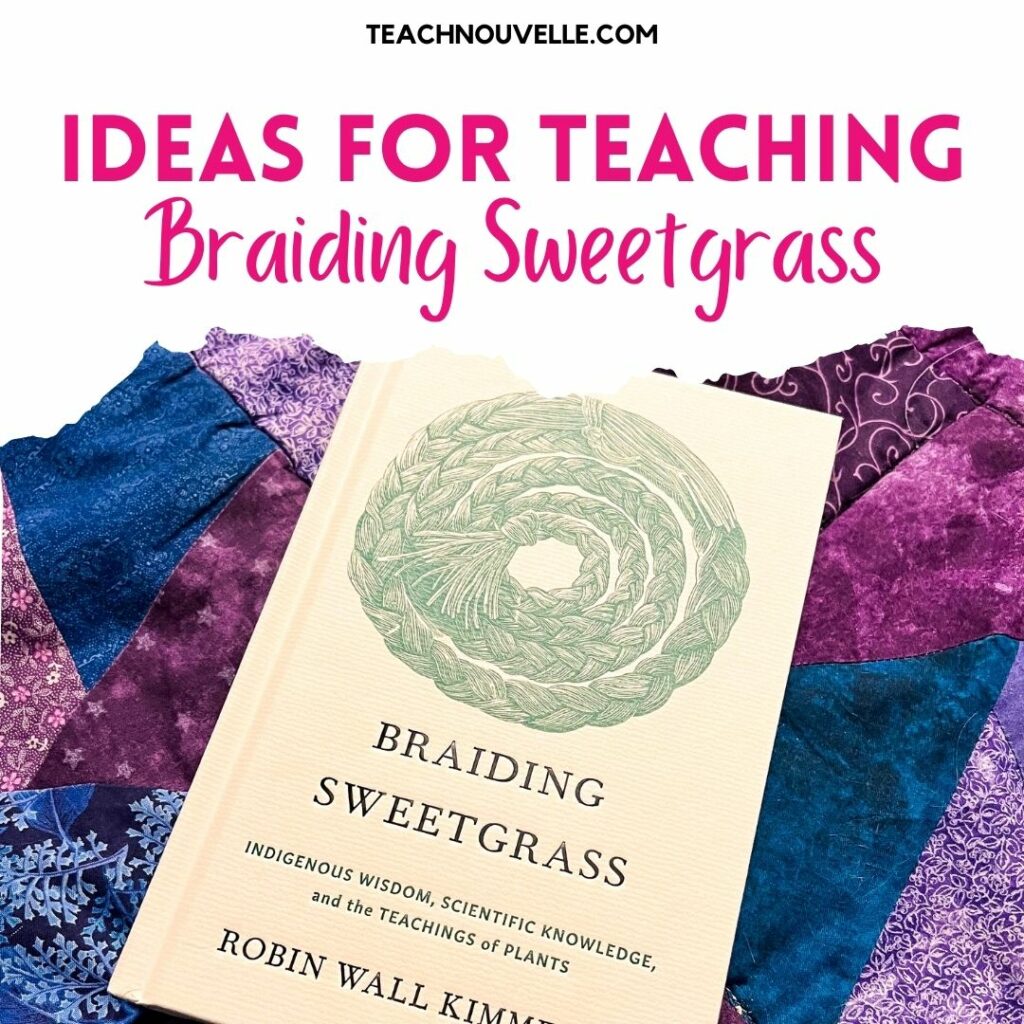 Braiding Sweetgrass by Robin Wall Kimmerer
This book is part poetry, part memoir, and part ecological treatise. It's SO versatile in the classroom, and I encourage you to check out this detailed post by Victoria C. that provides multiple standards-aligned lessons you could teach using this fantastic text.
#Notyourprincess: Voices of Native American Women by Lisa Charleyboy and Mary Beth Leatherdale
Native American stories are sadly under-represented in publishing, and too often white authors are telling Native stories. This book is a collection of interviews, poems, essays, and art, all from Native American women.
Undefeated: Jim Thorpe and the Carlisle Indian School Football Team by Steve Sheinkin and Connie Hsu
It's always SO great to find books that engage those students who are more interested in playing sports than reading, isn't it? I think this book could be a great choice to pair with some additional nonfiction reading. While this book doesn't ignore the horrific treatment of students at the Carlisle Indian School, it also doesn't cover it in depth. The story's focus is on Jim Thorpe and the evolution of American football.
I think it would be great to contextualize this story by having students read about the history of the Carlisle Indian School.
And if you are looking for more YA books about sports, I've got you covered 🙂
Resources for Native American Heritage Month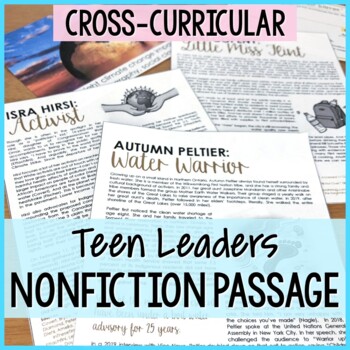 This nonfiction resource highlights 3 teens who are making a difference in their communities. One of these teens is Autumn Peltier, an Anishinaabe teen who is fighting for access to clean water for the First Nation community of Ontario.
This resource is heavily scaffolded to strengthen reading comprehension across grade levels, provides vocab support, multiple forms for student response, and has a digital version included!
That said, if you're searching for resources that you can use during Native American Heritage Month (as well as year-round!), I definitely urge you to seek out Indigenous educators and Bookstagrammers to purchase from. Here are a few creators that I love to support:
Megan Tipler – Follow her on IG @TiplerTeaches, and check out the gorgeously illustrated and thoughtfully created resources in her TPT store. She even has a free resource on Indigenous Literature!
Victoria C. – @FlouryWords on Instagram
Kim – @NativeLadyBookWarrior
Final thoughts:
I hope this post gave you a variety of engaging new texts by Indigenous authors that you can use this Native American Heritage Month and more importantly all year round.
What are your favorite songs, poems, stories, novels, articles, visual artwork, etc. by Indigenous creators that you share with your students? Comment below, I'd love a recommendation from you!
Happy teaching!