So, you're considering doing a Class Play or you've started practices. Now, you're wondering how evaluating drama will unfold. Or you're wondering how to cast students or deal with irritation during rehearsals.
This post breaks down the class play into 5 actionable categories to give you confidence in your drama unit!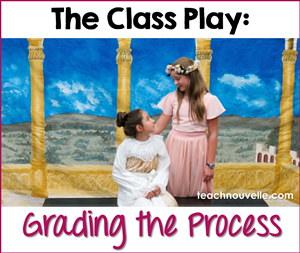 Drama in ELA: The Class Play
In this series, I'm going to share my experiences integrating Drama in ELA and producing a class play with my 9th grade English class.
Drama is so engaging for students, but is often put aside because it seems like a lot of work or doesn't obviously correlate to higher test scores.
In this series, I'll show you that Drama in ELA is not only possible, but beneficial to all students.