Tips to Save Your Sanity Before Winter Break
Teaching in the weeks leading up to Winter Break can be a challenge, you can save your sanity by following a few key tips. It can be hard to keep students' attention before the holidays: they're tired, we're tired, and we all just want to push through. Plus, with various "treats" throughout the day, students have a constant sugar high and can't seem to focus.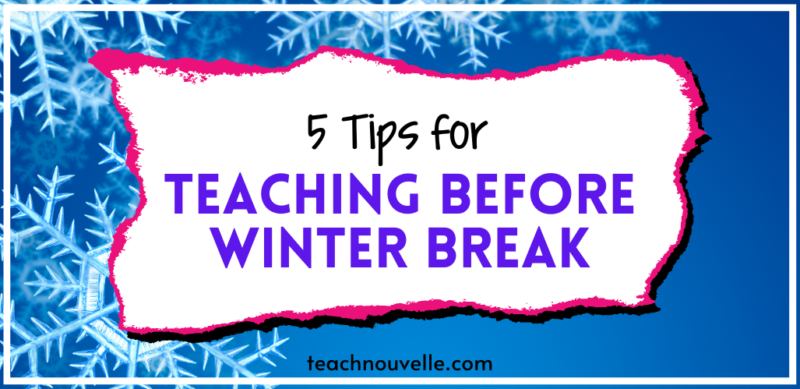 Here are some tips to help focus your classroom during the last couple of weeks before Winter Break.
Do Short, Creative Projects
I've found that students find it a lot easier to focus on creative, collaboration-based tasks in the last couple of weeks before break. During this time, I give students small partner or group projects that take a day or two to complete and a day to present. Some examples:
Design an advertisement using persuasive techniques
Write a song using symbolism
Create a group skit based on a poem by… (poet of teacher's choice)
Practice Public Speaking
You can incorporate the above principles as students practice public speaking, too. I've done Impromptu Speeches, where students have two minutes to prepare and one minute to speak on a topic. Students "preparing" step outside while the speeches continue in the classroom, so there's constantly two people "on deck".
The best topics, I've found, are not at all controversial. Still, students looove to argue! Have students argue ridiculous perspectives, but still encourage them to use an argumentative structure and try to incorporate supporting evidence. With an emphasis on speaking skills, I usually let them invent their evidence. Here are some ideas:
(Students draw one, and must argue that…)
Orange is the best color
Ketchup should be banned from school cafeterias
Short people have more advantages in life
Cats should be required in all homes
You can see that the resulting speeches are generally funny and engaging, which will in-turn boost student confidence while speaking. Also, a minute is not that long to be in front of the class, so even your shyest students will be able to accomplish this. Lastly, I only give a participation grade for this activity, and we generally do three days of speeches (one descriptive, one argumentative, and one narrative).
Play Improv Games
I've written before about using Drama Games in the classroom, and December is the perfect time to try some out! Improv games help students practice public speaking skills, teamwork, and quick thinking. Plus, once students understand a game, they can pretty much run themselves.
My favorite games for leading up to Winter Break are group games where students spend half the class preparing a short skit, and the last half watching the performances. Here are some quick ideas:
Fairy Tale in 3…2…1…
Have students prepare three versions of a fairy tale, to be performed back-to-back. The first version should be three minutes long, the second version two minutes, and the last merely one minute. You can always have the class vote on the funniest!
Someone Stole the …
This is a prop game. Each group is assigned a prop, and they must incorporate it into their skit. I like to give students the "Someone stole it…" prompt because it gives them a conflict as a jumping-off point.
Movie in a Minute
This is another sped-up game. Students have one minute (exactly!) to perform their version of a movie. For an added challenge, have students perform the movie in reverse!
Read & Debate
This is a great time of year to ask students to consider the true meaning of the holidays. I have students read about a family who decided to cancel Christmas for their children. Then, I ask students to come up with their own points of view on the topic. We usually do a small group discussion OR I have each group (a "family") negotiate and establish a practice for themselves. Then, we talk about why each "family" chose what they did.
Color! 
Lastly, it's always good to work in a time to wind down. My students love to color while listening to an audiobook or a radio play (they love the old-timey Sherlock Holmes radio show). This year, I made these bookmarks, and you can grab them free in my TeachersPayTeachers store.