These tips for teaching poetry in secondary ELA are perfect for National Poetry Month (April), and they'll help you create engaging lessons year-round.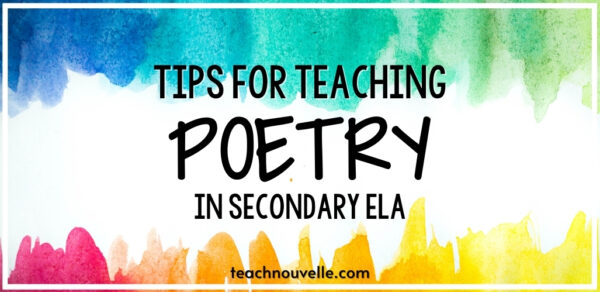 Is there a subject that divides students (and teachers, let's be honest) more than poetry? Some folx (like me!) find poetry to be magical, moving, and merry, others find it to be confusing, boring, and a chore.
While that hurts my heart, I understand.
Poetry is a unique and exciting literary experience. A wide range of formats expressing a wide range of emotions. But our students can't appreciate that if all we focus on is memorizing literary elements.
By creating an inclusive, relevant, and approachable poetry unit, we can help more kids to fall in love with poetry as an art form.
Over the years I've blogged a lot about teaching poetry in secondary ELA, so today I'm going to compile all of my favorite teaching tips and resources in one place:
Tips & Resources for Teaching Poetry in ELA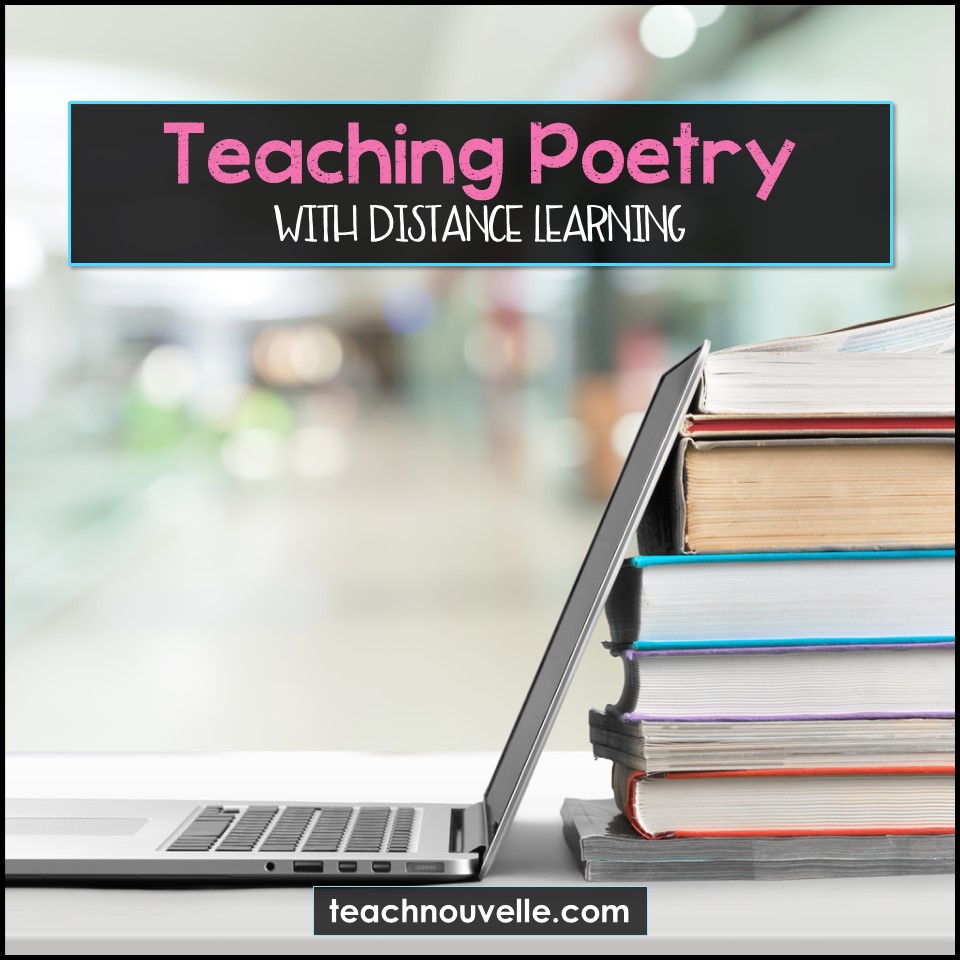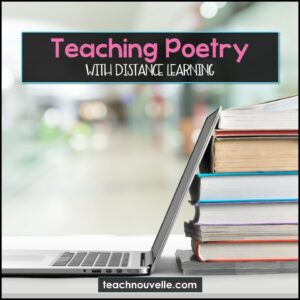 These tips and resources for teaching poetry
are perfect for e-learning or a
hybrid classroom environment.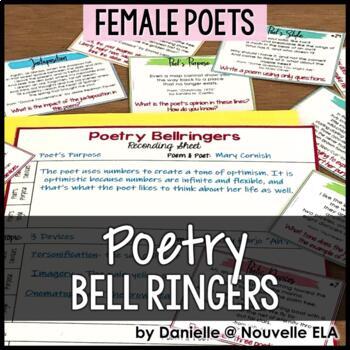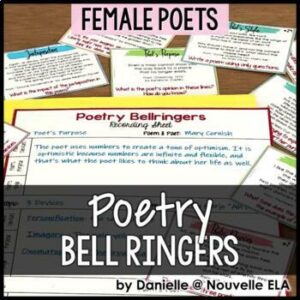 Celebrate Women's History Month (March) and National Poetry Month (April) at the same time with this resource! These 30 bell ringers feature classic and
contemporary poems. They provide students with many opportunites to analyze author's style & purpose, practice identifying poetic devices, and see a mentor
text to write their own poems!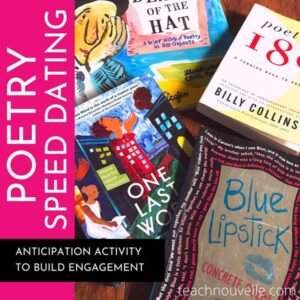 This is a fun, low-risk way for students to get out of their reading comfort zone and find poetry they enjoy! My students love the "free range" feel of this activity.
This project allows students to explore famous poetry on a chosen theme, along with trying their hand at writing some poems.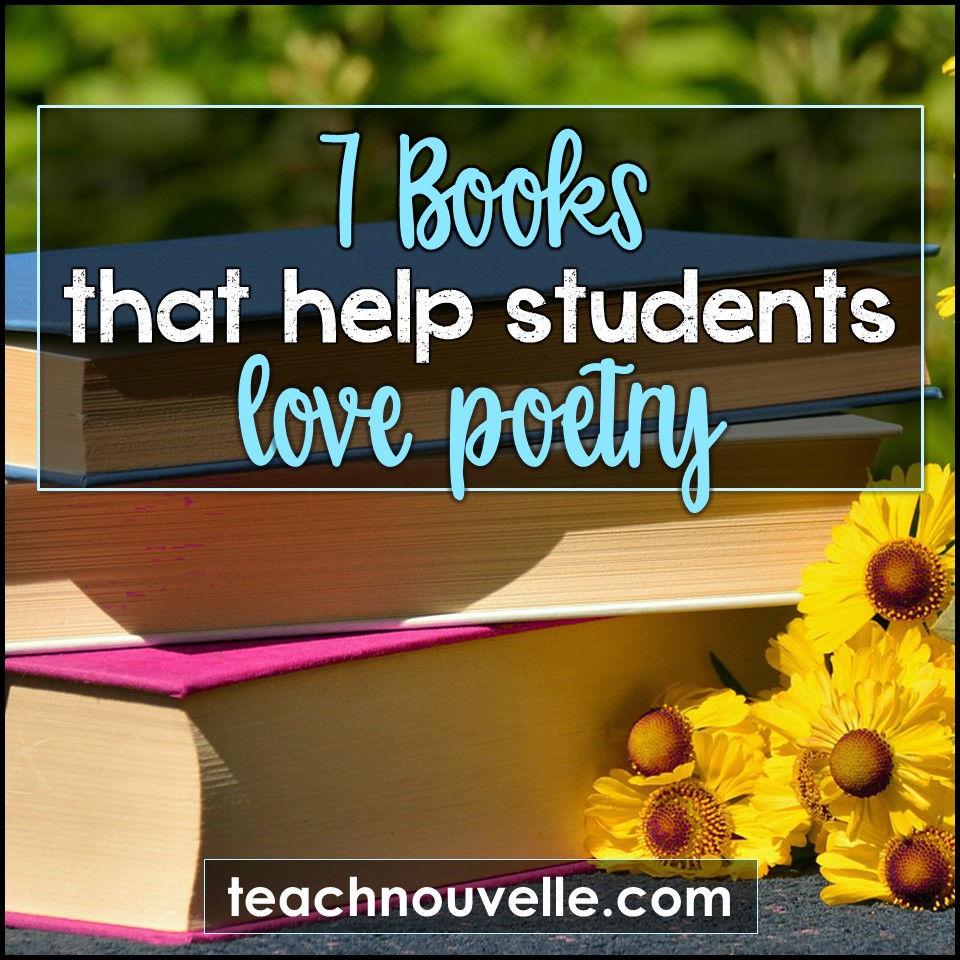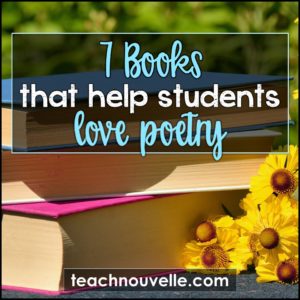 I love these choices for direct instruction or as classroom library picks.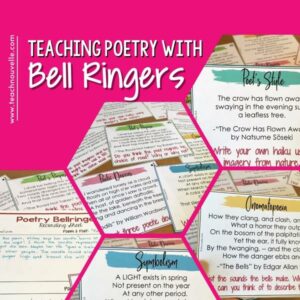 Bellringers are a great "small dose" poetry experience. Here are tips and ideas for using poetry bell ringers.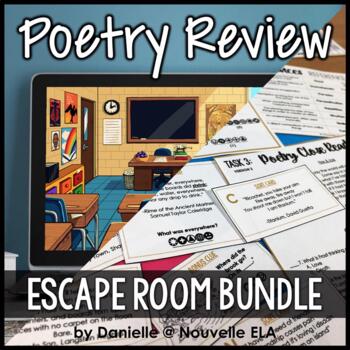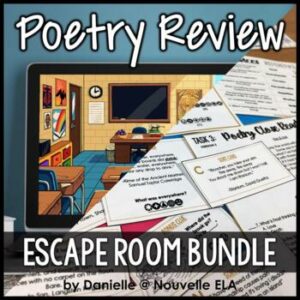 Perfect for the end of your poetry unit, this resource reviews figurative language, poetic devices, and has close reading choices for differentiation! I have a paper and a digital version of this game.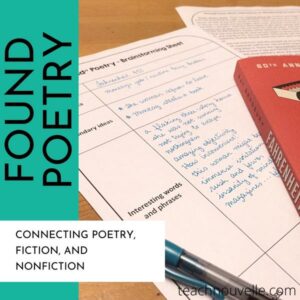 Found poetry is a great way for students to create their own poetry with "no wrong answers."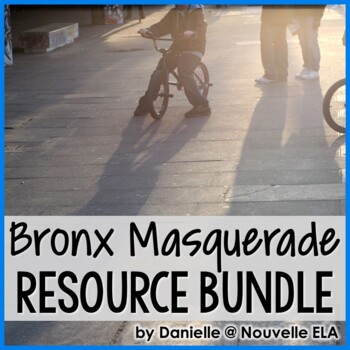 This Nikki Grimes novel in verse is a staple for teaching poetry, loved by teachers and students alike! Check out all my Bronx Masquerade resources in this bundle.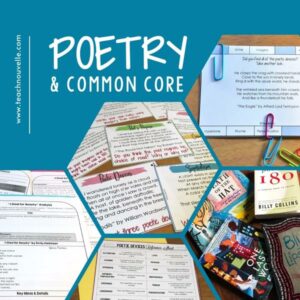 Learn about some great CCSS aligned resources for your poetry unit.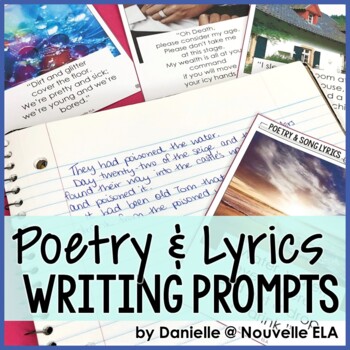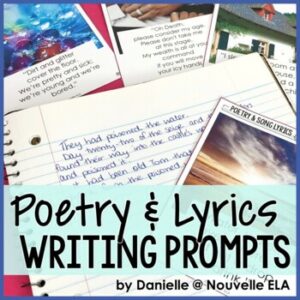 These poetry & song lyrics snippets model poetic devices and inspire students to use them creatively in their own writing.
A free version of this activity can be downloaded when you visit the product page linked above 🙂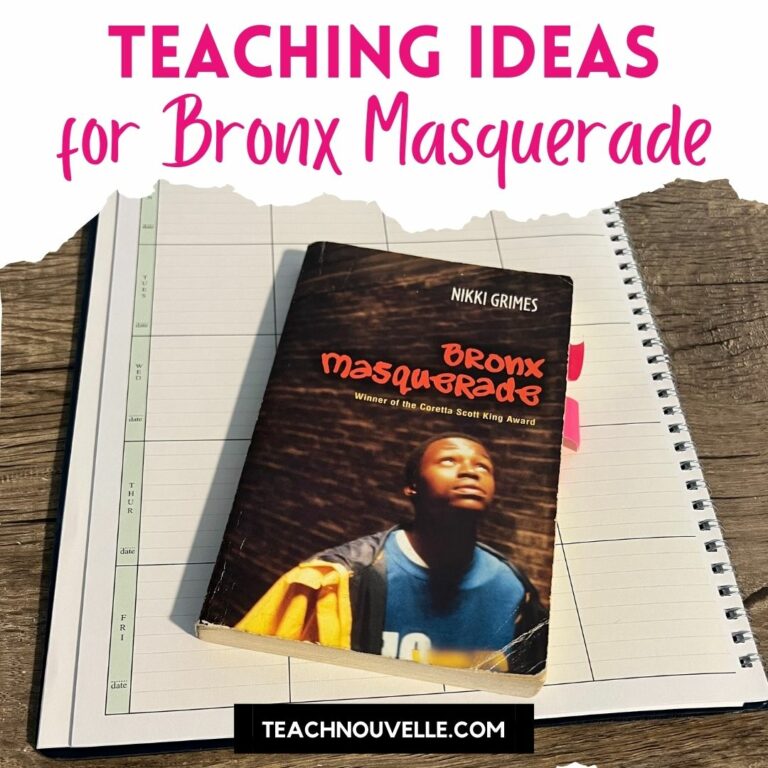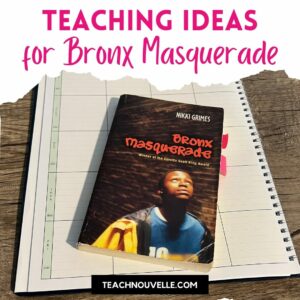 This book forever changed the way I teach poetry and allowed me to reach students who had previously been disinterested in poetry. In the post, I share tips from my experiences and lesson ideas.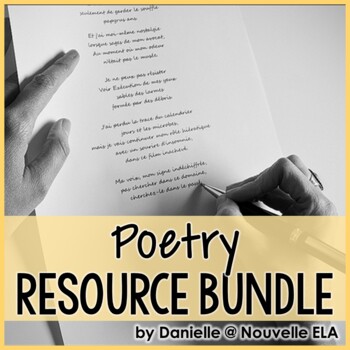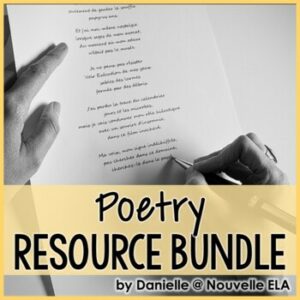 If you want to save big on my most popular poetry resources, check out this bundle! It includes: Bellringers, Found Poetry, Poetry Anthology, and much much more!
Books in verse:
Books in verse can be another great way to introduce and explore new writing styles when you're teaching poetry in ELA. Especially for those students who claim to "totally hate poetry." I'll blurb some of my favorites below, and you can visit my affiliate list on Bookshop if you want to buy any of these titles. Remember, using affiliate links doesn't cost you any extra, but it gives me a small kickback to help make the content you enjoy 🙂
Inside Out & Back Again by Thanhha Lai (Elementary/MS)
This novel follows ten-year-old Hà as she and her family flee Saigon and arrive in America as refugees. This book is heartfelt and poignant, with astute observations about the world around us. Use this in grades 4-8 to build empathy for immigrants and refugees. Brief chapters make this perfect for a read-aloud.
Find more YA/MG novels by
Asian American authors in this post!
Clap When You Land by Elizabeth Acevedo (HS)
Vennieta Grant from @loveteachrepeat reviewed this book on my blog and gave some excellent tips for how to use it in the classroom.
Long Way Down by Jason Reynolds (HS)
"Fifteen-year-old Will, immobilized with grief when his older brother Shawn is
shot and killed, slowly comes to mull The Rules in his head. There are three: don't
cry, don't snitch, and "if someone you love / gets killed, / find the person / who
killed / them and / kill them."
This award-winning YA is a snapshot of sixty seconds in the life of fifteen-year-old Will who is confronted with his dead brother, a loaded gun, and a choice about what comes next. The concept (an entire book about 60 seconds?!) and subject make it especially great for drawing in reluctant readers.
The Poet X by Elizabeth Acevedo (HS)
I have no words to describe this amazing, beautiful book. Instead, just listen to the author reading an excerpt.
Other Words For Home by Jasmine Warga (MS)
When things in Syria become too dangerous, her family sends Jude and her pregnant mother to live with their extended family in Cincinnati, leaving her father and brother behind, and in danger. The book deals with some heavy topics, like xenophobia, Jude's fear for her father and brother, Jude struggling for a sense of identity, but in a very sensitive and age appropriate way.
This would be a superb book for broaching a discussion about complex issues like immigration, refugees, and racism. I have more ideas on teaching about immigration in this blog post.
Click here for more
recommendations of YA/MG books
by Arab & Muslim authors!
Punching the Air by Ibi Zoboi & Yusef Salaam (HS)
This is not only a novel-in-verse, it's also beautifully illustrated! It tells the story of 16-year-old Amal, who is falsely convicted of a crime he didn't commit, and has only one solace in prison: his art. Read my full review here.
Shout by Laurie Halse Anderson (HS)
Twenty years after her groundbreaking novel, Speak, Anderson has given us Shout, her memoir. A longstanding advocate for victims of sexual assault, she bravely shares her own trauma with the reader. Told all in beautiful free verse, it's part reflection, part call to action, and 100% a powerful addition to your high-school classroom library.
Brown Girl Dreaming by Jacqueline Woodson (Upper Elementary/MS)
This book is so cool because it's a memoir in verse (like Shout), but for a much younger audience. All of Woodson's books are amazing, and this one especially so because of the deeply personal topic. Check out this video of the author reading an excerpt if you want to be totally enthralled.
I also recommend Woodson's TED Talk "What Reading Slowly Taught Me About Writing" in my blog post about using TED Talks to inspire young writers.
Final Thoughts: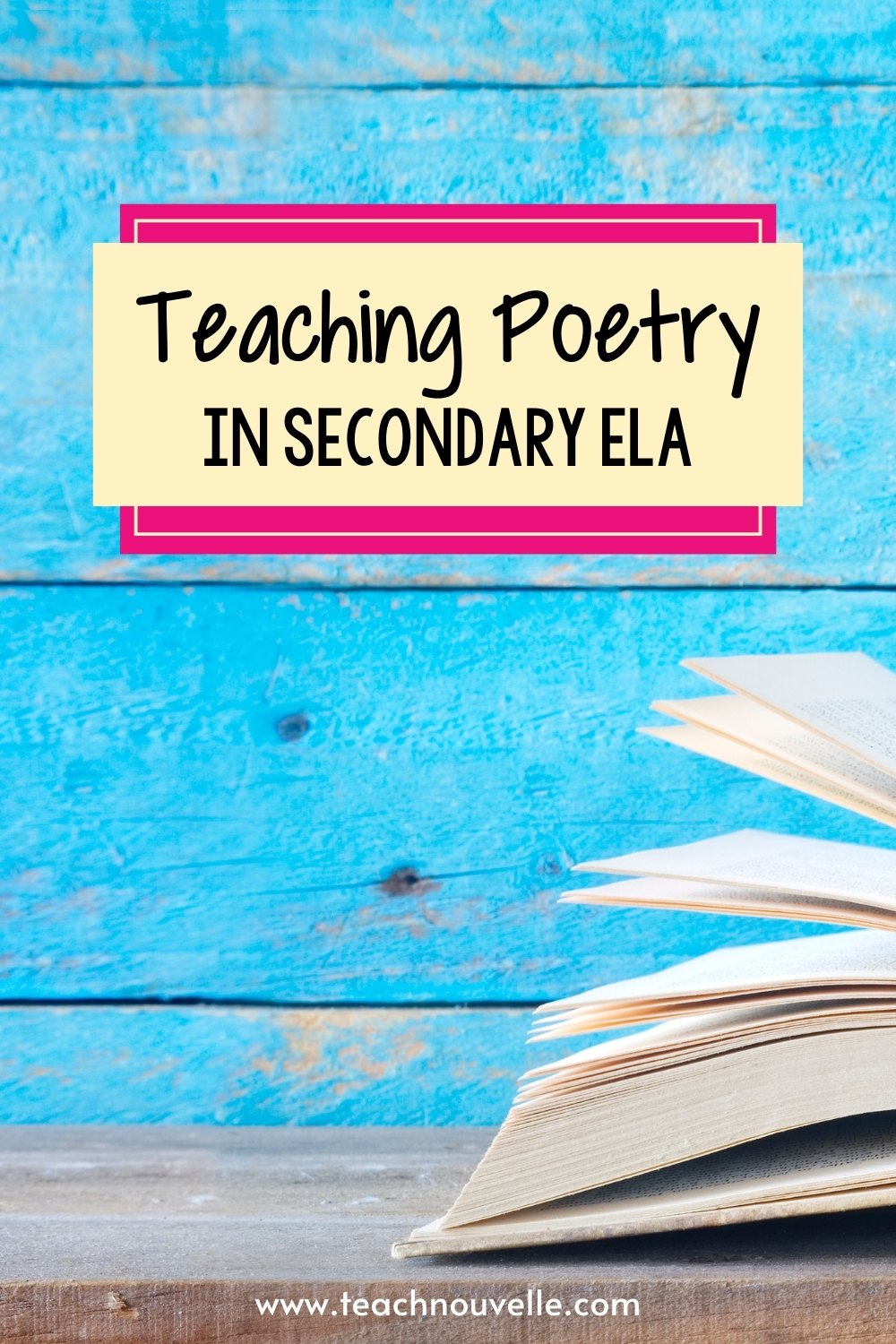 I hope you enjoyed this collection of all my favorite tips, resources, and books for teaching poetry in secondary ELA. Do you have a favorite novel in verse that I missed or a favorite poem to share with your students? Comment below so we can all learn! 🙂
Happy teaching!