Looking for YA & MG books that will grab (and keep) a students attention? In this post I share 12 of my favorite books for reluctant readers.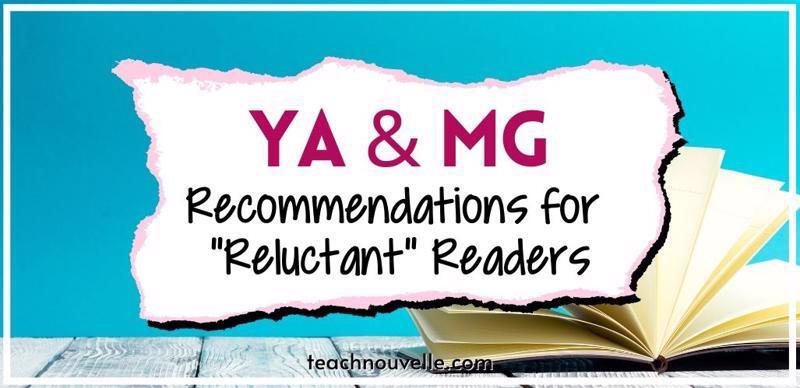 Raise your hand if you have a student that "hates reading" or says "books are boring." Although it's hard to comprehend for a bookworm like me, it's a common sentiment. The good news is that for many kids, they just haven't found a book that captivates them, has characters that make them feel seen, or is on a subject they're interested in.
I think it's vital that we meet these students where they are. Don't make negative comments about their disinterest or make them feel like they need "fixing." Some kids, no matter how many books you put in front of them, will never love reading, and that's okay. But as I said before, you can make a huge impact on these reluctant readers by providing them with books that are approachable, and relevant to them.
12 YA & MG Books for Reluctant Readers
When Life Gives You Demons by Jennifer Honeybourn (HS)
This novel is a new spin on the teenage monster hunter trope. This time, Shelby has been training to be an exorcist, a secret she's kept from everyone but her uncle and absent mother. So, yeah, on top of bio (the worst) and geometry (the worst), she has to come home and study Latin. Stuff happens, Shelby learns stuff—it's a summer romp within a terrifying subgenre of supernatural fiction. Perfect for fans of the "spooky but not scary" CW shows like, The Chilling Adventures of Sabrina or Riverdale.
Pet by Akwaeke Emezi (HS)
The people in the town of Lucille know that there are no monsters anymore—not since the angels came and took them all away. But when a creature from one of Jam's mother's paintings comes to life and declares it's here to hunt a monster, Jam believes it. The creature tells Jam to call it 'Pet' and asks her to help it find a monster lurking in her best friend's house. Can Jam navigate the tricky waters of hunting a monster when no one believes they still exist?
This book provides great non-binary representation in the MC (Jam)! To learn more, check out our conversation about Pet on the YA Cafe Podcast episode 61, featuring author H.D. Hunter.
Tristan Strong Punches a Whole in the Sky by Kwama Mbalia
After losing his best friend, Eddie, in a bus accident, Tristan feels anything but strong. He spends the summer with his grandmother and grandfather on their farm in Alabama to spend some time healing. On his first night there, however, a mysterious figure shows up and steals Eddie's notebook. Tristan gives chase and ends up tussling with the creature under the Bottle Tree. He accidentally punches a hole in the sky, landing in a world of legend, MidPass. John Henry and Brer Rabbit are real, and they are exhausted. All the creatures and heroes of American folklore are real, and they've been at war. Can Tristan help these gods rally and convince Anansi, the Weaver, to patch the hole in the sky?
A Song Below Water by Bethany C. Morrow (HS)
This book is like a fairytale meets The Hate U Give. Two sisters, one with magical powers she has to keep secret. Sound familiar? I guarantee you've never read anything like this book, though. I loved watching Tavia learn to use her voice to fight for justice, and your students will too.
This book is great for reluctant readers because of its length (only 288 pages!) and the fact that it reads like a contemporary novel, with elements of fantasy sprinkled in.
America Vol. 1: The Life and Times of America Chavez by Gabby Rivera (HS)
Y'all, I LOVE superheroes. I have a whole blog post about using superheroes in American Lit, and America Chavez has a place in any Hero's Journey unit. Chavez is Marvel's first queer Latina superhero, so she has a unique story. The graphic novels also feature stunning artwork by Joe Quinones, which is sure to keep students excited for the next page.
I also recommend Gabby Rivera's TED Talk, which I included in my TED Talks for Young Writers blog post.
Marco Impossible by Hannah Moskowitz (MS)
I love Hannah's writing! Marco Impossible is an action packed romp, the entire book takes place in 4 days! Hannah does an exceptional job of capturing the voices and attitudes of Stephen and Marco. It's a fairly quick read, and one of my favorite books for reluctant readers.
This is her only MG book, but all of her YA books are outstanding. We featured her novel Salt in episode 32 of the YA Cafe Podcast, and I also recommend her novel Not Otherwise Specified, which also features a queer protag.
Darius the Great is Not Okay by Adib Khorram (HS)
Darius is struggling to cope with many things: His Persian identity (or lack thereof), his sexuality, and his clinical depression. And it's a well-written portrayal of all three! Darius is relatable, and students will feel seen and/or build empathy through his struggles. The sequel (which was released in Aug 2020 does a great job of expanding our view of his world, and getting to know his extended family (queer grandmas!) even better.
Find more books by Arab & Muslim authors in this post!
Lumberjanes #16 by Noelle Stevenson (MS)
The Lumberjanes series of graphic novellas is like Girl Scouts meets the stories from Are You Afraid of the Dark?. It features close knit and well-developed friendships, badass girl power, and spooky adventures. It's short and very engaging, perfect for those students who balk at the sight of a thick book.. And if students fall in love, there are 64(!) more installments to the Lumberjanes series.
Aristotle and Dante Discover the Secrets of the Universe by Benjamin Alire Sáenz (HS)
"Aristotle is an angry teen with a brother in prison. Dante is a know-it-all who has an unusual way of looking at the world. When the two meet at the swimming pool, they seem to have nothing in common. But as the loners spend time together, they discover they share a special friendship—the kind that changes lives and lasts a lifetime. And it is through this friendship that Ari and Dante will learn the most important truths about themselves and the kind of people they want to be." (from GoodReads)
This novel doesn't have a traditional plot structure. Instead, it feels more like an authentic glimpse into someone's life. A snapshot of a moment in time, told in Sáenz's wonderful, lyrical prose.
For more inclusive books with LGBTQ+ protagonists, you can check out these blog posts for High School and for Middle School.
Burn for Burn (The Burn for Burn Trilogy) by Jenny Han & Siobhan Vivian (HS)
This is the first book in a series that's perfect for fans of Pretty Little Liars and Revenge. Postcard-perfect Jar Island is home to charming tourist shops, pristine beaches, amazing oceanfront homes—and three girls secretly plotting revenge. This is schoolyard revenge at its best, and will definitely grab even your most reluctant readers.
Want more YA thrillers? I've got you covered!
Long Way Down by Jason Reynolds
"Fifteen-year-old Will, immobilized with grief when his older brother Shawn is

shot and killed, slowly comes to mull The Rules in his head. There are three: don't

cry, don't snitch, and "if someone you love / gets killed, / find the person / who

killed / them and / kill them."
Long Way Down is an award-winning YA novel told in free-verse. It's a snapshot of sixty seconds in the life of fifteen-year-old Will who is confronted with his dead brother, a loaded gun, and a choice about what comes next. This gripping premise will catch a reader's attention, and since it's a novel-in-verse, it's perfect for reluctant poetry readers.
The Disasters by M.K. England 
After washing out of flight school in less than a day, wannabe pilot Nax Hall is dreading his return to Earth. But when the Academy Space Station is attacked by terrorists, Nax and three other failures escape in a stolen ship to the far-off colonies. Framed for the academy attack, the four of them must scramble to figure out where to hide and how to prevent the powerful terrorist organization from striking again.
This novel is very fast-paced with fairly short sentences and snappy writing, elements that make it a good fit for those kids who get "stuck" or lose interest in the middle of a book. The "five minutes into the future" setting which has tons of current references would also make it a superb choice for a reader who is new to sci-fi, or not a huge sci-fi fan.
This is another book we featured on the YA Cafe Podcast 🙂
Final thoughts: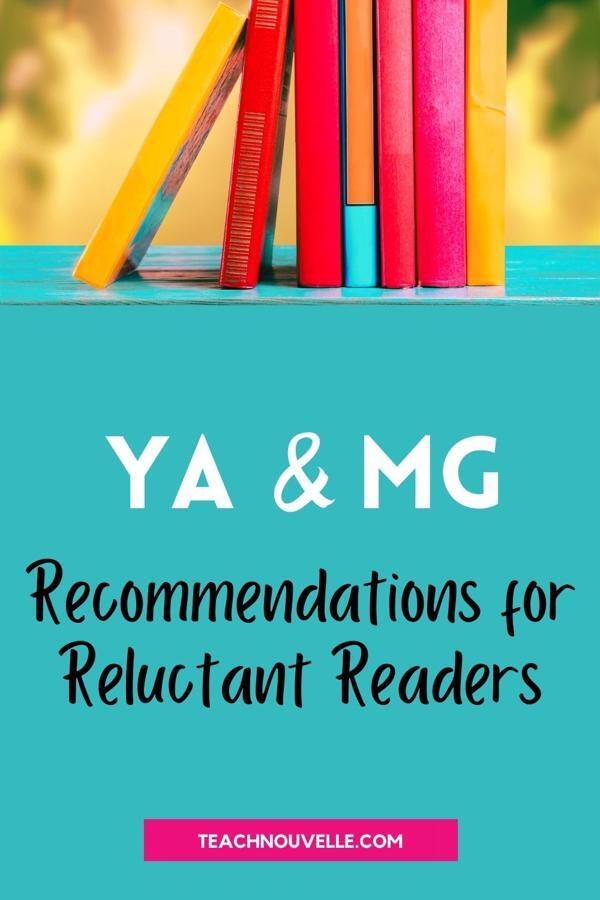 I hope this post helps you find some fun books for reluctant readers in your life! I know how hard it can be to make book recs to students, that's why I have a whole blog post on how to recommend books they will love.
Do you have any books that have been a universal hit in your classroom library? Share them in the comments, we'd all love a recommendation from YOU! 🙂
Happy teaching!