After the popularity of my 2017 post, 15 TV Episodes to Use In ELA, I thought it was time for an update. That was 3 years ago, after all! Tons of exceptional new shows have come out, I've discovered shows that are "new to me," and gotten reacquainted with some old favorites.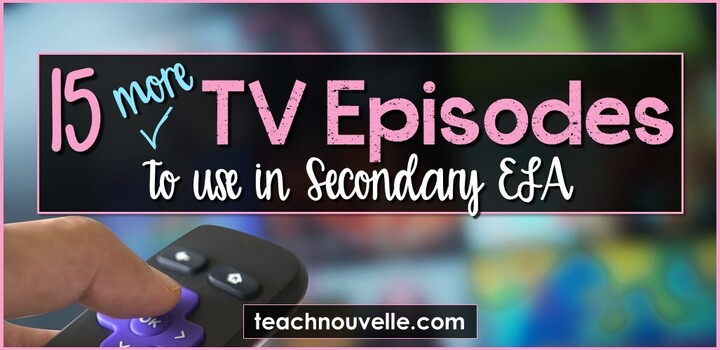 Using TV episodes in ELA  can be more than just a reward (although that's okay too!). Television can be a great way to introduce new concepts or review old topics, in an engaging, bite-sized format. Using TV to practice critical writing can be a distance learning asset or as part of a sub-plan. I have a TV Episode Review activity up in my TPT store if you're looking for something like that 🙂
I also have a new resource (2023) that has 15 lesson plans analyzing pop culture short texts, like TV episodes, songs, short films, and more! Check out the 15 Pop Culture Analysis Activities resource here.
Once you've perused my older post, look below to find 15 MORE episode recommendations:
Disclaimer: I am making recommendations for grade level, but you are the ultimate judge of what is and what isn't appropriate for your students. Be sure to watch each episode before showing it to your students. I have tried to link to free versions of the shows (when available), and to find out where to stream a particular show I recommend using JustWatch.
15 MORE TV Episodes to Use in ELA:
1. "The Frond Files" – Bob's Burgers (Season 4, Episode 12) (HS)
Bob's Burgers might seem like a silly choice for ELA class, but it has some fun and creative examples of setting and characterization. In The Frond Files, Bob & Linda Belcher arrive at the Wagstaff School Exhibition, eager to view their children's contributions. To the Belchers dismay, the school's guidance counselor, Mr. Frond, has confiscated their children's essays on "Why I Love Wagstaff" because of their alleged "inappropriate content." The family gathers inside Mr. Frond's office, and each kid "reads" their essay. Gene's essay is a musical and comedic re-imagining of the school, Tina's is a zombie-romance, and Louise's is a Terminator-esque dystopia starring Mr. Frond as the killer robot. Each vignette is very campy and filled with classic cinema references. It turns out that the only inappropriate element of the essays is that Mr. Frond is the villain in each one.
This could be a fun inspiration for your students to write an essay of their own. Give them an ordinary setting (like the school, or the classroom) and let their imaginations run wild.
2. Wishbone (MS)
If you were a bookish kid like me, you loved watching Wishbone as a kid. I know it's kind of silly and dated now, but it will forever give me the warm and fuzzies. Of course, watching a Wishbone episode doesn't replace reading a novel. But they hit all the major plot points and it could make a fun review/recap activity. Plus, most of them are up for free on YouTube!
"Furst Impressions" (Pride & Prejudice)
"Cyranose" (Cyrano de Bergerac)
3. "Adam Ruins Shopping Malls" – Adam Ruins Everything (Season 1, Episode 16) (HS)
Y'all, I have an entire blog post about using Adam Ruins Everything in the classroom. It's a stellar choice for teaching argumentative writing in ELA, but it would also be a superb choice for a speech/public speaking course. It provides students with memorable examples of how arguments are shaped, what rhetoric is being used, and he cites his sources! The episodes are brief (around 20 minutes), and hilarious. Students won't even realize they're learning 🙂
You can watch a short clip from the episode on shopping malls for free on YouTube.
4. "Moo Moo" – Brooklyn Nine-Nine (Season 4, episode 16) (HS)
I love B99 for so many reasons! It has a diverse cast, strong female leads, and it's hilarious. The show's lighthearted tone makes it an ideal choice for introducing heavy topics in an approachable manner. In this episode, the inciting event happens when Sgt. Jeffords (played by Terry Crews) is off duty, searching the streets of his neighborhood for his daughter's favorite stuffed animal (Moo Moo). While he is searching on foot, a fellow NYPD officer stops, harasses, and even cuffs Jeffords. Jeffords believes that he was stopped for "walking while Black." B99 takes a hard look at the undercurrent of systemic racism present in police departments, without feeling forced.And of course, there's a lot of humor and heart along the way.
Do your students LOVE pop culture? 
Test their knowlege with my FREE
Team Trivia Collaborative Bellringers.
5. Blackish – "Juneteenth" (Season 4, episode 1) (MS/HS)
Upset by the inaccuracies of his kid's school's Columbus Day play, Andre Johnson decides that there's a much better holiday for his family to celebrate; Juneteenth. In this episode, the Johnson family, re-imagined as their 1865 selves, puts on a musical extravaganza featuring Aloe Blacc to honor Juneteenth.
.
This past summer ABC re-aired Juneteenth, ON June 19th, a move that Black-ish creator Kenya Barris called "one of the most important things that I've ever been a part of." You can watch the promo here.
6. "Darkness Falls" – The X-Files (Season 1, episode 20) (HS)
"Come on Scully, it'll be a nice trip to the forest." Something is killing logging crews in the Pacific Northwest, and it's up to Mulder and Scully to find out who, or what, is responsible for the deaths. It's not "eco-terrorists" as the logging company suspects, but a swarm of prehistoric insects the logging crews inadvertently released when they cut down a protected, old-growth tree.
Besides being a masterclass is building suspense, it's also an allegory for how our destruction of natural resources can end up destroying ourselves. There are countless real-life examples of this, from how deforestation contributes to climate change, or how factory farming creates pandemics. You could have students pick their own example to research and write about.
Note: While this episode doesn't show a lot of gore, it's extremely suspenseful, and could be especially terrifying to students with insect-phobias.
7. "Daylight Savings Time: How Is This Still a Thing?" – Last Week Tonight with John Oliver (HS)
While this show is for adults, John Oliver's talent for making even the most boring sounding topics (like Credit Reports or Civil Forfeiture) hilarious and engaging makes it especially appealing to teens. The deep dives into a topic are long (usually around 20 minutes), but the show also has a lot of shorter segments. And best of all, most of it is available for free on their YouTube channel.
It's part of a recurring segment called "Why Is This Still A Thing?" which I think is a brilliant writing prompt for students. After they watch the clip (it's only 3 minutes), have students explore their own personal pet peeve in a persuasive essay or short speech.
Note: Since LWT appears on HBO there can be a lot of cursing, although it is bleeped in the particular clip that I have linked to.
8. Mr. Roger's Neighborhood (MS/HS)
While a full episode of Mr. Roger's Neighborhood might bore most high schoolers, to me, some of his most noteworthy moments have a lot of worth in the classroom.
Perhaps his most memorable guest ever was Jeff Erlanger, a 10-year-old boy who was wheelchair bound after having a spinal tumor. In 1981, 10 years before Congress passed the Americans With Disabilities Act, it was rare to see disabled folx on TV. Rogers provided much needed visibility and respect to Jeff, and those like him. You can watch the 6-minute clip here. I think it would be great to pair it with this TED Talk by disability rights activist Judith Heumann who talks about how far disability rights have come in the US, and how far we still have to go.
Another quintessential Mr. Rogers' moment is when he broke a major racial barrier by sharing a kiddie-pool with Officer Clemons. This was unheard of in 1968, when public pools were still segregated. You can watch the clip and hear Clemons reminisce about his time on the show in this video. I also love this article published earlier this year in which Clemons reflects on his own experiences as a Gay Black man, and explores the oft posed question, "What Would Mr. Rogers Do?"
Speaking of TED Talks, I have a blog post full of suggestions
for TED Talks to inspire young writers 🙂
9. How It's Made (MS/HS)
This show is a great model-text for writing a procedural article. It's also super convenient that most of the segments are between 5-10 minutes, and available for free on YouTube.
These are some of my favorite topics, but you can't go wrong with any of them! Just pick a topic that you think will be the most appealing to your students (or even let them choose their own!).
I have a Procedural Article writing activity for sale on my TPT store that's perfect for a sub plan or snow day 🙂
10. "Everything Is Fine" – The Good Place (Season 1, Episode 1) (HS)
I am a huge fan of The Good Place, and when I wanted to include an episode on this list I was stumped at how to do that without giving away too many spoilers. And then it hit me, the first episode! The pilot episode sets up the premise of the show: Eleanor Shellstrop has died and gone to heaven. But she doesn't belong there. Eleanor was somehow "mixed up" with another Eleanor who died at the same instant. Eleanor is a self-described "Arizona trash bag," the "real" Eleanor (who's place in The Good Place she's taking) was a human rights lawyer. Hijinks ensue and Eleanor faces the ethical dilemma of telling the truth and being sent to The Bad Place or hiding her true identity and staying in The Good Place.
If students haven't seen the show, the first episode gives them a great opportunity to practice some prediction. What do they think will happen next? What choice do they think Eleanor will make, and what will be the repercussions of that choice? For students who are already familiar with the show, you can talk about the trope of an Unreliable Narrator.
.
11. "So Chineez" – Fresh Off the Boat (Season 1, Episode 13) (MS/HS)
"Sometimes I forget that y'all are Chinese. You're just like regular Americans to us." This offhand comment by her neighbor sends Jessica Huang into a tailspin. Has her family assimilated too much? Are her kids losing touch with their heritage? This is a common theme in books about the immigrant experience, and this episode would fit well alongside books like Inside Out & Back Again by Thanhha Lai or Americanized by Sara Saedi.
Check out this blog post for more book suggestions and resources for sharing immigrant voices.
12. "Baby" – Supernatural (Season 11, Episode 4) (HS)
This episode is a good example of how setting influences a story. The whole episode is shot from inside "Baby," Dean's affectionate nickname for their 1967 Impala. It's also noteworthy that the episode doesn't have a soundtrack. All the music that's scored is coming from the car's radio and tape deck (remember those?).
This would be great to use with a short story that also uses a cramped setting (like The Pit & the Pendulum by Edgar Allan Poe, excerpts from 12 Angry Men by Reginald Rose, or No Exit by John-Paul Sartre.)
It's rated TV-14, and it wouldn't be a story about the Winchester brothers without some mild profanity and drinking. There's no nudity, but there is an implied sexual situation. You know your students (and what is appropriate for them) best.
13. "Mary Anne Saves the Day" – The Baby-Sitters Club (Season 1, Episode 4) (MS/HS)
For me, the Netflix produced Baby-Sitters Club TV series has been like entering a warm, nostalgia-filled cocoon. But while it's got major 90s vibes, these kids have 2020 vision. In this episode Mary Anne is struggling to find her voice and advocate for herself, but she has no problems being brave and standing up for the trans child, Bailey, who's in her care.
For more information on how to talk about personal pronouns in the classroom, check out this blog post by three of my favorite Teachergram friends, Ace (@teachingoutsidethebinary) , Brittany (@thesuperheroteacher, and Tooley (@teachingwithmxt).
14. "The Bad Beginning: Part 1" – A Series of Unfortunate Events (Season 1, Episode 1) (MS/HS)
Even though the book series was written for middle grade, I think the episodes could work in a high-school classroom as well. The series certainly captures my attention! Lemony Snicket is a master of irony, but there are so many prominent examples of foreshadowing, suspense, juxtaposition. As students watch the show, they can make a note of specific literary devices as they pop up. You could even play Literary Devices BINGO! You can make your own cards, or use my version that's up in my TPT store.
Want more suggestions for using pop culture 
in the classroom? Check out 15 Songs to Use in ELA.
15. "Hello, Penelope" – One Day at a Time (Season 2, Episode 9) (HS)
I am still mad at Netflix for cancelling this amazing show! If you haven't watched it yet, add it to your queue. It's funny, touching, and has a stellar cast. It doesn't shy away from big topics, and this episode chronicles Penelope's struggles with depression. Things are going great in her life, so, feeling "cured" she wants to get off her meds and stop going to therapy. Unfortunately, that doesn't turn out quite the way she hoped. I love her scenes with her friend, Schneider, I love shows that focus on friendships over relationships, and I think this provides some much-needed representation for healthy, platonic male/female friendships.
Mental health issues are becoming more widely represented in YA literature, so you have a lot of text-pairing choices. Since the character of Penelope in One Day at a Time is an adult, it might be smart to pair it with a YA book like Darius the Great is Not Okay or More Happy Than Not. For more YA books that focus on depression, you can check out this list from BookRiot. And for more tangible ideas, here are 6 steps for supporting students through their mental health struggles.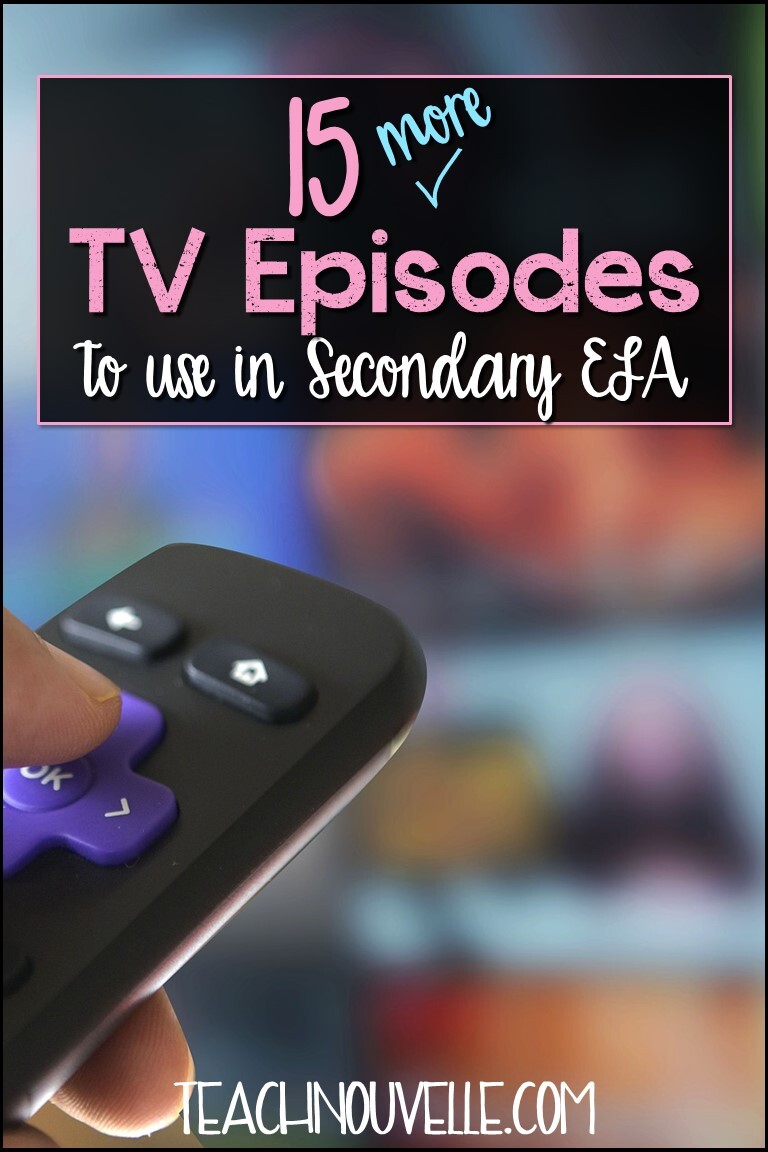 Final Thoughts:
I think too often books and movies are pitted against each other instead of being equally appreciated for their unique merits. I hope I've made a good case for why TV has a place in your ELA classroom, but if not please feel free to leave your thoughts in the comments or reach out on IG @nouvelle_ela. Do you have a favorite TV episode to use in ELA? Or perhaps a favorite TV-related activity? Have you used any of the suggestions from my first TV episodes post? I wanna hear about that too!
Happy teaching!