High-interest and low-prep lessons and activities you can utilize when teaching poetry for high school students.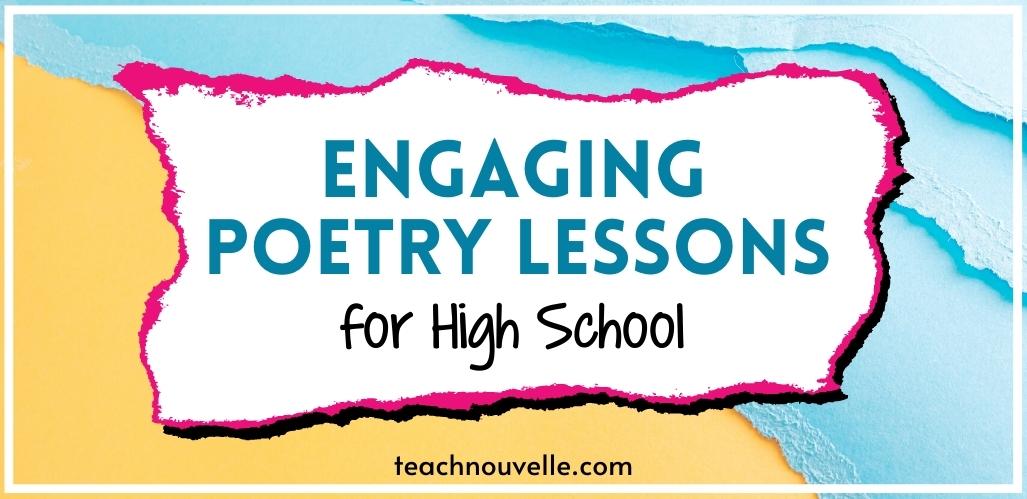 Poetry for High School Students
Do your high schoolers' eyes glaze over at the word "sonnet"? Do they find poetry "booorrrrring?" You aren't failing them, and I'm here to help! Today I'm sharing some tips and lesson ideas that are sure to help engage even the most reluctant poetry readers in your class.
1. How do you make poetry interesting?
Sometimes all it takes to help make poetry a more appealing subject to your high school students is changing the types of poems you are presenting to them. These blog posts are all focused on helping you to provide a wider and more inclusive variety of poetry for high school students in your classroom:
Contemporary Poems by Black Authors – It's easy for students to feel like poetry is frozen in the past, but just like music or visual art, it's constantly evolving and changing with the times. Poets like Amanda Gorman and Danez Smith are a voice for this generation and their works can help students see that poetry IS being written for them. Poetry is being written about current events and issues that they care about, and not just flowers and love stories from 200 years ago.
Verse Novels for the ELA Classroom – I've found that many students who weren't interested in reading and discussing a sonnet can still appreciate verse novels because they like the story being told. Authors like Elizabeth Acevedo and Jason Reynolds have such compelling narratives that will help students "get past" the poetry aspect and focus on the story.
7 Books to Help Students Love Poetry – This post truly has something for everyone. Funny poems? Check. Poems written by teens? Check. Illustrated poems? Check. These books are all great choices if you're teaching poetry for high school students, but even better, add a few of these to your classroom library to help students discover poetry with zero pressure or expectations.
2. What activities can you do with poems?
There are SO many fun poetry activities to choose from, but I love using an escape room to help get students excited about analyzing poetry.
This poetry escape room (available in paper and digital versions) helps students practice the basics while strengthening their teamwork and problem-solving skills. Students will identify figurative language, complete a poetic devices puzzle, do a poetry close reading, and decode a secret poem. 
The paper version is fully editable, and the digital version includes beautiful digital art from @LadyKnightIllustration.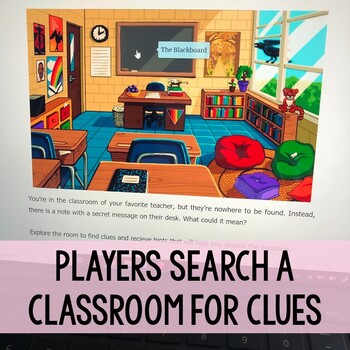 What teachers are saying: 
"My students loved using this resource as a review for their upcoming state test. I used this in an inclusion setting and a majority of my students had no problem working through it on their own. I HIGHLY recommend it!" – Jennifer T, 10th grade
"I love how challenging this escape room is for my poets! I use it to review with them before their midterm and they always end up scratching their heads a good bit; it forces them to go back to their resources from earlier in the year and really, thoughtfully review!" – Miss D, 11th grade
"My students loved this experience. They really had to rely on their groups for assistance. It was so fun to watch the active problem-solving." – Molly S, 10th grade
Interested? Take a peek inside!
Want tips and ideas like these delivered right to your inbox? Sign up for my weekly Teaching Tips Newsletter!
3. Creative poetry project ideas
Host a poetry slam – This is such a fun, multi-day project! I like to start this at the beginning of the week by having students watch poetry slam videos. You can find tons of examples online, but I especially love the ones from YouthSpeaks, an org that supports young writers and poets. Check out their YouTube channel for videos of their Slam Poetry finals, they are great examples of slam poetry for high school students. 
During the week students can discuss the poems they watched or read, and start writing and workshopping the poems with their peers. Finally, on the last day, you can host the "slam" performance. Since students will be reading their poems aloud, it's also a really great way to practice public speaking.
This is an activity that can absolutely be done at no cost to you, the teacher, but if you aren't feeling confident I have a resource for under $2 that explains every step of the process.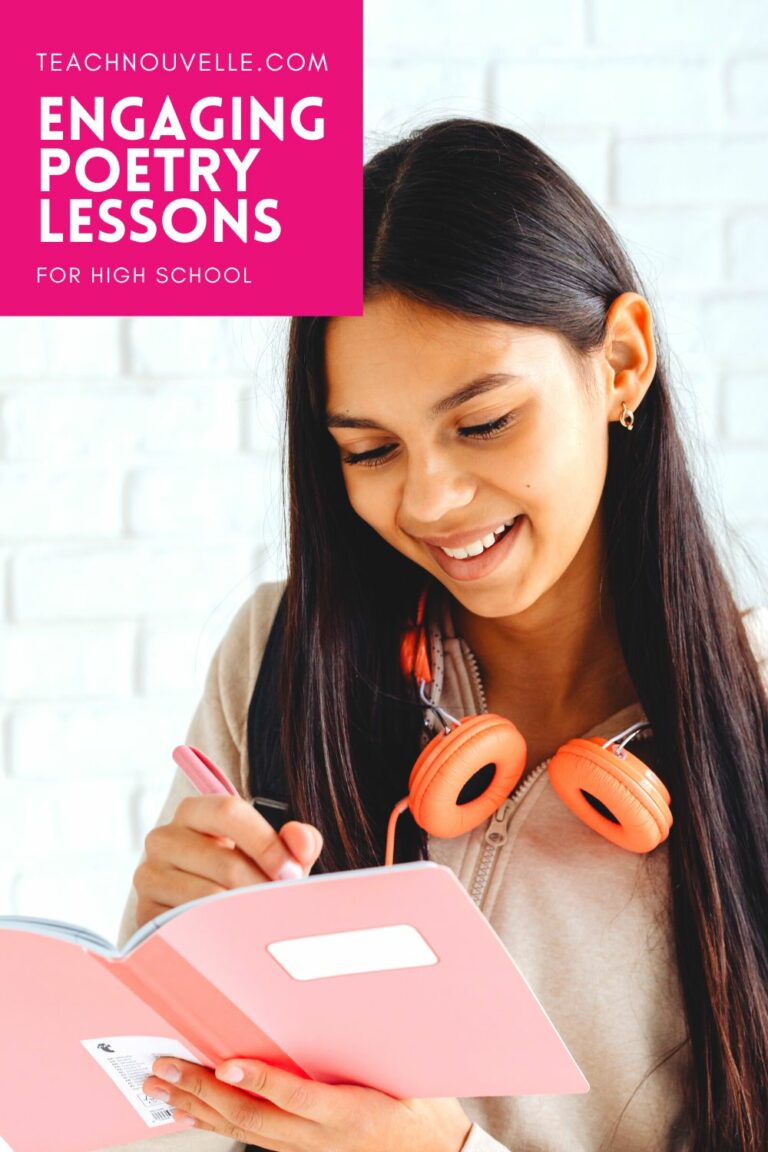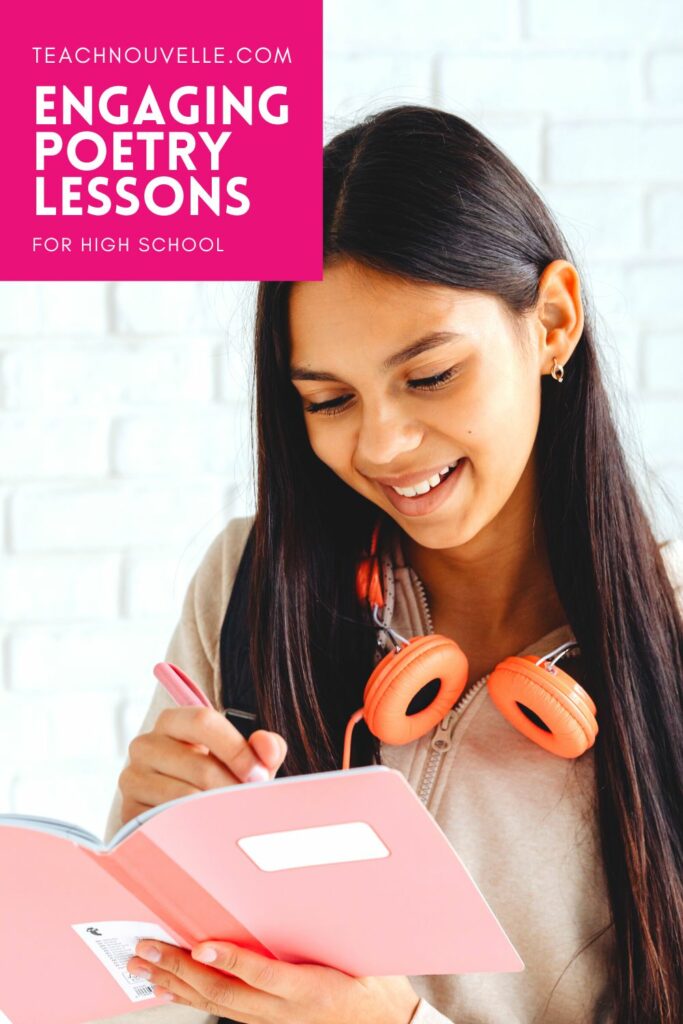 I hope this has you feeling ready and energized to rethink poetry for high school students! If you didn't quite find what you were looking for, check out this post, Teaching Poetry in Secondary ELA which contains ALL of my teaching tips and resources compiled into one, easy-to-bookmark post.
How do YOU get your high schoolers interested in poetry? Do you have a favorite activity or favorite poem to share with them? Comment below, I'd love to learn from you!
Happy teaching!