Looking for a fresh way to introduce students to AAPI creative works? Examine these five diverse songs with literary devices by AAPI artists and make learning more engaging in secondary ELA classrooms!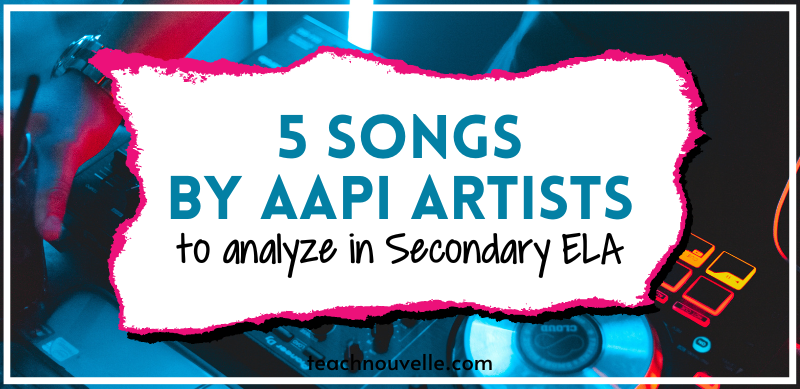 We're all about using songs as a tool to teach valuable literary concepts, especially with figurative language. My kids always have their headphones in their ears anyway, so why not try to make their learning more attuned to their interests?
Here are some easy tips to keep in mind when incorporating music into your curriculum:
1. Use it as an opportunity to elevate voices of color and their experiences
2. Keep it appropriate (I'm going to age myself by saying…"the music nowadays," but it's true)
3. Make it purposeful – don't incorporate music just to do it. Figure out what skill you want them to practice first, then use music as the tool to help them learn it.
Now, onto sharing AAPI artists' songs with literary devices!
Aiko alludes to the lullaby "Twinkle, Twinkle Little Star" in her song dedicated to her child. 
This heartbreaking song is also an effective song selection for teaching tone & mood!
Joji's song gives us, the audience, insight into something a character, his current girlfriend, knows nothing about.
Discuss how dramatic irony heightens the tension in this hit song your students will love to dissect.
The entire chorus of Gray's song is FANTASTIC for students to understand the purpose and impact of hyperboles.
"Astronomy" by Conan Gray
The exaggeration and comparisons throughout also make this a great tool for teaching students metaphorical meanings in a text.
This short song is great for focusing on the impact of similes. I personally think if you're looking for songs with literary devices you want to aim for a simple song to avoid overwhelm.
"broken cd" by beabadoobee
Having students examine the power of comparison and repetition using this song is a guaranteed success!
If you're in need of some other fresh ideas for incorporating music in your class, read this blog post that gives you 6 effective and low-maintenance ways to do so! My personal favorite includes using songs as a way to teach students about writing personal narratives.
So many of us know this song, but do our students understand what Rodrigo's driver's license actually symbolizes?
"driver's license" by Olivia Rodrigo
Have students compare what it means for young adults to get their license to what it meant to Rodrigo.