Analyzing songs can help students practice vital ELA skills, and injecting some pop culture into your curriculum can be a great way to get students engaged and excited!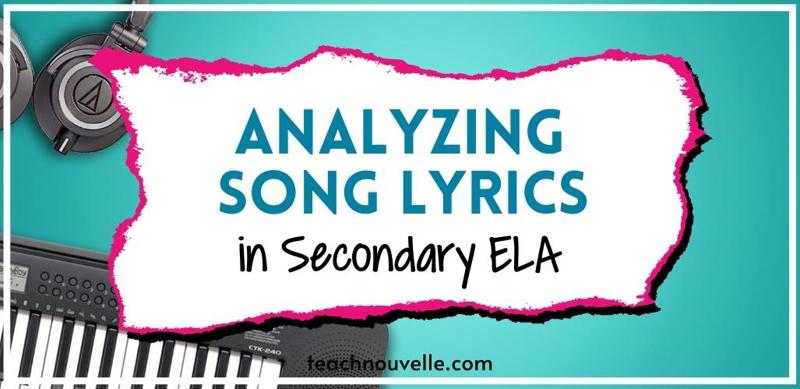 If you're familiar with my blog, you probably know that I LOVE using music in the ELA classroom. I think it's such a powerful tool. Not just for learning ELA skills, but for building classroom community, and enacting student choice.
In addition to today's post, you'll love this free list of songs and how to use them in ELA:
Analyzing songs can help students view the familiar through a critical lens
It's a good bet that every one of your students has heard the song "Let It Go" from Frozen, but how many of them have critically analyzed the lyrics?
I think this YouTube video pointing out the visual metaphors and symbolism present during the song "Let It Go" will be especially helpful to students. It's a voiceover of the film clip (with no music!), so it allows students to focus on the visual metaphors without getting distracted by the catchy lyrics.
"Let It Go" is also an opportunity to address the difference between simile and metaphor. Elsa makes the connection very clear when she says, "The wind is howling like this swirling storm inside / Couldn't keep it in, heaven knows I've tried," but the extended metaphor goes even deeper.
Best songs to analyze as poetry
Songs can be a more approachable way to teach poetic devices, and I love using songs and poems together.
For example, "The House That Built Me" by Miranda Lambert. With imagery like "handprints on the front steps", the lyrics to this song evoke a strong feeling of nostalgia. In literature, 'home' is often more than a physical place, it's a metaphor. Students could explore that idea by reading the lyrics to this song along with some classic poetry such as, "The Self-Unseeing" by Thomas Hardy, "Home is so Sad" by Philip Larkin, or "The Props assist the House" by Emily Dickinson. This is a great way to practice of CCSS.RL.9-10.7, comparing the development of a theme in two mediums.
Broadway songs are especially filled with poetic devices, check out my favorite examples in this post!
What should I analyze in music?
The obvious choice is to analyze the lyrics, but there are plenty of examples when the music itself is equally important. After all, many works of music are crafted as carefully as works of literature. So analyzing songs can be a way to practice analyzing a performer's choices and intent, the same way we would with an author.
You could choose a famously controversial performance (like Jimi Hendrix's rendition of the "Star Spangled Banner" at Woodstock) to have students
A great example of non-verbal characterization is found in "Peter and the Wolf" by Sergei Prokofiev. I expand on that idea in this post 🙂
Teaching personal narrative writing with song lyrics
(This idea comes from my post on Teaching Black History with Music)
"There are no words that can express how I feel.

You never kept a secret, always stayed real

And I appreciate how you raised me

And all the extra love that you gave me."
Many consider Tupac Shakur (stage name 2Pac) to be the greatest rapper of all time. He is the only solo rapper to be inducted into the Rock & Roll Hall of Fame.
Students might already be familiar with 2Pac if they are fans of Angie Thomas. 2Pac was a huge inspiration for her bestselling YA novel, The Hate U Give. Here EpicReads outlines some ways he influenced her writing.
In the classroom: Dear Mama tells the story of a tumultuous childhood, and a mother who, though deeply flawed, is loved and appreciated by Shakur. This song pairs well with the poem "Mother to Son" by Langston Hughes. I think this song belongs in a lesson on personal narrative, perhaps as a mentor text for students to write their own rap-inspired biography or rap-style tribute to a close friend or relative.
(More ideas on teaching personal narrative in this post!)
What are some school-appropriate songs?
What is considered "appropriate" will vary depending on your grade level and your community. I do my best to make thoughtful recommendations, but you know your students best. It's always smart to listen to the entirety of your selection before presenting it in class.
If you want to play it super safe, you can't go wrong with analyzing songs from a Disney soundtrack. Two of my favorites are "I'll Make a Man Out of You" from Mulan (perfect for demonstrating dramatic irony) and "Poor Unfortunate Souls" from The Little Mermaid, which is perfect for discussing persuasion. How does Ursula woo Ariel into giving up her voice? How does she position herself and build ethos? How does she develop pathos and use logos?
One of my favorite reason to use songs in ELA is to get students looking at familiar narratives through a critical lens, and both of these songs definitely serve that purpose!
Combine music & interactive notebooks!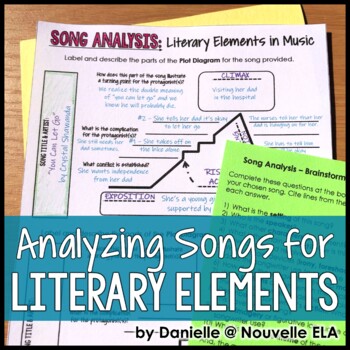 This resource is a full Song Analysis lesson plan for Interactive Notebooks, paper, or digital. Students will treat the song as a text and use textual evidence to support their claims. This is a fun, low-stakes way to practice analytical writing. It includes suggestions of songs to analyze, student samples, a plot diagram, and much more!
What teachers are saying,
"This was a great way to show my students that stories are all around us." -Lindey A
"This was a great way to review literary elements and move my students into true analysis." -Ashleigh S.
"The plot diagrams and the figurative language are GREAT and perfect for a mini-lesson before reading something longer. " -Stephanie A.
I hope this post gave you some new ideas for analyzing songs in Secondary ELA! Don't forget to download your free resource 🙂
Do you have favorite songs to analyze with students or a favorite way to utilize song lyrics in the classroom? Comment below so we can all learn! And if you try any of these activities with your students I'd love to hear how the lesson went, stay in touch on IG @nouvelle_ela 🙂
Happy teaching!