We take a look at online shaming and Leila Sales' new novel, If You Don't Have Anything Nice to Say. Join us this week on the YA Cafe. (transcript)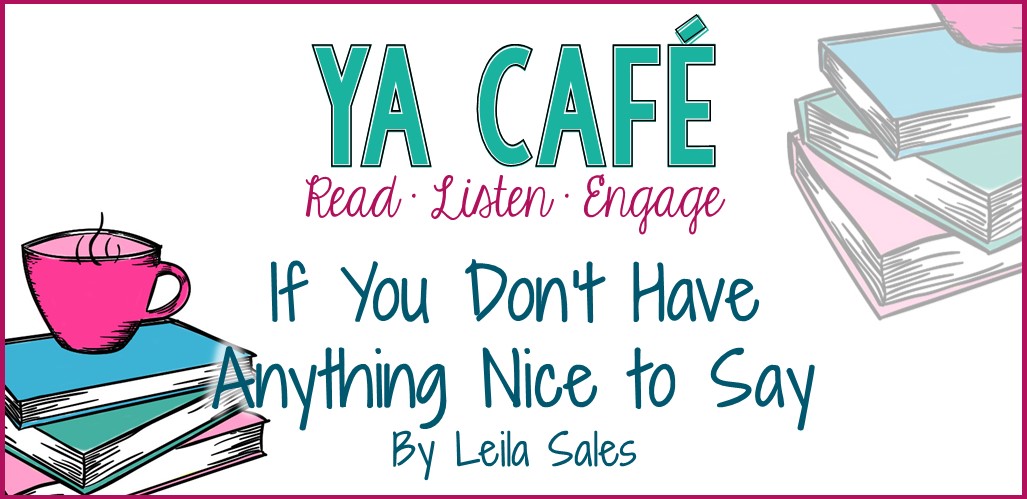 In today's episode…
In Leila Sales' newest novel, If You Don't Have Anything Nice to Say
, Winter Halperin gets caught up in a storm of online shaming after she posts a racist comment about the winner of the National Spelling Bee. She tries to defend herself, tries to apologize, claims she can't be racist because she "has black friends"… it's a whole thing. But when her college acceptance is rescinded and her future put on hold, she is forced to reckon with her actions.
These Show Notes use Amazon Affiliate Links for your convenience.
If you decide to purchase this book, please consider doing so through our affiliate links.
Your support makes this podcast possible.
Episode highlights…
Spoiler-Free
*2:01 – Winter gets called out for not seeing her privilege
"I can't believe I have to explain this to you", Jason said, "Not everyone has spent their life in a good town with a good school system. Not everyone is trusted like you, were given the benefit of the doubt like you,  were expected to do great things like you. A lot of people are fighting seriously uphill battle just to get treated with the basic respect you go through your whole life, assuming you're entitled to."
*5:25 – Parenting gurus and Nickelodeon's Rugrats
*8:18 – Let's delineate the types of victims of online shaming, okay? (Monica Lewinsky is very different from Bill Cosby)
Things We Like a Latte
Danielle – Ship It
by Britta Lundin and The Unrecommendable Book
Amanda – Code Switch, an NPR podcast
Spoiler-Informed
*18:07 – The Breakfast Club of Shame
*23:49 – Is kindness REALLY all we need?
*25:03 – Little instances of racism are like being constantly punched in the arm on the sidewalk. So You Want to Talk About Race
by Ijeoma Oluo.
Want book recommendations delivered to your inbox?
Sign up for the YA Reads Monthly Newsletter!
More ideas and resources for teachers and librarians…
There's a lot to unpack with students about maintaining an online presence, online shaming, and combating racism when they encounter it.
For starters, there are many great resources out there for white people in particular about how to be better allies to people of color. One is  So You Want to Talk About Race
by Ijeoma Oluo. This book is earnest and funny, but the author definitely doesn't sugarcoat anything. A great read for teachers, for sure! Another is this very-digestible article, 100 Ways White People Can Make Life Less Frustrating For People of Color by Kesiena Boom.
Also, this book was largely inspired by two works: So You've Been Publicly Shamed
 by Jon Ronson and the fairly new TED talk by Monica Lewinsky, "The Price of Shame". You could pair If You Don't Have Anything Nice to Say, these resources, and other considerations of online shaming and have a unit that leads to excellent discussion.
Have you read If You Don't Have Anything Nice to Say? What did you think? Get in touch with us on Instagram and Twitter at @yacafepodcast or email us at yacafepodcast@gmail.com. We look forward to hearing from you!
Credits…
Hosts: Danielle Hall (who blogs at teachnouvelle.com)
          & Amanda Thrasher (a booklover extraordinaire)
Producer: Leila Hobbs
Music: Matt McCammon
[Thank you to Farrar, Straus, and Giroux for the review copy of this novel.]