Looking for new, free texts for teaching figurative language? This post has short stories, and other short texts your students will love!

Today I have figurative language on my mind: specifically simile, hyperbole, and personification. We don't have to wait until we're teaching poetry to share these fabulous poetic devices! Here are some non-poetry texts to use for teaching figurative language.
PSST…if you're looking for short texts to help students strengthen their analysis skills, our 15 Pop Culture Analysis Activities resource has got you covered! You get detailed lesson plans aligned with each of the 15 different short texts (i.e. songs, short films, and more!).
Short Stories for Teaching Figurative Language
"The Girl with the Blue Lantern" by Tess Sharpe
This short story follows a poor girl, responsible for keeping her family fed, as she stumbles upon a mysterious source of gold in the woods. This story is perfect for teaching suspense!
It has an overall theme of gold as both a gift and a curse, which makes it a great companion to stories like "The Monkey's Paw" or "The Gift of the Magi."
Sharpe also uses a ton of beautiful similes as the narrator tries to make sense of the unfamiliar experiences she's having.
You can find this short story in All Out, an anthology of historical fiction featuring LGBTQ+ authors and protagonists. You can find recommendations for short stories to use in middle school and high school as well.
Puro Amor by Sandra Cisneros
Students may already be familiar with Cisneros' work from her 1984 novel, The House On Mango Street. And you can expect more lush prose from this short story.
Pur Amor is a loosely based in-reality exploration of the relationship between Frida Kahlo and Diego Rivera. It alludes to their real life personas, but is fictional, not autobiographical.
It is truly a beautiful read. With phrases like "the sky was the color of pewter and the clouds hurried by like women on their way to the market," Cisneros' words are as evocative as Kahlo and Rivera's art.
It would be an excellent mentor text for teaching figurative language, such as simile/metaphor and descriptive language.
The story is available for free (online) from the Washington Post.
Grab all of my short story unit recommendations in this resource!
"202 Checkmates" by Rion Amilcar Scott
This contemporary short story poignantly describes a father teaching his young daughter to play chess. Scott beautifully splits the setting between…
⭐ their living room where they sit on the "scratchy brown couch,"
⭐ playing chess with her fathers "chipped and faded" pieces,
⭐ to the park where the daughter goes to watch the intense games between Manny and Chester.
It's filled with so much descriptive language that you can easily close your eyes and imagine yourself in the scenes.
I chose this story as an example of personification because of how Scott brings the chess pieces to life, imbuing them with human qualities. Like the queen who starts off on her own color square, "because she likes to match," or the carefully described movements of a "determined black pawn."
You can read this story for free on ElectricLiterature.com.
Note: Because of some strong language, I would consider this story appropriate for high schoolers only. As always, you know your students best.
More short texts for teaching figurative language
"He talks about you in his sleep

And there's nothing I can do to keep

From crying when he calls your name,

Jolene."
This is a great example of how songs can fit perfectly into a poetry unit. Parton's keening refrain of the name "Jolene" provides an excellent example of repetition as a poetic device. Each time she invokes her rival's name it feels more and more desperate.
Pair this with Poe's "The Raven" to show how haunting repetition can be.
Using "The Raven'' and "Jolene" also allows you to cover several literary devices together. Repetition (in both), simile (in how Parton describes the title character), and personification (in "The Raven").
This is another old and new poem/song combo, but this time for teaching hyperbole. In both texts, the speaker (or singer) is expressing their love by using hyperbole.
Auden uses phrases like, "I'll love you till the ocean/Is folded and hung up to dry," and "'I'll love you, dear, I'll love you/Till China and Africa meet," while Perri sings "I have died every day waiting for you" and "I have loved you for a thousand years/I'll love you for a thousand more"
This does an excellent job of showing students that, while literary styles may differ, the use of figurative language is present in every era.
Activity: Have students write 5 unique hyperbolic statements professing their love for something. The sillier the better! And teachers, you can take part in this too 🙂
Need more short stories? Here are some for Hispanic Heritage Month, AAPI authored, LGBTQ+ authored, social justice themes, and inclusive horror short stories. I also share short story assessment ideas too!
Final thoughts: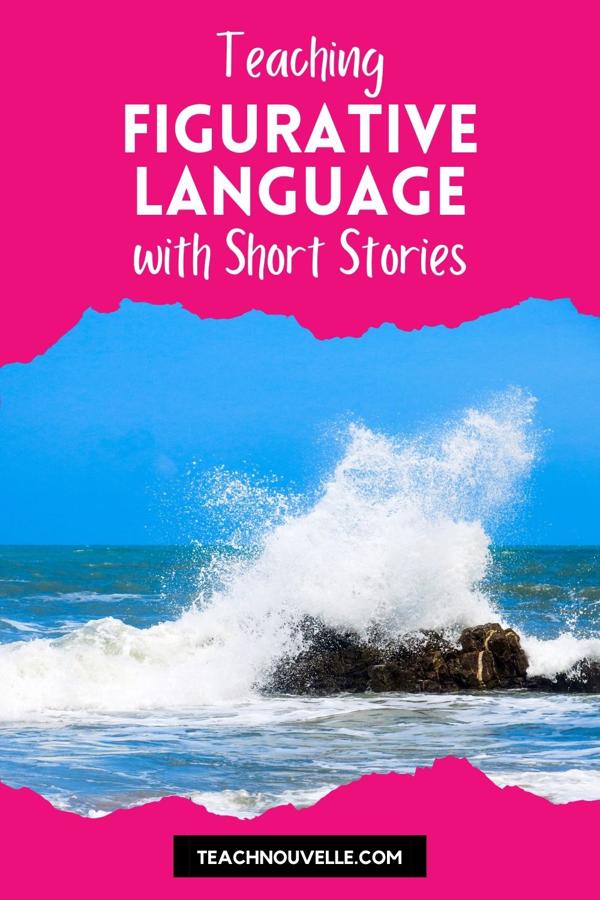 I hope you thought this eager, sprightly post was the best post in the universe, with ideas as brilliant as polished steel. (J/k y'all, figurative language jokes)
But seriously, I hope this gave you some engaging new texts for teaching figurative language. Please let me know if you use any of these with your students. I'd love to hear what their response was!
Want to read more about teaching literary elements? In these posts, I share texts and ideas for teaching symbolism, setting, suspense and pacing, conflict, characterization, metaphor, and irony.
Happy teaching!