Looking for more books with trans characters to add to your classroom library? I have recommendations for middle & high school in this post.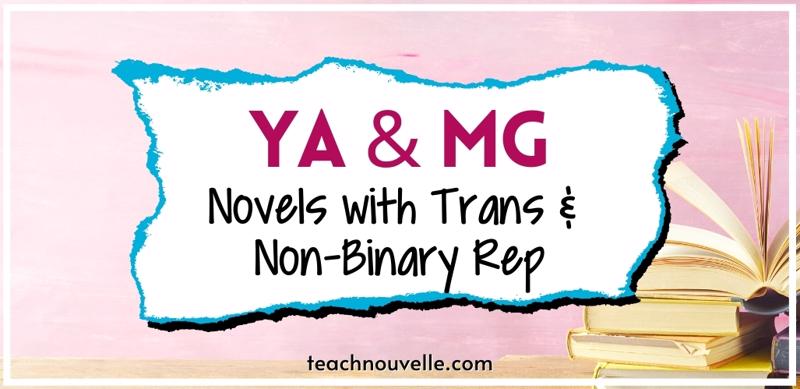 YA & MG Books with Trans Characters
Including books by Trans authors (and featuring Trans characters) in your classroom library is a great way to make your classroom a safe space for LGBTQ+ students.
I have previously shared my tips on making your classroom a safe space for LGBTQ+ students. One EASY action item for both middle and high school is to include novels by Trans authors and books with Trans characters in your classroom library. And YES, you can do this at a middle school level, too.
Here are my top ten books by Trans authors (or strongly centering a Trans character) for middle and high school. If you decided to buy any of these books, please consider using my Bookshop affiliate link. You'll be supporting indie bookstores, and I'll get a small kickback to help me keep blogging 🙂
If I Was Your Girl by Meredith Russo (HS)
Amanda is a normal high school girl, and for the first time, she's given the chance to live like one.
She's a transgender teen who moves back in with her estranged father after the bullying and attacks at her old school become too much. At her new school, no one knows she used to look like a boy, she's just the pretty new girl. And it isn't long before she has a group of good friends, a boyfriend on the football team, and something that looks like the life she's always wanted. Amanda's father is still struggling with fear for this new daughter he thought was a son, and Amanda tries to come to terms with keeping a secret from her new friends.
This novel is truly a feat of literature. It was Russo's debut, as well as a finalist for the Walter Dean Myers Diversity Award, the Lambda Literary Award, and it won the 2016 Stonewall Award. Russo has a powerful voice with a lot to say, so don't skip the author's Q&A at the end of the book!
And if you want a spoiler-free preview before you buy, check out the first half of episode 42 from the YA Cafe Podcast.
Blanca y Roja by Anna-Marie McLemore (HS)
This novel is a twist on the classic fairytale, "Snow White and Rose Red", and shares the tale of a family under a curse. Unto each generation will be born two sisters, and at their coming of age, the curse will turn one of them into a swan. Blanca is the older, gentler, sweet sister, and Roja is a bit rougher around the edges. The girls must work through a curse that tries to pit them against one another, reaching through the thorns to hold on to their love for each other.
We chatted about this novel with our friend and teacher, Jeimy, on episode 30 of the YA Cafe Podcast.
Want more inclusive retellings of fairytales? I have a post for that!
The Prince and the Dressmaker by Jen Wang (Elementary/MS)
This charming graphic novel introduces us to Prince Sebastian and his trusted friend, Frances. Frances is a talented young dressmaker who longs to become famous, but she is forced to keep her identity secret because her client, Lady Crystallia, is really Prince Sebastian in disguise! This book explores gender identity, friendship, and loyalty. Its whimsical drawings and fairytale vibes make this a truly touching read for any age.
Being Jazz by Jazz Jennings (HS)
Jazz Jennings's activism has kept her in the spotlight for most of her life. At 7 Barbara Walters interviewed her on ABC news and since then she's had her own reality TV series, a YouTube channel, and much more!
This memoir reflects her experiences growing up as a trans girl. Her parents were always accepting of her, but she still faced a lot of obstacles. She shares many experiences of bullying and discrimination from adults and her peers.
Jennings also wrote a lovely illustrated version of her memoir called, I Am Jazz, geared toward kindergarten and elementary schoolers.
Looking for more inclusive nonfiction titles for your students? Check out this post!
Some Assembly Required: The Not-So-Secret Life of a Transgender Teen by Arin Andrews (HS)
Similar to Being Jazz, this is also a memoir by a transgender teen. But Arin's experiences are uniquely his own. Providing multiple perspectives is vital for giving adequate representation. Students need to hear more than one story! Trans people are not monolithic, and while their experiences may have similarities, they are not the same.
A recent study by the CDC shows that almost 2% of high school students identify as transgender, and troublingly 35% of those students attempted suicide in the past year. As a teacher, you can make your students feel safe and accepted. Providing inclusive classroom library choices is a great first step. The Trevor Project has free resources for middle and high school teachers looking to help make their schools and classrooms a safe space for all LGBTQ+ individuals.
Hurricane Child by Kacen Callendar (MS)
Ever since her birth during a hurricane, Caroline feels like bad luck has trailed her. Her mother abandoned her, her father is always busy working, and she has no friends at her school. But when a new student, Kalinda, arrives, Caroline finally feels like she has a true companion. Callendar does a wonderful job developing the characters and the Caribbean setting. It also expertly tackles some big subjects like racism and homophobia. Hurricane Child is sure to spark some valuable discussions in the classroom.
Zenobia July by Lisa Bunker (MS)
After a cross-country move, Zenobia is now living with her aunts in Maine and starts attending a new school. The once reclusive, tech-obsessed Zenobia is now making friends, and most importantly, she's able to live openly as a girl, the gender she's always been inside, but was previously forced to hide.
Her peace is shattered when an anonymous cyberbully posts racist memes on her school's website. When none of the adults can stop the bully, Zenobia and her genderqueer best friend Arli decide to combine their hacking skills and put an end to the hate.
Catch, Pull, Drive by Schuyler Bailar (Short Story, HS)
Okay, it's not a novel, but it's incredible. This short story, appearing in the anthology Fresh Ink, draws from Bailar's experience as a transgender athlete. Bailar is the first transgender man to compete in the NCAA Division I Men's Swimming and continues to be an advocate for LGBTQ+ rights in student athletics. Read his extended Instagram post on trans women in sports.
I chatted with the editor of Fresh Ink, Lamar Giles, on this episode of the YA Cafe Podcast.
Pet by Akwaeke Emezi (MS/HS)
The people in the town of Lucille know that there are no monsters anymore–not since the angels came and took them all away. But when a creature from one of Jam's mother's paintings comes to life and declares it's here to hunt a monster, Jam believes it. The creature tells Jam to call it 'Pet' and asks her to help it find a monster lurking in her best friend's house. Can Jam navigate the tricky waters of hunting a monster when no one believes they still exist?
This National Book Award finalist has really incredible non-binary representation. We chatted about Pet with author H.D. Hunter on episode 61 on the YA Cafe Podcast.
Cemetery Boys by Aidan Thomas (MS/HS)
Yadriel wants nothing more than to carry on his Latinx family's legacy as brujx. However, his family won't accept his gender identity and keep trying to steer him toward bruja traditions for the upcoming Día de los Muertos. With his cousin and best friend Maritza, Yadriel sets out to perform a ritual that will prove to them he's meant to be a brujo. When the ritual goes sideways, Yadriel summons Julián Díaz by accident. In life, Julián had a terrible reputation and looks to kill… in death, he wants to figure out who killed him. Can Yadriel help Julián, set the ritual right, and make his family see his truth once and for all?
Students will adore this book. It is heartfelt and funny. There's honest conversation about sexuality and gender identity that sounds like it's written for teens, not at them. This is a book written "by, for, and about" Trans Latinx kids AND for others to enjoy, too. I feel so lucky to be alive in a world in which this book exists, and y'all need it for your classroom libraries, stat.
Find more YA/MG books by Latinx authors here!
Final thoughts:
I have two posts dedicated to Queer books for the classroom library, one for mg and one for high school. If you're looking for some great representation for lower grade levels, check out this list from the New York Public Library of 12 Picture Books with Trans or Gender Non-Conforming Characters.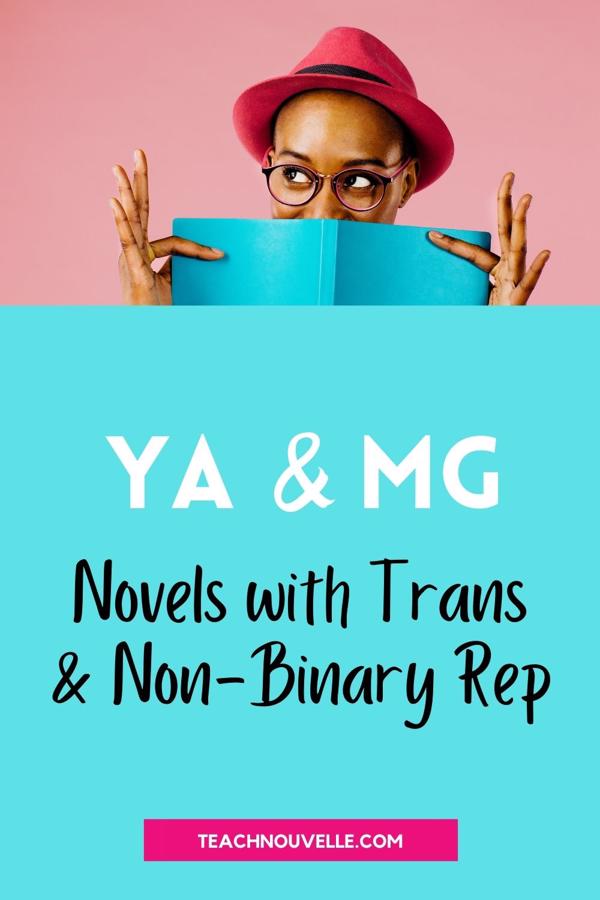 Once again, please consider using my Bookshop affiliate link when shopping for these books. You can support indie book stores, AND support this blog at the same time 🙂
In order to make our classroom libraries (or our personal libraries!) more inclusive, we first have to spot the gaps, or "find what's missing." I have a FREE resource that helps you do just that! You can download it here 🙂
Happy reading!