Looking for engaging middle school bell work activities for your ELA students? Check out these three fun and educational ideas to start your class off on the right foot!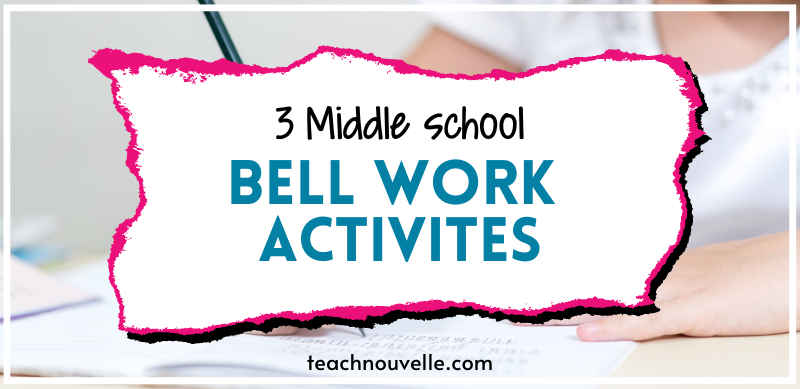 Before we jump into the 3 middle school bell work activities, I want to take a moment to answer some popular bell work questions!
What are bell ringers for middle school?
Middle school bell work activities are typically short writing or collaborative activities used at the start of a class period. Using them consistently at the start of your class yields a ton of benefits:
✨ You have a few minutes to take attendance or respond to a quick email
✨ Students develop a sense of routine & expectations
✨ Students practice sustained & frequent writing (tons of benefits within itself!)
✨ Great tool for start-of-class management
✨ Prevents the anxiety-inducing influx of students asking you a million questions before the bell even rings
How long should bell work be?
This really depends on your time constraints (i.e. how long your classes are, what you need to cover today, if there was a fire drill that threw your whole schedule off).
My suggestion is no more than 5 minutes of practicing the actual skill at hand whether it be writing or trivia collaboration.
Above all, be CONSISTENT! As I mentioned above, a tremendous benefit of implementing bell ringers is developing an expected routine for students as they come in.
This is a classroom management strategy within itself, but it's most effective when you are consistent with it (ex. daily for the first 5 minutes of class).
3 Awesome Middle School Bell Work Activities
Want to make bell ringers a routine for the WHOLE YEAR without having to plan one every day? Say less.
These practical journal prompts are designed to take 5 minutes and improve students' writing skills. 
Worried about how to grade these? Here are some tips (P.S. it's okay to not grade everything).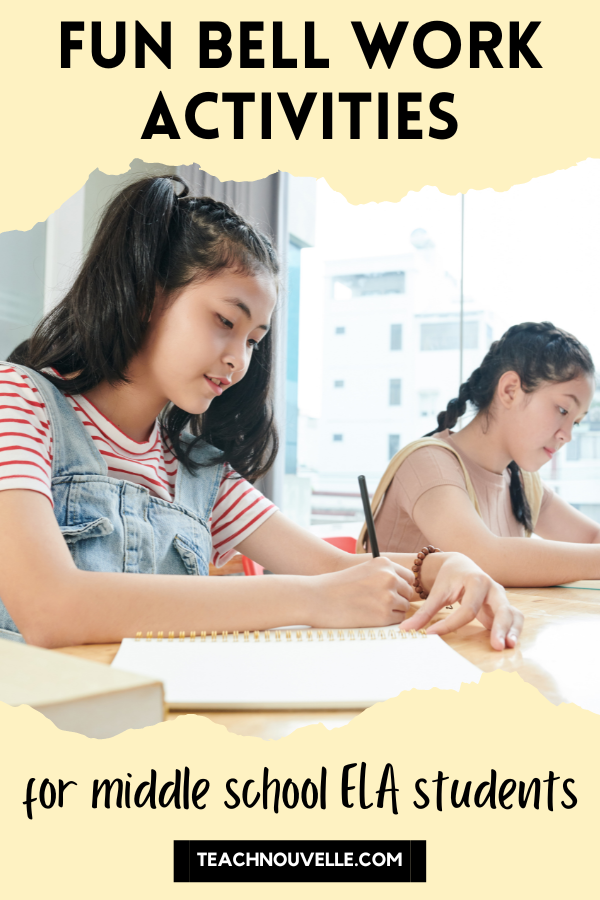 You can't go wrong with any one of these 3 middle school bell work activities!
They are each guaranteed to…
✨ Improve their writing and/or speaking skills
✨ Establish classroom expectations
✨ Build classroom community
✨ and so much more!
If you have already used these resources (or tried out the sampler/freebies), please share how it went with your students in the comment section below!
Happy teaching!