Looking for some fun, new classroom games? This post will show you how to play Team Trivia in ELA, & even give you a free week of questions!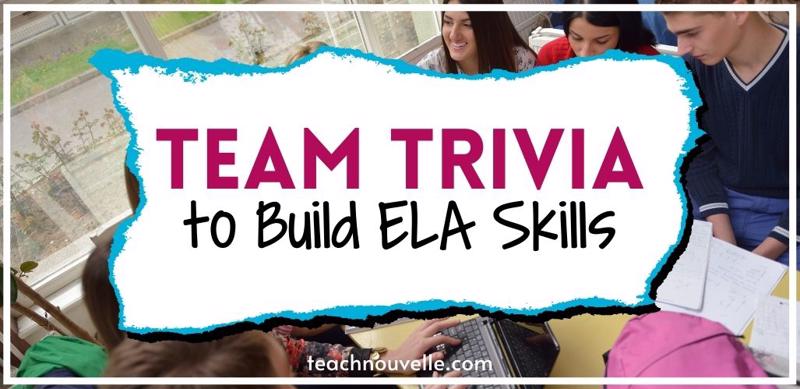 If you're looking for classroom games to play as a group, team trivia should definitely be on your list! Trivia is such a low-stakes way to get kids thinking critically and working collaboratively.
How do you do trivia in the classroom?
After years of playing pub trivia with my friends, I've come up with a surefire way to get that same energy in the classroom. I want my classroom games to be fun and competitive, even as students build ELA skills. Here are some basic principles:
1. Students work best in groups of 3-4
This is the ideal number to make sure everyone can participate and have their voices heard. When you do trivia in the classroom, you want to make sure everyone gets a chance to play. At the same time, having kids work alone or in pairs means that sometimes, they'll be totally stuck. With groups of 3-4, there's usually someone who knows an answer.
2. Keep students in the same groups
To really build a team spirit, keep students in the same groups. If you play every Friday, it's time for them to move their desks to their trivia teams! If you do trivia as daily bell ringers, have students enter the classroom and immediately get into teams. You can switch teams every quarter or semester – just keep them long enough for them to feel like a team.
3. Some questions should be hard
Yep, seriously! When I make a set of ten trivia questions, I want most of my student groups to get 6-7 correct. Why? Well, that's enough to feel successful. At the same time, that kid that DOES know the name of every movie in the Fast & the Furious franchise gets rewarded for their specialized knowledge. In other words, if you make it too easy, it's no fun!
4. Please don't grade these
Trivia should be FUN, and that means no grade attached. If you want to grade participation, fine. If you want to give extra credit to the winning team at the end of the quarter, fine. But a day-to-day grade will wear you AND students out, and suddenly, the quirky brainteasers that were once fun are just stressful.
Looking for more classroom games? Check out these improv games for ELA!
High School trivia questions
I've created my Team Trivia Bell Ringers especially for high school English classes. These classroom games are a mix of questions about literature, music, movies, poetry, and much more! Here are some question sets you'll see:
Twisted Summaries
Book Covers w/o Titles
Short Stories by Initials
Before & After Television Shows
Finish that Limerick
First Lines without Vowels
Children's Books by Cake
Your students will have so much fun playing these! You can grab a FREE week here 🙂
Classroom Trivia Games
Trivia games also make a great introduction or review to any unit, particularly if you make it FUN! You can convert an author's biography into a set of multiple-choice trivia questions to spark student interest. At the end of a unit, students can write their own question sets based on specific chapters in a book or act in a play.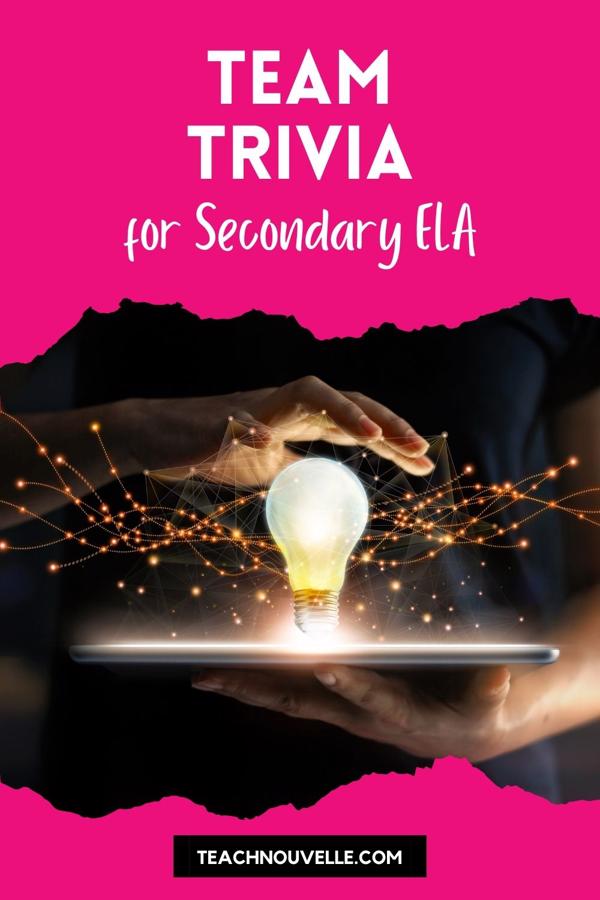 What kind of trivia do you use in the classroom? What classroom games do you enjoy playing? Let me know in the comments! If you try this trivia game with your students I would love to hear if they enjoyed it. What questions did they get stuck on? Reach out on IG @nouvelle_ela 🙂
Happy teaching!