Do you need escape room questions and answers? Whether you are a student who's stuck or a teacher who needs more info, this post is for you!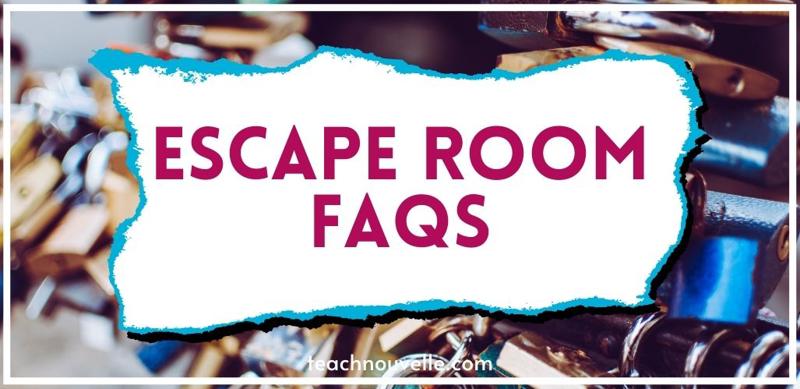 Nouvelle ELA Escape Room Questions and Answers
Are you considering playing an escape room, and you have questions? Are you currently playing, and stuck on a level? Here are some common questions and answers (FAQs) for Nouvelle ELA escape rooms.
Are you a student who's stuck?
If you're here because you googled "Nouvelle ELA escape room answers" in the hopes of finding your way out of this classroom task, I strongly encourage you not to try to break the game.
These games are meant to be fun, and your teacher put a lot of work into finding a great game for you. I know it can be frustrating to be stuck. Here are some tips:
If you're doing the Shakespeare Escape Room or The Odyssey Escape Room, read the game level text again. Have you read carefully? Usually, the answer is in the same level you are. However, each of these games has a VERY IMPORTANT ANSWER hidden in the first level. You can go back to level 1 and read it again if you're really stuck.

Try to phrase it a different way. The answer box will accept answer variations (both "William Shakespeare" or "Shakespeare" would be correct for example), but you need to make sure you're spelling the answer correctly.

Click around. If you're playing a game with pictures of entire scenes, like the island in Lord of the Flies Escape Room or the museum in The Harlem Renaissance Escape Room, you'll need to click around the image to make sure you've found all of the clues.
Are you a teacher who's considering purchasing?
Here are some Frequently Asked Questions for Nouvelle ELA Escape Rooms:
How long will your Escape Rooms take students?
I generally estimate that on-level ninth graders can complete most of my games in 40-50 minutes. It will also take longer if your students haven't done many escape rooms before. Some teachers like to split longer games (The Great Gatsby Escape Room & The Harlem Renaissance Escape Room) over two 45-minute class periods, just to be safe.
Can students work in groups?
Yes! Students can "divide and conquer" tasks for most games and complete them in any order. Then, they approve these answers with you before receiving the Secret Message. Groups can also choose a leader who will write down clues and keep their team on track.
It is more difficult for students to work in groups for reading games (Burnbridge Breakouts series, the Terminus series, Introduction to Shakespeare Escape Room, Introduction to the Odyssey Escape Room) because tasks must be completed in order and there's a lot of reading. For these games, I recommend two or three students per device.
Can I preview the games before I buy them?
Yes! Check out these video preview for three of my most popular games 🙂
How can I adapt your games for younger students?
If you're using my escape rooms with younger students, you'll definitely want to spread the game out over two lessons. You can also decide to give hints. You know your students best, so I recommend you test the game first. You can also figure out if you want to give students hints at certain points.
Do I have to test the game first?
I strongly recommend you do. This will help you anticipate what your students may find tricky. You can even sample the first chapters of Burnbridge AND Terminus to get a better feel for how my escape rooms work before you commit to a purchase 🙂
How can I make your escape rooms more challenging?
At the end of Game Day, have students wind down by completing the included Written Analysis of the Secret Message and the reflection on the escape room experience. If you're playing either the Burnbridge series or the Terminus series, follow up your escape room with the thematically-related nonfiction activity.
Can I add physical locks?
Nouvelle ELA Escape Rooms do not require physical locks. However, you can easily add physical locks to any of my paper escape rooms. Here's a video showing you how.
I'd like to make my own games. Can you teach me how?
Yes! Here are some resources I've created to help you make (and sell!) games for any text or topic:
ELA Escape Room (editable for any text)
Final thoughts:
I hope this post gave you all the escape room questions and answers that you needed! If you still have escape room questions, feel free to reach out to me on IG @nouvelle_ELA or comment below.
Happy puzzling!