Reader's Theatre is a fun, low-stress way for students to learn about drama, practice public speaking, and embrace their creativity.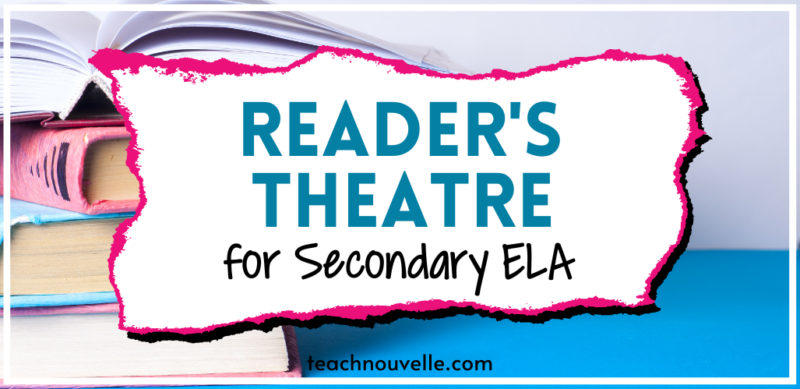 What is Reader's Theatre?
Reader's Theatre is the lowest-risk way you can bring drama into your ELA classroom. Students have the support of a script, but you encourage them to add vocal inflection and potentially some light blocking. You want to see some emergence of characterization and fluency. Reader's Theatre, however, doesn't have to be super-rehearsed.
In my classroom, Reader's Theatre replaces our in-class reading for that day. I try to choose scenes so that we have a mix of RT and reading/discussion days.
If you want students to become super familiar with the script and have rehearsed blocking and even costumes, you're in the realm of a Staged Reading.
What does good Reader's Theatre look like?
My goal for this activity is to give students some time to consider their characters. This is about how students "feel" in the language. You can help students be successful by incorporating some games, like Improv games or vocal exercises. For example, I have my students take one of Titania's lines and say it with different inflections. What does it sound like if Titania's shy? Arrogant? Hesitant? Scared? This introduces students to the idea that drama is full of choices, and that there's no "one right answer."
Good reader's theatre keeps your actors feeling confident and your audience engaged.
More ways to embrace drama in your ELA classroom!
How do I assign parts?
If you look at the example I laid out from A Midsummer Night's Dream, I chose a variety of parts and characters. Before I asked students to choose their parts, we did an overview of the characters and some of their relationships. For example, they knew Titania was a haughty faerie queen.
Once we go through the characters, I let students choose their roles for Reader's Theatre.
What kind of scripts work best for Reader's Theatre?
I find it best to choose a script that is not too challenging. After all, I want this to be a fun and low-stakes activity.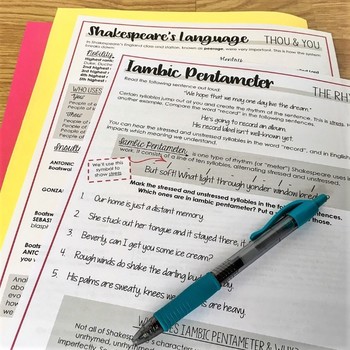 My "Shakespeare in 30" resource bundle was designed specifically for teens, and each abridged play can be performed in 30 minutes!
Each of the sixteen plays in this collection has been abridged to focus on major themes and character relationships. Each script has casting information, teaching tips, rubrics, and much more!
Enjoying this blog post? Sign up for my weekly Teaching Tips Newsletter to receive teaching tips like these, plus free resources, text recommendations delivered right to your inbox!
How do I prepare students for Reader's Theatre?
Once students choose their roles, you'll need to review your expectations with them and answer their questions.
I strongly recommend giving students one workday at the beginning of your unit to prepare for their Reader's Theatre. Students don't need to be overly prepared, but they need some time to practice their part and read it out loud.
If you're worried about students getting confused about practicing their scenes way ahead of time, you can mix up your schedule so that students have 15 minutes of work time at the end of every class period. If students aren't in the group that's "on deck" for Reader's Theatre, they can work on preparing discussion questions, doing a close reading, or working on vocabulary assignments.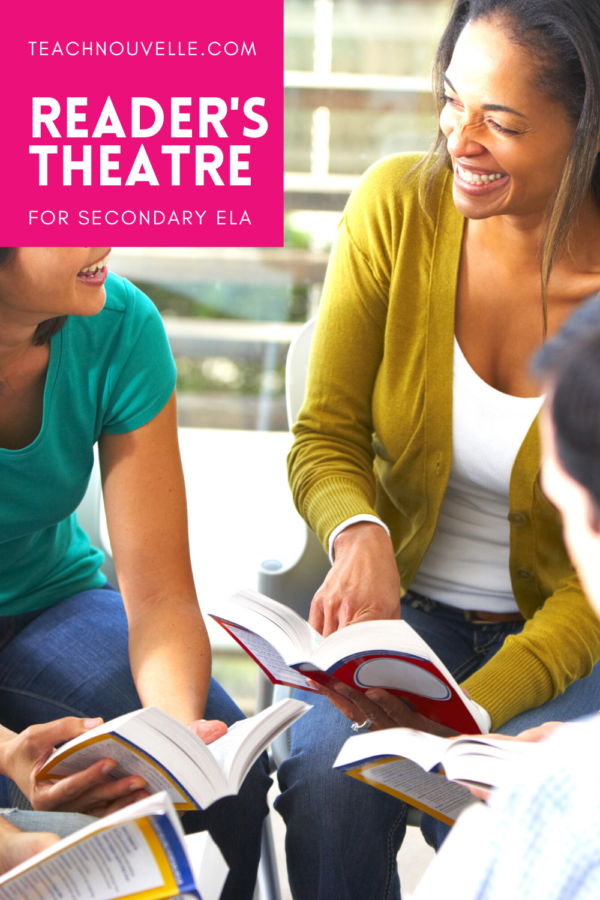 I hope this post has inspired you to try Reader's Theater in your classroom! It's always a big hit with my students, and I can't wait to hear how it goes over with your kids. Comment below or reach out on IG @nouvelle_ela 🙂
Break a Leg!