Description
How do you make reading and making inferences more interactive and engaging? With a cross between an escape room and an adventure book! Terminus is a four-part digital adventure series geared towards 8th and 9th-grade students who read below level and struggle with making inferences.
This story is a dystopian found-text adventure. Students play as Rania, a teenager who's just woken up from cryosleep.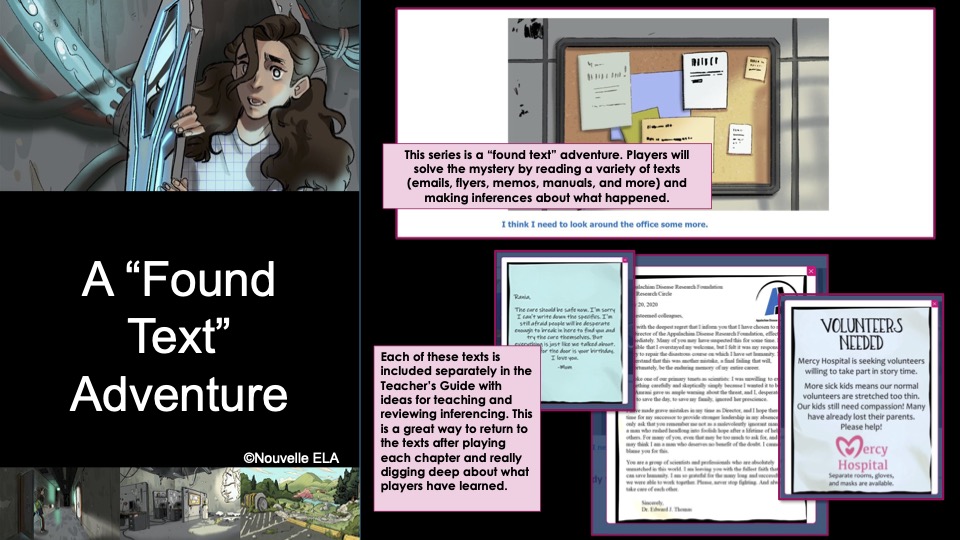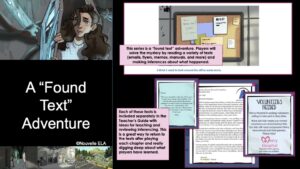 She learns more about MILSA, a pandemic her mother was researching. Rania must follow her mother's clues to find the cure and save herself.
Playing as Rania, students work to solve the mystery of the MILSA outbreak by reading…


⭐ L

etters,


⭐ M

emos,


⭐ M

anuals,


⭐ A

nd emails left behind.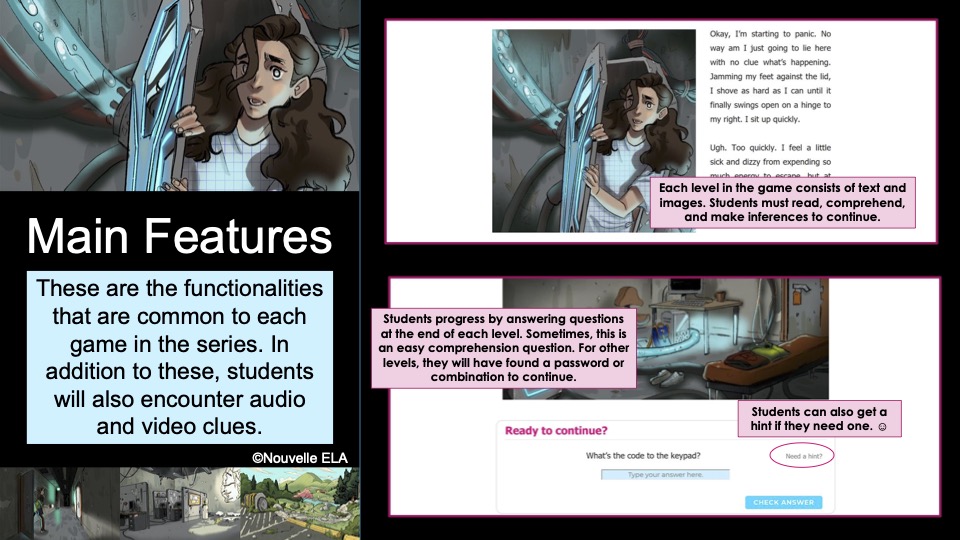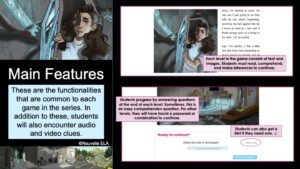 Imagine your reluctant readers emerging as leaders and heroes! Seriously, there's something about these games that makes those hard-to-reach students feel confident and successful in making inferences when reading.
Each game has puzzles and riddles that engage students in ✨collaboration and critical thinking ✨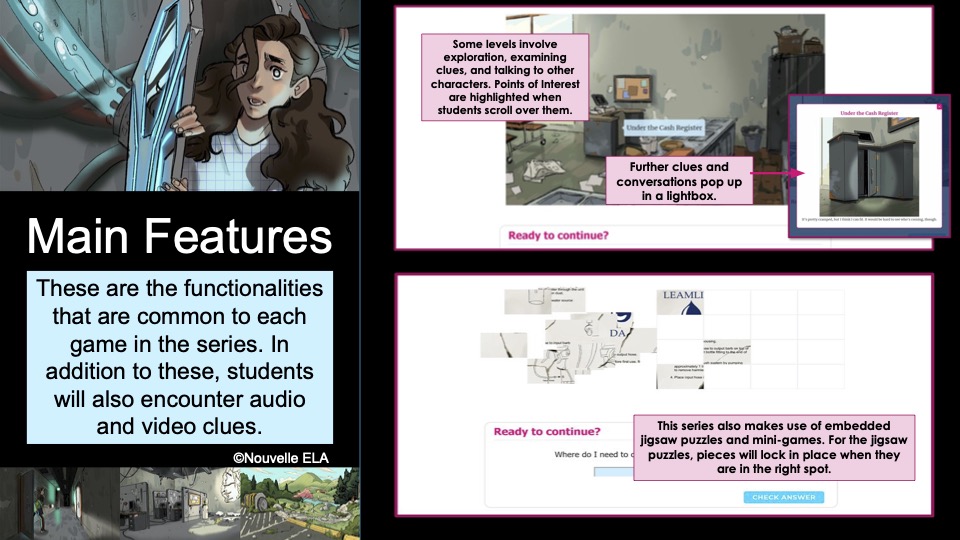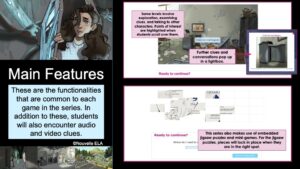 Students practice…
⭐ Making inferences
⭐  Sequencing
⭐  Prioritizing information
You also get thematically related…
⭐  Nonfiction readings
⭐  Creative writing
⭐  Vocabulary
⭐  Research activities
All of which…
⭐ Are at the target grade level
⭐ Can be differentiated to meet your timeline and students' needs
⭐ Designed to take 8th & 9th-grade below-level students 45-60 min.

You can use this in…
⭐ ELA
⭐ Science
⭐ Reading Intervention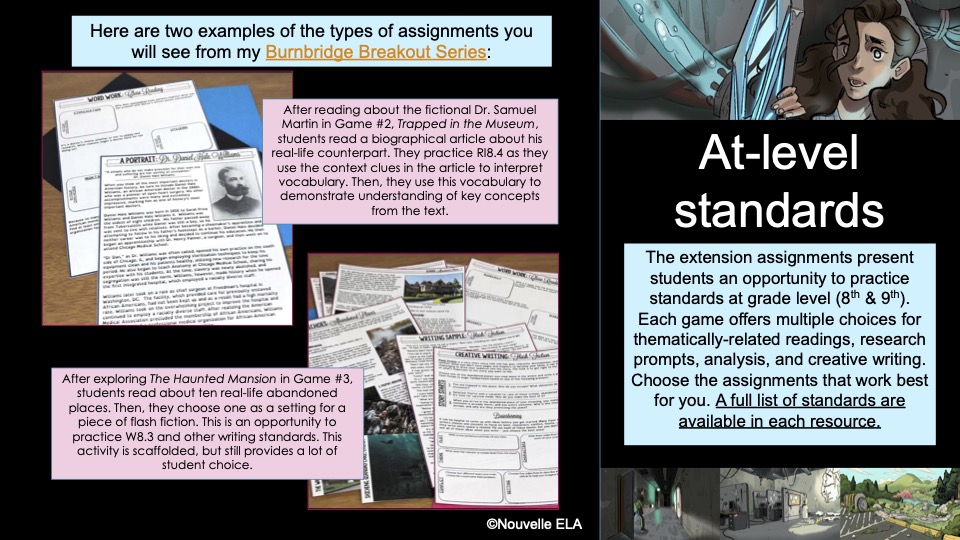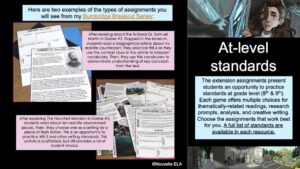 ⭐️ If you are deciding whether Terminus or Burnbridge is the right fit for your classroom, learn more about how uniquely each digital escape room meets the needs of your students.
⭐️ If you are new to understanding the key benefits of implementing digital escape rooms in your classes, have no fear because your questions have been answered here!
---
TEACHERS LIKE YOU ARE LOVING TERMINUS…
⭐️⭐️⭐️⭐️⭐️"This is such an engaging way to get students thinking deeply about a text! Even some of my readers who may struggle reading in a more "traditional" format felt confident in working through this series because it felt more like solving a mystery than straightforwardly analyzing a text." -Stormy D.
⭐️⭐️⭐️⭐️⭐️"My kids are begging for me to release the next chapter!" -Amanda D.
⭐️⭐️⭐️⭐️⭐️"This is a high-quality, high-interest, high-engagement product. The escape room reads like a graphic novel and the illustrations are fantastic. The escape room material is challenging enough to provide interest, but not too difficult to frustrate. My students were able to solve each portion of the escape room in about 40 minutes." -Christan R.
---
Each Resource Includes:
1. A link and password to a web-based interactive adventure game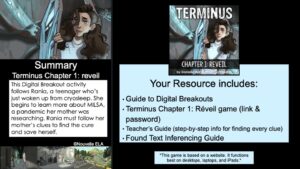 2. A full Teacher's Guide
⭐

An introduction to the digital interface
⭐

A step-by-step guide to solving the puzzles
⭐

A "found text" inferencing guide
⭐

A complete Answer Key

⭐
A "Quick Reference" page to print for game day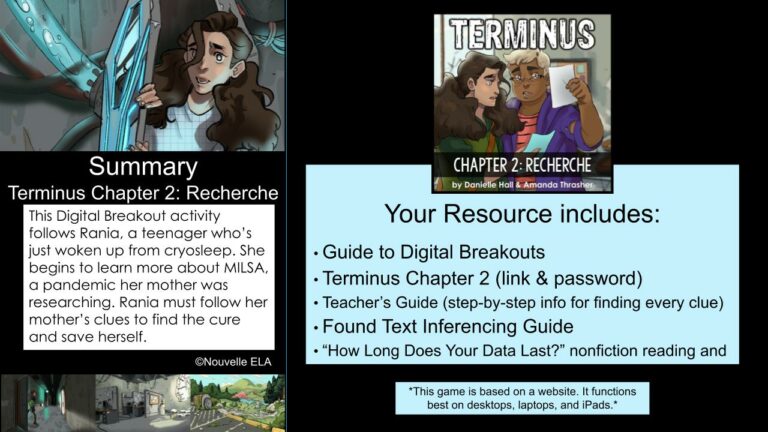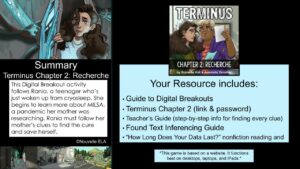 3. Close Reading Activities
⭐ Chapter 1: "Dr. Thomas' Resignation Letter" (RI.8.5)
⭐ Chapter 2: Opposing Viewpoints (RI.8.6)
⭐ Chapter 4: Analyzing the Model Text (RI.8.5)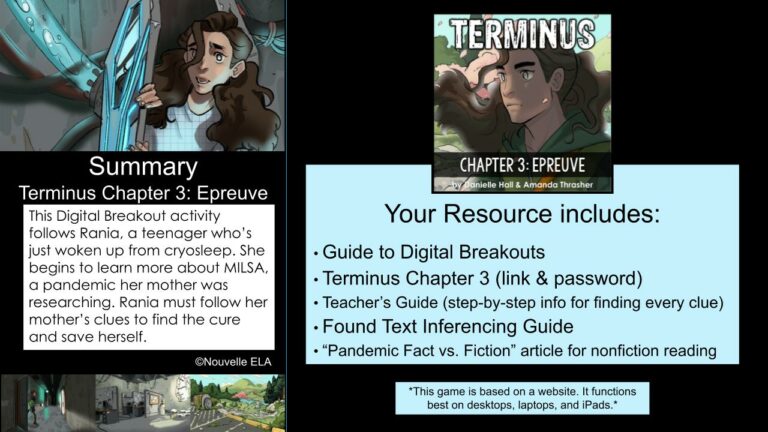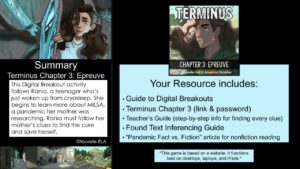 4. Thematic extension activities – written at a 9th-grade level
⭐ Ch. 1: "What is the CDC?" Fact Sheet & Interview Activity
⭐ Ch. 2: "How Long Does Your Data Last?" – Magazine Article & Persuasive Speaking
⭐ Ch. 3: "How Pandemics are Portrayed in Literature" – Magazine Article & Vocabulary in context
⭐ Ch. 4: "Portrait of a Researcher: Dr. Kizzmekia Corbett" – (RI.8.3)
⭐ Related sources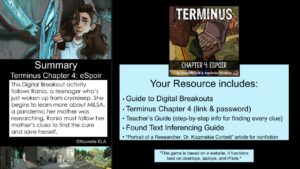 5. Optional (and editable!) Written Extension activities
⭐

Analysis prompt & rubric
⭐

Creative writing prompt & rubric
***A note about COVID-19 and TERMINUS: We started working on this game last July and had no idea that its publication would coincide with a global pandemic. We guarantee Rania gets a happy ending AND that players will learn about the difference between pandemic fiction and the real science behind contagion, containment, and cure.***
About Timing:
Each chapter alone is designed to take students 45-60 minutes. If you have them complete any of the accompanying assignments, you could make this digital escape room last several days. The game is meant to act as a 'bridge' to the on-level assignments.
About Your Resource:
Your resource is a .zip file. Each game includes a .PDF Teacher's Guide and a .PPT with the editable extension activities. Within the Teacher's Guide, you'll find a link to the game website and a password.
You'll also get Google Drive links for the extension activities. This will allow you and your students to open the game.
This game is best played on computers and iPads – it has not been optimized for phones. As with any escape game, we recommend that you play through it yourself before presenting it to students.
Please let me know if you have any questions! You can always email me at nouvelle.ela@gmail.com. 🙂
Feedback & Followers:
If you enjoy this product, please log in and leave a review by selecting "Write a Review" under the "Order Details" section of the "Orders" tab. 🙂
You can also follow me for the latest news on products and sales.
If you have any questions, I'd love to hear from you!