Description
Are you ready for an amazing persuasive techniques comprehensive bundle? Get ready for rich media literacy activities to ignite your students' learning!
What you'll teach:
✨ Persuasive techniques
✨ Ad analysis
✨ Propaganda
✨ Media literacy

What you'll use to teach it:

✨ Bell ringers
✨ Projects
✨ PowerPoints
✨ Quizzes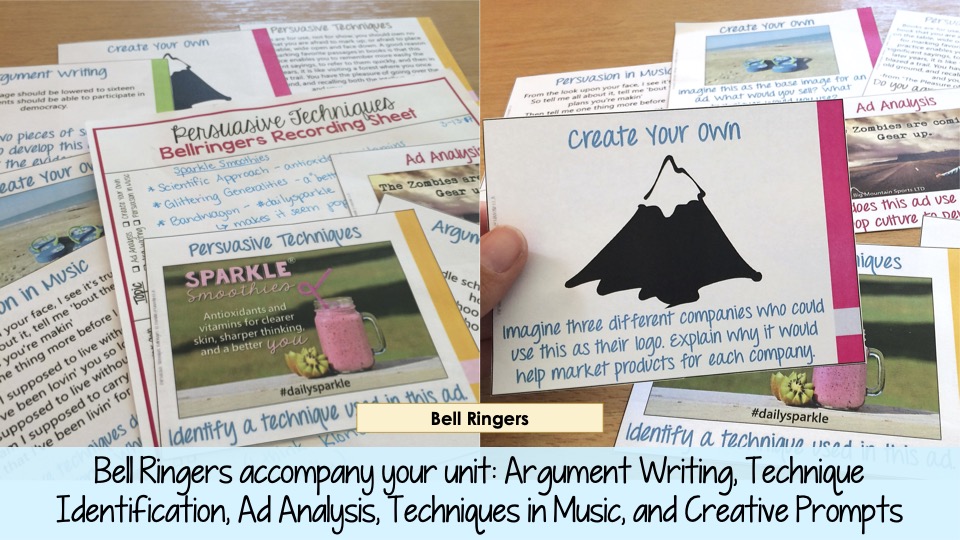 How you'll teach it:
✨ Engaging advertising analysis
✨ Interactive practice
✨ Creative projects

Your students will do:
✨ Practice identifying & analyzing techniques in ads & commercials
✨ Create their own logo
✨ Perform a commercial skit
✨ Practice public speaking
✨ Learn through DOING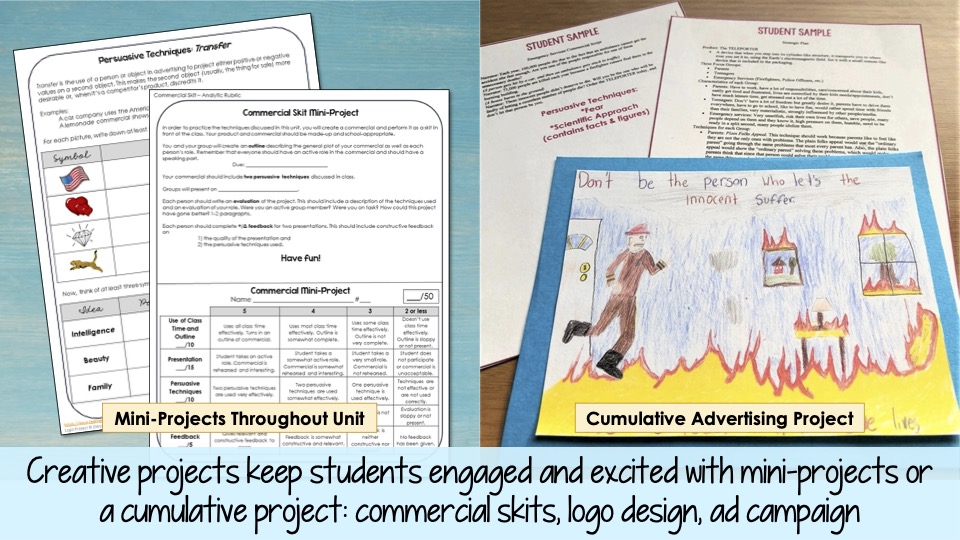 What's included in this resource:
✨ Print & digital versions of all resources
✨Persuasive techniques PPT & Notes – interactive PPT w/editable notes
✨Intro to Rhetorical Appeals
✨Bell ringers – Ad Analysis, argument writing, music – 30 bellringers w/answers
✨Ad analysis review
✨Advertising project – students create a product & marketing campaign for 3 different audiences
✨ Commercial analysis project – get students moving & speaking!
✨ Logo/Ad project – students create a logo or ad
✨ Presentation Feedback – includes peer and self-evaluation
✨ Persuasive techniques review game – jeopardy style!
✨ Bingo! – review persuasive techniques
✨ Quiz – includes a list of 18 persuasive techniques and definitions, an interactive notebook foldable, a quiz, & answer key

You get worksheets to scaffold understanding and rubrics (both holistic and analytic) for clear expectations and easy grading. These activities can also help teach students about Propaganda in a Social Studies setting.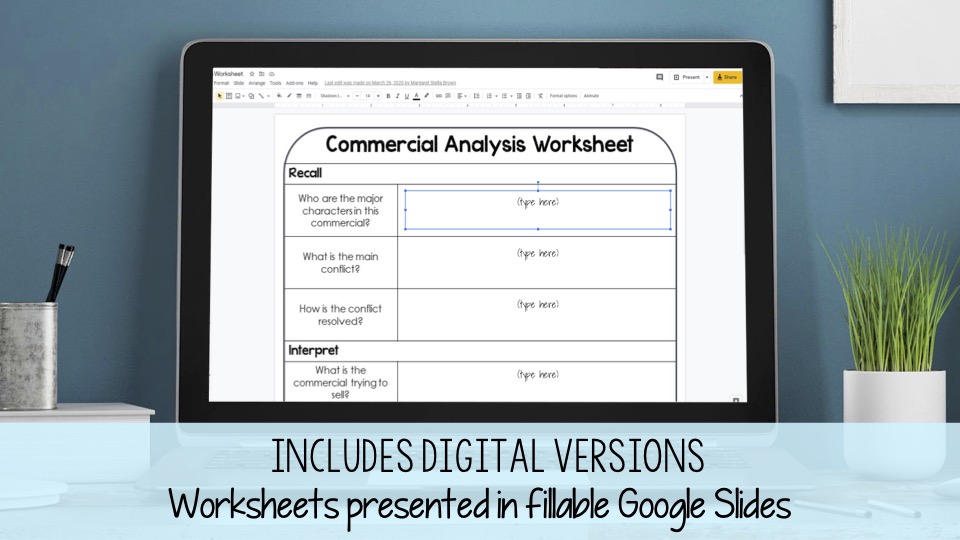 Terms that are covered:
✨ Bandwagon, Card-Stacking, Connotation/Word Choice, Endorsement/Testimonial, Exaggeration, Euphemism, Fear, Glittering Generalities, Name-Calling, Plain Folks Appeal, Repetition, Rhetorical Questions, Scientific Approach, Sex Appeal/Beautiful People, Snob Appeal, Something for Nothing, Transfer, Urgency/Call to Action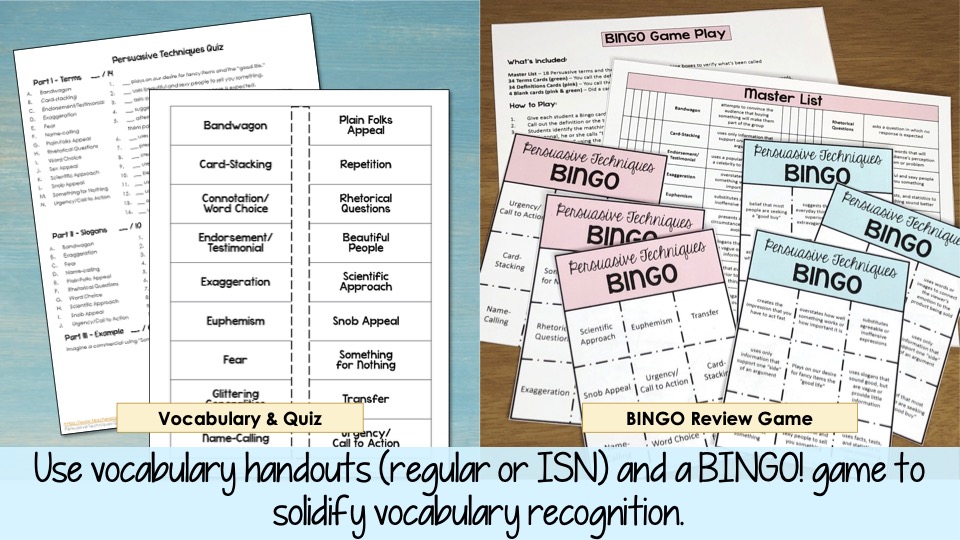 Suggested Timeline:
✨ Included in this resource is a suggested unit calendar
✨ In my classroom, this is a differentiated unit. I give a pre-test (the included quiz) and my four highest scorers from each section work on the Advertising Project.
✨ The rest of the class completes the following across a 12-day time span:
Persuasive Techniques PowerPoint – 1 day
Ad Analysis PPT – 30 min.
Logo Project – 2 ½ days (w/Ad Analysis PPT and presentations on the last day)
Commercial Analysis – 3 days (presentations on the last day)
Commercial Project – 3 days (presentations on the last day)
Persuasive Techniques Review Game – 1 day
Persuasive Techniques Quiz – 1 day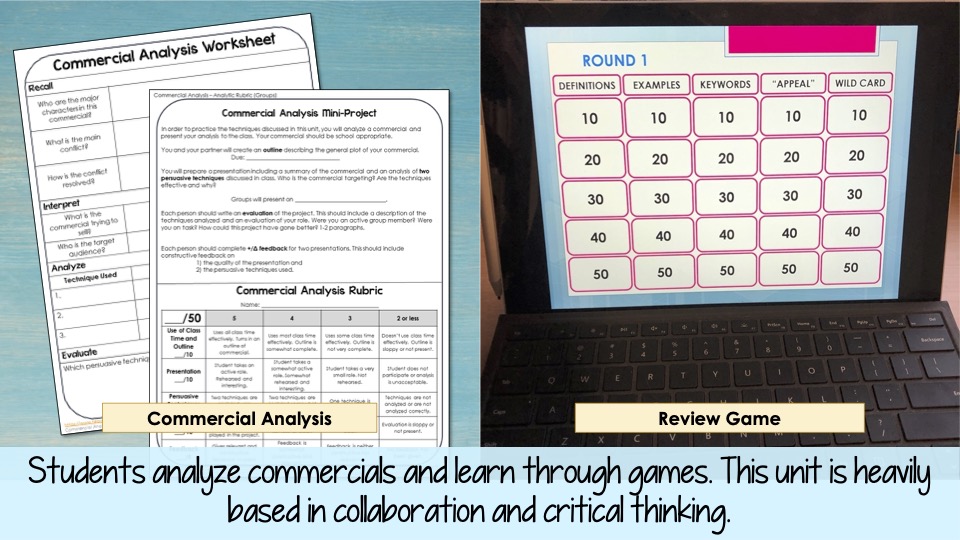 As you will see, most of the unit is in-class, cooperative learning, and presentations. I encourage students to work with different groups and partners, sometimes using random group assignments.
✨  For the Logo Project and Commercial Analysis, students present to two other groups.
✨  For the Commercial Project, students perform in front of the entire class.
Feedback & Followers:
If you enjoy this bundle, please log in and leave a review by selecting "Write a Review" under the "Order Details" section of the "Orders" tab. 🙂
You can also follow me for the latest news on products and sales.
If you have questions, I'd love to hear from you!
-Danielle @Nouvelle_ELA