Description
Want to create your own escape room perfectly aligned to your content and geared towards your specific learners? This ELA Create Your Own Escape Room Template Kit was created just for you!
I've broken down the entire process and included templates to save you hours of work. Even if you're a total beginner, these resources will help you create your own escape room in a fraction of the time.
⭐️  Find out how escape rooms can boost collaboration and critical thinking AND hit standards
⭐️  Follow these puzzle principles to MYSTIFY even your most skeptical students
⭐️  Discover the "secret sauce" for secret codes
⭐️  Take advantage of templates and tools to save you 20-30 hours making each game
⭐️  Explore ideas and examples to keep your 2nd, 3rd, and 4th escape rooms exciting and fresh!
In this kit, you get…
⭐️  A complete and editable ELA escape room (editable in PPT) to be used with any book or text
⭐️  An escape room resource box with a collection of extra puzzles and templates
⭐️  A full introduction to Escape Rooms and Breakout Boxes
⭐️  Puzzle ideas and resources
⭐️  Templates for tools and clue cards,
⭐️  Tons of examples for a variety of content areas
These two resources allow you to create your own escape room games for a wide variety of topics and still keep your students surprised.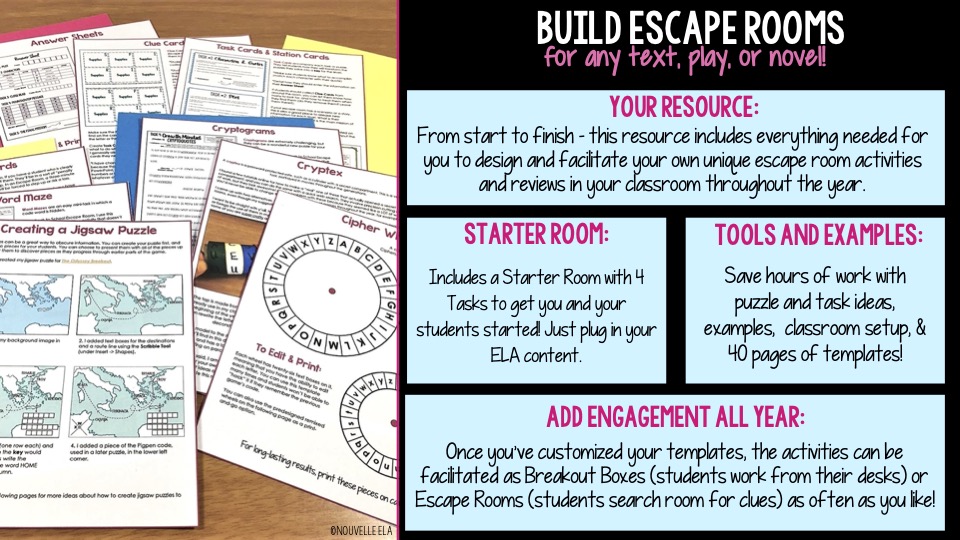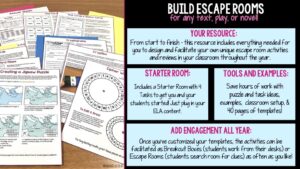 Take a deeper look at what's inside this "ELA- Create Your Own Escape Room Template Kit"…
This is an editable escape room for ELA is customizable for any novel, play, or short story – simply edit with your content!
⭐️  Review activities for plot, characters, theme, and a close reading passage
⭐️  Includes tips for where and how to hide codes
⭐️  A great first escape room for novice creators
⭐️  No additional technology, locks, or boxes are needed
⭐️  Includes step-by-step instructions for plugging in your content
⭐️  This resource is editable in Microsoft PowerPoint®
⭐️  Includes a full tutorial on how to use this software to edit your escape room
This purchase includes a license for personal use only. If you'd like to sell games using these templates, please purchase the Escape Room Template Kit for Commercial use. If you have already purchased that resource, you already have access to these materials. 🙂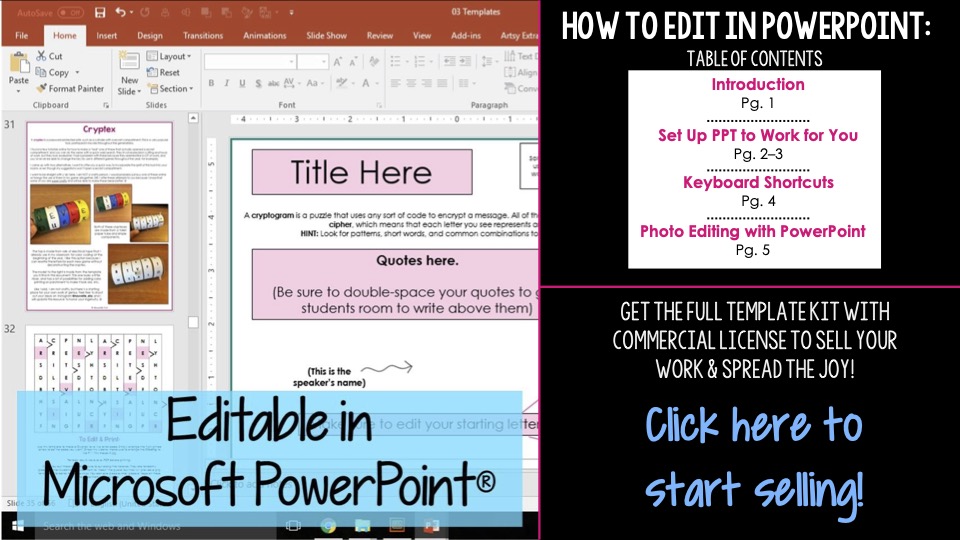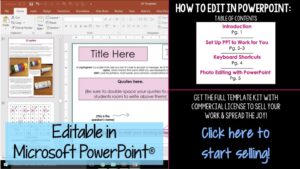 ✨
1. Introduction to Escape Rooms
⭐ Basic gameplay and game design
⭐ Examples from real rooms
⭐ Tips and ideas for assessment and grading
⭐ Puzzles and tasks usable for any content area
⭐ Brainstorming worksheets and planning checklists
2. Escape Room Templates – includes descriptions & templates for additional tools and puzzles you'll use to make your escape room AMAZING
⭐ Answer Sheets and design tips
⭐ Station Cards and Task Instructions
⭐ Clue Cards
⭐ Cipher Wheels
⭐ Cryptexes
⭐ Cryptograms
⭐ Jigsaw Puzzles
⭐ Word Mazes
⭐ "Oops!" Cards
⭐ Mat Puzzle
3. How to edit the escape room templates in PowerPoint – if you're a PPT newbie, this guide is for you!
You'll get…
⭐  Clear directions for using PPT for page design
⭐ Tips for basic photo editing using this software
⭐  Some advanced timesaving tips, too, so even veteran creators may learn a trick or two
✨This resource includes everything from the original Template Kit, except for an editable Starter Room and a license for commercial use. This is the perfect resource to help you create your own escape room!✨
⭐️⭐️⭐️⭐️⭐️ "My students love escape rooms, but they take so long to prep.  This is SUCH a time-saver & provides additional techniques for clues that I'd never considered.  THANK YOU!" -Andrea R.
⭐️⭐️⭐️⭐️⭐️ "This is my third year using escape rooms with my students and I love how this one is a little different from many of the others. The students need to not only understand the content being applied, but they also have to use analytical tactics and logical thinking. Props for preparing something different from the others." -Kristin M.
⭐️⭐️⭐️⭐️⭐️ "Wow, I loved it. I don't teach ELA but I really wanted the templates so that I could use it to teach Social Emotional Learning Strategies in a fun way – it worked! It took quite a while to come up with the storyline, the puzzles… but it was worth it and the checklist & ideas provided in this resource were super helpful. Thank you :)" -Franziska A.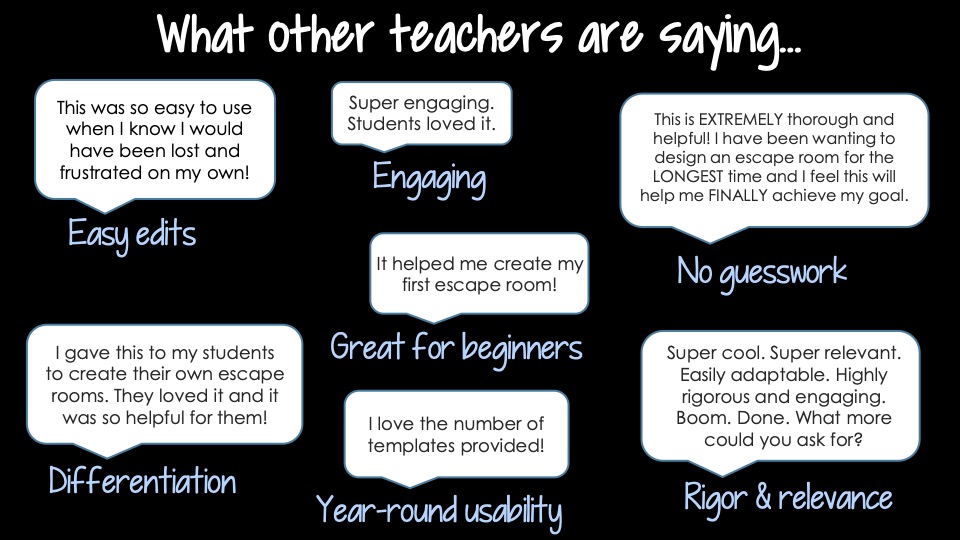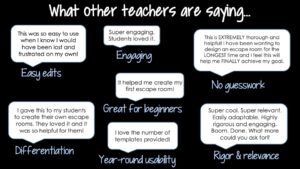 About Your Create Your Own Escape Room Resource:
Your "ELA – Create Your Own Escape Room Template Kit" download is a .zip file containing the resources described above. You can edit this kit using Microsoft PowerPoint or a clone (OpenOffice, etc.).
Instructions for personal and commercial use and copyright information are included in this resource. Email me at nouvelle.ela@gmail.com if you have questions. 🙂
Back to School Escape Room (editable in .ppt)
Introduction to Shakespeare's London
Romeo and Juliet Escape Room Review Activity
A Midsummer Night's Dream Escape Room Review Activity
Intro the Odyssey Escape Room and Digital Breakout
The Lord of the Flies Review Escape Room
Escape Room Bundle
Editable ELA Escape Room
Editable Social Studies Escape Room
Editable Math Escape Room
Editable Science Escape Room
Since your students looove puzzles, check out my Team Trivia Bellringers!
Feedback & Followers:
If you enjoy this Create Your Own Escape Room ELA Template Kit, please log in and leave a review by selecting "Write a Review" under the "Order Details" section of the "Orders" tab. 🙂
You can also follow me for the latest news on products and sales.
If you have any questions, I'd love to hear from you!
-Danielle @Nouvelle_ELA