Whether you're a pro at escape rooms or a total newbie, this post will help you find a game that your students will love!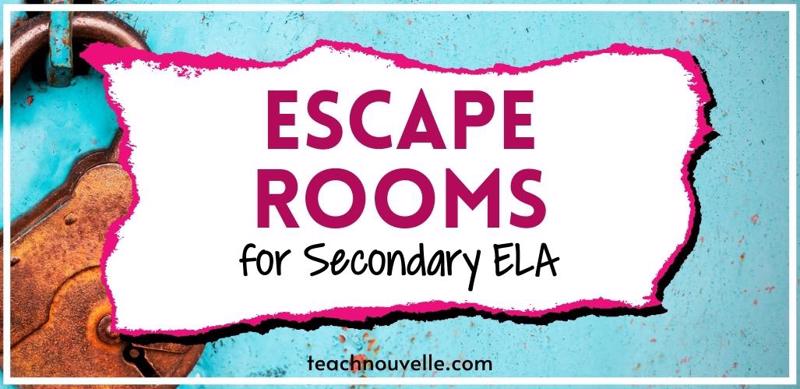 I've blogged before about using escape rooms in ELA, and I'm here to tell you I still believe in the power of these sorts of games. Whether you're using digital or paper escape rooms, students have the chance to practice collaboration and critical thinking.
Since I've been creating escape rooms for five years now, I wanted to make a "home base" where you could find out about them. This post is a round-up of the work I've done.
Burnbridge and Terminus
If you've been following me for a while, you're probably familiar with my two original escape room series, Burnbridge Breakouts and Terminus.
Burnbridge came first. My time spent teaching in North Carolina inspired me to create it. I was a new teacher with classes full of 8th and 9th graders who were reading at a 4th-grade level. I didn't know what to do, and like many teachers, I wasn't receiving any support from my administration. The only tools I had to help bring my students up to grade level were these boring computer tests. I hated them, the students hated them, and if it were possible, I'm sure the computers would have hated them.
I created the 10 part Burnbridge Breakouts with author Amanda K. Morgan to give students reading intervention material that is achievable yet interesting. A mystery story that will hook tweens and teens, but written at a 4th-grade reading level. This story, combined with grade level, nonfiction extension activities helps students advance their reading level, without being bored or "babied."
Terminus
Terminus is a 4 part series that's part sci-fi thriller, part video game nostalgia. The story follows Rania, a teen who wakes up from cryosleep and finds a world ravaged by the deadly virus, MILSA. She has to solve puzzles to find and make the cure, so save herself and the future of humanity. This game, like Burnbridge, is accompanied by nonfiction reading passages like "Pandemics: Fact vs Fiction," "Portrait of a Researcher" and others.
My wife, Amanda, and I wrote this game in 2019, not knowing there was a real-life pandemic headed our way. But don't worry: Rania (and the world) gets a happy ending 🙂
Check out this blog post to learn more about these two games and see which one would be a better fit for your students.
For Poetry
Poetry Review Escape Room (paper + digital)
This game helps students review figurative language and poetic devices and offers multiple close reading activities for differentiation or scaffolding. The paper version is editable, and the digital version features beautiful artwork from Lady Knight Illustrations.
Coming soon: Poetry Review Activity for grades 4-6. This game is being beta tested and should be available by the end of the month.
For Shakespeare
Why not try something new for your Shakespeare unit this year? My Intro to Shakespeare activity is great for building background knowledge of Shakespeare's life and the Elizabethan era, while my R&J and AMND games are both designed to help students review.
Introduction to Shakespeare Escape Room (paper + digital)
Romeo & Juliet Escape Room (paper + digital)
A Midsummer Night's Dream (paper)
Escape Rooms for Classic Novels
Escape rooms are great tools for helping students get "inside" a classic novel. These escape rooms are all reviews, so students will need to remember key details about the plot, theme, characters, and author's intent in order to "escape" They all contain a close reading passage and have a secret message to decode. Plus, all the digital versions have beautiful illustrations from @lilybyteart.
Introduction to the Odyssey (paper + digital)
Lord of the Flies (paper + digital)
The Great Gatsby Era (paper + digital)
Back to School Escape Rooms (for Any Subject)
All of my back-to-school escape rooms are editable for any subject, as well as any grade level 6th through 12th.
Back to School Escape Room (paper) – This bestseller has over 1200 five-star reviews on TPT! It features icebreakers, a supply scavenger hunt, a syllabus close reading quiz, crypto quotes, and an optional writing activity about Growth Mindset. You can present this as a Breakout Box (groups work at their desks) or as an Escape Room (groups seek clues you've hidden in the classroom). Most teachers find that it takes around 30-40 minutes.
Back to School Escape Room vol. 2 (paper) – This sequel provides a slightly different experience than the bestselling original, and you don't need to have played the first version to use this one 🙂 This is perfect for a second-semester refresh or if you used vol. 1 last year.
Digital Back to School Escape Room – This editable digital template allows you to create the same fun escape room experience for your virtual learners. It includes a sample game and a tutorial on how to customize it for your classroom.
DIY Escape Rooms
Ready to try your hand at making your own escape room? No matter your subject area, I can help! Creating your own escape is a lot of work, but it's also SO helpful to be able to customize it to your unique classroom needs. These templates take all the guesswork and "analysis paralysis" out of the experience and allow you to focus on the *content*
Check out escape room templates for these subject areas:
If you teach another subject, you can still adapt these materials to your needs. Leave a comment if you have questions and I'll help you find the right kit for you. 🙂
Nonfiction Escape Rooms
Introduction to the Harlem Renaissance (paper + digital) – Students will learn about the Great Migration, read bios of notable figures, and much more. Perfect for Black History Month, or year-round!
Introduction to the Roaring 20s (paper + digital) – This activity is a great standalone lesson for ELA or Social Studies, but it's also perfect for building background knowledge before reading The Great Gatsby.
More Escape Room Activities for Students
Prohibition Era Mini-Escape Room – Students close-read lyrics from four Prohibition-era songs, answer multiple-choice questions, and decode a secret quote. Perfect for ELA or Social Studies.
Mini Back to School Escape Room (paper) – This game is a little different from the other back-to-school escape rooms, as it is designed to be used with a reading list. This short (10-15 minutes) game works with any subject area, as long as you have at least 6 titles on your reading list.
Escape Room Teaching Ideas:
Adding Physical Locks to Escape Rooms – This blog post details how you can add more layers of interest to the escape rooms you are making, by adding physical locks.
Using Escape Rooms to Support Executive Functioning – Have you been told you should teach executive functioning? Is this a totally overwhelming proposition? This blog post breaks down what they are, why they're important, and why escape rooms are good for students with poor executive function skills.
Making a Close Reading for an Escape Room – This FREE resource helps you create a close reading passage that you can use for your own escape room, or as an additional activity for a "ready-made" escape room.
Doodle Fonts for Escape Rooms – Make your breakouts, puzzles, and games more engaging by including a secret code! I specifically made these doodle fonts for well-crafted secret codes. They also have tons of classroom applications outside of escape rooms. You can use them to create secret messages anywhere! Use them to add extra credit activities to worksheets, classroom scavenger hunts, etc.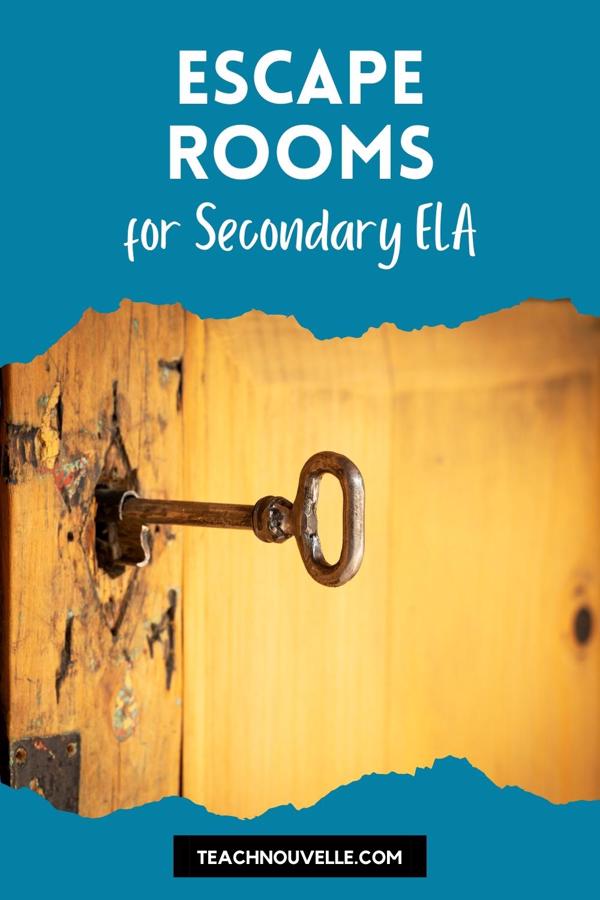 I can't wait to hear about your experiences playing these games and creating your own! Stay in touch. 🙂
Happy puzzling,