How to Make a Book Tree
A book tree is a great holiday decoration for nerds and English teachers, am I right? This can be great for your home, office, or classroom! Here's how to make a book tree AND our book tree reveal for 2017.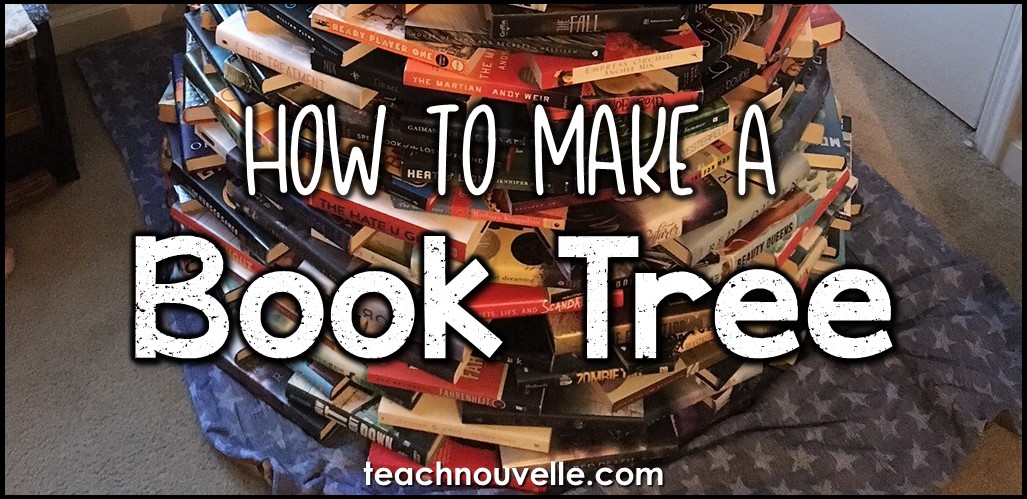 This is our second year with a book tree, and here are some tips as you create your own.

1. Plan Your Book Tree
How tall will your tree be? Where will you put it? Book trees are very heavy, so it's important to choose a place that is realistic for the entire time you'll have the tree up. For example, we had to plan not to be able to open our closet for a month, so we removed our frequently-used items (like our toolkit).
You'll also need to make sure you have enough books. We forgot to count, but I'd estimate we used 400-450 books for our 4.5′ tree. Once you have your plan, separate your books by depth, or thickness. This helps make your book tree much more stable.
For your classroom, it would be really easy to do this by using different class sets of novels (ones you read earlier in the semester, of course!). You could even alternate colors in each layer for a cool effect.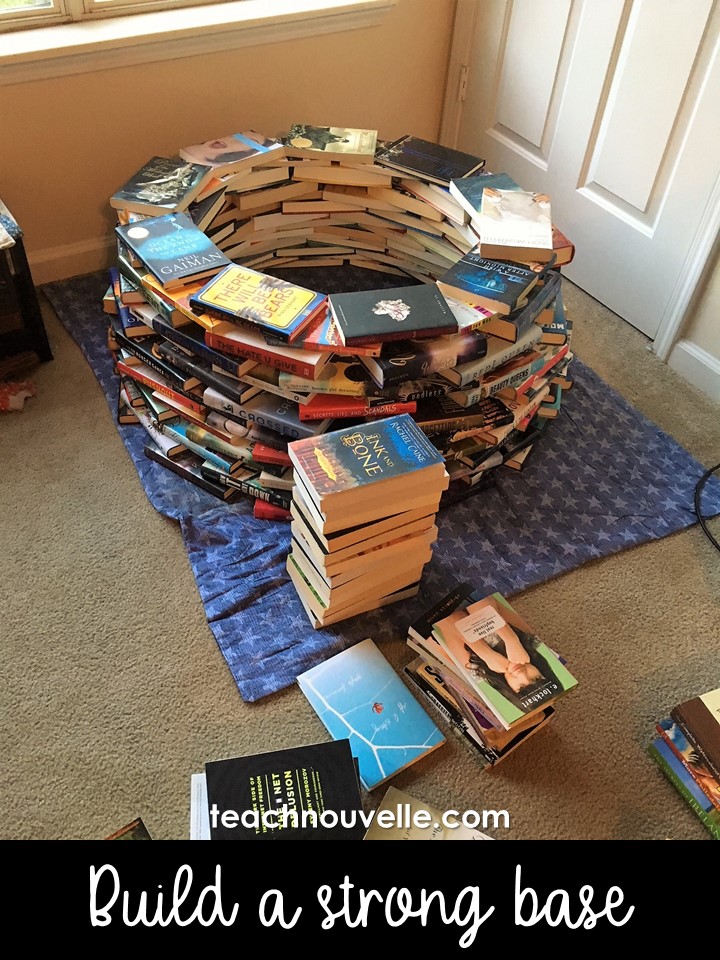 2. Build a Strong Foundation
Before sloping your tree inward, create a strong base by making several layers of the same diameter. This will help stabilize your tree and keep it from caving in.
You should lay your books as though they were bricks, always placing one over the crack from the previous layer. This is super critical to avoid wobbly books later!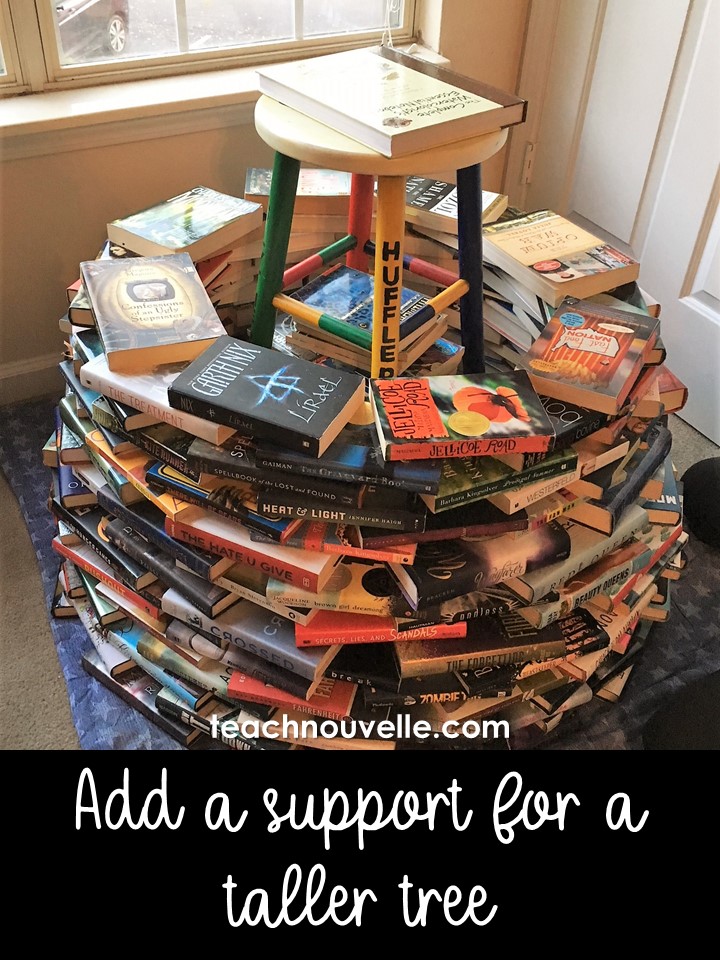 3. Add Support
This year, we decided to add a stool to the center of our book tree to support the upper level. We weighted this down with some heavy coffee table books and a LOT of Animorphs (they wanted to be in the tree too!).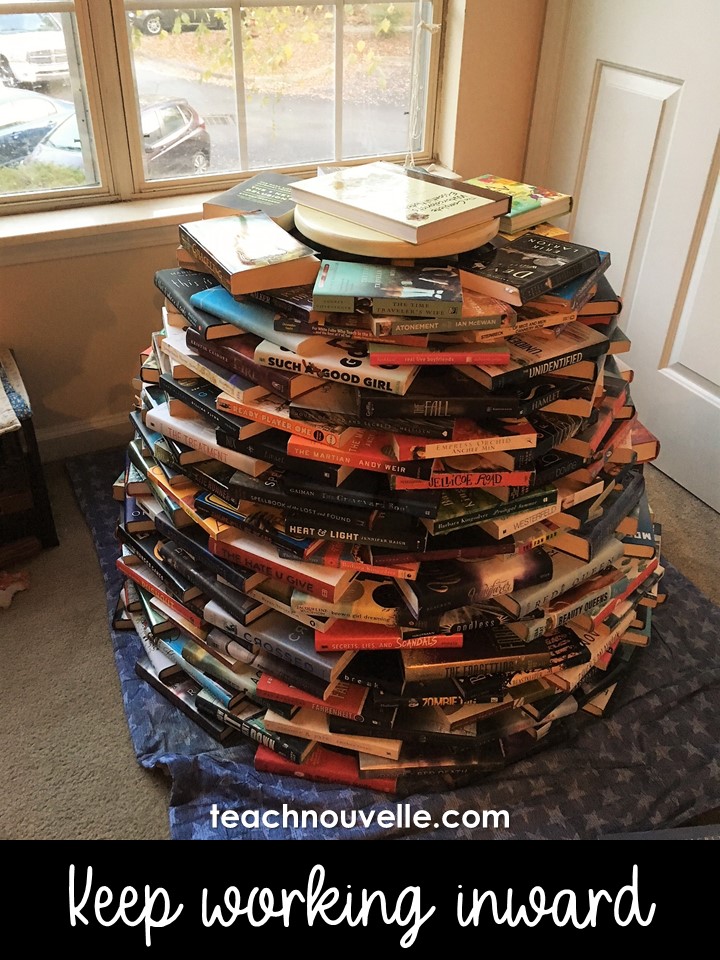 4. Slope Inward
At this point, you can start to slope inward more aggressively. It doesn't matter whether you're using thick or thin books, as long as the thickness is the same within each layer.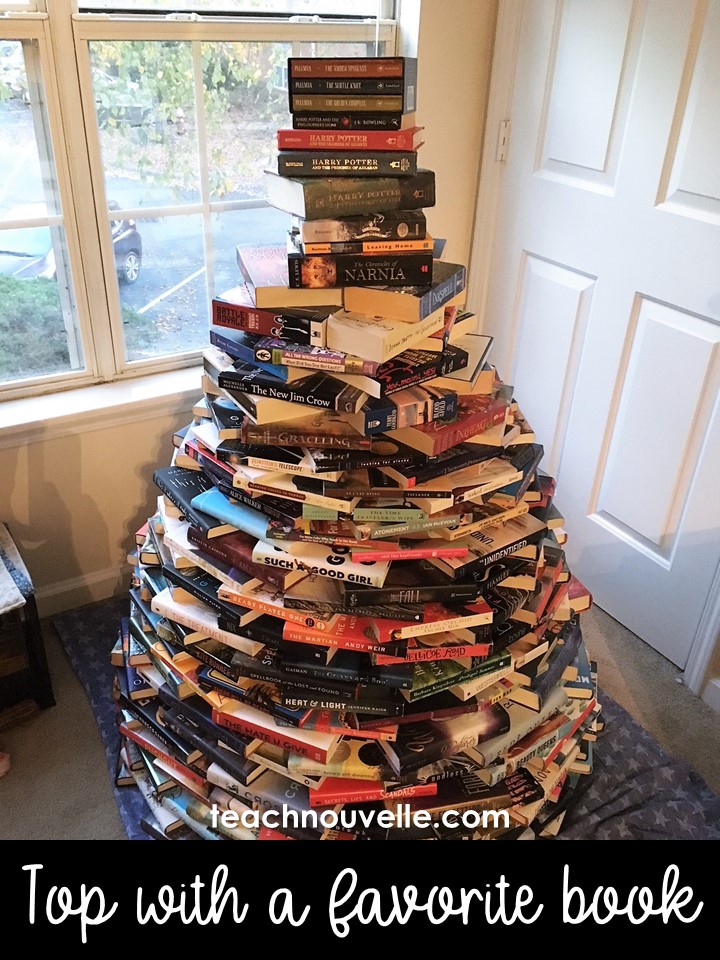 5. Top with a Favorite Book or Series
It's super fun to top with a favorite series. We tried for all of the Harry Potter books, but had to settle for just a few because it got wobbly. At the very top, we've got His Dark Materials by Philip Pullman.
6. Decorate & Brag
Congratulations! You've finished your book tree! Now, you can decorate it with lights and ornaments! We have a Think Fairy at the top of our tree, small LED lights, and several ornaments. Take pictures of your tree and if you post on Instagram, I'd love to see it! Tag me @nouvelle_ela and I'll bow down to your mad skills. 🙂
Looking for book reviews to help you build your classroom library?
Check out my recommendations here.
Thanks for reading, and happy holidays!