Description
Use these poetry snippets & song lyrics as journal prompts to inspire creative writing and storytelling. These writing activities and journal prompts help to demystify poetry and show students that they can draw inspiration anywhere. These creative writing prompts are a great resource for reluctant readers and writers, since daily writing is low-stakes writing that can build endurance and confidence.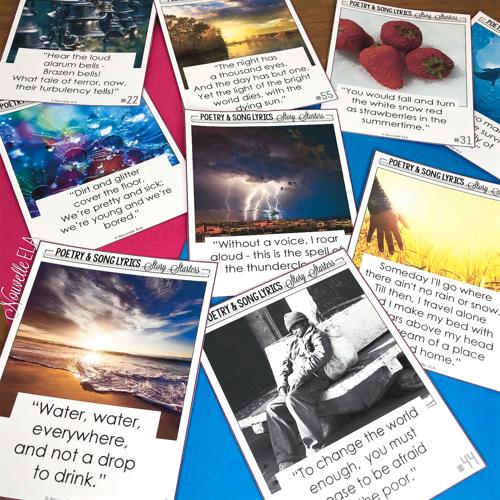 Use these poetry task cards as bellringers, journal prompts, a creative writing station, or for small-group inspiration. Daily exposure to poetry through these journal prompts introduces students to a wide range of poetry, while still making it "bite-sized" and less intimidating.
Includes 60 creative writing prompts for writing that evoke plot, character, conflict, theme, and settings. Use as one or two quotes per card, with or without images. Includes a low-print version, ideas for differentiation, and a Teacher's Guide. (grades 7-12)
60 Poetry & Song lyric journal prompts to inspire plot, character, conflict, theme, and setting (with options to print 1 or 2 quotes per card, with or without images for low-ink/low-stimuli)
Full list of lyrics, poetic devices, and possible discussion starters
Teacher's Guide with ideas for use and differentiation for these fun creative writing prompts
Editable substitute plan
Editable digital version (Google Slides)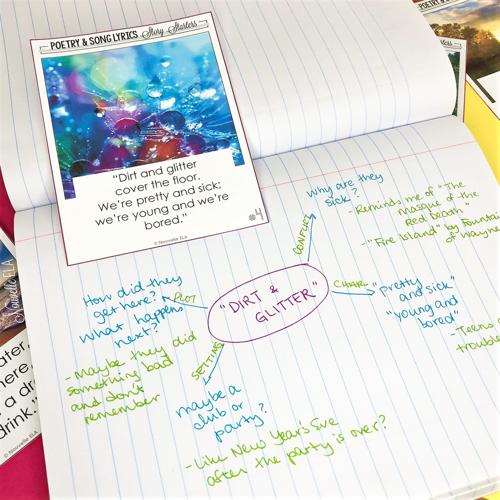 ⭐️⭐️⭐️⭐️⭐️ "The pictures are high quality and the prompts are engaging. This resource was a great addition to my poetry unit. Thank you!" – Paulina C.
⭐️⭐️⭐️⭐️⭐️ "Loved this unit with my 8th graders! It was engaging, to say the least, and kept them focused and looking forward to poetry every day during the unit." Sherry B.
This resource is a .zip file of five PDFs. You get the Teacher's Guide and the four different versions of the creative writing prompts (1 or 2 quotes, with or without images). You can easily project a PDF like a PPT if you go to View -> Full Screen Mode in your PDF software. Then, use the arrow keys to flip through. This resource also contains instructions for printing multiple pages per sheet (I usually do 4 sheets/pg). Includes links to digital versions on Google Slides. Please email me if you have any questions! 🙂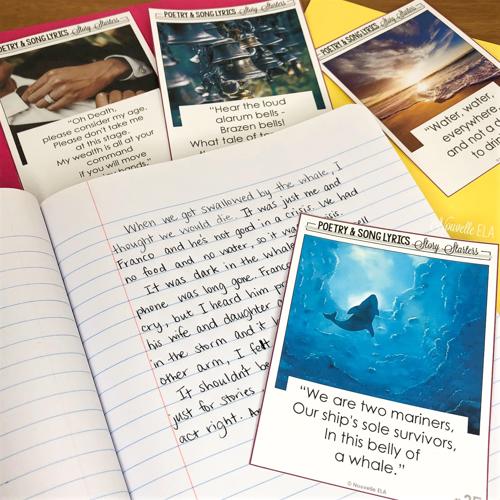 -Danielle @ Nouvelle ELA