This content has been archived. It may no longer be relevant
Calming the Chaos at the End of the School Year
Hello, all! We just had our final exam today, but I know that many of you are still guiding students through the end of the year. It can be a crazy time, and here's an idea of how I calm the year end chaos. Keep reading to the end to find out where to read other great teacher tips and how to enter to win a $60 TeachersPayTeachers gift card. Let's get started!
Drama games (improv).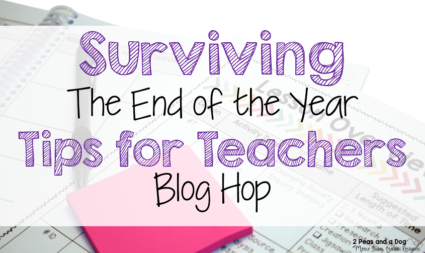 I just finished my 4th year of teaching, and this trick has seen me through each home stretch.
The perks:
*Students are engaged, whether as actors or audience members
*It's fast-moving, particularly if you impose time limits
*Students are practicing key speaking and listening standards
Here are some of my end-of-year favorites:
1. "Fractured Fairy Tales"
Split kids into groups of 4-5 and give each group a classic tale (or let them choose their own). They change one (or more) element of the story and then present it to the group in 3 minutes or less. You can also assign novels, short stories, or poems that you've read. I generally give students at least 5 minutes of prep for this activity, but sometimes they want a little extra.
2. "The Boss is Gonna Freak"
This is a great team-building game for any classroom. Four students per round.
The premise is that an employee is late to work, and two of his/her coworkers have already given the boss an absurd reason for the tardiness. When the employee enters, the two coworkers must mime the reason behind the boss' back and the employee must try to explain him/herself.
Set up: the "employee" leaves the room while the audience decides on an absurd reason. The boss knows the reason, and is more a "dummy" figure in this particular game, but it's a great opportunity for students who want to be bossy/skeptical/etc. My students also like to let the boss "fire" a coworker who gets caught miming instead of working, but you don't have to do this. The audience claps when the employee "gets it". You can also impose a time limit.
3. "First In, Last Out"
This is a variation on the improv classic, "Freeze Tag." It works for 5 students at a time.
In this game, one person starts the game by doing a one-person scene. At any time, the second player freezes the action, hops on stage, and motivates Player 1's position into a new scene. This continues until three more players start three more scenes.
Once the five-person scene has started, the game unwinds by having players exit in reverse order. Player 5 motivates an exit, and the four-person scene picks up where it left off. Player 4 motivates an exit, and the three-person scene continues. The game is "over" once the players get back to the one-person scene.
There you have it, folks!
I've teamed up with some amazing Teacher-bloggers, so be sure to check out all of the posts about how to calm the year end chaos:
More End of the Year Survival Tips
Check out my Rules of Improv, below: