This content has been archived. It may no longer be relevant
Need a new pick for your classroom library? Check out The Disappearances by Emily Bain Murphy.
After the death of her mother and the drafting of her father to the South Pacific, Aila and her brother go to live with some family friends in the close-knit town of Sterling. Soon enough, Aila has more questions than answers: why can't she see her reflection anymore? Why is everyone whispering about her? And what secrets has her mother left her in the pages of a Shakespeare compendium?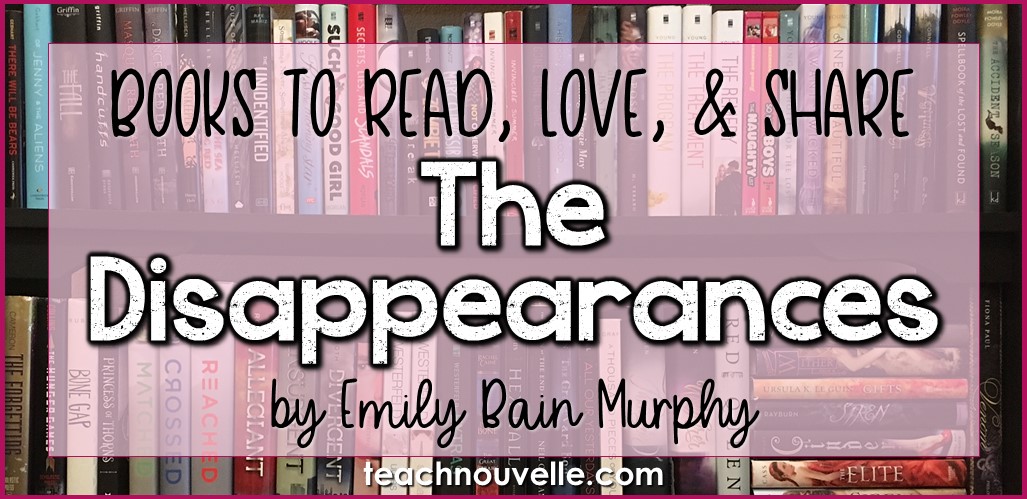 Affiliate Disclosure: This post contains an affiliate link with Amazon. Should you choose to purchase using this link, the earnings will go towards the maintenance of this site and towards making sure you keep getting great content in the future. Thanks!
The Disappearances is the haunting reality behind a jaunty, familiar children's tune.
Ostensibly, this is a coming-of-age mystery with the usual trappings. Aila is new in town and lives with her mother's best friends growing up. She goes to school and tries to fit in – manages to find a couple of good friends, and ends up sneaking out at night. She realizes the whole town is in on a secret – that a little 'something' (or big something!) disappears every seven years, and they think Aila's (dead) mother caused it. The next Disappearance is coming up soon, so Aila works hard to unravel the mystery and clear her mother's name.
I love the cast of characters in The Disappearances. Even tertiary characters had solid personalities, developed through expertly-crafted moments. One of my favorite characters in the novel is Aila's best friend, Tessa, who writes poetry on her knees and throws herself headlong into a romance with a boy from the next town.
I have spent my whole life reading books about characters who've lost their mothers, and none has rung truer to me than this novel. I lost my mother when I was nine years old, and it still hits me at unexpected times. Emily Bain Murphy gets this. This, more than anything else, solidified that I will read anything she ever writes:
It feels strange to be in a new year without her – as if I'm walking through a door into a new room, leaving her behind, and the next year will be another room, and another, and I don't want to go.
I found the handprint I was looking for, shimmering on the glass – the real Juliet Cummings Quinn, between all her brightness and shadows. I think of how much she knew and didn't know, and all she tried to shield us from. How greatly she failed. How I love her, even so.
The Disappearances is funny, mischievous, and lyrical, and I will read it again and again. This is a definite win for the classroom library.