This content has been archived. It may no longer be relevant
Hello, all!
It's been a season of change here at TeachNouvelle, and I wanted to take this opportunity to welcome new readers. Whether you are a teacher, author, avid reader, or any combination of the three, I strive to develop wonderful resources for you to use.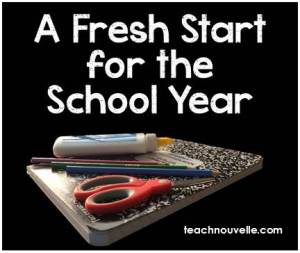 My name is Danielle, and I am a Coast Guard spouse living and working in Puerto Rico. I have been teaching for six years and have lived and taught in Oregon, Idaho, North Carolina, France, Germany, and now on this wonderful Caribbean island. I feel truly privileged to get to know students from around the globe.
This year, I am teaching 8th and 9th grade in an English-speaking private school here in Puerto Rico. My major goal this year is to focus on the students. In years past, I've been so caught up in planning my lessons that at times I've forgotten to stop and enjoy my students. This year, it's going to be different. Here's what's working so far in my classroom:
*We are speaking in a variety of ways. We started the year off running, practicing our presentation skills with Peer Interview Speeches. My students have known each other since grade school, but they enjoyed the opportunity to share stories with me, the new teacher. We are also doing Socratic Seminars and Harkness Discussions. This creates a student-centered environment, and I can be a fly on the wall.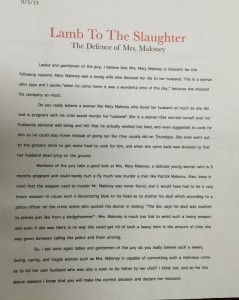 *We are writing. One of my favorite activities with Roald Dahl's "Lamb to the Slaughter" is a persuasive essay in which students pretend they are lawyers at Mrs. Maloney's murder trial. These "closing statements" are always a blast to read! I also help students learn to integrate direct quotes and paraphrases into their papers with Shirley Jackson's "The Lottery." Students love to write about these dark short stories, so I keep 'em coming.
*We are reading. I am trying Student-Selected Reading this school year, thanks to Laura Randazzo's amazing ideas. As she suggests, I am carving out time for SSR and then meeting my students in one-on-one book conferences. Our school has a rotating schedule, with one long period for each class every seven days. I use this extra "lab period" as designated reading. My students do a grammar activity for the first 30 minutes, some sort of physical activity as a brain break, and then read for 40 minutes. They *love* it. They stretch out on the floor or whatever and read the book of their choice. One kid likes to wedge himself between the filing cabinet and the wall… so there's that.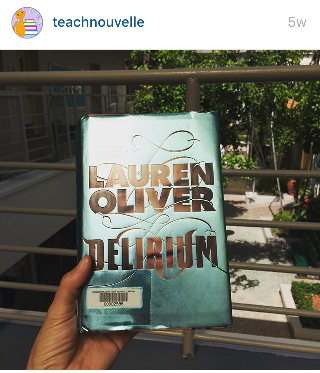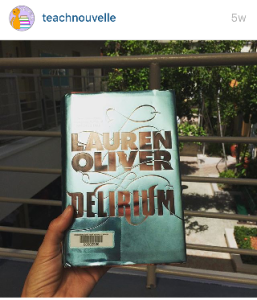 *We are listening. We have done song, speech, and video analysis so far, with many more activities to come during the school year. Best of all, through the Harkness Discussions, we are listening to each other. I'm still working on getting students to look to their classmates for "approval" of a good answer instead of me, but we're making progress.
*Also, we are using Interactive Notebooks this year. I've never used these and it's been a learning process, but my students are really enjoying them! (I even went through and added Interactive Notebook pages to my vocabulary products on TpT, so make sure to download the latest version of each of these.) We are using the In-Through-Out method, which you can see at the right here: upper left is "in" (bellringer), right side is "through" (class notes), and bottom left is "out" (activity/homework).
How's your school year going so far? I'd love to hear from you!
Best,
-Danielle @ Nouvelle