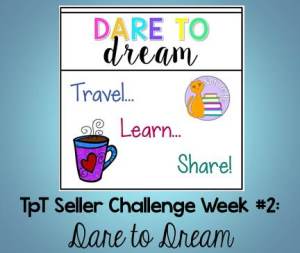 For this week's TpT Seller Challenge, we've been asked to dream big. Well, I have three major goals that my store on TeachersPayTeachers can enable, and they are to travel, to learn, and to share.
1. Travel
I have always been very privileged to be able to travel a lot, and I want to continue this in my adult life and someday offer this chance to my kids. TpT is wonderful because it can be done anywhere, and so I hope to one day have the ability to work while abroad. In particular, I haven't yet been anywhere in Asia. I would love to see Thailand, Vietnam, and Japan.
2. Learn
I am a lifelong learner, and TpT enables that. I taught myself some coding, graphics programs, and other things to use in my products, but the goal is even bigger. Right now, I'm learning Spanish, and one day, I hope to be able to learn some more languages abroad. I also want to be able to take more college classes. I want to take several more sociology classes and I would love to take more Ed Psych classes.
3. Share
I want to be able to live generously and help others as I have been helped. Right now, we give to a few organizations, but I'd like to be able to expand that even further. In the fall, I plan to start giving a percentage of certain product sales to a charity like First Book.
How will TpT change your life? I'd love to visit your blog entry as part of the TpT Seller Challenge! Link me in the comments. 🙂
Best,
-Danielle @ Nouvelle