Description
Are you looking for an interactive introduction to Shakespeare's language? This activity uses web resources, videos, and a FUN grammar presentation to kick off your Shakespeare unit.
Students walk away understanding…
⭐ Shakespeare's language & contributions to English
⭐ Iambic pentameter
⭐ That tricky thou/you.
How this resource can be used:
✅ Paper
✅ Interactive Notebooks
✅ Digital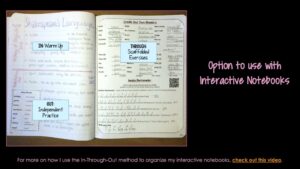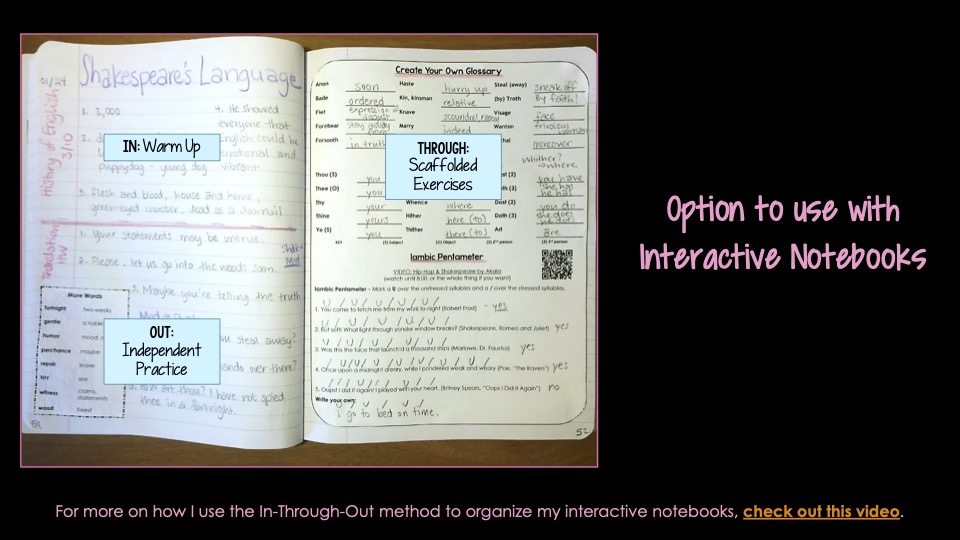 Bell Ringer task
Introduction to Shakespeare's Language activities (vocabulary, translation, iambic pentameter)
Independent Practice Activity/Homework
Answer Key
Shakespeare's Grammar Presentation & Practice (.pdf – view in "Full Screen Mode" and click through like you would a PPT)
Digital version (optimized for landscape)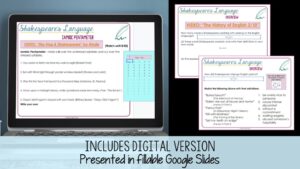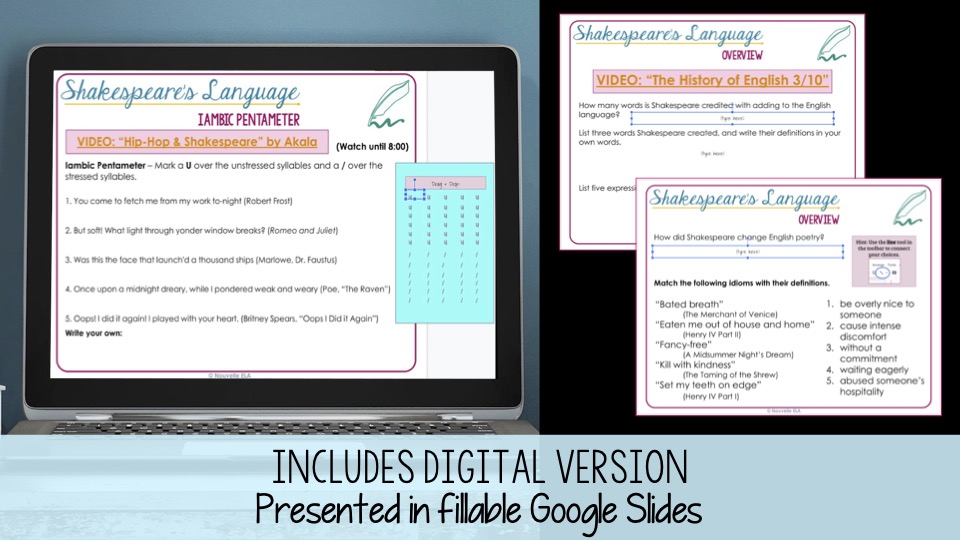 ✨ What web resources are included?
Students watch…
⭐ Two videos (3 min and 8 min) available on YouTube.
⭐ One explains iambic pentameter with an interactive component
⭐ One discusses Shakespeare's contributions to English vocabulary.
Students also consult an online Shakespearean glossary.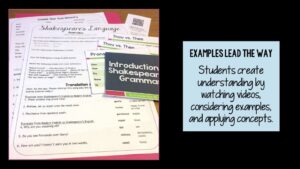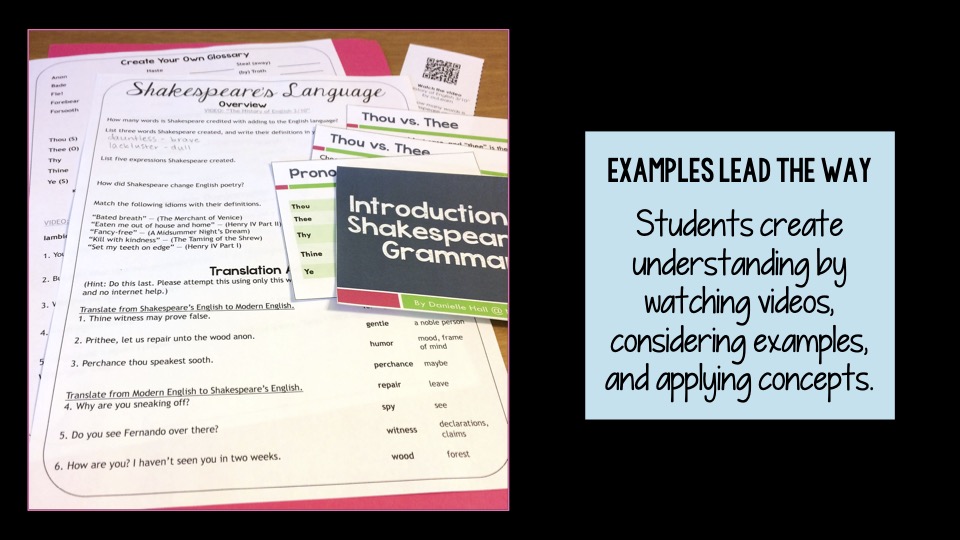 ✨ How did you make Shakespeare's grammar fun?
The presentation goes more in-depth on various grammatical points…
⭐ The use of pronouns,
⭐ The formation of verbs,
⭐  Key prepositions)
It also provides students with interactive practice exercises. Once students are "playing along," they really get a better grip on each part of Shakespeare's language and grammar.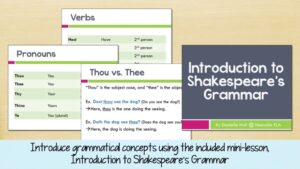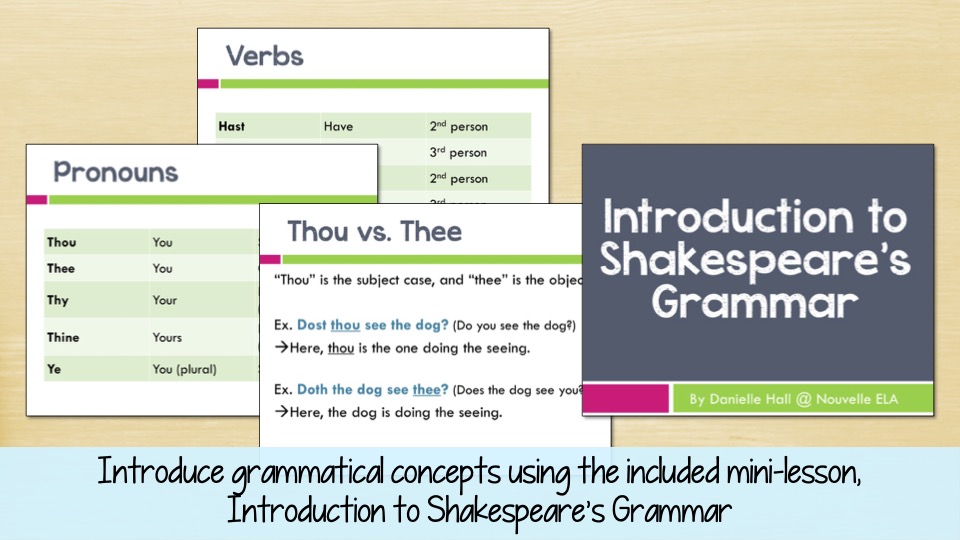 ✨ Can I use these as Shakespeare stations?
You can move through these Shakespeare's language activities…
⭐ As a class
⭐ Set them up as stations
⭐ Have students complete them independently or in small groups
This resource includes suggestions for managing these choices.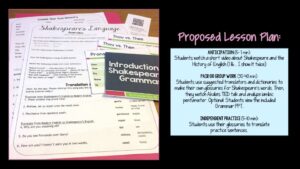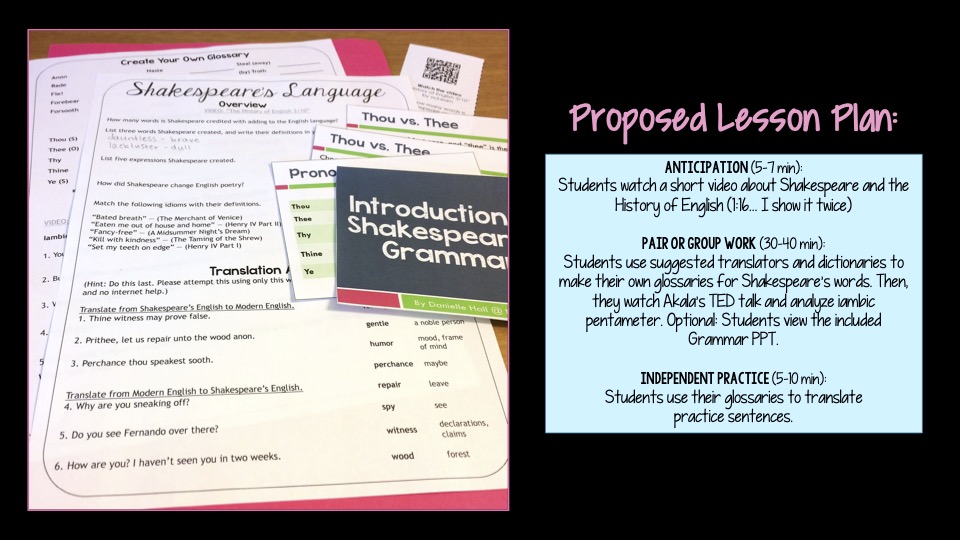 ⭐️⭐️⭐️⭐️⭐️ "This was such a great resource and a good way to introduce Shakespeare to my students before beginning our play." -Erin B.
⭐️⭐️⭐️⭐️⭐️ "Great resource and ready to use. My students loved the hip-hop iambic pentameter." -Gwen M.
⭐️⭐️⭐️⭐️⭐️ "This resource provided wonderful supplements to my Shakespeare unit, and it definitely helped prepare the students for reading the text. I appreciated the ease of use, as well as the interactive nature. A great resource I would recommend to anyone teaching Shakespeare, especially to students encountering it for the first time." -Amanda A.
Click here to try my other resources for teaching Drama!
Feedback & Followers:
If you enjoy this resource on Shakespeare's language, please log in and leave a review by selecting "Write a Review" under the "Order Details" section of the "Orders" tab. 🙂
You can also follow me for the latest news on products and sales.
If you have any questions, I'd love to hear from you!
-Danielle @Nouvelle_ELA